Acer Aspire S24 880 UR12 AIO
US 1+
Value for Money Score
8.4/10
Specifications and Features Score
8.4/10
Pros
Already Future proofed
Built-in Wireless charging
Great design
Perfect performance
Cons
Not available every time
Runs hot at times
Web cam is of low resolution
Hard drive is slow
Not so quite
The current era has been witnessing several latest editions to the computing world for some recent years.  Check out Acer Aspire S24 880 UR12 AIO review and best price.
Such an exclusive invention that can replace your conventional desktop positioned in your cabin is All-in-one desktop.
On this ground, the Acer Aspire S24 would be an ideal choice for every passionate home or user due to its ground-breaking features and budget-friendly cost.
The desktop enables you to do all of the things in a way that you couldn't imagine even a couple of years ago.
The streamlined technology used in its manufacture provides you with absolute confidence and ultimate assurance to indulge in different computing activities.
High-tech display features, unprecedented processing power and massive hard drive storage have made the device suitable for everyday computing. Check out best desktops according to requirements.
Acer Aspire S24 880 UR12 AIO & Variants Price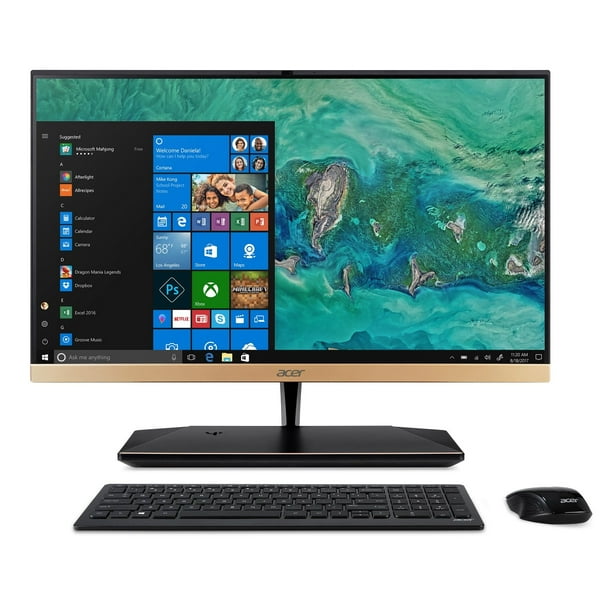 All prices mentioned above are in United States dollar.
This product is available at Walmart.
At walmart.com you can purchase Acer Aspire S24-880-UR12 AIO Desktop, 23.8" Full HD, Intel Core i5-8250U, 12GB DDR4, 1TB HDD, Qi Wireless Charging Base, Windows 10 Home for only $1,237.49
The lowest price of Acer Aspire S24-880-UR12 AIO Desktop, 23.8" Full HD, Intel Core i5-8250U, 12GB DDR4, 1TB HDD, Qi Wireless Charging Base, Windows 10 Home was obtained on April 20, 2021 3:03 am.
Acer Aspire S24 880 UR12 AIO Review by Expert
Buy For: Great design |Perfect performance
Beware Of: Web cam is of low resolution
Verdict
Despite being an elegant as well as high-performance AIO desktop, the Aspire S24 may be disregarded by you for a couple of drawbacks found in the system. The display lacks touch-enabled feature while delicate peripherals of the system may often have a negative effect on its usability. Plus, you may experience sluggish loading of various high volume applications during the peak official hours.
If you think you'll be able to manage these limitations, then this Acer all-in-one desktop is bound to empower you. It's been well equipped with all the brilliant features that set everything right required for basic usage. This AIO can be well used for day stock trading works.
Design & Build
This Aspire all-in-one desktop has the power to blow your mind with its modern, sophisticated appearance.
It sports a large 23.8 inch Full HD widescreen display to offer you theatre-like entertainment while streaming latest videos or watching movies.
The LED back-lit IPS monitor comes with the native resolution of 1920 x 1080 pixels and ensures extreme brightness, crystal-clarity & colour accuracy.
Due to such attractive monitor, the desktop appears gorgeous enough to overpower some of its competitors in terms of design.
Moreover, it has got premium metal chassis along with thinnest bezel around the display.
You'll find a hinge that allows you to rotate the display from vertical angle to about 45 degrees for your convenience. Check out Best Desktops for Day Trading.
Performance
In order to handle everyday workloads with utmost efficiency, the system houses an 8th Generation Intel Core i5-8250U processor.
The chipset has the base frequency of 1.6GHz and maximum frequency of 3.4GHz to perform at speedy rate all the day long.
As a result, the system does really well without causing any occasional lag whenever you perform multiple activities on the desktop.
The CPU delivers ample processing power to let you do several things like web browsing, word processing, video conferencing, and other basic computing tasks.
The desktop is packed with an integrated graphics card just to offer minimal graphical power for your creative jobs.


Storage & RAM
The desktop is undeniably rich in its RAM and storage specs. It features 12GB DDR4 RAM which is more than sufficient for everyday computing needs.
The memory has the frequency of 2400MHz. It ensures complete multitasking ease even under huge work pressure.
On the other hand, there is 1TB SATA Hard Drive storage in the system to increase your excitement.
You will get immense storage space to create the biggest folder containing your files, images, videos & more. Check out best brands for desktop.
Ports & Connectivity
The left side of the system is a finest accommodation to a single USB-C port, dual USB 3.1 Gen 1 ports, a power button and an SD card reader.
At the back of it, you will notice another USB 3.1 port, an HDMI input, an HDMI output and an Ethernet jack.
This Ethernet jack is a substitute to the built-in 802.11ac Wi-Fi connectivity option. Check out Acer Aspire C24-865-ACi5NT AIO Review.
The right edge holds some other essential ports including a USB 2.0 port, an audio jack and a Kensington-style locking slot.
Thereby it's evident from the specs that the Aspire S24 comes with all the essential outputs you need to fulfill some of the real purposes.
Additional Features
The system sports a small webcam that is positioned at the top of its screen. It captures grainy photos and videos to help the users so often.
Basically, the webcam assists you in arranging a video conference with distant people or colleagues every now & then.
Among the additional features packed in the system, the most notable one is the presence of Qi wireless charging base.
This charging pad is located in the left corner of the system's rear panel. Its function is to deliver sufficient power for charging compatible mobile gadgets.
The Aspire S24 is pre-loaded with Windows 10 Home operating system to keep you up-to-date with latest applications.
Specs:
Brand: Acer
Storage: 1TB
RAM: 12
Storage Type: SATA
RAM Type: DDR4
Processor: Intel Core i5-8250U
Graphics: Intel HD Graphics 630
Processor Speed: 3.4 GHz
Processor Brand: Intel
Product Dimensions: 21.26 x 0.24 x 16.14 inches
Operating System: Windows 10
What Do Users Think about Acer Aspire S24 880 UR12 AIO?
Many users have been pleased with the presence of both HDMI input & output in the system.
With HDMI input, you can use its monitor for another desktop while you can add extra display to this AIO desktop via HDMI output.
Buyers often take delight in its powerful hardware configuration and all-in-one features. Check out Acer Aspire S24 880 Manual.
Other Expert Views
Several tech experts including the renowned ones have considered the Aspire S24 all-in-one desktop to make a comprehensive review of it. According to Tech Spot, this Acer model highly resembles an impressive laptop both in terms of design and in terms of functionality.
As per PCMag everything is wisely packed and styled in the system to give you nice computing experience on day to day basis. Besides typing or preparing MS Office documents, you can plug in music keyboard or engage in playing PC games with a controller. Everything you do on it, you'll be assured of utmost comfort and speediest performance as well.
Toms Guide started with value pricing. It is coming with all the things that are required to your experience perfect. In fact the processor and stunning design is also making it perfect from all sides.
Acer Aspire S24 hands-on: 5 things to know - SlashGear
April 2, 2018 -
SlashGear
Acer Aspire S24 hands-on: 5 things to know  SlashGear...