eComputerTips is reader-supported. When you buy through links on our site, we may earn a small commission without any additional cost to you.
Value for Money Score
8.3/10
Specifications and Features Score
8.4/10
Cons
The Graphics present is very average
There is only SSD, which is a problem
The computer provides little upgradability regarding graphics
It fails to handle high-end tasks or games
No monitor is provided in the packaging
The need for a computer that runs smoothly is not a very costly affair these days. Check out Acer Aspire TC-885-UA91 Desktop Review & Best Price.
You will get a number of options available in your budget so that you can choose a computer for yourself which suits your needs.
The Acer Aspire TC 885-UA91 is one of those Desktops that you will simply love when it comes to home or light office usage.
It features the latest Intel 9th gen i3 processor, which provides the peak i3 performance. This is further supported by 8 GB of DDR4 RAM and Intel UHD 630 Graphics.
Now don't expect the graphics to do wonders and it will struggle when you try to do even above average gaming, but stick to light games and it will be a good companion.
The device is quite dependable and has found its place in almost every list of budget desktops for home-usage. Check out most reliable desktop computers.
Acer Aspire TC-885-UA91 Desktop & Variants Price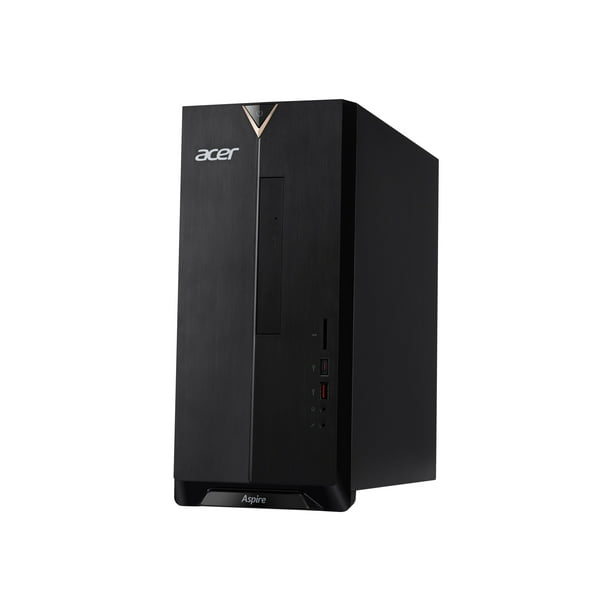 $629.00
6 new from $629.00
2 used from $549.00
as of September 29, 2022 1:00 pm
Create Your Free Price Drop Alert!
Set Alert for Acer Aspire TC-885-UA91 Desktop, 9th Gen Intel Core i3-9100, 8GB DDR4, 512GB SSD, 8X DVD,... - $409.95
Acer Aspire TC-885-UA91 Desktop Review by Expert
Buy for: The pocket-friendly price. Its ability to handle day-to-day work at home with ease.
Beware of: It is not capable to run large software or games.
Verdict
The Acer Aspire TC 885-UA91 is definitely a PC you can choose if your needs are limited to usual computing. Out of the other alternatives, this one has proved to be decent from all sides from design to the other performance-related aspects for a common household. We are sure you would not be disappointed after choosing this computer.
Design and Build
You will find a streamlined design on the Acer Aspire TC 885- UA91 that suits any household. It is not very large, and will not look out of place even if you keep it in closed spaces.
It comes in black color and LED lighting surrounds the V-shaped power button. The case is made of plastic but it does not look cheap though and comes in black color.
On the front, you get a USB 3.1 port and a type C port along with two audio ports. There is also a DVD drive that can read and write with 8X speed. 
Performance
The chipset inside the motherboard of the device is a quad-core Intel i3-9100U processor.
It is a 9thgen processor and when combined with the other internal components, performs fairly well.
Be it surfing the web, social media or emails, playing light games, watching videos or any work in the MS Office software, the processor will see to it that you have no troubles at all.
The processor has a usual speed of 3.6 GHz but it can be boosted up to 4.2 GHz through Turbo Boost 2.0 technology.
The graphics are an integrated Intel UHD 630 by default. You may upgrade to a better graphics card but you will have to upgrade the power supply.
A thing to remember here is that there is no dedicated graphics memory and the graphics storage would be shared from the RAM itself, which you might have to upgrade as well.
You will find no trouble in using the computer since Windows 10 comes pre-installed in it.


Storage and RAM
The storage capacity of the product is of 512 GB in the SSD. However, you may add a hard disk externally to increase your storage. The SSD ensures fast boot-up and file transfers.
There is 8 GB of RAM available, which may be expanded to a maximum of 32 GB as per one's requirements.
Ports and Connectivity
The product has an RJ-45 or Ethernet Port at the rear for internet connectivity, along with standard WiFi and Bluetooth 5.0 for fast transfers.
Then you have a total of 4 USB 2.0 ports, and 4 USB 3.0 ports including a type C port. Therefore, you will have no trouble in connecting various devices to the PC.
There are also HDMI in and out ports, a VGA Port and audio ports that allow you to further connect various other pieces of equipment. 
Additional Features
The product has audio 5.1 supports for an immersive sound experience. Check out best desktop computers.
A wired mouse and Keyboard come inside the package. A warranty of 1 year on the parts and labor has been provided.
Specs:
What Do Users Think about Acer Aspire TC-885-UA91?
The users have a mixed impression regarding the product. Some have found it to be entirely value for money, while others would have chosen some other PC over this.
Although, most of the users have agreed that they have found this PC to be quite useful while doing their daily work on it.
They have especially liked the number of spares ports that they get on the device. It supports gaming too, but limited and only light ones.
There have been complaints of pre-installed bloatware and about the Graphics card.
Other Expert Views
The experts at Techburn consider the Acer TC-885- UA91 to be a good product for home use because of the latest processor and faster SSD storage. They suggest TC-885-ua92 which features a faster i5 processor if one needs a better performance.
The experts at FancyAppliance have said that it is a good product when used for home uses or light office uses. It provides all the good features at an affordable price.
The experts at ConsumerTechCentral have shared the view that the device mainly targets the home users and the students who get enough power for doing their work. When one is on a budget and needs a PC for casual needs, the Acer TC 885-ua91 is definitely to be looked at.