As an Amazon Associate and (affiliate of other merchants) we earn from qualifying purchases without any extra cost to you when bought through our links below.
Acer Chromebook 11 N7 C731
USD
Value for Money Score
9.0/10
Specifications and Features Score
9.0/10
Pros
Spill-resistant keyboard
Durability
MIL-SPEC-810 tested chassis
Fantastic battery life
Cons
Dim & dull display
Underside heats up
Ram
Storage Space
Less scope of upgrade
Verdict
The Acer Chromebook 11 N7 Laptop with its features and smart designs is very popular. It is light and thus easy to carry and delivers great performance as well. It would have been best if this laptop computer had a higher storage capacity and RAM as well.
For Storage, this Acer Laptop comes in with the built-in storage for offline access. It also has the 100 GB of Google Drive Space. This ensures that the files are backed up automatically on the Google Drive Space provided here.
Acer Chromebook 11 N7 C731 & Variants Price
$30.00
5 used from $30.00
as of September 27, 2023 2:17 am
$79.99
as of September 27, 2023 2:17 am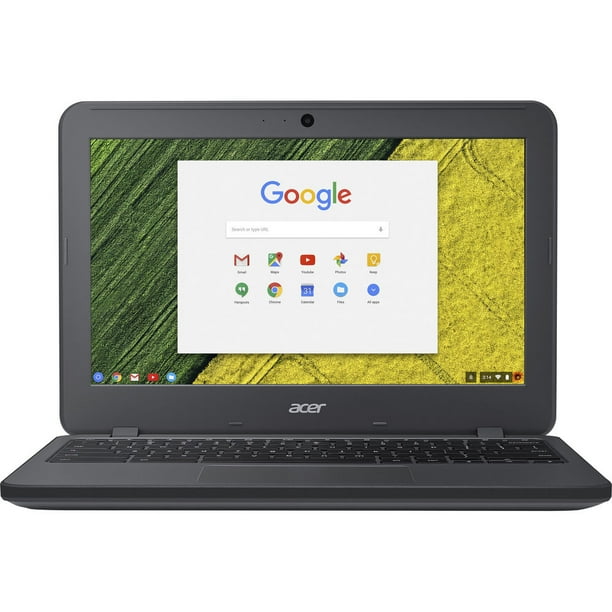 Introduction
If you are looking for a real trustworthy brand then Acer is one brand that is at the very forefront.
It is one brand which is known for the most innovative products in the field of computers.
Buy for: Good for Students| Spill-resistant keyboard
Beware of: Dim & dull display
Best uses for: Studying, working on the go, and basic computing.
The alternatives:
Design & Build
This Acer Laptop computer is one that is very smartly designed. It has a lightweight which makes it really easy to carry.
However, at the same time, it is quite hardy too. Apart from this, it has been designed in a way that is in line with the current web needs.
In case you are on the lookout for a light and very portable laptop then this Acer Laptop is ideal, especially considering its lightweight and overall design.
Performance
No matter what laptop computer you buy you would agree for sure that the performance it delivers is one of the keys.
The good thing about this Acer Laptop Computer is that it offers top performance.
It is powered by the Intel Celeron N3060 Dual-Core Processor which enables it delivers super speed.
Along with this for high-quality graphics, this laptop has been provided with the HD Graphics 400 and has a screen size of 11.6 inches.
It offers the Comfy View display screen technology. It also runs on the Chrome Operating System developed by Google.
Benchmarks
CPU
1. Most of us mainly focus on the CPU performance for better judgment of any kind of laptop. And to understand it, benchmark scores and ranks are the best things to consider. According to userbenchmark, the Intel Celeron N3060 has an average bench score of 22.2%.
Based on the performing capability this processor has taken 1334th rank out of 1358 processors of this kind. So we can say this is not a very powerful or efficient processor. As a desktop processor, it has achieved an average bench score of 26 %.
From a gaming perspective, this is 22 % and it is 15 percent for a workstation. This is a very old and poor Intel processor. It is only suitable for some basic compact devices.
2. As per the Geekbench4 scale, the Intel Celeron N3060 has got a 1066 single-core score and an 1861 multi-core score. This is not a very powerful processor. As a result, it is unable to cope with the workloads of this generation. For this reason, this processor is very rarely found in the laptops of this generation.
GPU
The Intel HD Graphics 500 is an integrated processor graphics unit of most of the Intel Celeron processors. This integrated graphics chip has an average bench score of 4.26%. It has taken the 400th position out of 683 GPUs in this category.
The Celeron series of Intel is not counted in the high-end processor segment; in fact, these are basic processors. So the integrated GPUs of these processors are also of the basic category.
This integrated GPU is only good in processing some of the basic level graphical contents. It supports the PC and it handles HD videos efficiently; that's all. It is not made for gaming or editing purposes.
RAM and Storage
Inside the Acer Chromebook 11 N7 C731 comes with 4 GB of RAM and 32 GB of flash drive storage. Check out Acer Chromebook 314 Review.
The storage works faster than a hard drive but because of its small capacity it lags behind most laptops today.
The RAM is simply the bare minimum to undertake simple computing tasks and so you cannot expect a lot of performance out of it.
Ports and Connectivity
The laptop has two USB 3.0 ports. Also present are an HDMI out port, an SD card reader and a headphone jack that are usual in most computers today.
But the ports are few and also there isn't an Ethernet slot available for wired internet connections.
For other connections you get 802.11 ac WIFI and Bluetooth 4.2 features.
Battery Life
Almost all day, 12 hours of back up is enough for the day. In fact you are getting 1 Lithium Polymer batteries.
This will be good for the usage.
Additional Features
Along with the standard features if you can avail of some additional features from the laptop or computer you intend to buy it is always a bonus.
With this Acer Laptop in terms of additional features, you could consider the standard warranty that has been provided with it as an additional feature that can come in handy.
Besides this, it also has a TouchPad as an additional feature.
Specs Details:
What Do Users Think about Acer Chromebook 11 N7?
As much as they liked the superior build quality and long battery life, the users were quite disappointed with the display quality.
The touchpad felt flimsy as well. While some of the applications ran smoothly, others stuttered and this caused problems for the buyers.
But because of its usefulness for the students, many have opted for the touch screen variant and even though limited, it was able to gain some positive views from the users.
The light design and portability is why it was bought over other chromebooks in this price segment.
Our Testing & Analysis Report
We tested the Intel Celeron N3060 processor of the Acer Chromebook 11 N7 C731 on different benchmarks and found that its average score is pretty low, hitting only a bench score of 22.2%.
We found that it can handle basic computing tasks, browsing, and checking emails most efficiently.
According to the Geekbench 4 scale, this processor managed to score only 1066 points for its single-core performance and 1861 points for multi-core performance.
When we played a few games on it, the benchmark scores were pretty much the same. So, we concluded that overall, this processor is very basic in nature.
As for the GPU, it also did not surprise our technical and analysis team. It too is very basic in nature and could handle simple image rendering and processing of graphical content. However, it supports playing HD videos quite efficiently.
The keyboard and trackpad are however very strong and when we typed a few documents and navigated through the web pages, both responded pretty well. The keys have a decent travel distance to offer a comfortable typing experience.
The display of the battery, we found, is just Chromebook material, and nothing extraordinary. The color accuracy and viewing angle are just as we expected to see on our Delta E 2000 color accuracy test.
The battery life however is quite long which is most because of its basic support. On our battery rundown test, it lasted for much more than 10 hours, which is pretty good.
Questions & Answers:
Does the Acer Chromebook 11 N7 C731, have any HDMI ports?
Yes, in this compact device, there is an HDMI port. So the users can easily attach any external display unit to this laptop.
Is the storage capacity of the Acer Chromebook 11 N7 C731 upgradable?
No, the storage section of this compact laptop is not upgradeable.
Does the Acer Chromebook 11 N7 C731 have a CD or DVD reader?
No, there is no optical drive on this laptop.