Acer Predator PO3 600 Gaming Desktop
US 1+
Value for Money Score
8.8/10
Specifications and Features Score
8.7/10
Pros
Good CPU
Nice design
Intel Chip
1000 PC games possible
Good at fast gaming control
Cons
Little bit graphic issues
Not easily available
Gets warm at times
Little bit loud
Not easy to assemble
Read Acer Predator PO3 600 gaming desktop review and see the best price. If you are on a plan to purchase an ideal gaming desktop, you may do a little homework to make it a best buy.
But it will become quite unnecessary if you stretch your hands towards the Predator gaming PCs. The mid-range gaming desktops belonging to the Acer Predator series are completely suited for passionate PC gamers.
Among them, we have chosen the Predator PO3 600 Gaming Desktop to make a detailed review for you. This specific model is wisely equipped with a CPU and graphics processor to run most of the latest gaming titles.
It has the ability to win the hearts of maximum gaming professionals or casual gamers.
Acer Predator PO3 600 Gaming Desktop & Variants Price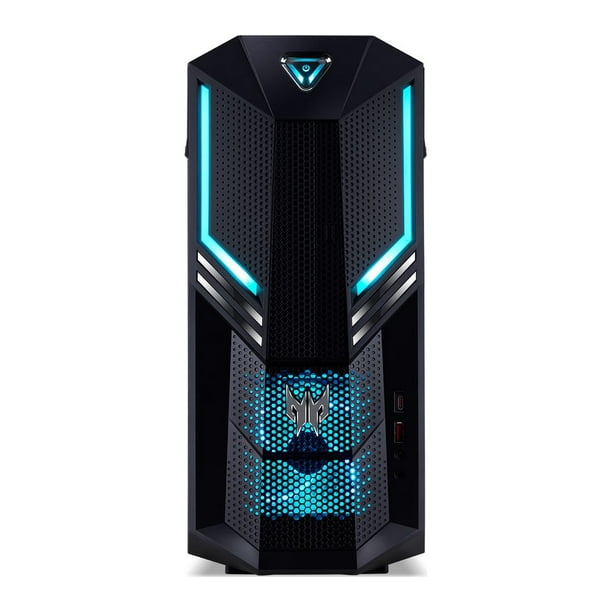 Create Your Free Price Drop Alert!
Set Alert for Acer Predator PO3-600 Gaming Desktop Computer -
Core
i5 i5-9 + Office 365 Bundle - $1,174.49
Acer Predator PO3 600 Gaming Desktop Review
Buy For:  Good CPU | Nice design
Beware Of: Gets warm at times
Verdict
One will definitely find the true value of Acer Predator PO3 600 gaming PC in its superior performance round the clock. It is able to fulfill the eager gaming demands of different users – from beginners to professionals as well. Moreover its attractive appearance along with silent operation is bound to impress you a lot.
Design & Build
Unlike its predecessors belonging to the Acer Predator series, the Predator PO3 600 model has got a custom chassis design to flabbergast you.
The textured front panel made of premium quality plastic is illuminated with blue LEDs.
The front panel is decorated with the LEDs in an accurate way to make you fall in love just at first view.
The system has the dimension of 22.5 x 19 x 12 inches while it weighs about 22.7 pounds. Check out top 10 gaming PC.
Unlike traditional towers, this compact gaming rig takes up little space on your desk or table, giving space to other essential peripherals.
Moreover, the desktop allows you to make necessary upgrades in the years to come.
Performance
The system features 9th Gen Intel Core i7-9700 processor that stays at the heart of gaming desktop.
This Octa-core (8 Core) CPU has the base speed of 3 GHz, while it is capable of running at maximum Turbo speed of 4.70 GHz.
This Intel chipset provides an appreciable range of power to ensure unprecedented gaming performance every now & then.
On this ground, the Predator PO3 600 model can easily overpower many of its competitors.
Graphics cards play a crucial role to run the system for a PC gamer. Being a supermodel part of the entire hardware configuration, GPU can make or break the whole gaming setup.
It remains accountable to provide complete support to all the PC gaming titles and helps them run smoothly.
Powerful graphics processor means you will be able to run your PC games at higher resolution & better frame rates.
Moreover, your games will be looking more & more amazing, beyond your expectation.
The Predator PO3 600 gaming PC houses NVIDIA GeForce RTX 2060 graphics processor.
It comes with 6 GB memory to perform efficiently enough to unleash your gaming skills.
This NVIDIA GPU holds the ability to run almost 871 games at the level recommended by any professional gamer.


Storage & RAM
The size of RAM becomes truly significant when we sit to discuss the specifications of a gaming PC.
A recommended level of system memory enables the desktop to quickly process huge amounts of data without least hassle.
The Predator PO3 600 gaming rig is packed with 16 GB RAM that provides you absolute multitasking ease, while gaming and handling some general tasks.
It also speeds up most of the graphics-intensive gaming titles, so that they take least time to load.
The system also features 2 TB HDD (Hard Disk Drive) as well as 512 GB SSD (Solid State Drive) storage options.
Hence, you will get ample space in the device to store all of your essential files, media files, 4K videos, favourite gaming applications etc.
On the other hand, solid drive storage contributes to the overall system performance to deliver an amazing gaming experience.
Ports & Connectivity
This mid-sized tower desktop offers a lot of options to connect several peripherals as well as your favourite devices.
Its front panel features a USB-A port, USB-C port, speaker and effective microphone jacks.
On the other hand, the rear panel is the home to three DisplayPort connectors, an HDMI output, RJ-45 Ethernet port, two USB-A 3.1 Gen 1, four USB-A 2.0 ports, USB-C port, audio input & output jacks, and headphone jack.
The placement of ports at the bottom of the front case makes the system absolutely ideal for getting conveniently connected to its surrounding peripherals.
Additional Features
This gaming rig runs on Windows 10 Pro 64-bit operating system.
Needless to say, this latest version of OS brings you a number of cool features and advanced applications to blow your mind.
The PC derives necessary power from a power supply unit of 500-watt, which provides more than enough power for longer hours.
Specs:
Brand: Acer
Storage: 2 TB HDD – 512 GB SSD
RAM: 16 GB
Storage Type: SATA
Processor: Core i7 i7-9700
Graphics: NVIDIA GeForce RTX
Processor Speed: 3 GHz
Processor Brand: Intel
Package Dimensions: 22.5 x 19 x 12 inches
Operating System: Windows 10
What Do Users Think about Predator PO3 600?
According to many users and passionate gamers, the Predator PO3 600 deserves high applause for general computing & some graphics-intensive applications.
But it is not so ideal for some of the latest heavy gaming loads. Still it is technically well equipped to perform efficiently and entertain you to the fullest.
The system forms a solid, mid-range & high-end gaming specification to make an impact on several PC gamers. Check out Acer Predator PO3 600 Manual.
Other Expert Views
PC Game Benchmark is saying the desktop is able to run PUBG, GTA V, Apex Legends, Fortnite, Minecraft & some others latest PC games at a great level.
However, according to some Tech Rader experts, this pre-built gaming system hardly fulfills the suggested requirements for some biggest gaming titles like Red Dead Redemption 2.
Digital Trends is saying that it is having great design, unobtrusive mini chassis and Six-core processor option. It is definitely offering the best in gaming parts but not in case of price.