As an Amazon Associate and (affiliate of other merchants) we earn from qualifying purchases without any extra cost to you when bought through our links below.
Acer Spin 3 Convertible Laptop
USD
Value for Money Score
9.3/10
Specifications and Features Score
9.1/10
Pros
Remains cool even under pressure
Loud and clear audio
Versatile design
Aggressive pricing
Good design
Cons
Lacks USB Type-C
Lackluster display
Below-average battery life
Not available all time
Upgradation is not possible all time
Verdict
Despite having a few drawbacks like not-so-reliable plastic build, this ultrabook is an excellent device to create the world full of thrill around you.
It simply makes you get immersed in watching your favourite video or movie with the help of high quality front-facing speakers & brilliant display features. Students as well as professionals will definitely consider the Spin 3 to be the best buy.
Acer Spin 3 Convertible Laptop & Variants Price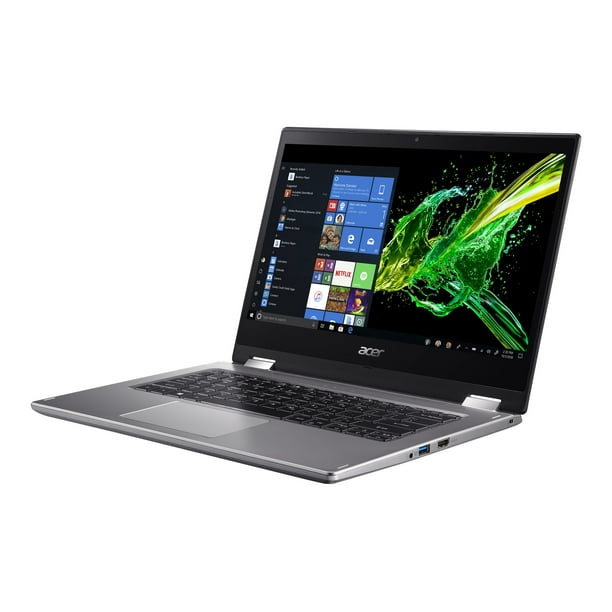 $1,079.99
2 new from $1,079.99
as of October 2, 2023 2:30 am
Introduction
This convertible laptop from the brand Acer boasts of a wide range of powerful specifications & trendy attributes that easily grab your attention in a while.
You are bound to fall in love with its bold, stylish outlook and the excellent privilege of its convertible lid.
This ultrabook leaps forward under the hood in terms of technology and you will purchase it in order to stay updated with time.
Buy for: Remains cool even under pressure | Loud and clear audio
Beware of: Lacks USB Type-C
Best uses for: Elementary students, note taking and other purposes.
The alternatives:
Design & Build
Being just 0.78 inches wide, the Spin 3 becomes an ultra-slim device to get easily slipped into a flat bag without much effort.
Moreover, its lid offers the convenience of 3600 hinge, so that you can work on the system by keeping it in any position you like the most.
The best part of its design is a 14-inch Full HD IPS Widescreen display which provides multi touch convenience to a creative user.
Performance
The laptop is powered by Intel Core i5-1035G4 processor.
The chipset has the maximum clock speed up to 3.7 GHz to perform effectively without any hiccups.
The processor is coupled with 8GB DDR4 RAM and 512GB PCIe NVMe solid state drive storage which is an impressive feature for the price.
Benchmarks
CPU
1. Users are always looking for a work-friendly, comfortable and handy device for their everyday tasks. As well as a strong processor can help to improve laptop speed for its better performance.
Before buying any kind of laptop we should check the benchmark score and rating for a better future experience. The Acer Spin 3 comes with the Intel Core i5 1035G4. According to the UserBenchmark, the Intel Core i5 1035G4 secured an average bench score of 58.8%.
Based on its performing capability this processor has taken the 570th position among 1357 processors of this kind. The benchmark score of this processor, when this is used in a gaming device, is 59 percent. For desktops, this is 65% and for workstations, this is 48 percent.
2. On CPU Benchmark, the Intel Core i5-1035G4 has an average CPU Mark of 8140. The single thread rating of this quad-core processor is 2256. Based on the analysis of 496 processors, the experts have concluded that the margin of error in this chip is low.
The overall rank of this Intel processor is 835. Based on a comparative study of the average thread ratings of the processors, we can say Intel Core i5-1035G4 performs better than Intel Core i7-7700HQ. On the other hand, Intel Core i7-8750H performs better than Intel Core i5-1035G4.
GPU
1. According to the videocard benchmark, the overall rank of the Intel Iris Plus Graphics 655 is 609. The average G3D mark of this integrated graphics chip is 1763 and 367 is the average G2D mark of this GPU.
This is a very low-end integrated GPU. It is good for only processing some HD contents. This GPU is not made for gaming or video editing purposes.
2. On PCMark 10 scale, the Intel Iris Plus Graphics 655 has a score of 4010. This is not a very efficient integrated chip. It is only better than 30 percent of all the GPUs of this time.
RAM and Storage
The Acer Spin 3 is a high-performance laptop and thereby it is quite obvious that it should have a good amount of RAM and storage capacity as well.
You will find 8 GB of DDR4 RAM on it that should be enough for anything you do on the laptop.
There is a 512 GB SSD drive that provides reduces the booting time and speeds up file transfers.
It should suffice, but you may have to buy external storage later on depending upon usage.
Battery Life
The Spin 3 is well known for performing up to 12 hours on the single charge of its battery.
The laptop houses a Lithium ion battery that offers the benefit of longer computing with normal usage.
Ports & Connectivity
The system offers powerful 802.11ac wireless connection to ensure faster & hassle-free loading on the web.
It also accommodates a number of USB 2.0 and USB 3.0 ports for absolute user convenience.
Additional Features
Surprisingly, the Spin 3 model comes with an effective Fingerprint Reader which lets you enjoy an additional level of biometric security along with the advantage of preventing unauthorized users from getting access to your PC.
You are getting these with total security and support from the makers with the usage modolues.
Specs Details:
Brand: Acer
Hard Drive: 512 GB
RAM: 8 GB
Hard Drive Type: Solid State Drive
RAM Type: DDR4
Processor: Intel Core i5-1035G4
Graphics: Intel Iris Plus Graphics
Processor Speed: 3.7 GHz
Processor Brand: Intel
Product Dimensions: 12.9 x 9.4 x 0.8 inches
What Do Users Think about Acer Spin 3?       
We found that the laptop was loved by a majority of those who bought it. It has a good set of features to prove it.
Also, it has most of the necessary features that one may expect from any modern laptop.
The performance was found to be top-notch, and given the touchscreen display, it allowed the buyers to utilize it in multiple ways.
The negative sides that were noticed were noise from the fan inside and the lack of a USB Type-C port.
And although it has a strong processor, the inability to add a decent GPU hinders its graphical rendering, and as a result, it's overall performance. 
Our Testing & Analysis Report
We tested the performance of the processor of the Acer Spin 3 and found that it is quite satisfactory overall. According to the benchmark tests, such as UserBenchmark, it scored about 58% which is pretty average.
As for support for gaming, we could play basic games most efficiently since the CPU lagged when we played high-end games. Based on our benchmark tests, it scored 59%, which according to our database is quite low.
The integrated GPU chip, on the other hand, managed to score average on our Video Card benchmark. We found that it is good for playing basic games and handling a few HD contents when we put it for video editing purposes.
When we tested it on the PCMark 10 scale, the results were not much different to impress us.
The keyboard and trackpad were both quite good and allowed us to type and navigate quite easily and efficiently.
The touchscreen display showed quite a good color accuracy, deviation, and sRGB color coverage on our Delta E 200 color accuracy tool when tested.
The images were pretty crisp and vivid. It also responded to touches and allowed easy drawing and sketching on the screen directly.
On a battery rundown test, we found that the battery of the system lasted for about 8 to 10 hours on normal usage during test conditions on a single charge.
Questions & Answers:
Does Acer Spin 3 have a touchscreen?
Yes, this Acer laptop comes with a touchscreen panel. And the users can easily use a stylus on it.
Does Acer Spin 3 have an inbuilt fingerprint sensor?
Yes, in this device, the users will get an inbuilt fingerprint sensor and it is very accurate.
Does the keyboard of the Acer Spin 3 have backlit light?
Yes, the keyboard of this laptop has a backlit facility. So, the users can easily use it at night, without any external light.
Is the storage section of the Acer Spin 3 upgradeable?
There is no option for upgrading the storage section of this laptop. But, an SD-Card or an external hard drive can easily be used to expand the storage capacity of this laptop externally.