As an Amazon Associate and (affiliate of other merchants) we earn from qualifying purchases without any extra cost to you when bought through our links below.
Value for Money Score
8.7/10
Specifications and Features Score
8.6/10
Pros
Great and sleek design
Quieter operation
Swipe-style fingerprint scanner
Thin and light chassis
Affordable price
Cons
A bit bouncy and reflective keyboard
Somewhat uneven distribution of brightness
Small and lackluster speakers
No SD card reader
Weak power jack and screen lid
Verdict
The balanced hardware of the Acer Swift 5 laptop is well utilized to provide optimal performance under load and demoing environments. The efficient temperature control and long-enough battery runtime makes it a perfect machine for a full day's work.
Acer Swift 5 Laptop & Variants Price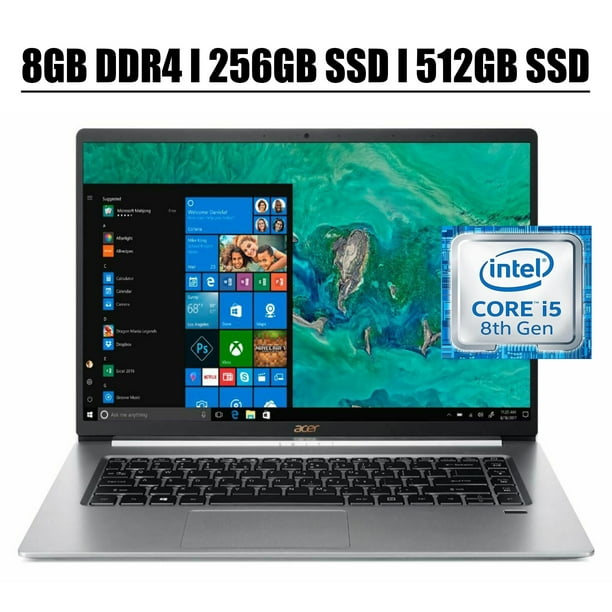 $899.00
1 used from $899.00
as of March 25, 2023 6:50 am
Introduction
This laptop comes with more reliable features and hardware components included in the chassis.
The full HD multi-touch 14-inch screen promises a reliable display of images and the sleek and slim design makes this system ultraportable.
You will get enough power from the battery source to do most of your computing jobs of your day on this laptop that comes at an affordable price.
If you do not need a workstation or a laptop for high-end gaming, this is one of the most reliable computers even though it does not come with a MIL-STD rugged construction.
The features of the system not only make it a chic machine but also enables it to work most effortlessly. This ultra-thin and ultra-portable laptop will work at a fast speed and will fire up instantly.
It will help in leveraging the power and the capability of the elements that it comes with most reliably and effectively.
The Dolby audio system will provide the most reliable and memorable multimedia experience, properly complemented by the screen that comes with IPS touch technology. Though the stereo speakers are small, this is facilitated by the Acer True Harmony technology.
The sleek chassis made from magnesium-lithium alloy ensures the durability of the system. The backlit keyboard complements with the design of the system as well.
The design and features along with the long enough battery life of this system will make it the most reliable laptop that is fit for working on your go.
The system is also very reliable when it comes to connectivity with wi-fi 6, Bluetooth and Thunderbolt 3 features.
However, the reliability of this system can be a bit debatable only due to the common trade offs that the thin and light design comes with, such as the slight thermal throttling.
Buy for: Good battery life, good ports selection, 1080p matte multi-touch display.
Beware of: Small keyboard layout, clunky trackpad, bloatware.
Design and Build
Every aspect of the system is carefully designed to provide maximum viewing pleasure and ultimate in performance. The stylish and slender design makes it ultimately portable.
The 14-inch screen produces images at 1920 x 1080 pixels providing a full HD viewing experience. Check out top 10 laptop brands.
The multi-touch widescreen LED-backlit display is one of the most prominent features of the design of this system.
It is due to the Cine Crystal In-plane Switching or IPS-Pro technology. The slim bezel design as well as the anti-glare touch display will be softer on your eyes even when you work on it for all day long.
The charcoal blue system is built on a PC hardware platform. The build of the system is equally well-thought to keep its weight barely over 2 pounds, 2.14 pounds, to be precise.
The build of the cooling fans in the system is also better and ensures that it does not disrupt even under heavy workloads and keeps the interior of the machine cool.
It is also high in usability due to the metal covers at the top and bottom. This makes it a stronger machine which is light enough to carry in a bag or use it on your lap in a coffee shop or while you are travelling in the tube.
The design and build of the touchpad are ultimate in precision that will ensure a smoother navigation, operation and performance of the device.
This makes this system an ideal and most reliable one for small businesses and a perfect tool to use in the classrooms.
Performance
The system promises a high level of performance on the go. Ideally, it is a solid system that will facilitate in performing the everyday tasks.
The narrow border and the Acer Color Intelligence technology of the screen of this machine will produce images with vivid details, more vibrant colors, and a better viewing from all angles.
Whether it is for watching a movie, visiting websites for online shopping or checking your accounts on social media platforms, the performance of the screen will be at the highest level to produce the best viewing experience.
The system comes with the latest 8th generation Intel Core i5-8250U processor. This processor performs at a high level to make your job easy and get it done quickly.
Operating at 1.6 GHZ, the four cores of the processors can even perform at a higher speed of 3.4 GHz using the Intel Turbo Boost technology.
The 8-hour-long battery will support the processor adequately so that you can perform your work most seamlessly.
The Intel UHD Graphics 620 integrated card will also support its performance to keep it high.
The images and graphics produced will look exceptionally good on the unique screen.
The Windows 10 Home operating system will provide a better operating experience to enjoy.
It will be complete with the Windows Hello support and the fingerprint reader support will also ensure a fast and secure operation that will not need any password for signing in.
The operating system also comes with Cortana, which is its voice compatibility.
In addition to that, the Skype-certified components will provide with an uninterrupted and better audio and video experience.
Benchmarks
CPU
The UserBenchmark is one of the most trustworthy, popular benchmarking sites of this time. The average bench score of this Intel Core i5-8250U processor is 60.1%.
A number of 1364 processors are considered by the technical experts of this benchmarking site; and among them, this Intel i5 processor has ranked at 532nd position, based on its performance.
From the gaming perspective, this processor has got a benchmark score of 60%. These benchmark scores are 64% and 47% for regular desktops and workstations respectively.
GPU
The Acer Swift 5 comes with integrated Intel UHD Graphics 620. As of 16th October 2022, the average bench score of this Intel UHD Graphics 620 graphics chip is 4.83%.
The technical experts of this benchmarking site examined 688 graphics chips and among them, this GPU has ranked at 392nd position.
RAM & Storage
The system comes with an onboard memory that operates at a speed of 3.4 GHz, but is not upgradeable.
The 8 GB LPDDR3 RAM, though not hi-fi, will support most of your everyday computing needs.
The 256 GB SSD storage of the laptop will offer adequate space and allow easy accessibility to the files and folders stored in it.
Ports & Connectivity
There are enough ports and sockets that will allow you to connect several different external devices.
The list of the ports in this system include a USB 3.1 Type C Gen 1 port that can operate at a rate of 5 Gbps, one DisplayPort over the USB-C port, and two USB 3.0 ports.
One of these two USB 3.0 ports is meant for power-off charging. There is one HDMI port that comes with HDCP support as well.
When it comes to connectivity, the system ensures a stable and powerful one with its advanced 802.11ac wireless communication technology and standard of the Intel 7265 wi-fi card.
The wi-fi communication standard features the 2×2 MU-MIMO technology and supports dual-band operating at 2.4 GHz and 5 GHz.
The system will also allow you to use Bluetooth 4.0 which will enable you to connect several devices of your choice to it as well.
Battery Life
There is a 2-cell Lithium ion battery included in the system. This 4670 mAh battery has a life of 8 hours, good enough to allow you to perform your day's work.
However, the system does not sustain USB-C charging. Therefore, you will need to use the AC adapter that comes in the package to recharge the battery.
Additional Features
The additional features of the machine will also attract your eyes.
Take a look at the audio system of this device that includes two stereo speakers built in the system. It comes with Acer True Harmony technology and supports Dolby Audio Premium Sound as well.
This will surround you with true and more realistic sound when you watch movies, or listen to music or play games on this system.
With thrilling loudness and clarity, the sound will feel powerful and pure to your ears. However, there is no bass in the speakers which could be a bit of a concern if you love that 'boom-boom' effect.
Then, take a look at the Acer Fingerprint Reader. This supports Windows Hello and will provide an extra bit of security and allow password-free login. However, few users think that this fingerprint reader could have been a bit better.
The back-lit keyboard of the system also adds to the appeal of the machine, leaving aside the comfort and convenience in typing in the dark and dimly lit settings.
The HD webcam is also a good feature added to the system that works in a much better way as compared to the other webcams of other systems.
It produces images at 1280 x 720 resolution which complements well with the 1920 x 1080 resolution of the screen when displayed on it.
The best aspect of this HD webcam is that it supports HDR or High Dynamic Range.
The system comes with a 'domestic warranty' provided by Acer. This means that it is applicable within the peripheries of the state from where the system is bought.
Therefore, if you are more concerned with local service, support and repairs, it is recommended that you buy the system from a store in your place of residence.
Acer also provides International Travelers Warranty. However, the International warranty is applicable for genuine travelers only.
Therefore, make sure that you read the terms and conditions of this type of warranty to know the limitations and FAQs related to ITW.
Specs:
Brand: Acer
Screen: 14 inches
Display: Full HD (1920 x 1080)
Storage: 256 GB
RAM: 8 GB
Storage Type: SSD
RAM Type: LPDDR3
Processor: 8th generation Intel Core i5-8250U
Graphics: Intel UHD Graphics 620
Processor Speed: 1.6 GHz and up to 3.4 GHz with Intel Turbo Boost technology
Processor Brand: Intel
Product Dimensions: 12.95 x 8.98 x 0.59 inches
Operating System: Windows 10 Home
What Do Users Think About Acer Swift 5?
Users who want a lightweight system with a good enough battery life invariably choose this machine. They say that this system comes with everything they want in their laptops to have.
They specifically like the fact that they could easily swap the SSD according to their upgrading need. Check out Acer Swift 5 Manual.
Other users liked the fact that they could upgrade the Intel 7265 wi-fi card included in the system with an Intel 9260 network card. This improved the BT performance as well as the reception of the system.
Others said that the system is great in comparison to, and works at par, those laptops that come with an i7 processor, a 16 GB RAM, or dedicated graphics card. A good system for everyday tasks, this system provides them with high value in return.
The economical laptop with its 14-inch screen and good enough processor and operating system satisfied the computing demands of a lot of users.
Light in weight, they feel that this system is one that can sit comfortably in the higher brackets of laptops that comes with appealing looks, great style, useful features, and, most importantly, more affordable price.
The incredible touch screen along with the ability of the lid to flip all through and flat at 180 degrees were pleasant enough to some of the users.
However, there are a few other users who have such high regards about the system. They felt that the laptop is good but not that impressive.
The battery life, they said, is much shorter than the advertised 8 hours, and dies after 5 to 6 hours of average use. But for the compact and lightweight adapter, it would have been impossible for them to work on it all day.
The keyboard annoyances and very faint lettering is hard to see for some users. If the ambient light is not bright enough, they often have to turn on the backlight of the keyboard often.
This also affects the battery life negatively. They felt that the system should come with an adjustable keyboard backlight feature, but unfortunately it does not.
Other users had mixed feelings about the system. Some of them said that the whistling fan noise annoyed them when they needed to work in a silent environment. When they capped the CPU usage to 80%, the functionality of the fan was not better either.
Some users felt that the screen was too glossy and needed a nonspecific matte screen protector.
Here were other users who said that the keyboard is reflective and wished that it was made from the same material as the screen bezels to reduce this negative aspect of the keyboard which is otherwise a good addition to the system design.
Other Expert Views
The Inquirer felt that this computer system is perfectly good for travelling people due to its ultraportable design. They also said that the product is well priced and has the ability to compete with other ultraportable laptops available on the market.
Gadgetsnow, on the other hand, said that this sleek and good-looking laptop comes with high-end specifications that are found in most of the high-end laptops. It is designed and built to deliver a consistent performance at a moderate temperature. According to them, there is nothing much to complain about this machine that is specifically designed for business users.
TopNewReview opined that this Acer product comes with a minimalist design and has no problem. The magnesium alloy chassis material is strong and lightweight making it a perfect laptop to use on the go that comes at a substantially cheaper price.
Questions & Answers:
Is the display of the Acer Swift 5 a touch screen panel?
Yes, this Acer laptop possesses a touch screen panel.
Does the Acer Swift 5 support an active pen?
No, this laptop is only compatible with capacitive pens.
Is the Acer Swift 5 good for gaming?
No, as the GPU section of this laptop is weak, you can't use it for playing HD games. But some casual, basic level games can be played on this device.
Does the Acer Swift 5 come with a backlit keyboard?
The keyboard of the Acer Swift 5 has a backlit facility.