eComputerTips is reader-supported. When you buy through links on our site, we may earn a small commission without any additional cost to you.
Value for Money Score
9.2/10
Specifications and Features Score
8.5/10
Acer Swift 7 is officially the thinnest clamshell laptop of the world. It weighs only 2.48 pounds.
However, the tiny frame seemed no barrier for the manufacturer to fit a splendid 13.3-inch real estate, a full-size and easy-to-type keyboard and the right ports. So lets read in details about the Acer Swift 7 Review.
Despite accommodating a thinner battery, the laptop manages to offer staying power for more than 9 hours.
The downside is, the users have to make some adjustments at the cost of working on a slim set. Check out our best Acer laptop list.
A pair of weak speakers is definitely a big downside but the bigger drawback comes in form of its 7th-generation Intel Core processor that lags behind the speediest ultra portables.
Acer Swift 7 & Variant Laptops Price
$780.54
2 new from $780.54
3 used from $545.00
as of October 4, 2022 8:56 am
$999.00
2 used from $469.00
as of October 4, 2022 8:56 am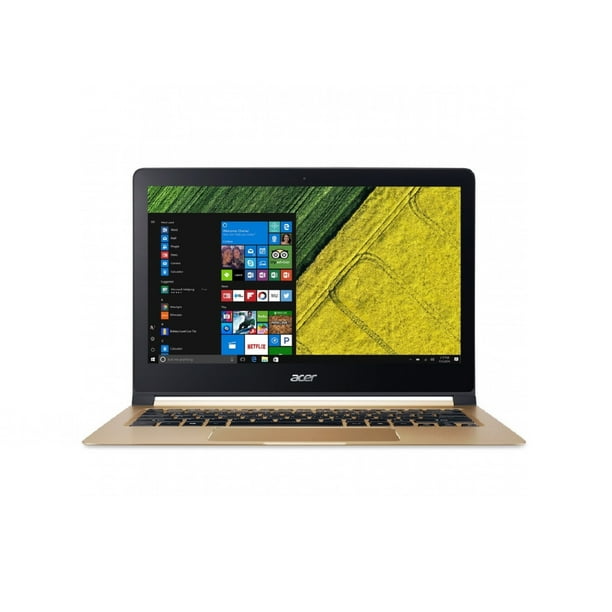 Create Your Free Price Drop Alert!
Set Alert for Acer Swift 7 SF714-51T-M9H0 Ultra-Thin 8.98mm Laptop, 14" Full HD Touch, 7th Gen Intel Core... - $780.54
Acer Swift 7 Review
Buy for: Thin style and better keybord.
Beware of: Average touchpad
Best uses for: Students, online teaching and remote learning and other purposes.
Acer Swift 7 has pushed the concept of 'slim and thin' to the point. However, the manufacturer has not compromised with the features and power while delivering something of ultrathin proportions.
This Acer Swift model draws its power from a 7th generation Intel Core i7-7Y75 processor that can be speeded up to as high as 3.6GHz.
The ultra-light model offers crispy display and reliable battery life for up to 9 hours.
Streamlined-style keyboard as well as high precision fingerprint and touchpad deserves a mention among some wonderful add-ons on its striking spec chart.
Specs Details:
Brand: Acer
Hard Drive: 512 GB
Hard Drive Type: Flash Memory Solid State
RAM: 8 GB
Processor: Intel Core i7-7Y75
Processor Speed: 1.3GHz
Graphics: Intel HD Graphics 615
Screen Size: 13.3
Processor Brand: Intel
Product Dimensions: 12.8 x 9 x 0.4 inches
Weight: 2.48 pounds
Reliability
 
Though most Acer laptops are bargain-priced models, the Swift 7 comes at a cost. The question is whether the model deserves that much or not.
In this blog, we will discuss in details about the big draws as well as drawbacks to give you a fair idea whether it is worth your savings or not.
The system packs a 7th generation Intel Core processor under its lid. However, the system is not even closer to the fastest ultraportable laptops in terms of performance.
The 13.6-inch screen produces bright and clear display. However, the audio output is much below the average. Find out best laptop brands.
Performance – Processing Power
Though the design sports a modern character, unfortunately, the same does not hold true for its processing prowess.
In fact, its 7th generation Intel Core i7-7Y75 runs behind the time. The Y-series chips from Intel are specially designed to make a seamless alignment with the fanless design but lack power of regular U-series chips.
This feature has put the Acer Swift 7 at a little behind its peers. However, it did not create any perceptible problem during the test when I opened 17 tabs while running Windows Defender.
However, the flaws were quick to identify as soon as I run synthetic benchmark tests. On the productive test, the Acer model took a little more than 3 minute to match 65, 000 names and addresses.
The figure is strikingly lower than the average (1.35). In comparison, the XPS 13 finished the task in 1.15 minutes, Gram required 1.19 minutes and MateBook did it in 1.49 minutes.
An 8GB LPDDR3 RAM has been slotted under the surface to pair up with the not-so-fast Intel processor. Take a look at top 10 high end laptops.
Design & Build
Without any doubt, the laptop manufacturers are in competition for making 'slim and thin' outputs and Acer clearly comes out as a winner of the race.
Weighing only 2.48 pounds, Acer Swift 7 is the slimmest notebook that packs in so many for you.
The device looks little bit thick around its middle. Despite being the thinnest, it is a middleweight model rolling out of Acer den.
The Swift 7 sports a marvelous design. Its chassis is made of black CNC aluminum. The device is sleek as well as substantial.
The exterior part draws attention for its nearly flawless and seamless design. It's a bet that you cannot help but admire its construction. There is no way to get rid of love for it.
The device looks like a single piece of metallic structure due to its fanless design.
The only visible exceptions are the glitzy company logo on the lid and rear hinges, with the latter character contributing to a flat display at a 180-degree angle.
The Swift logo is nicely embossed at back of the laptop. I particularly liked the delicate curve helping the bottom edges thicken.
The nano surface coating helps the Swift 7 stay immune to the assaults from the oily fingerprints, thereby maintaining its pristine and polished finishing.
Just like the exterior, Swift 7's interior is equally, if not more, captivating. Made of black aluminium, the deck looks catchy and feels cool.
The keyboard is styled like an island and fixed in a modest nook toward the top of the laptop deck.
The fingerprint scanner having a diamond-cut border flanks the keyboard in a distinct and decent style.
Acer has put a sophisticated design touch on its small touchpad. The only complaint that I have, like many users, is the wrong placement of the webcam anchored in the bottom display bezel.
Display
Chassis is not the only attraction of the Acer Swift 7. The Acer Swift 7 wraps a full HD display area measuring 13.3 inches.
Supported by IPS technology, the display quality is truly superb. I felt really happy while watching movies.
The images look really bright and brilliant. At a screen resolution of 1920×1080 pixels, you will truly get an enriched multimedia experience.
The IPS panel features only 0.8-inch thickness, topped with Corning Gorilla Glass of only 0.02-inch thickness.
The maker has reduced the size of both the side and top bezels though these are not as extra slim as what you can find in the Dell XPS 13's hardly visible InfinityEdge bezels. Vanishing bezel trend is my personal favorite.
The Acer Swift 7's real estate area is resistant to damages due to protection from the next gen Corning Gorilla Glass.
The protection makes the display area withstand drops two times better than the laptops featuring other glass types.
The screen features bursts of colors. In fact, you will be able to notice even the slight differences in shades, as the colors look so much prominent.
Details are not missing. I had no problem in spotting the individual strands of hairs even in the bright sunlight.
The Acer laptop is capable of reproducing 143 percent of the sRGB color palette – yes, you have read it right!
It's a whopping amount. Visual output is more vibrant than the HP Spectre 13 and LG Gram, which produce 111 percent and 128 percent respectively.
If it comes to vividness, the Swift 7 is much better than the average mark of the premium laptops.
On the ground of brightness, the Swift 7 amasses an average of 304 nits – slightly more than the 302-nit average.
It is much better than the Spectre that produces 247 nits but slightly below 307 nits of the Gram.
However, none of them comes closer to the MateBook which offers a surprisingly high figure of 458 nits.
Acer Color Intelligence is a signature character that allows fine adjustment of saturation and gamma in real time.
It results into optimization of screen color, brightness and saturation while avoiding over saturation.
The 10-finger capacitive panel of the Swift 7 is touch-sensitive and when functioning as a touch screen, it will let you keep pace with scribbles and doodles.
Graphics Card
This Acer Swift 7 is a perfect fit for more graphically demanding works. On our Dirt 3 test, the system produced 31 frames/second.
It is marginally above than the 30-fps average but far below than 70-fps average and frame rates of the MateBook, Specture 13, Gram which touch 117, 57 and 50 marks respectively.
Storage
The Acer Swift 7 accommodates 512GB of SSD, providing the users with an ample amount of space to store their important and entertainment files.
It will feel like a big storeroom where you can keep piling files after files with different extensions.
It may be plain text docs, heavy images, YouTube videos, movies, songs, apps and anything else – there will be enough room for safe storage and quick retrieval.
Battery Life
The tiny size of the Swift 7 will belie its long-going battery life. I was not expecting it from this slim set, especially after knowing that it houses a two-cell lithium-ion battery that is 23-percent thinner than the standard laptop batteries.
Therefore, I was surprised after getting 9-hour of continuous battery backup on a single recharge.
Yes, I continuously surfed web over Wi-Fi at brightness of 150 nits. Specially customized for life on the go, the sleek Acer laptop will allow you to get done with your necessary tasks wherever the work takes you.
Additional Specs
The Acer Swift 7's spec chart is interesting and impressive. However, I will restrict my discussion to the major add-ons only. Check out more details about Acer Swift 7.
Keyboard: The streamlined and island-shaped keyboard feels easy and comfortable for a speedy travel.
Its corners are rounded and the edges on the touchpad perimeter are chamfered. Both the features add a design touch of depth to the keyboard.
Touchpad & Fingerprint Reader with Wide Precision: Thanks to the wide precision touchpad, you will have more space for navigation.
The feature allows you to scroll and click more accurately. The integrated fingerprint reader adds an extra layer of biometric security by preventing the unauthorized users from accessing your laptop.
Wireless Performance: Saddled with MU-MIMI technology and 2×2 802.11ac, the laptop enables you to experience exciting wireless performance three times faster than ever.
Ports: Yes, the dongle is there but not jungle! That is to suggest you will find the right kind, right number and right placement of ports but those don't create a jungle-like structure to overshadow the eclectic design of the Swift 7.
The laptop houses two USB 3.1 Type-C ports. One of these ensures fast data transfers, device charging and output displays via a single reversible cable whereas the other port is fit for data transfers and power delivery.
What Do Users Think?
Our experts talked to Acer Swift 7 users and compiled their opinions here.
Acer Swift 7 has not left the users with much of scope for complaining. According to the users, finishing is fine with a mix of catchy look and sturdy feel.
Though performance is not as speedy as other ultralights, it is a decent chap for computing and multimedia needs.
Clear and color-rich displays add to its character. In a word, the Acer Swift 7 is a real sensation for most users.
Other Experts View
Techradder thinks that it is absolutely wonderful and stylish ultra book. It is gorgeous from its looks and fanless processor. But it is not so recommendable from the sea of other laptops which are much more competitive compare to its price and features.
According to Laptopmag, it is claiming it to the world's thinnest smart book ever. It is covering the best features along with a perfect connection for all the work. It is truly offering the best of technologies to be find it. It is having a comfortable keyboard section and a vibrant display.
On the other hand Zdnet is saying that it is not a powerful laptop to control the high end graphics and functionality. But it is truly amazing everyone with the its stunning features and perfect capability. You can check out the best ever technology in it. But it is also hard to find.
Our Verdict
The world's slimmest laptop is wrapped around the cutting-edge technology. The ultra-light laptop looks really gorgeous with a flawless merge of the glossy black exterior and equally gripping gold-like interior.
In fact, its design oozes a modern flair and fineness. Despite looking slim and sleek, it's surprisingly substantial.
The system is designed for the busy professionals need powerful processing and ultraportable computing experience. However, its 7th Intel core processor is little behind other ultraportables.
Crispy, colorful and detailed visual delights take your entertainment experience to an amazing height. With riots of colors available, the device delivers unforgettable multimedia experience.
The laptop is equipped with the right types of accessories to add to your computing experience. The battery life stretches extra long .
The Bottom Line? It's worth your valuable time and earning!