As an Amazon Associate and (affiliate of other merchants) we earn from qualifying purchases without any extra cost to you when bought through our links below.
Acer TC-885-UA92 Desktop
USD
Value for Money Score
8.9/10
Specifications and Features Score
8.8/10
Pros
Solid performance numbers
Good connectivity
512GB SSD storage
Nice Price
Highly Portable
Cons
Case is a little tight
Not easily available
Slight hardware issues with time
Little bit loud
Gets hot with time
Verdict
If you are planning to buy a desktop computer then Acer is definitely a brand that is very reliable indeed; besides this desktop which is loaded with the host of advanced features makes it very attractive indeed.
Given the price at which it is available this Acer desktop computer is something which you definitely consider buying to meet your specific computing needs.
Acer TC-885-UA92 Desktop & Variant PC Price
$650.00
6 new from $650.00
2 used from $539.00
as of June 6, 2023 3:41 am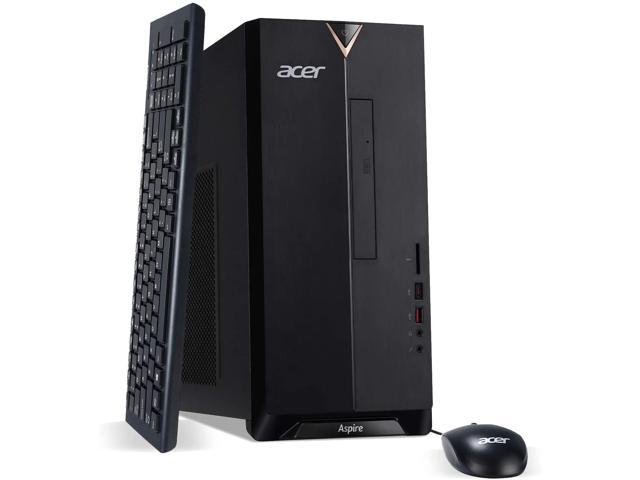 Introduction
When it comes to Desktop Computer or for that matter any computer device, ACER is one of the most renowned and popular brands worldwide.
The T Series Desktop Computers are the ones which truly live to the reputation of this reliable brand.
If you have the creativity and looking for really demanding jobs like editing home videos or combining photo albums, this Acer desktop is absolutely ideal.
Buy for: Solid performance numbers | Good connectivity
Beware of: Case is a little tight
Best uses for: business purposes, education, home entertainment, music production.
The alternatives:
Design
The Acer TC-885-UA92 Desktop Computer has been smartly designed which gives it a very smart and attractive look and also delivers top performance as well.
It is compact which is why it can be kept in a small space.
What is also great about the design is that it has been done in a way that it is easily expandable to meet future needs as well.
Performance
Powered by the 9th Generation Intel Core i5-9400 processor this Acer Desktop Computer offers superb speed.
Besides it also comes in preloaded with the most advanced operating system in the form of the Windows 10 Home Operating System.
The combination helps it deliver great performance. Apart from this the desktop computer also has the best quality graphics and is designed for making the most demanding jobs like home video editing and compilation of photo albums simple.
Storage & RAM
For Storage, this Acer Desktop Computer has the 512 GB SSD, which is the standard storage capacity for the current web scenario.
It has the 12 GB DDR4 RAM as well. This configuration is way above the standard capacity. Check out desktop pc brands list.
Ports & Connectivity
The Acer TC-885-UA92 can be connected over Wi-Fi, over Ethernet LAN and Bluetooth 5.0 as well.
Besides it also has many USB, HDMI & VGA Ports as well.
Thus getting connected with the desktop computer is simple and easy.
Additional Features
This Acer Desktop Computer is loaded not only with the most advanced regular features and along with the same, but it also has some useful additional features as well.
These include the 8 X DVD Writer Double-Layer Drive. This is very useful indeed.
Specs:
What Do Users Think about Acer TC-885-UA92?
The Acer Aspire TC-885-UA92 offers stellar productivity and great performance with its ultra-tech processor and also this device has some unique features which are very useful to the users.
This device offers SSD storage and Intel 9th generation processor which are the best configuration for getting satisfactory performance.
On the other hand, if a user wants to play modern, updated, high graphical games and at the same time he wants to perform multitasking jobs, then this device is the perfect one for him.
But in this product optical drive feature is missing which embarrass some user at some point.
Our Testing & Analysis Report
Based on the performance of the Acer TC-885-UA92, we can confidently say that it is a highly reliable device for any business environment. It smoothly handles all business-related software.
We tested separate software for accounting, data management, and inventory management, as well as Microsoft Office Suite, QuickBooks, and Trello on this PC. It processed these applications seamlessly.
Additionally, its advanced wireless connectivity greatly enhanced our multitasking experience while working with various casual applications in our daily computing activities.
This device is an excellent choice for education-related purposes. We used it for online research, accessing online educational platforms, and attending lectures.
Running Google Chrome, Microsoft Teams, and Moodle on this device, we did not encounter any major technical glitches.
Furthermore, this device is also well-suited for entertainment purposes. In addition to watching various downloaded movies, we browsed various online platforms such as Netflix and Disney Hotstar.
We also used this device for listening to music and podcasts, as well as playing some basic video games. It performed smoothly for all these purposes.
While the Acer TC-885-UA92 is not specifically designed for professional music production, it performed reasonably well for basic music creation. We used it to record, edit, and mix audio tracks.
With its efficient configurations, it easily processed these tasks. However, we did encounter an issue with overheating, which was a significant concern.
The main applications we ran for music production were Ableton Live, Audacity, and Native Instruments Komplete.