eComputerTips is reader-supported. When you buy through links on our site, we may earn a small commission without any additional cost to you.
Value for Money Score
8.1/10
Specifications and Features Score
8.0/10
Pros
Brilliant Gaming service
Innovative controller
Efficient UI, Well-designed
Quiet design
Compact
Cons
Limited selection of AAA games
Controller issues
Expensive
Non-Steam games & Hard to use
Steep learning curve
The Alienware Steam Machine rises up to the promise made by the brand. It is extremely convenient to set up and use.
On every front, the machine feels like an exciting game console and makes gaming on PC more exciting in the comfort of your living room. Check out Alienware Steam Machine review details.
Alienware Steam Machine & Variants Price
$599.77
1 used from $599.77
as of September 29, 2022 6:56 am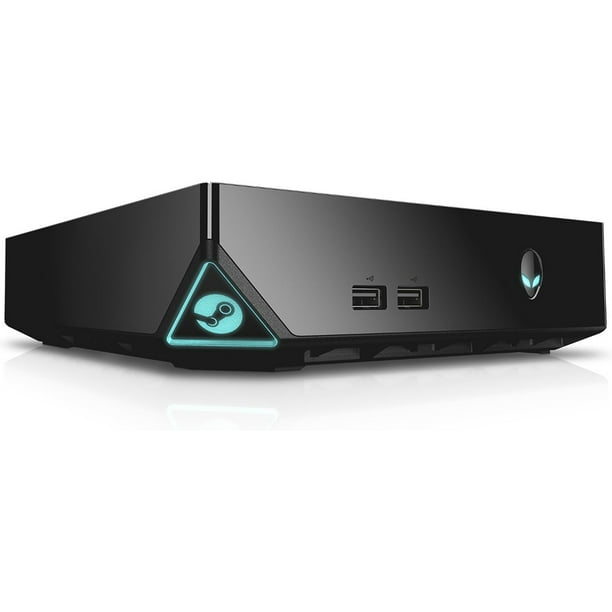 Alienware Steam Machine Review
Buy For: Efficient UI | Well-Designed
Beware Of: Non-Steam games & Hard to use
Verdict
This Alienware Steam Machine can surprise you with its contradictions. Unlike any standard console, it comes at a heavy price. It comes bundled with thousands of games but you are less likely to find what you want to play. It offers great performance but that is expected of any modern living room system.
You can think of various aspcts to rule over to the best usage of this gaming laptop. There are other less expensive and user friendly options but still this one is can be considered more valuable as it is having good value as a pro.
Design & Build
The gaming system comes in an eye-catching little box. The system looks much more compact if compared to any traditional gaming rig. Check out best desktops list.
It is mostly a square system having one triangular edge housing a blue Steam logo. It comfortably sits next to a television unit in an entertainment-centre arrangement.
Performance
If it comes to gaming, the Alienware Steam Machine delivers unmatched performance.
Every Alienware Steam Machine offers free games and exclusive downloadable content for users.
The system, powered by amazingly powerful Intel Quad Core i7-4785T GHz processor, delivers promising performance.
The machine offers smooth and seamless gaming experience, provided the settings are right. Be ready to experience a few hiccups due to Steam Controller.
Game streaming from Windows offers pleasant experience though occasional tearing and occasional lags are likely to happen.
Its overall performance is subject to a user's own network setup and using a wired connection is always recommended.
The gaming PC includes NVIDIA GeForce GTX GPU 2GB GDDR5 to deliver real-life like performance. Check out Alienware Steam Machine Manual


Storage & RAM
Alienware Steam Machine houses 8GB DDR3L RAM that is upgradable up to 16GB. The device plenty of storage space by housing 1TB HDD.
Users are most unlikely to run out of space in a few couples of years even after saving a larger number of text files, games, images, video files and many more.
Ports & Connectivity
The gaming model features plenty of ports. Two HDMI ports apart, the system houses a digital audio-out port, two USB ports on the front, two USB ports on the back and an Ethernet port.
Though it is not as robust as any true gaming PC, the system has the right number of controllers to enable users enjoy greater and better control of their gaming unit. Truly speaking, it puts power in users' hands!
Additional Features
It also features Bluetooth tied to wireless card to allow users enjoy invigorating gaming experience anywhere. Check out Top 10 Dell Gaming Desktop PC.
What Do Users Think about Alienware Steam Machine?
According to many users the device is very much compatible with windows 10.
Users are getting great gaming experience by using this updated device. For mid range gaming this is the best device according to some users.
As this product has SSD storage device, it takes very less time to transfer data. One of the major drawbacks of this product is that the battery of this product drains too quickly while playing high graphical games.
The compact and stylish outfit of this product attracts many buyers. But for long use this product is not recommended.
Other Expert Views
According to PC gamer a popular website, this particular steam machine provides great performance as it has great processor, RAM and it has SSD storage with great processing speed.
Engadget, another well known site also highlighted the fact that the performance of this gadget is truly promising and it creates a powerful evolution in game pad's design.
The controls of the device are not easy to learn, but if anyone can learn the controls of the product, fast, then it will be very easy to enjoy huge virtual world with great satisfaction.
According to PC world the steam machine has very stylist and eye catchy design. The performance of this product is also good and this product is available in a reasonable price range.