As an Amazon Associate and (affiliate of other merchants) we earn from qualifying purchases without any extra cost to you when bought through our links below.
Value for Money Score
8.8/10
Specifications and Features Score
8.9/10
Pros
Graphics power
Professional-grade processing
Huge memory and upgrability is possible
Perfect design
Display is mind blowing
Cons
Mouse does not work properly
No height adjustment
No HDMI ports
Not user-upgradable
Expensive
Verdict
It can be concluded that Apple iMac Pro is not just a desktop; it's a motivation at all. It can inspire you to put your designing ideas into action. Since its advent in the global market, the iMac Pro has emerged as the favorite choice of professional graphic designers for its all-in-one benefits.
It is truly faster than all of its iMac ancestors, with top notch performance, massive storage and exceptional connectivity. It expensive cost actually includes a workstation-level monitor and Intel Xeon processor to stand apart from its competitors.
Apple iMac Pro & Variant Price
$1,425.00
11 new from $1,326.00
2 used from $1,298.00
as of March 25, 2023 8:01 am
$2,374.68
2 new from $2,370.67
1 used from $2,199.99
as of March 25, 2023 8:01 am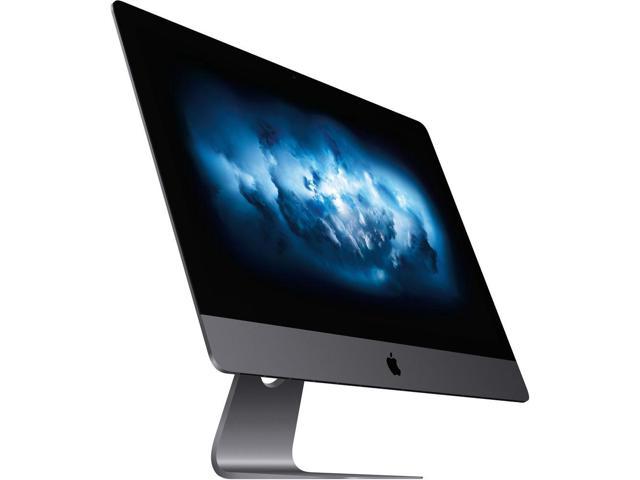 Introduction
Among several world-leading Apple desktops, Apple iMac Pro can be one of the best choices to execute official workloads on a day-to-day basis.
It comes with so many aesthetics to win your heart at once. It is a specialized machine that renders everything what you want for a specific purpose.
Here we are making a detailed outline to highlight its internal as well as external specifications and functions of Apple iMac Pro.
According to its brand, display and several other convenient factors denote that this is simply a machine which will be offering the best solution in "Multi-tasking".
It will be offering an excellent cover up idea which will impose to fall in love with the work he is dealing up with.
Specs:
Reliability
The contemporary world acknowledges Apple as one of the foremost manufacturing groups, providing ultra-high, multi functional desktops as well as laptops.
Apple boasts of being a high-end technology platform where format meets the zenith of excellence.
The brand has now ranked as the most trusted computer providers all over the world for a number of reasons.
Apple holds an A+ grade just for sheer reliability and its craze is rapidly shooting up on the market with each passing day.
Among innumerable Apple desktop variants and models, if you opt for the Apple iMac Pro, you will be assured with utmost reliability and top notch features offered by the brand.
Performance
Just like any other efficient business desktops, the performance of Apple iMac Pro is based on its processor and graphics card quality & features.
If you peep into its graphic specs, you will find it amazing and tremendously functional for your daily hectic jobs.
The PC contains Radeon Vega 56 graphics chip along with 32 GB RAM to support various trendy design-oriented application software.
The ultra-high GPU is meant for faster overall performance with intricate models and extensive textures.
However, Vega platform is well known for manufacturing corporate-class graphics card and highly acclaimed all across the globe.
The desktop also provides you with an option to insert an external graphics processor if you require more & more graphics power.
Unlike the predecessor Apple desktops which run on Intel Core i5 or i7, the Apple iMac Pro is powered with Xeon W processor from Intel.
Apple iMac Pro runs on Intel Core i8, Turbo Boost up to 4.2GHz and 3.2GHz Intel Xeon W, the Apple iMac Pro is powered with Xeon W processor from Intel.
The addition of the latest Xeon W has made iMac Pro differ from other brand-new workstation desktops as well.
The Xeon W platform is more preferred now-a-days because it facilitates the unit to process twice huge data in real time, obviously multiplying the output.
In case of video edition, the desktop performs in editing right from monoscopic to 4K videos in the finest & technical way.
iMac Pro has the power and intensity to handle video-editing, image-editing and multitasking workloads on a recurrent basis.
At the same time, its colossal display accelerates the work of several professionals since it offers high-quality visual attraction and vividness to soothe one's eyes.
Benchmarks
Apple is a well known brand and its iMac pro is an outstanding piece of machine. It is an ultimate choice for the users who are always surrounded with creative works such as video editing, animation, etc.
Being a most trusted and a reliable company the performance it offers is really incredible and promising. Even though we have gone through some benchmark tests to inspect the performance output of this device.
After checking the benchmark figures you will get an overall idea of how it knocks down its opponents with ease. It is also important to keep in mind that this powerful machine doesn't come cheap at all.
The variant we have got with us for our benchmark test gets a 1TB storage option and it is packed with an 8 core Intel Xeon W CPU.
For further details it is recommended to go through the below mentioned article to know how it performs in the actual world.
First of all in the single core test it pops out a brilliant score offering 117 Pts followed by an overall percentage of 81%.
Apart from that daily tasks like web browsing, creating excel sheets, official jobs, etc this machine blows down in this section without any issue.
In fact the processor this desktop PC is planted with is way more capable and powerful enough to handle tasks like server workloads and can be used as a workstation as well.
Speaking of the optimum utilization this PC is the great choice for the graphics designer, video editor, architecture, etc.
In the multi core section it is capable of offering a result of 1213 Pts which is really impressive with an overall percentage of 81%.
You can expect some serious gaming experience from this Xeon processor; it smoothly handles 3D games at its highest settings with a percentage of 82.9% offering a stable performance.
As far as the graphics performance goes and the result came in our benchmark test is quite acceptable.
However we found that it performs below its potentials and doesn't meet the expectations.
Even though it produces a percentage of 78% and it is considered to be very good for 3D video games.
Speaking of the fps we got in our test results, in the 3D DX9 it produces 112 fps which is pretty good and 77.3 fps in the 3D DX10 where a higher number was expected.
In fact the read speed of the 1 TB SSD storage is pretty impressive which is 1614 and followed by a write speed of 408.
When the topic comes over the 4K files it produces a read speed of 42.6 and a write speed of 150 which is very good and great for long term usage.
Smart Option For Varied Industries
It is the exclusive & ultra-modern specifications that will advocate the ability of Apple iMac Pro to perform different professional projects.
Needless to say, iMac Pro is the finest enterprise-level PC to dominate the entire corporate ambiance.
Apple is familiar with the swift emergence of various industries & enterprises worldwide. Based on this corporate revolution, iMac Pro offers so many smart specifications to cater to several industries.
Its smart look and awesome cutout ease up all the work that are being handled in the industry.
This machine will not only upgrade the work quality but at the same time it will help you to get motivated with work.
The powerful graphics processors of iMac Pro are meant for running the latest virtual design applications and software as well.
It enables the professional designers to make sketches and transform them instantly into wire-frame configurable versions for their clients.
Apart from product designing & prototyping, this Apple desktop is also an ideal choice for interior and architectural 3D design.
The expert architects & other professionals can conveniently work on high-end iMac to implement their ideas and formulate a comprehensive drafting.
Each of these 3D designs are being composed in such a way which actually offers a clear cut version for the clients and engineers.
Apple iMac Pro can also relate to film and broadcast industry. It is extremely able to drive manifold high-resolution streams and footages seamlessly in actual time.
IMac Pro is well equipped with effective color tools of Final Cut technology to help moviemakers in applying several composite effects as required.
A number of advertising companies are truly reliable on this PC with cutting-edge technology for growing ideas & productivity.
Screen
Since Apple iMac Pro is designed for all sorts of skillful graphics, architecture & interior designers, it is readily predictable that the desktop will offer a powerful display.
Yes, you've assumed absolutely right. iMac Pro is furnished with a 5K retina display to meet numerous virtual designs and project requirements.
The 27 inch screen is extremely large, detailed, & elegant while offers crystal-clear visibility & brightness.
Moreover, Apple's excellence lies in featuring DCI-P3 wide color space as is applied in digital cinema.
A highly expert graphic designer surely deserves this iMac Pro with so many color options and mind-blowing display features.
The display of all-in-one iMac Pro is having an incredible resolution of 5120×2880 pixels.
It has the ability to support one billion colors to ensure absolute designing convenience. Its IPS display is brilliant in one word.
It also offers enviable 500 nits brightness along with an excellent contrast ratio. The glossy finish of the display is impressive enough to make your mind and suit any official ambience.
Moreover, its anti-reflective coating retains glare to a certain extent as well. If you can ignore some of the drawbacks of this Apple PC display, you will find it overall stunning to cater to your professional needs.
Storage
As far as storage is concerned, Apple iMac Pro owns massive storage capacity which comes in SSD format.
Its 1TB SSD is easily upgradable to 2TB or 4TB as well. As a result, the PC can be transformed into a reliable image library to make you feel secured in the upcoming years.
Apart from this Solid-State Storage, the PC consists of high-end memory to guarantee fastest and hassle-free performance.
It has 32GB RAM to provide utmost multi-tasking convenience. It allows every user to run a number of software or heavy applications at a time for work.
Due to immense memory, this Apple desktop assures quickest loading as well. However, its RAM cannot be upgraded if needed in future.
It is a beast to handle all the pressure. It will store out all the details that are necessary and you ask it to store.
In fact today in the world of external devices we always have options to store the extra data in devices.
Convenience Features
Aside from the key features, iMac Pro comes with an assortment of additional attributes. The device consists of FaceTime HD camera of 1080p for brilliant video conferencing.
It comprises of four microphones, stereo speakers and quality headphone jack to ensure audio excellence.
The unit has four USB 3.0 ports for multiple connectivity options. If you take the iMac Pro accessories and their efficiency into consideration, you will be amazed to know the features.
The numeric keyboard of this Apple PC is a Space Gray version as well. The user may also choose an extended keyboard for additional keyboard shortcuts if needed for work convenience.
The iMac Pro is associated with a wireless Magic Mouse of striking design.
This Space Gray mouse is easy to revolve as per convenience since a professional designer must need a compact mouse to draw a comprehensive line.
As for the trackpad, this accessory is completely functional to be user-friendly. In terms of overall performance and design, Apple iMac Pro is undeniably marvelous; one cannot deny a while.
Both from an aesthetic and engineering perspective, this Apple device is designed typically like a monster.
This ultimate all-in-one workstation desktop has the strength to beat all other existing brands and models as well.
Operating System And Software
Mac OS High Sierra is having an architecture of 64 bit. All the Apple products like the iPhone and laptops are being covered with it.
You can check out the outstanding quality of this software.
Many of us have not used it but if you once use it then you might change your views about other software as this is considered as the best by the makers, Initially you may find it little bit tricky but slowly the software by itself will help you to gain substances.
Adobe Creative Cloud suite, Blender, Logic Pro X, Pixelmator Pro, OsiriX MD, Maxon Cinema 4D, Autodesk Maya are all the apps that you will get in Apple touts. Read more about Apple iMac Pro user manual here.
What Do Users Think?
Our experts have talked to few users and compiled their opinion about this product.
The Apple iMac Pro is powerful as well as beautiful indeed, as per user's standpoint.
It is for all the fanatic lovers of Apple MacBook, the fans who not only like its bold and compact appearance but also seek for such workstation-class performance as rendered by iMac Pro.
The spectacular design of iMac Pro with 5 K IPS retinal display of 27 inch comes in space gray.
The system also appears eye-catching when the wireless keyboard, mouse and track pad are combined with the device.
The exclusive price of this Apple PC is undeniably head-turner, since it is not everybody's cup of tea.
This enterprise-level versatile desktop with innumerable state-of-the-art attributes simply deserves to be priced high.
As a number of graphics professionals and animators have shared their experiences with Apple iMac Pro, the device creates an impression while running any advanced 3D modeling or animation application as well.
It also supports Final Cut Pro X, a professional app for video editing by Apple. Many of the users fall in love with its elegant outlook in space gray.
The desktop provides extreme convenience & great experience while getting connected with other Apple gadgets like iPad, iPhone X, Apple Watch etc.
Its big, impressive retina display is suitable for any failing eyesight too as the display offers utter visual comfort.