eComputerTips is reader-supported. When you buy through links on our site, we may earn a small commission without any additional cost to you.
Value for Money Score
9.1/10
Specifications and Features Score
9.0/10
It seems that 'convertibility' has become the new catchphrase in the world of computer manufacturers and consumers. Read ASUS Chromebook Flip C302 review and find out more details about it.
The potential buyers are not happy with just any model. They judge everything by look and performance. Added to their list of must-have criteria is flexibility.
Today ASUS Chromebook Flip C302 12.5-Inch Review will prove to its best.
Keeping that in mind, the makers are now introducing laptops that score high on features, functions and flexibility.
These are coming at different price ranges, thereby fitting pockets and purposes of a wider spectrum of users.
Asus is not a newbie in the tech world. It is known for introducing a wider variety of low and mid-price range computers.
It is not an easy task for the buyers to select a particular model as there is every chance for them to get spoilt for a suitable choice.
In this blog, we will discuss the features, functions, power, performance, pros and cons of ASUS Chromebook Flip C302 Touchscreen Convertible Chromebook from an unbiased perspective.
ASUS Chromebook Flip C302 & Variants Price
$119.97
5 used from $119.97
as of October 3, 2022 10:55 pm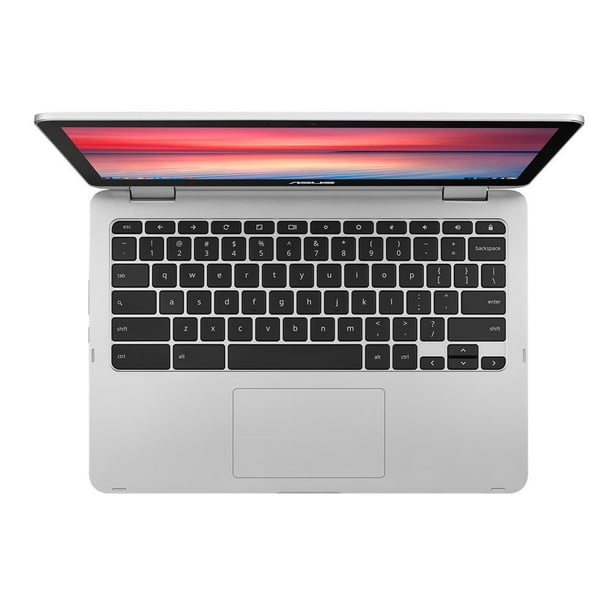 Create Your Free Price Drop Alert!
Set Alert for Asus C302CA-DHM4 Chromebook Flip 12.5-Inch Touchscreen Convertible Chromebook, Intel
Core
M3, 4GB... - $119.97
Asus Chromebook Flip C302 Review
Buy for: Productive connectivity, stylish and supports Ubuntu.
Beware of: Less storage
Best uses for: Students, internet browsing and other purposes.
The flexible laptop is extremely lightweight. Powered by Intel core processor, the device is engineered to deliver outstanding performance.
Integration of 4 GB RAM is an indication of fast booting and speedy performance.
The system offers a good amount of storage space to save your video files, songs, images and many more.
Fast processor, spacious storage and powerful RAM make an excellent combination.
The device also features 360-degree flexibility and that is a big draw for the customers. Read more about top 10 best laptops.
The model is compact and convertible. It allows you to use the device in both laptop and tablet mode.
The 12.5-inch touchscreen offers full HD display. You will experience excellent picture clarity and quality while enjoying movies and games.
The system also ensures decent amount of details to make it hard for you to distinguish between real and reel life.
Available at a pocket-friendly price point, the system offers long battery life. Made of premium aluminium, the laptop looks smart and shiny.
Specs:
Brand: ASUS
Hard Drive: 64 GB
Hard Drive Type: Flash Memory Solid State
RAM: 4 GB
Processor: Intel Core m3
Processor Speed: 2.2 GHz
Graphics: Intel HD Graphics 515
Battery: 10 Hours lasting
Screen Size: 12.5 inches
Processor Brand: Intel
Product Dimensions: 3 x 12 x 0.5 inches
Weight: 2.65 lbs
Reliability
The brand name works as a magic for the buyers.  If the brand is popular, the buyers' expectations reach the sky height with every new launch.
Asus is definitely not in the bracket of Apple, Dell, Lenovo and HP. Still it rocks and rules! It is very popular among the cash-strapped buyers.
The brand has made a name for itself by introducing innovative pieces at affordable prices.
This Asus model sports a strong metallic body. The smart finishing touch has given it a sleek look. It is extremely lightweight, weighing only 2.65 pounds.
It offers extreme flexibility. That amazing feature enables you to use the device as a laptop or tablet.
The device feels strong despite being light in weight. The aluminium body makes it durable for a long stretch of time.
If design is catchy, its performance will make you happy. Asus has made its best effort to integrate the high-end components in every department to ensure that it never leaves the users frustrated when they run high-end games or professional apps.
The system hides a fast processor, 4 GB of RAM and 64 GB of storage space under its lid and that combo enables it to deliver smooth and speedy performance always.
The 12.5-inch larger viewing space offers brilliant display in terms of image details and clarity.
Designed to deliver full HD display, the device will not fail to captivate its audiences with its bright and brilliant image quality.
The compact system is nicely complemented by equally impressive accessories. Keyboard deserves a special mention.
The backlit keyboard looks bright and illuminated. With this excellent keyboard, ASUS has redefined typing comfort and speed in a unique way. Check out our most popular laptop brands list.
Performance – Processing Power
The Asus Chromebook draws its immense power from Intel core processor.
With a combination of Intel core processor and amazingly speedy Chrome operating system, the device always ensures lightening fast speed whatever task is thrown at it.
The system is also energy-efficient. Its extended battery life will offer full support when you are on the move.
The maker has installed a separate processor for handling graphics works.
Intel HD graphics 515 takes burden off the main Intel processor and that contributes to both processing speed and display quality.
Design – Smart, Lightweight & Durable
The C302CA-DHM4 Chromebook is made of professional grade and premium quality aluminium.
It can stand up to all kinds of use and abuse for a long span of time. In other words, your investment on it will pay you dividends for years to come.
With weights of 2.65 pounds, the model is portable. The design is super clean and smart.
The touchscreen device offers a unique character – 360 degree hinge. The feature facilitates using it in a wider variety of ways.
You can flip it in style. Apart from using it in laptop and tablet modes, you can use the system in stand and tent modes as well.
The device enables you to share, work, play and communicate in whatever way you prefer.
Last but not the least, let us not forget the Glass factor. Its viewing area is protected by super strong Corning Gorilla glass.
To sum it up, the flexible laptop is pretty, portable, flexible and durable.
Display – Brilliant & Bright
The Asus Chromebook offers good display at a low price point. Jointly powered by Intel main processor and Intel graphic co-processor, the device offers stunning display whether it comes to movies or games.
Super clarity and brightness take your viewing experience to another level. Thanks to integrated graphic co-processor and graphics card, excellent display is a reality with the Asus model.
With resolution set at 1920×1080 pixels, you can expect a fair amount of detailing in images. If you are expecting a great viewing experience, the Asus system will not let you down.
Variants:
You you check out the variants of ASUS C302 Chromebook Flip 12.5-inch below:
| | | |
| --- | --- | --- |
| Sl.No | Processor | G- Suite |
| 1 | Core m3 | – |
| 2 | Core m3 | G- Suite |
| 3 | Core m5 | – |
Graphics Power
Asus has installed a graphics co-processor in the system. The idea behind is to ease some burden off the main processor and ensure high speed for memory-hungry applications.
We performed several graphics tests on the Asus system and it scores high on every perimeter set by us.
Bundled with fast processor and co-processor, the system never goes slow. Check out Asus Chromebook Flip C302 manual.
Run demanding professional software applications, do your creative works or watch movies on it; the system will always provide top-notch performance even during peak hours.
Storage Parts
The Asus model comes packed with 4GB of RAM and 64GB of hard drive. With a decent amount of RAM punched into the system, it ensures booting and rebooting in seconds.
The feature supports smooth and speedy going for whatever program is run on the system. It boots up in just 3.5 seconds.
The maker is providing moderate amount of storage area to save ordinary files as well as image files, videos and songs. You can keep on adding files and will find a great deal of space still unused.
The combination feels great for any user. You will never experience any slow performance. Whatever you do, super fast performance is always a guarantee.
Power Consumption
The device is a power-efficient system. It can hold its power for 10 long hours on a single charge.
Open the lid, switch on the system and get to play or work without having to wait.
Whether you are going to market or travelling at a nearby shopping mall, you can leave your charger at home, as the system will provide good support without any hitch.
Depending on the usage time and type as well as environmental conditions, battery life may vary slightly or greatly.
That is why, actual battery life may be less than the benchmark to a significant extent. Battery life does not remain the same and gradual decrease over time is inevitable.
Additional Specs
The spec chart is quite interesting and impressive. The system comes with a one-piece full-size keyboard.
The blacklit keyboard looks awesome. The upgraded back assembly ensures solid typing feel for the users.
With built-in anti-virus protection and automatic updates in place, you don't have to worry about keeping the system safe.
The system provides rock-solid security of the user's personal Google account.
As a result, you will have a peace of mind that your personal data, photos, emails and documents are always safe and secured.
Asus enables you to stay connected. The device features the newest and speediest 802.11ac Wi-Fi.
The model integrates other amazing features to ensure convenient and speedy connectivity.
You can always use the system for your purpose whether you enable internet connection or not.
You can enjoy your favourite entertainment shows, games or get busy with work – anywhere you go.
What Do Users Think?
Our experts have talked to few users and compiled their opinion about this product.
Success or failure of anything new largely depends on its acceptance and rejection by the consumers.
If you go through the customers' feedbacks about this Asus flexible laptop, you will have a clear picture of how much the users are loving it.
First of all, they like its stylish and solid design. Premium aluminium, which has been used to build the system, makes the body super sturdy and durable.
Despite that, the device feels amazingly light in weight. You can easily carry it around.
The users always expect a combination of nice design and speedy performance from any system rolling out into the market.
The Asus machine, according to them, has not failed to meet their expectations. In fact, it has delivered more than what they expected.
The users are literally running out of words to praise its super flexibility. The feature feels great for them as it enhances utility of the system.
They are happy as they can use the system in diverse modes, thereby fulfilling their endless purposes in different ways.
For them, it feels like getting benefits of many while spending on only one.
Our Verdict
Just like thousands of users, we are also hooked to its look. It is not gaudy in design at all and that catches our attention.
The design is extremely simple and super clean. The system, being light in weight, is easy to carry everywhere.
The feature, we do think, is preferred by everyone and feels especially great for those who travel a lot.
The system is overwhelmingly fast, so much so that we experienced no problem while running high-end apps and games on it.
Whatever keeps you busy at home or workspace, you will hardly experience any hitch in its performance. It is perfect to enjoy entertainment, games or stay productive.
The system comes equipped with an array of fascinating features.
The keyboard is intelligently designed to offer fascinating typing experience. Superior connectivity allows you to go on with your work whether internet connection is on or not.
Battery power, which lasts up to 10 hours at a stretch and on a single charge, is another excellent feature on its spec chart.
You can expect beasty performance from this beautifully designed device.
Powered by 4 GB amount of RAM and Intel processor, it offers blistering speed and blazing performance irrespective of whatever purpose you are using the machine for.