eComputerTips is reader-supported. When you buy through links on our site, we may earn a small commission without any additional cost to you.
Value for Money Score
8.8/10
Specifications and Features Score
8.7/10
Read Asus ExpertBook B9450 business laptop review and see the best price. There is no doubt about the reliability of the system. The manufacturer makes sure that the system is built in such a way that it passes all specific tests such as drop tests and shock tests to ensure its strength and robustness.
Apart from that, all of the I/O ports of the system are also put through thousands of rigorous usage cycles. All these tests make this laptop one of the most reliable ones that is essential for all types of business.
In spite of its lighter and more portable design and build, it is one of the most secure laptops. It comes with different security measures and features.
You can rely on the strength and durability of the system due to its strong magnesium alloy chassis. It makes the system 38% stronger than other laptops that are made from plastic, either partially or fully.
The system is also reliable in terms of power supply because the lithium ion battery has a life of about 24 hours.
You can also charge it faster than other laptops. This means that your system will not run low on power, irrespective of the distance you travel and the time interval between two charges.
The embedded TPM security feature as well as other security measures make this system more reliable for enterprise use.
The USB port control and other features will keep all data of your business most secure. Check out top 10 laptop brands.
Asus ExpertBook B9450 Business Laptop & Variants Price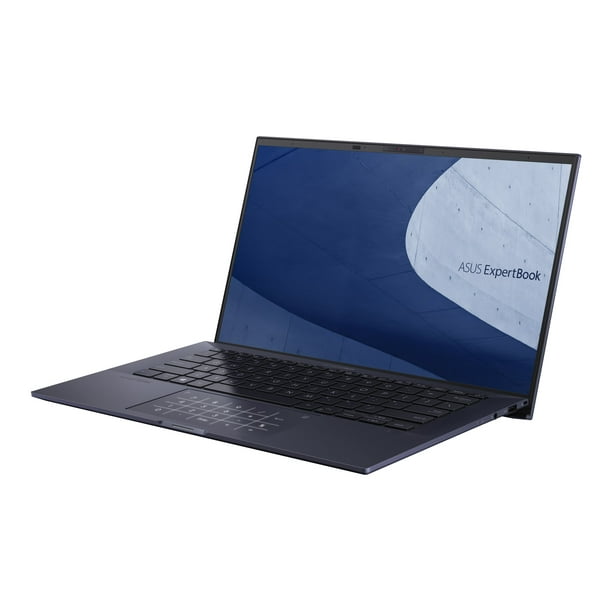 $1,399.99
3 new from $1,399.99
1 used from $845.99
as of September 29, 2022 5:56 am
Asus ExpertBook B9450 Business Laptop Review
Buy for: IR camera, fingerprint sensor, angled keyboard for comfortable typing and high battery life.
Beware of: Inadequate CPU for heavy-duty tasks, hot air blowing to the screen, noises while putting heavy workloads.
Best uses for: Small business, students and other purposes.
Verdict
The Asus ExpertBook B9450 Business Laptop is a light, thin and extremely useful business laptop. It comes with a 24-hour long battery life that makes it a perfect choice for the people on the go.
Design and Build
This light in weight business laptop comes with useful features that make it high performing and a design that ensure precision and perfection.
The 14-inch full HD screen will provide you with the ultimate viewing pleasure. It also comes with a protective sleeve and a narrow bezel.
There is also an IR camera included in the design of the system that comes with a webcam shield built in to prevent hacking.
The system is built for military grade durability and strength. With only 0.6 inches thin, this system is a perfect blend of power and lightness.
Ideally, it weighs only 2.20 pounds. Therefore, if you travel a lot, this system will take on the brunt of life on the road.
The manufacturer ensures that the system meets the MIL-STD 810G. They follow a stringent testing process in-house for ensuring a better and more effective quality control while building the system.
All these are done to make sure that the device when built passes the shock test, the port durability test, the drop test and the vibration test most successfully. It is all due to its strong build, careful design and better engineering.
Performance
The system will perform at a higher level most consistently. The simple yet sleek design of the system makes it more flexible when it comes to performance and more mobile.
Its professional grade of performance is assured by the Intel Core i7 10510U processor.
Operating at an average speed of 1.80 GHz, which can be enhanced up to 4.90 GHz with the Intel Turbo Boost technology, this processor with its 8 MB Intel smart cache is good enough to support the tasks you want to perform on this computer.
The multiple cores of this processor as well as the 15 W TDP allows much faster processing of data and instructions.
The integrated graphics coprocessor, Intel UHD Graphics 620, will also ensure that the images are delivered at a higher fps or frame rate per second.
This will provide a seamless delivery of the images on the non-tearing screen to provide you with a better, faster and more reliable viewing experience.
The Windows 10 Pro operating system is also a useful inclusion to the system which comes with Windows Cortana.
This operating system is ideal for doing business related jobs on this computer. The other basic features of the operating system are also equally good to support the tasks you want to perform in this device.
The other notable features of the system that will add to its performance level includes the compact, ultralight and unique 14-inch display.
The business laptop also promises a high level of performance with its reasonably high storage options. This will help you to access the files easily and boost your productivity easily.
The complete set of I/O ports included in the system also helps in enhancing the performance. The HDMI and USB-C Thunderbolt ports will allow you to connect several other external devices and peripherals more seamlessly.
The ergo-lift hinge also plays its role in boosting the performance of the machine. It will lay flat at 180° which will make it much easier for you to share the screen.
In short, this is a business laptop that comes with high performance features and will be ready to perform always and anytime, anywhere and everywhere with its 24-hour battery life.
The TPM security features of the system make it more reliable than other laptops. This feature will keep your business data, information and files safe in the system preventing any unauthorized access.


RAM & Storage
The system comes with a 16 GB LPDDR3 SDRAM that operates at a reasonably higher speed of 2133 MHz, which will easily and effectively support your multitasking needs, thanks to the flash memory size of 512 GB.
The performance of the system is also enhanced by the high capacity PCIe NVMe M 2 SSD storage that is quite fast in storing and will allow easy accessibility to the stored files.
Ports & Connectivity
There are 3 USB 3.0 ports included in the system. One is the USB 3.1 Type A Gen 2 port. The other ones are one USB 3.1 Type C Gen 2 and Thunderbolt Gig+ port.
In addition to that there is also a microSD card reader slot included in the system. There are also two other ports that support HDMI and RJ 45 cable.
The system will also allow you to have a stable wireless connection through Wi-Fi 6 or dual band 802.11ax wi-fi communication standard as well as dual band Bluetooth 5.0.
Battery Life
There is one Lithium ion battery that powers up the system, and under test conditions, this battery has an average life of 24 hours! This is exceptional as compared to other laptops of the same specs and similar price range.
This means that you can do all your days work while travelling and not have to worry about it running low on power and getting your system recharged.
When you need to recharge the battery, you will not have to wait for the entire day for it. The battery of the system will regain 60% of its capacity in just about 40 minutes of charging.
However, if you set up power management or shift to silent running, it will enhance the longevity of the battery and facilitate aggressive charging.
Additional Features
In this system you will get additional features such as the Ergo-Lift hinge, backlit keyboard that is also spill-resistant, and an LED illuminated numeric keypad.
All these will help you to crunch in the numbers, write your text, and keep the machine cool in the best possible way.
The Asus Number Pad can be activated by tapping on the LED-illuminated numeric Number Pad icon at the upper right-hand corner of the touchpad.
There is a light bar built in the system that is dedicated and compatible with Alexa. It will illuminate when you speak to Alexa and when it responds to your voice commands immediately.
The system also comes with TPM Fingerprint Reader that adds to the security level of the device.
Other security features included in the system are Webcam shield, IR camera, fingerprint sensor, a trusted platform module, USB port control, and a Kensington lock slot.
All of these features will play its individual part in maintaining the security of the system and prevent unauthorized access to it.
Take a look at the built-in speakers with advanced audio technology by Harman/Kardon.
The output of the audio system is much better than all other laptops and will provide you with a more immersive audio experience. The system will produce crystal clear sounds.
In addition to that, there is an omni-directional microphone that will optimize your experience while engaging in a video conference.
The system will also allow an easy and effective integration with your mobile phone and establish a seamless link with it.
You will be able to receive and transfer files, pop-up notifications, make or accept phone calls, read and send text and other messages, and even mirror the screens.
Specs:
Brand: Asus
Screen: 14 inches
Display: 1920 x 1080 pixels
Storage: 512 GB
RAM: 16 GB
Storage Type: PCIe NVMe M 2 SSD
RAM Type: LPDDR3 SDRAM
Processor: Intel Core i7-10510U
Graphics: Intel UHD Graphics 620
Processor Speed: 1.80 GHz and up to 4.9 GHz
Processor Brand: Intel
Product Dimensions: 12.60 x 8.00 x 0.60 inches
Operating System: Windows 10 Pro
What Do Users Think About ExpertBook B9450?
The minimalistic design of the laptop attracted a larger section of the users in the right ways. About the slot drive they said that one flash drive slot is enough for a laptop to work while travelling, but it would have been better if there were more.
Quite a few users said that the high-pitched hissing noise of the fan was quite irritating. It was painful for them when they worked in a quiet environment especially.
In addition to that, they also did not like the fact that the device seemed to get warmer quite easily when software intensive jobs are performed on it.
Other users found that the intense Asus graphics contributed significantly to the battery life, but when it works in the background it seems to be a bit too much considering the low-tier graphics card in this laptop.
Some people also said that this is a great laptop that comes with a strong enough battery to support the processor. It is a perfect combination of useful features and basic computing necessities.
This laptop will help people to deal with large amounts of data but not use the system much for gaming or 3D rendering. Check out ExpertBook B9450 Manual.
The security features of the system are also quite good in this system which appealed to a lot of users. The camera is well shielded to prevent anyone from bypassing the software and hack it to look at the users without their knowledge.
There were few users who had everything good to say about this device.
They said that this is a perfect laptop because it comes with a longer run time, it is light in weight, it is small in size, it has a better and faster CPU, it has quite useful apps, and so on.
They said this is the laptop to get if one wants to work and not play games.
The sleek and industrial design of the device is what appealed to a large number of users. The strong 180-degree hinge, longer battery life, overall durability, and a quite impressive audio system, all attracted them.
However, they felt that the GPU is a tad slow in performance. Otherwise, they said, this is definitely a good business oriented and productive laptop.
Other Expert Views
PC Magazine thinks that this system is an ideal corporate partner. The all-day battery life of the device is most suitable for people who travel a lot for their business purpose. Add to that, the processor and graphics also provide the best support to perform all basic computing tasks on this system, easily and quickly.
Geekculture thinks that one of the main pluses of this system is the quick charging technology that makes this computer more reliable and popular. It is good, they say, that there is no need to charge the system the whole day. The technology will allow it to get back about 60% of its capacity in just about 40 minutes.
The PC Experts say that the Ergo-Lift hinge of the system is one useful feature that gives the users a much more comfortable angle to type on the system. In addition to that, it also helps in keeping the system cool by circulating the cool air around the bottom of the system more efficiently.