Asus ROG Huracan G21 Gaming Desktop
US 1+
Value for Money Score
9.0/10
Specifications and Features Score
9.1/10
Pros
Grand performance
Power pact
Cooling CPU
Shortening workload
Good design
Cons
Price is hefty
Hardware issues
Gets little bit warm
Humongous at times
Not always available
If you expect the world-class brand, Asus to fulfill your dream of buying an outstanding gaming desktop, then you are smart enough to choose the right one. Check out Asus ROG Huracan G21 gaming desktop review and best offer price.
It is the ROG Huracan G21 compact gaming PC from Asus that turns your dream into reality. The PC is loaded with plenty of high-end features, cooling solution and ultra-high hardware components. Check out best Asus gaming desktops.
Asus ROG Huracan G21 Gaming Desktop & Variants Price
$1,799.00
in stock
9 new from $1,799.00
as of July 8, 2020 11:57 pm
Amazon.com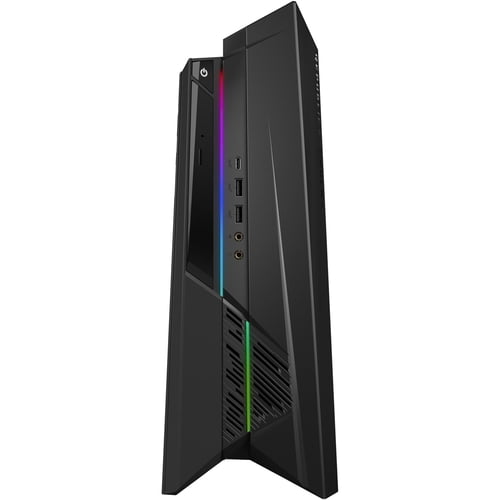 Walmart.com
$3,899.00
in stock
2 new from $3,899.00
as of July 8, 2020 11:57 pm
Amazon.com
Create Your Free Price Drop Alert!
Set Alert for ROG Huracan G21 Compact Gaming Desktop, Unlocked Intel
Core i7
-9700K Processor, NVIDIA GeForce... - $1,799.00
All prices mentioned above are in United States dollar.
This product is available at Amazon.com, Walmart.
At amazon.com you can purchase ROG Huracan G21 Compact Gaming Desktop, Unlocked Intel Core i7-9700K Processor, NVIDIA GeForce RTX 2060, 16GB 2666Mhz RAM, 512GB PCIe SSD + 1TB HDD, Wi-Fi 5, G21CX-UB763 for only $1,799.00
The lowest price of ROG Huracan G21 Compact Gaming Desktop, Unlocked Intel Core i9-9900K Processor, NVIDIA GeForce RTX 2080, 32GB 2666MHz RAM, 1TB SSD, Wi-Fi 5, G21CX-XB981 was obtained on July 8, 2020 11:57 pm.
Asus ROG Huracan G21 Gaming Desktop Review by Expert
Buy For: Grand performance |Power pact
Beware Of: Price is hefty
Verdict
The ASUS ROG Huracan G21 gaming PC is a powerful compact device that makes no compromise with delivering unparalleled gaming experience. Its sharp design and customization convenience are truly worth high appreciation and investment. With 9th Gen processor and superfast GPU, the PC will make your day by fulfilling your gaming appetite.
Design & Build
The Huracan G21 holds the ability to mesmerize every buyer with its state-of-the-art design and appearance.
The gaming desktop has got a compact chassis with cyber-punk and cyber-warrior design elements.
It comes with a magnetically-protected cover on its right edge. The cover can be removed to allow heat elimination and improve overall performance.
The system has the dimension of 14.4 x 5.1 x 14.6 inches while it weighs just 31.8 pounds. Check out best prebuilt gaming PC.
Its slim & compact body sits precisely on your table or desk without occupying too much space at all.
The all-black appearance of the system offers a minimalist look along with a multi-functional twist.
The removable side panel at its right exposes the internal hardware components for convenient upgrade in future.
More excitingly, the brand Asus has presented this gaming desktop with asymmetric and angular design to add to the system's aesthetics.
Performance
The Huracan G21 gaming rig guarantees superfast & top notch performance with unprecedented 9th Generation Intel Core i7-9700K processing power.
The chipset with 12M Cache works efficiently at the maximum frequency of 4.9 GHz.
Being the latest & super powerful processor on the market; it provides you with utmost potency to reach the gaming supremacy at the earliest.
Even at times of incessant multitasking, the CPU hardly causes any hiccup to enhance your productivity level.
At the system's hardware, it is accompanied by NVIDIA GeForce RTX 2060 graphics processor.
This VR-Ready GPU comes with 6GB memory to offer ultra-high performance every now & then.
It enables you to run all the latest gaming applications with smooth operation and enjoy the thrill.


Storage & RAM
The system is well equipped with 16GB DDR4 RAM that ensures fluid multitasking convenience all the day long.
The memory has the frequency of 2666MHz to be fit for a smart & multi-functional gaming desktop.
With such huge sized RAM, the PC delivers extraordinary gaming and general computing experience at its best.
Whichever gaming title you play at highest setting, you will be excited to step into the next level.
The G21 gaming PC houses both kinds of storage options with great volume. Check out best desktops list.
You will find 1TB hard drive (HDD) and 512GB PCIe NVMe M.2 solid state drive (SSD) storage at the core of its hardware.
1TB HDD gives you ample space to store your favourite gaming applications and other important documents.
At the same time, SSD storage allows you to run & play the latest gaming titles at their highest settings.
Ports & Connectivity
In terms of I/O ports & connectivity slots, this gaming desktop can be more than sufficient for professional users.
It is packed with a number of USB Type-A ports – total eight in number. Check out best desktop brands.
Two USB 3.1 ports are engraved on the front panel while six more are located at the system's back.
You will find a single USB 3.1 Type-C port on the front. Thereby, the system provides you ample slots for your different peripherals.
All these ports allow you to connect your favourite VR headset and latest gaming accessories with the device.
Other available ports include ESS Sabre DAC audio out, two HDMI outputs, SuperMulti DVD Drive, dual DisplayPort etc.
The high-end Intel Ethernet Connection I219-V controller available in the system ensures high-performance & fastest gigabit network connectivity.
Additional Features
This gaming PC from Asus is pre-loaded with Windows 10 Home operating system.
Based on the innovative technology, the desktop offers an absolute thermal solution to prevent over-heating inside.
It sports sufficient air intakes at the top, front and underneath of the chassis.
If you open the cover, it allows maximum cooling air to enter into the chassis.
It lessens the temperature inside by 15% while increases fresh airflow by 16% in order to keep the critical components cool all the time.
The Huracan G21 is an ideal compact gaming PC that runs cool and performs silently without any compromise.
Specs:
Brand: Asus
Storage: 512GB PCIe SSD + 1TB HDD
RAM:16 GB
Storage Type: SATA
RAM Type: DDR4
Processor: Intel Core i7-9700K
Graphics: NVIDIA GeForce RTX 2060
Processor Speed: 4.9 GHz
Processor Brand: Intel
Product Dimensions: 14.4 x 5.1 x 14.6 inches
Operating System: Windows 10
What Do Users Think about Asus ROG Huracan G21?
Most of the general users and passionate gamers think this Asus ROG model a gaming beast.
It has everything based on the latest technology to stand out in the crowd. Check out Asus ROG Huracan G21 Manual.
The PC holds the ability to steer a real & sincere gamer in the right way all the time.
Some of them have admitted that it can immediately take a gaming enthusiast to the next level of performance.
But there are issues with price and it gets warm at times. So depending on that you can buy it.
Other Expert Views
The critics like Geek Culture have appreciated the system's capability of creating an immersive gaming world around. As the leading tech experts have reviewed this Asus gaming desktop, most of them consider it highly impressive for all gamers – beginners, casual or professionals. It is having a speedy boot up, while most gaming as well as non-gaming applications are very responsive. This is a noteworthy striking feature to ignite the flame of gaming in you.
PC Game Bench Mark is on a view that Asus ROG is a good stimulant for all types of work but to be honest this variety is not without any limitations like price. But the cooling system is a great boon.
Pokedenet is also saying that Beefier cooling is having a great fundamental aspect on which all your hard work will depend. You can take the bets aspect on this gaming desktop. The graphics and storage is also attractive so you can take your call.