Value for Money Score
9.5/10
Specifications and Features Score
8.0/10
Pros
Well designed
Solid performer
Lightweight
Speedy convertible
Good display
Cons
Not often available
Windows ink is inconsistent
Storage
Not fit for professional work
If you are one of the avid followers of Asus laptops, then you must try at least a single variant belonging to the ZenBook series in your life. Check out Full Asus ZenBook Flip 14 UX461FN Review.
It will provide you a clear idea of the innovative features and blend of trendy hardware components available in the ZenBook laptops.
The current blog has made a review on Asus ZenBook Flip 14 ultra slim convertible portable laptop designed for several activities. Take a look at best laptop brands list.
Asus ZenBook Flip 14 UX461FN Laptop & Variant Price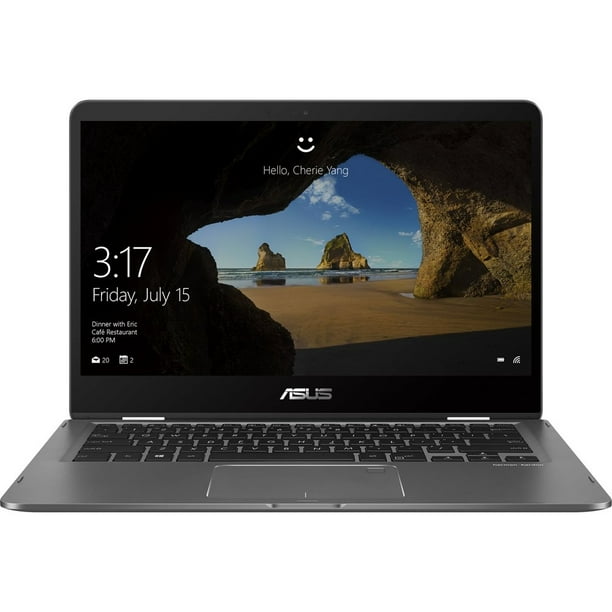 $1,399.00
2 used from $1,399.00
as of June 21, 2021 2:56 pm
Asus ZenBook Flip 14 UX461FN Review
One will find the Asus ZenBook Flip 14 a 360 degree convertible laptop that is infused with almost all uncompromising features in every part of configuration.
This all-in-one categorized laptop is not a budget model as it houses 8th-Gen Intel Core i7 chipset and a superior graphics processor to give you a stellar performance speed.
Moreover, the device has an extended battery life, a bright, vivid & excellent monitor and immersive audio.
Its dedicated Nvidia GPU has also turned the device highly advanced, helping it outperform many other variants with integrated graphics processor.
Every feature of the ZenBook Flip 14 is not ordinary, but extraordinary to steal your heart and influence your buying decision.
It occupies a stronghold position among the world's thinnest notebooks along with a gorgeous design and convertible chassis of reliable build.
Needless to say, this luxury notebook is one of the best & signature laptops launched by Asus till date. Check out top 10 Asus laptops.
What take you more beyond the limitations of a conventional laptop are its notebook Pen support and 360°-flippable touchscreen display.
Other value-added features include NVIDIA GeForce MX150 GPU, all-metallic design, ultra-high display benefits, 512GB SSD, backlit standard keyboard and more others.
The utmost convertibility of the versatile ZenBook Flip 14 allows you to explore your creativity in laptop mode or tablet mode or any other mode of relaxation as well.
Specs Details:
Reliability
Asus ZenBook series is a versatile group of iconic & flagship ultrabooks available on the global market.
The product line has made a unique standard for ultra slim, compact, lightweight and gorgeous looking laptops.
One can easily distinguish any of the ZenBook devices from other variants only finding their elegant design amalgamated with perfection & sophistication.
Performance
You will find the latest 8th Gen Intel Core i7-8565U CPU and NVIDIA GeForce MX150 graphics card under the hood.
This quad core processor is truly powerful to deliver top notch performance without any occasional lag.
It is also highly responsible for super-smooth and hassle-free multitasking.
The dedicated GPU with 2GB memory ensures striking gaming performance, multimedia creation abilities and buffer-free smooth video streaming or movie watching experience.
Design
As far as design is concerned, the ZenBook Flip 14 has got a spectacular appearance to win your heart just at first & quick glance.
Its all-aluminum body is truly compact, ultra thin and lightweight enough to give you utmost carrying convenience.
It weighs just 3.3 pounds while measures about 12.9 x 8.9 x 0.5 inches. The lid of the notebook comes with an innovative spun-metal finish to augment its overall beauty and luxury.
The ZenBook Flip 14 is available in two iconic color options – Slate Grey and Icicle Gold.
Another streamlined feature to make this ZenBook notebook variant ultra-smart and high end is its 360° ErgoLift hinge which offers you complete convenience to hold or flip its monitor to any angle, based on your working satisfaction.
You can freely rotate the display into tablet mode or laptop mode or any other relaxed mode to boost your concentration and productivity.
Display
The ZenBook Flip 14 sports a NanoEdge display of 14 inches to show your activities & results with utmost accuracy.
It has ultra thin bezel all around which easily fits into a smaller chassis, thus making the device a bit similar to the 13-inch laptops in size.
In less possible space, the display with a resolution of (1920 x 1080) pixels covers almost 80% of the area to help you visualize more and more.
Apart from delivering an unbounded visual experience, the display features 100% sRGB color gamut, 178° wide-view technology, Asus Tru2Life Video technology,
Asus Eye Care technology etc. All these features are united in this notebook to ensure amazing visual task and unforgettable entertainment both in outdoor and indoor environment.
Asus Tru2Life Video technology makes sure that your videos appear crystal-clear and incredibly wonderful as well.
The software optimizes each & every pixel in your video frame and thus enhances the image quality to a great extent.
Its smart algorithms work to analyze and adjust the brightness of any video, optimizing its sharpness as well.
The ZenBook Flip 14 holds several exclusive features of an exceptional display.
Its 1000:1 TV-grade contrast ratio and finest 100% sRGB color gamut promise utmost brightness, life-like vividness, excellent color accuracy and crystal-clarity of the visuals to motivate you in working on the device for multiple hours.
The notebook display is also enriched with path-breaking ASUS TruVivid technology to diminish reflections by 67% for more prominent outdoor visual experience.
Its 178° wide-view technology allows you to share the device with your friends or colleagues, assuring absolute picture clarity at any viewing angle.
Storage Specs
The hardware configuration of the laptop includes NVMe 512GB PCIe solid state drive instead of a HDD and 16GB LPDDR3 RAM.
The 2133MHz RAM offers fluid multitasking convenience to make you on the move with several browsers & software open.
At the same time, SSD storage of such bigger size provides you ample space to keep varied files secured on the device and contributes to the faster system performance.
Additional Features
Ports & Connectivity: Though the ZenBook Flip 14 does not accommodate an assortment of ports and I/O connectivity channels, it does have the essential ones to cater to your everyday needs. Its left side sports power button, volume button and one USB 3.0 port. The right side of the laptop is a home to a USB Type-C port, a microSD card reader, an HDMI output port, the other USB 3.0 port, a power adapter port and a headphone jack. However, it lacks a Thunderbolt 3 port to get connected to the high-speed peripherals.
Keyboard & Touchpad: Every ultraportable notebook should consist of an outstanding keyboard. The keyboard of the ZenBook Flip 14 is absolutely synonymous to unprecedented productivity. It is best suited to your varied kind of activities. The full-size keyboard has 1.4mm key travel which enables you to type comfortably with utmost perfection. It also holds the backlit feature to deliver you remarkable typing experience in any low-light conditions. It is helpful in improving your typing speed too.
Its precision trackpad is wisely designed to ensure maximum accuracy and finger comfort. Developed by Palm-rejection technology, the touchpad includes a solid glass cover to provide you smooth control, handwriting support and multi-touch gesture convenience.
Asus Pen Support: In order to provide an unforgettable touchscreen experience, the ZenBook Flip 14 gives you a 10-point multitouch monitor with accurate sensors to support the Asus pen. You can explore your skill or creativity by using Asus Pen to the fullest.
Audio: Powered by the ASUS SonicMaster sound technology, the ultra slim notebook features immersive audio quality to blow your mind in no time. The hardware configuration of device includes smart & superior amplifier technology to create louder sound without any occasional distortion. The speakers are able to fill a large conference room, delivering a non-compromising audio experience.
Webcam: A webcam of 0.9-megapixel is situated on the top bezel area to enable you to carry on a video conference or face-to-face chatting with your closed ones. The images shot by this camera could have been better and sharp to create an impression.
Security: The ZenBook Flip 14 is perfectly engineered to withstand the unauthorized access to the device, thus adding the aspect of security. Fortified by Windows Hello technology, its fingerprint sensor located onto its touchpad provides you the absolute convenience of a single touch to enter the computing world.
Battery Life
To keep you on the go every day, the ZenBook Flip 14 features an elongated battery life. Its lithium-polymer battery of 57Wh capacity helps the device perform up to 13 hours on its single charge.
Thus the notebook gives you ultimate freedom to work for hours with lower to middling usage, without any worries of sudden power drop.
Furthermore, the notebook features fast-charge technology to recharge the battery with up to 60% power in just 49 minutes.
As a result, the ZenBook Flip 14 can be an ideal choice to accompany you on every trip or intercontinental flight. Find out Asus ZenBook Flip 14 UX461FN manual.
What Do Users Think?
Our experts have talked to several Asus ZenBook Flip 14 Laptop users and compiled their opinions here.
Asus can take pride in the fact that this ZenBook laptop designed as a precision-engineered mechanism has received high acclaim from all sorts of users.
According to several individuals, this is a lovely all-in-one 14-inch notebook loaded with 512GB SSD and advanced Nvidia GeForce graphics processor to render an improved computing experience.
A number of avid gamers have been satisfied with this graphically rich ZenBook by playing some of the latest online titles.
The critics have bestowed a wide certification on the device for its ultra high display features & state-of-the-art technologies.
Other Experts View
According to the Laptop Mag it is true that it works with speed. It is highly convertible with a vibrant display. It is also coming with a perfect battery power. You can definitely get the best aspect to understand which one is having more power to satisfy your taste.
Cnet says that you will be having a performance and portability and discrete graphics. You will be getting a two in one design with a perfect and cool looks. You can think of so many aspects that are really offering you a good buy.
Asus ZenBook Flip 14 has the fingerprint reader that's why Techrader claims it as not a reliable laptop. It is a quintessential 2-in-1 laptop which is definitely a lucative one for everyone. The lid of the notebook comes with an innovative spun-metal finish to augment its overall beauty and luxury.
Our Verdict
The notebook display is also enriched with path-breaking ASUS TruVivid technology to diminish reflections by 67% for more prominent outdoor visual experience.
Its 178° wide-view technology allows you to share the device with your friends or colleagues, assuring absolute picture clarity at any viewing angle.
The Asus ZenBook Flip 14 notebook is perfectly designed to compete with other powerful variants in its class available on the market.
Its all-aluminum chassis coupled with ultra-smart configuration offers an attractive appearance as well as speedy performance to support your day to day activities.
The meager downsides to note in this Asus ultra slim convertible laptop include the lack of Thunderbolt 3 ports and not-so-smooth Windows Ink experience.
It can be a finest economical option for the students and office goers who are on a modest budget and seeking for a notebook to do more than just preparing documents or surfing the web.
With adequate battery capacity and added graphical power, this ZenBook variant is able to take you to the next level of performance in no time.
Its your choice you can place an order for this lucrative 2-in-1 notebook at any leading online store to grab the piece.