As an Amazon Associate and (affiliate of other merchants) we earn from qualifying purchases without any extra cost to you when bought through paid links below.
CHUWI HeroBox Mini PC
USD
Value for Money Score
8.2/10
Specifications and Features Score
8.1/10
Pros
It saves power
Its speed is awesome
Supports dual wifi
Ports are many
Effective Heat Dissipation
Cons
Not easily available
It gets warm at times
Little loud at times
Hardware issues at times
Problem with support
Verdict
If you are looking for a Mini PC then you need to note that the Hero Box Mini PC of CHUWI is a major upgrade over the previous model which has been quite popular.
The silent performance, the speed, the standard RAM, and expandable storage capacity along with its fast connectivity is what would make it an ideal buy even in this highly competitive web scenario where so many options are available.
CHUWI HeroBox Mini PC & Variants Price
$169.99
as of December 7, 2023 9:18 pm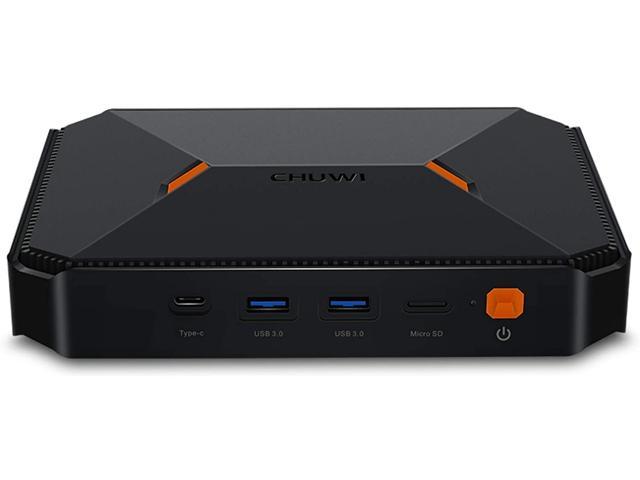 Introduction
It is quite amazing to note how useful the Mini PCs of the current generation can be. Though small in size in various aspects it matches the performance of the latest desktops and laptops.
Added to the same since very compact they can be kept in a small space and are also very portable. This means that they can easily be carried to different places as and when required.
But since they are often on to different places they need to be durable so that the performance in no way gets adversely affected.
With the CHUWI HeroBox, there is a significant improvement over the previous model. It has a sturdy aluminum body and is fanless which means that it works silently.
However, with the Intel 11th Gen N5100 Quad Core Processor the processing is much faster.
Besides the 8 GB RAM is also a significant improvement over the previous model.
Thus all in all this Mini PC is even more reliable over its predecessor and thus one which also makes it highly popular.
Buy for:  It saves power | Its speed is awesome
Beware of: Not easily available
The alternatives:
Design & Build
In terms of design, this CHUWI Mini PC has been designed very smartly.
The Fanless and silence design is indeed worth mentioning which gives this Mini PC a distinct advantage over its nearest competitors.
With the product dimensions of 7.36 X 5.43 X 1.46 inches and weighing just at 2.49 pounds, it is indeed very compact and at the same time very portable too.
Apart from the same, the best part about the design and build is that it makes use of a power saver technology that makes it highly energy efficient.
Besides whether it is in terms of the fast connectivity or highly expandable storage capacity the design of this Mini PC is what makes it one of the most sought-after products in its category.
Performance
Loaded with the latest features this Mini PC is what enables it to deliver the ultimate performance that users of the modern age seek.
To begin with the Intel 11th Gen N5100 Quad Core Processor you can expect high processing speeds that are most necessary in the current web scenario.
Along with this Mini PC from CHUWI also comes with the 4 K Ultra Streaming Capability.
So this Mini PC can serve as the perfect Home Theater for a unique movie viewing experience.
The Fan-less and Silent Product also enable this Mini PC to deliver a very silent and at the same time efficient performance that all users would simply love.
To go along with the same this Mini PC also is very energy efficient that means that it can function over long times without consuming plenty of electricity.
So all in all this Mini PC is one which despite its small size delivers the ultimate pc performance that most users in the modern era would simply fall in love with.
RAM & Storage
Coming to the RAM, this Mini PC has a RAM which is 8 GB which is a significant upgrade over its predecessor which had just 4 GB.
If you take a look at the Mini PC category as a whole too you would find that the 8 GB RAM is on the higher side.
Thus the high RAM configuration RAM is what makes the Mini PC perform multiple tasks in quick time and that too most efficiently without any difficulty all at one time.
As is expected in any Mini PC the storage capacity, to begin with of 256 SSD may seem to be insufficient, to begin with, but it has been engineered in a manner to enlarge the storage capacity easily as and when required by the users.
So storage is no problem with the Mini PC.
Ports & Connectivity
When it comes to buying any PC, the number of ports and connectivity it offers is an important criterion for choosing it.
The good news is that this PC is a sufficient number of ports and slots for input devices like USBs and so on.
Besides this Mini PC also offers high-speed connectivity supporting Dual Band 2.4G/ 5 G frequency which operates on the LEEE802.11 AC Standard Wi-Fi. So you can ensure that you stay connected all the time.
Additional Features
When it comes to additional features the Mini PC offers fan-less technology which means that the PC is very silent but efficient.
Besides it also comes with the Pre-Loaded Windows 11 operating system which is very useful and quite user-friendly on all fronts.
Specs:
Brand: CHUWI
Storage: 256GB
RAM: 8 GB
Storage Type: SATA
Processor: Intel 11th Gen N5100 Quad Core Processor
Graphics: Intel UHD Graphics 600
Processor Speed: 1.10 GHz (base), 2.80 GHz (Burst)
Processor Brand: Intel
Product Dimensions: 7.36 x 5.43 x 1.46 inches
Operating System: Windows 11
What Do Users Think of CHUWI HeroBox Mini PC?
If you take a look at the feedback of the users of this Mini PC from Chuwi HeroBox you would find that most of them are extremely happy with the overall performance of this Mini PC.
They are particularly happy with its design and silent performance which is often missing in the other competitive Min PCs.
Many of them feel that it is worth making the investment in this PC in the current era. Check out HeroBox Mini PC Manual.
The experts have always been recommending buying this Mini PC. Most of them feel worth investing especially considering its design and performance of this Mini PC.
Our Testing & Analysis Report
We have excessively used the CHUWI HeroBox mini PC for online learning and education purposes and we got very satisfactory performance from it.
Its compact and portable design made it easy to move between rooms, and it ran video conferencing software like Zoom and Google Meet smoothly.
We were also able to use educational software like Moodle and Blackboard without any issues on this PC.
We found the HeroBox Mini PC to be a reliable option for setting up a surveillance and security system.
We used software like Blue Iris and iSpy to connect to our IP cameras and monitor our house and office spaces. The PC was able to handle multiple camera feeds simultaneously without any issues.
The device proved to be a great addition to our home theater setup. Its compact size and silent operation made it an ideal choice for streaming movies and TV shows using software like Netflix and Kodi.
The PC's performance was excellent and we enjoyed a seamless viewing experience. But its short storage capacity is a major issue.
Our casual regular multitasking tasks were handled easily by this mini PC. There was no noticeable lag when we browsed the web, worked on documents, or listened to music for entertainment.
We used software like Chrome, Microsoft Office, and Spotify on it, and its performance was smooth.
Thanks for your feedback!