eComputerTips is reader-supported. When you buy through links on our site, we may earn a small commission without any additional cost to you.
Value for Money Score
8.8/10
Specifications and Features Score
8.7/10
Pros
Affordable pricing
Quite upgradable
Good performance
RGB lighting makes it look attractive
Cable management is impressive
Read CyberPowerPC Gamer Xtreme GXiVR8060A10 PC review and see the price. A gaming PC doesn't always have to be super pricey or have high-end hardware, since a lot of people do not need that kind of performance.
If you are one of those and are looking for a decent, budget-friendly, mid-range option, then this review of the CyberPowerPC Gamer Xtreme GXiVR8060A10 is for you.
The desktop has got a Core i5 processor, a GTX 1660 Super GPU, 8 GB of RAM, and SSD storage.
Now 8 GB of RAM might still feel a little low for some of you here, but no worries as it can be expanded easily.
This brings us to yet another aspect of any gaming PC, its upgrade and expansion options.
The reason you'd like the Gamer Xtreme GXiVR8060A10, even more, is the fact that it can be upgraded very easily.
From a large enough case to the use of standard hardware, all of it works in your favor.
Now, this isn't uncommon in custom PC brands like this, but not every desktop has cable management as this one does.
No loose ones are hanging here or there, so if you're an organized person who likes to keep their things tidy, you'll love the arrangement.
However, if a PC with a USB Type-C port was on your wish list, things can get a little gloomy.
Now, specs-wise it is great, but that or a WIFI 6 is not included, which you must know if you are to consider getting this desktop.
CyberPowerPC Gamer Xtreme GXiVR8060A10 PC & Variants Price
$1,047.00
20 new from $949.99
6 used from $749.99
as of October 3, 2022 3:56 pm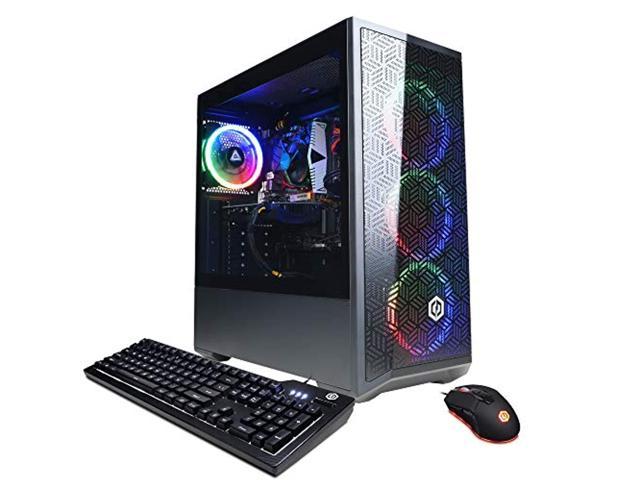 Create Your Free Price Drop Alert!
Set Alert for CyberpowerPC
Gamer Xtreme VR
Gaming PC, Intel i5-10400F 2.9GHz, GeForce GTX 1660 Super 6GB, 8GB... - $1,047.00
CyberPowerPC Gamer Xtreme GXiVR8060A10 PC Review
Buy for: Budget-friendly pricing │ Good performance
Beware of: Connectivity could have been better │ Noisy cooling fans
Best uses for: Gaming, game development, beginners gaming, one of the best desktops with a Core i5 processor and other purposes.
Best alternatives: SkyTech Blaze II and SkyTech Shadow
Verdict
The CyberPowerPC Gamer Xtreme GXiVR8060A10 is yet another option in the universe of custom pre-built gaming desktops that you may explore if things like easy upgradability and affordable pricing are your preferences.
Design and Build
One of the common things regarding gaming PCs is that they usually have a glass panel and RGB lighting, and it would have been wrong if those were missing in this desktop.
And the panel also comes with the familiarity of thumb screws, so it's easy to remove too.
As for the RGB, it's nothing too special, but enough to make your PC look interesting. A remote comes in the package through which you can control or turn it off entirely, whichever feels convenient.
There isn't any software like MSI or ASUS offer, but CyberPowerPC is not like these brands anyway.
So what about the case that holds all of this together? Well, it is good considering the price tag. It's sturdy enough, and there's room inside for ample airflow and upgrades.
Also, there's a dust filter at the top to keep out unwanted particles accumulating, and you get a mesh design on the front as well.
The desktop has got some handy ports too, just beside the power button on the top section of the front panel.
This section has a design different from the surrounding parts, and so is easily noticeable.
Performance
In its segment, the CyberPowerPC Gamer Xtreme GXiVR8060A10 is easily one of the best desktops with a Core i5 processor but isn't just the processor that does all the work.
Well, it is the most important component in general, and the Core i5-10400F does provide a solid performance.
It doesn't matter if you're doing office work, editing or gaming, since it provides consistent performance in all of these.
With 6 cores and a peak frequency of 4.3 GHz, it isn't as quick or overclockable as other expensive Intel or AMD alternatives.
However, those that do not care about these things should have nothing to complain about.
The processor is accompanied by a GTX 1660 Super video card too, which has 6 GB of GDDR6 VRAM and over 1400 CUDA cores for seamless graphics processing.
It supports 4K as well, but gaming or editing on the same resolution would not be recommended.
What you can do is run your games at 1080p at most, and even use a VR headset if you have one of those lying around.
The GPU can handle almost any game at this resolution, and you can expect 60+ fps (unless we are talking about CyberPunk and a few others) on most titles.
For optimal performance, you may want to upgrade the RAM. But this desktop isn't one that you can take to an eSports tournament or such a competitive space.
There is another variant of this desktop from CyberPowerPC, the Gamer Xtreme VR that comes with a 9th gen processor and a GTX 1660, but more storage space and a similar chassis.
The one here is much better than it in almost every aspect though, and both have Windows 10 Home OS installed.


Storage and RAM
The CyberPowerPC Gamer Xtreme GXiVR8060A10 comes with a single PCIe SSD drive and offers a storage space of 500 GB.
And of course, it can be equipped with additional storage drives too if you need more storage.
The desktop has got 4 RAM slots, and most models come with a single 8 GB stick installed.
Now for most people, 8 GB of RAM does the job, but again, if you want to use the desktop to its full potential, a RAM upgrade is necessary.
Both the storage and RAM bays are very easily accessible, and all you have to do is remove the glass panel.
Ports and Connectivity
As we said, the front part of the desktop has a handy port placement, and if you're wondering what these are, here are the specifications:
2 USB 3.1 Type-A ports
A headphone jack
A mic jack
But that is not all, there are multiple others at the back panel too. These include 4 USB 3.1 ports, 2 USB 2.0 ports, an Ethernet slot, and 7.1 Audio ports.
The desktop comes with 802.11 ac WIFI and Bluetooth installed in it, and there are several video ports too.
You can thus use multiple monitors for the most productive or entertaining setup.
Additional Features
The desktop comes with a keyboard and an RGB mouse which has 7 color patterns.
You can do casual stuff with these, but they aren't as good as dedicated gaming peripherals in terms of quality or features.
As the PC supports VR, you can utilize HTC Vive or Oculus Rift VR technologies to take your video gaming experience to the next level.
There's a 1-year warranty on this too, and after that, you still get support from CyberPowerPC's tech department.
Specs:
Brand: CyberPowerPC
Storage: 500 GB
RAM: 8 GB
Storage Type: SSD
Processor: Intel Core i5-10400F
Graphics: NVIDIA GeForce GTX 1660 Super
Processor Speed: 2.9 GHz base, can be boosted to 4.3 GHz
Processor Brand: Intel
Product Dimensions: 18.8 x 8.2 x 18.6 inches
Operating System: Windows 10 Home
What Do Users Think About CyberPowerPC Gamer Xtreme GXiVR8060A10?
While the CyberPowerPC Gamer Xtreme GXiVR8060A10 may not have out-of-the-ordinary features or specs, it still packs a lot of good things for any user.
The simplistic chassis, RGB fans, and the overall performance of the desktop received a lot of praise from the users, which we are here to convey to you.
The buyers mention that the chassis has got a good build and could provide them with all the space that they needed to add more components, as well as the airflow needed to keep them cool.
Opening the glass panel was never an issue for them, and as soon as that was done, they had access to all of the components.
There was space for additional cooling fans too, so the chassis thus proved to be convenient enough.
Now performance-wise, the majority of the users think that it does great at 1080p gaming, as popular titles could be played even on High settings at 60 fps and above.
Other tasks like editing photos and videos could also be done without any struggle.
A RAM and storage upgrade was a very common thing that has been done to the PC by their owners, and it did prove to be effective.
These and most of the other components are of reputed brands, which meant that their investment was in the right place.
But there are reports of hardware failure, and often the kind that doesn't get fixed unless one or more components are fixed.
The CyberPowerPC customer support didn't get much positive feedback and has to be improved as per the opinion of some of the users.
Also, the absence of a USB Type-C port bugged some of the buyers, and so did the remote-controlled LED.
They would have preferred if there was dedicated software to do the same.
Both variants of the PC have been chosen by a lot of people, but this one being the more-latest launch, is being preferred by the recent buyers.
Other Expert Views
The experts of Digit Week, upon examination of the CyberPowerPC Gamer Xtreme GXiVR8060A10, suggest the desktop to those who want a good-looking PC to handle 1080p gaming. And even though it may not be a high-end device, it still impressed them.