eComputerTips is reader-supported. When you buy through links on our site, we may earn affiliate commission without any additional cost to you.
Value for Money Score
8.8/10
Specifications and Features Score
8.7/10
Pros
Decent performance
Lots of upgrade options
All standard hardware
Supports multiple monitors
Provides easy access to internal hardware
Cons
Can be expensive
Customer support is not that great
Cannot be overclocked
Connectivity features aren't the latest
Not the latest specs
Read CYBERPOWERPC Gamer Xtreme GXiVR8060A8 Review and see the price. Are you looking for a moderately configured gaming PC?
Then you're in the right place, as we have something that you might like, especially if you like custom prebuilt desktops.
CyberPowerPC is one of those many brands that can provide you with one of these. This is a review of one of the starter rigs from the brand, that you can customize and upgrade later on as well.
And while there's "Xtreme" in its name, the specs in this variant are quite the opposite.
Now the Gamer Xtreme GXiVR8060A8 is a gaming PC no doubt, but the specs aren't very aggressive.
Instead, it comes with a 9th gen Core i5 processor which is affordable, and performance-wise isn't too bad either.
There's also a GTX 1660 GPU which handles the graphics, 8 gigs of RAM, and sufficient storage for the user.
The specialty of the desktop doesn't lie in the specs you get out-of-the-box, because frankly, these aren't that impressive.
However, other brands would have either provided you with a small case or some proprietary component, which restricted upgrades.
CyberPowerPC on the other hand, does neither, which means that later on, you get to upgrade it as much as is convenient.
And before you do, there's enough power in it to grind through the tasks that an average gamer may throw at it. But does this make the desktop better than other contemporary alternatives? Let's find out.
CYBERPOWERPC Gamer Xtreme GXiVR8060A8 & Variants Price
$1,590.00
5 new from $1,590.00
6 used from $1,100.00
as of December 6, 2021 8:55 pm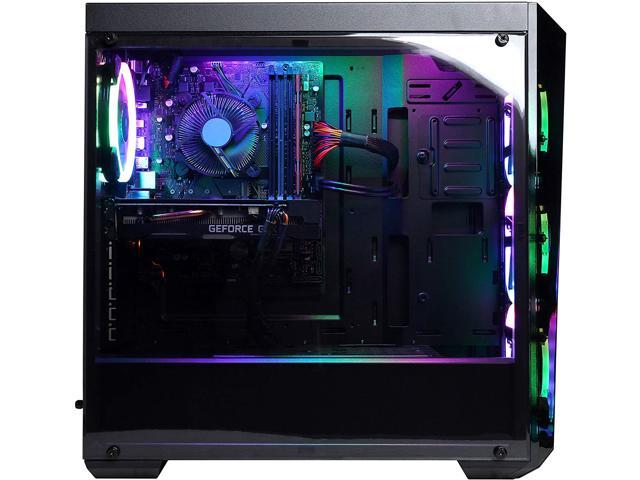 CYBERPOWERPC Gamer Xtreme GXiVR8060A8 Review
Buy for: Decent specs │ Ample Upgradability
Beware of: Not very reliable customer support │ Average connectivity │ Can be noisy
Best uses for: Multiple gaming, Football manager and other purposes.
Verdict
The CyberPowerPC Gamer Xtreme GXiVR8060A8 is one of those desktops that you'd want to get if a 1080p powerhouse is what you immediately need. But at the same time, you also prefer a desktop that allows you to make upgrades on it later on for better performance.
Design and Build
Upgradability on any gaming desktop depends on a lot of things, and part of it is also its design.
And since we are stressing so much on how upgradable the CyberPowerPC Gamer Xtreme GXiVR8060A8 is, it should have the necessary qualities.
While the other stuff we'll be talking about later in this review, it is time to see how good it is from the outside.
The chassis at 18.5 x 7.9 x 17.9 inches solves your query, as there's a lot of space inside where you may fit bigger components than those already present.
We have to give some points to it in the looks department, as the glass side panel, RGB radiators on the front, and the whole deal make it look cool.
And, the front panel has no bold branding either, since there's only a logo and nothing more.
At the top, there is the rectangular power button sitting in the middle, surrounded by ports and other buttons on either side.
The area that holds these is sort of caved-in, so it not just looks different but also makes it easier for you to locate.
The design is good, just as seen in most chassis offered by CyberPowerPC, and there's tool-free access to the internal components on this as well.
The cables inside are neat, and even though the airflow is not the best-in-class, the temperatures remain well within working numbers. Unless you are testing the desktop's limits.
Performance
There are different hardware with which you can customize a Gamer Xtreme, but in this one, the brand has already picked a certain configuration.
And while it isn't top-end, casual or aspiring gamers might like it after all. And as there's Windows 10 Home installed, there should be no issues with software compatibility.
The processor in this is a Core i5-9400F, which as you might be guessing, does not come with integrated graphics.
It is a Hexa-core processor, but unlike the newer iterations does not support hyper-threading.
So multi-core benchmarks on this won't be as good as some of the newer launches.
However, with a peak frequency of 4.1 GHz, it still manages to keep things very interesting. It is still based on Intel's 14nm architecture, though this shouldn't be a concern in daily usage.
Although, if the processor name didn't already give it away, the desktop does not support overclocking with the hardware currently in it.
But overclocking is not something that everyone wants to try out. And its performance is plenty for the average gamer or someone who needs a good enough desktop for productivity or basic content creation.
There's the GTX 1660 GPU in this that gives you confidence when playing a video game or editing a video.
The 6 GB video card is not ideal, but since this is a starter rig, we aren't complaining.
And when gaming at 1080p, you wouldn't have to either, as most modern games can run on 90 fps and above on this, with settings set to medium or high.
Frame rates usually depend on the game being played, among other factors, so exact numbers won't do you much good.
But we can say that it runs games like League of Legends or Football Manager at over 100 fps on average, easily at 1080p.
And not just that, you can play some PUBG and Apex Legends at 60+ fps too, without compromising much on graphics quality.
There's also entry-level VR support, so strap on your headsets and prepare for a realistic experience!
There's no question that the desktop is upgradable, though one thing that it immediately needs is a RAM upgrade.
Now, this doesn't mean that out-of-the-box the desktop is bad at multitasking. However, when one or two of these things is RAM-hungry, you've got a problem.
With the 8 GB already present, you won't be able to do much on the desktop, while gaming at the same time.
Another 4 or 8 GB module can improve the overall performance to a great extent.


Storage and RAM
The CyberPowerPC Gamer Xtreme GXiVR8060A8 is packed with storage, and no matter the kind of user you are, you'd find yourself long before needing additional storage drives.
And when you do, there are free storage bays to add more of these. The same goes for the RAM, and expanding the 8 GB of it is easy as well.
Opening the glass panel gives you access to the memory slots and other components, and then you can install more RAM. Plus, you won't need any tools for this endeavor.
Ports and Connectivity
The Gamer Xtreme GXiVR8060A8 has plenty of ports, be it for adding peripherals or monitors. But there are certain things we wished CyberPowerPC improved, like the addition of a USB Type-C port.
But let's not dwell on what could be and focus on the front ports first. These are mic and headphone jacks and two USB 3.0 ports.
At the rear, there are 4 more of these ports, and 2 USB 2.0 ports, audio output, Ethernet slot, and depending on your specific model, an HDMI, and a DisplayPort. There are also legacy ports, should you still need those.
The inbuilt Bluetooth and WIFI sum up the connectivity of the desktop, and how good these are have been mentioned in an upcoming section.
Additional Features
Unless you were hoping for professional gaming peripherals, you would be satisfied with the mouse and keyboard that come with the desktop.
The keyboard is a usual one with a few colored keys, while the mouse has RGB lighting and several buttons.
These are decent and can be used for quite some time before needing to be replaced.
The desktop supports 7.1 Audio and VR Gaming, thus letting you immerse in a video game or a movie in surround sound.
There's a remote in the package that lets you control the RGB lights inside the rig.
The Gamer Xtreme GXiVR8060A8 also comes with a 1-year warranty and free lifetime tech support, which CyberPowerPC promises in every product of theirs.
Specs:
What Do Users Think About CYBERPOWERPC Gamer Xtreme GXiVR8060A8?
The CyberPowerPC as a budget, entry-level gaming rig has been able to make a good impression among the buyers, other than a few hiccups here and there.
The latter are drawbacks that most other desktops of the brand share, and very few are problems related to this specific device.
Like we do, the users too like the way the desktop looks in its simple attire. Check out CyberPowerPC GXIVR8060A8 Manual.
As a gaming desktop, it also has a transparent side, RGB lighting, and such that users want to see.
And related to this is the ease of usage, be it upgradability or the placement of front ports. There's also the clean cabling inside and the chassis itself was found to be quite durable.
Before we talk about performance, it must be noted that a majority of the buyers have upgraded the RAM to at least 16 GB.
After this, they found the desktop to be quite useful in almost every task that they performed on it.
This meant that basic things like web browsing and multi-tasking, along with office usage, and gaming were all handled by the desktop quite well.
Even though the desktop isn't meant for professional gaming, the users had no trouble playing their favorite games at intended frame rates.
This means that 1080p gaming, no matter what the title may be, was a very smooth experience.
There are a handful of games that could be run on 1440p, and some users have also taken advantage of the VR support that the desktop has.
Now overall the desktop was a decent one, but the buyers would have been more impressed if connectivity was slightly better on this.
Also, there are times when certain hardware was found to be of cheap brands and their quality was questioned. For example, the most common of these was the PSU.
As it is a very integral part of the desktop, some of the buyers have preferred to replace the stock unit with other 3rd party ones.
Other Expert Views
As per Fancy Appliance, the CyberPowerPC Gamer Xtreme GXiVR8060A8 can be the next entry-level, FHD gaming rig that you can get. There's also a good design and if you can get it at the right price, there are only a few competitors that can outdo it, in any aspect whatsoever.
Given the analysis of those at PC Build Advisor, this desktop is a good option for you if you're interested in 1080p gaming. The airflow is slightly concerning to them, but they think that it shouldn't be that big of a problem. A few simple upgrades should make sure that the desktop lasts for a considerable amount of time.
Like Digit Week says, as long as it is affordable, CyberPowerPC Gamer Xtreme GXiVR8060A8 is a great option for FHD gaming, especially if you aren't planning on building a desktop on your own. Also, with the upgrade provisions, it is all the more worth it.