As an Amazon Associate and (affiliate of other merchants) we earn from qualifying purchases without any extra cost to you when bought through paid links below.
Dell Chromebook 11 3189
USD
Value for Money Score
9.5/10
Specifications and Features Score
9.2/10
Pros
Good battery life
Booming speakers
Comfortable touchpad & keyboard
Sleek design
Great Graphics
Cons
A bit hefty
Glare on display
Heat up little bit
Not good for much works
Service problems
Verdict
This Dell Chromebook 11 3189 has several elements that the students will find funny. There are several features that will cater to the purpose of a group of students when they will assemble together for an event.
The Chromebook is especially designed for the school-going kids and middle schoolers. They can use it without any difficulties and convert it into different modes without having to reach out for another's help.
The build quality feels pretty strong, so much so that daily use and abuses during the school days won't make it a vintage item for interior decoration.
Dell Chromebook 11 3189 & Variants Price
$62.50
2 new from $62.50
2 used from $92.00
as of December 8, 2023 8:29 am
$159.99
4 new from $149.00
as of December 8, 2023 8:29 am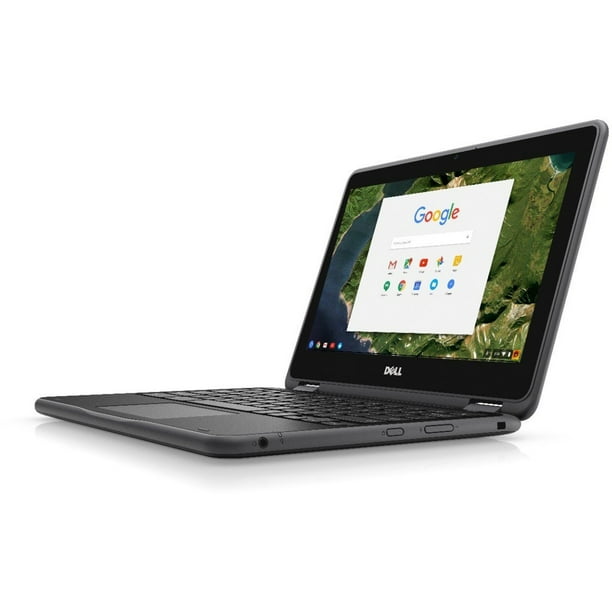 Introduction
Customized for students' needs, the model is designed strong enough to survive abuse in the school days. The two-in-one beauty makes it super easy for the students to use the Chromebook.
The students can read and write from any mode or angle. The easily convertible device allows the students to switch between different modes namely flat, laptop, tent or tablet.
It is a kids-friendly and kids-proof model. It features a spill-resistant and sealed keyboard with Drop Protection and rubberized edges so that it can endure heavy shake and jolt in backpacks, buses, lunchrooms and lockers.
Battery has staying power even beyond the last bell. With battery life lasting for 10 hours at a stretch, it will easily get the students through their longest stay in school.
Dell has designed this Chromebook with a view to bring evolution in the world of modern education. It features a galaxy of Google apps suited for school education, including Classroom.
The core features help both students and teachers but in different ways.
The students can stay organized and connected with each other whereas the teachers can create and distribute the grade assignments more conveniently and quickly.
It enhances engagement between students and teachers, thanks to the Dell Activity Light that is an innovative 3-color LED.
It comes with a visual indicator that ensures communication without any interruption.
Buy for: Sleek design and good battery life.
Beware of: Glare on display
Best uses for: Students, remote learning and other purposes.
The alternatives:
Specs:
Brand: Dell
Hard Drive: 64 GB
Hard Drive Type: Flash Memory Solid State
RAM: 4 GB
Processor: Intel Celeron N3060 Processor
Processor Speed: 1.65 GHz
Graphics: Intel HD Graphics 400
Battery: Primary 3-Cell 42W/HR
Screen Size: 11.6 inches
Processor Brand: Intel
Product Dimensions: 11.1 x 16.9 x 3 inches
Weight: 3.22 lbs
Operating System: Windows 10
Reliability
Dell is a tech tycoon. The world-renowned name is known for its innovative technology supporting the high-end features thrown into each new system.
Dell Chromebook is quite popular among the students and teaches as it offers a new mode of interaction and engagement.
This Dell Chromebook model is a beauty with a beast-like body. It is a perfect model for the school-goers while helping the teachers improve their engagement with the pupils.
Built around a Celeron processor, the Chromebook accommodates 4GB memory and 64GB eMMC drive apart from some best-in-class components.
Google gives more power to it. The device supports a wealth of Google Apps to suit particular education needs of the students.
The display quality and overall performance are definitely not the USPs of this Chromebook, still it deserves kudos for offering a number of excellent features in keeping with the students' needs.
Performance – Processing Power
Dell Chromebook is built around Intel Celeron N3060 processor. The device is powered by 4GB of RAM for web browsing. However, the combination is not good enough for some heavy multitasking.
During our test, we opened Netflix on one tab while watching CNN in another and the experience was pretty fine. However, as soon as we opened another tab, the machine slowed a lot.
You can keep four tabs open without any video streaming and the pages will load quickly. Up to eight pages, you will not get frustrated but beyond that, loading will be pretty much slow.
Benchmarks
CPU
1. The Intel Celeron N3060 is a mobile, mid-level, budget-friendly processor. It's considered mid-level because it isn't as powerful as more expensive processors such as the Intel Core i5. This Celeron processor may be inferior in terms of horsepower.
But it is considerably more affordable, and it draws less power when being actively used. For this reason, we can find this processor mainly in compact devices. The Celeron N3060 is a budget-friendly alternative to other entry-level processors like the Pentium N3700.
When it comes to benchmarks, the N3060 trails its more expensive counterpart by a small margin. On CPU-money you will get complete details about this processor and some benchmark results.
In the 'CPU-Z Benchmark 17' benchmark, the N3060 scores 170 points in the multi-core test. The score of Intel Celeron J1800 is slightly better than that of the N3060 i.e. 183 and the Intel Celeron J3060 has a score of 169.
Basically, all of these processors are basic-level processors. And we rarely found laptops of this generation. Overall, the Celeron N3060 is a capable processor for entry-level PCs and laptops. It's power-efficient and offers decent performance for basic tasks and light gaming.
2. The average CPU mark of the Intel Celeron N3060 on CPU Benchmarks is 669. Its single thread rating is 632. And the overall rank of this processor is 3196.
3. According to UserBencmark, the average bench of the Intel Celeron N3060 is 22.1%. Depending upon its performance, it has taken 1333rd place out of 1357 processors.
4. Depending upon the performance of the processor on single-thread, CPU-Z Benchmark has given Intel Celeron N3060 a score of 93, whereas multi-tread is concerned, the processor has got 167. These scores are very poor.
GPU
Intel HD Graphics 400 is the onboard graphics of Intel N3000 series processors. It was released back in 2016 and it's not the best graphics chip out there. This processor is very rarely found in this time and to find the benchmark of the integrated Intel HD Graphics 400 is another tough job.
We don't find any separate benchmark results for this GPU. On CPU-monkey, there is a subheading [iGPU – FP32 Performance (Single-precision GFLOPS)] under the Intel Celeron N3060 benchmark article where we have found the benchmark of this integrated GPU.
According to this website, the integrated GPU of the Intel Celeron N3060, i.e. Intel HD Graphics 400, has got a score of 126. Depending upon this score, it will not be justified to say that this integrated graphics processor is a good and efficient option.
Even it is not capable of handling casual games with high settings. Overall, it is not a good GPU.
Design & Build
The Dell Chromebook 3189 sports a plain design. However, the look is not boring at all.
The grey plastic cover sports the company logo at the centre and a Chrome logo on the top corner.
The other top corner houses a three-colour light that allows the teachers to communicate with the students without experiencing any kind of disruption.
The device features rounded corners and a rubberized strip envelops the entire outside edge in order to make it immune from shocks and bumps.
The body feels durable and it will serve the students throughout their school days.
The stiff hinges prevent dislocation of the lid whenever it is bent back into tent, tablet or stand modes.
However, these are not too tight to move with ease for the young students. The deck shares the same gray aesthetics with the lid.
Display
The 11.6-inch display has a comparatively low resolution (1366×768). Still, the system manages to offer strong color reproduction.
We watched an HD movie on YouTube while setting the HD at 720p and the colours look true and bright.
The touch screen responds quickly. When it runs in tablet or tent mode, the device needs just a tap on the text box to produce an on-screen keyboard.
It is less likely that an experienced typist will feel comfortable with such an on-screen accessory but that will work fine for short inputs.
The screen brightness felt fine for indoor use though experience will not same if you are using it near a sunny window.
Whether you are using the device in tent, tablet, laptop or flat mode, the viewing angles are extremely important.
And believe us, the model delivers. The screen features wide viewing angles from top, bottom and sides.
It will be of great help for the students when they congregate around one system for collaboration.
Graphics Power
No graphic co-processor is incorporated to deal with the graphic needs.
That means, the Celeron processor handles the graphic requirements and works. The on-screen output is not extraordinary but definitely excellent.
The Chromebook produces enough clarity and brightness to fit the needs and expectations of the users.
It is a bet that the students will find the device fine and fascinating while working on it.
Storage
Under the cover, 4GB RAM and 64GB eMMC drive are installed in the slot to enhance the level of performance.
The students need a good amount of storage space to save their works and that in-house memory capacity is enough to fit their requirements.
RAM contributes to fast booting whereas storage capacity prevents it from going slow even when it is burdened with multiple tasks.
The processor, RAM and storage power are three strong pillars of any device and the Chromebook scores high on all three parameters.
Battery Life
The Dell Chromebook 3189 lasts for 10 hours at a stretch on a single recharge, according to what the brand claims.
During our test, it survived 9 hours and 10 minutes even after continuous web surfing on Wi-Fi.
However, that much is enough for most students to get through the longest school days without having to plugg the device in the socket.
In a word, battery life is quite impressive and good fit for the students' needs.
Variants
You can check out the variants below. Storage capacity rises with variants and its features. You can check out the best concepts in touch and non touch variants. Depending on it you can decide which one to go for.
| | | | |
| --- | --- | --- | --- |
| SL.NO | CPU | Capacity | Style |
| 1 | Celeron N3060 | 16 GB Storage | Nontouch |
| 2 | Celeron N3060 | 32 GB Storage | Nontouch |
| 3 | Celeron N3060 | 64 GB Storage | Touch |
Other Specifications
Dell Chromebook is packed with an array of features, some of which are more or less than average whereas others are truly excellent.
Let us start with its webcam. It is one of the downsides. The 720p camera captures rough photos without covering the details. The pixels are clearly visible and that makes the output little grainy.
The webcam is not ideal for video conferencing. However, some fun fillers allow you to play with.
Those make multiple overlays on the images and the distorted images will look funny for the students.
The Chromebook 3189 comes with a decent keyboard that offers smooth and comfortable typing experience.
The only hitch comes in form of slightly concave keys and the adults with long fingernails will find it difficult to type on the keyboard.
The keys offer 1.4mm of vertical travel and need 63 grams of actuation force, with both figures being slightly above the average.
The buttonless touchpad offers the right level of sensitivity to allow scrolling with two fingers and swipe with three fingers.
Unfortunately, the touchpad makes noise if tapped. It may create an illusion that the accessory is loose but that is not the case.
Dell Chromebook comes with the right number of ports including a full-size HDMI port, two USB 3 ports, an AC power jack and an SD card reader.
On the right side, you will find a combo of microphone/headphone jack, a power button, a volume button, a Noble Wedge security slot and a charging status light.
If it comes to audio, the manufacturer has chosen the right kind of speakers. I was listening to Celine Dion's famous Titanic song while setting the speaker at full volume.
Honestly speaking, no distortion in sound quality was experienced. In fact, the audio output was good enough for such a small device.
I tried Final Countdown with the sound set at the farthest point and it showed the true characters of the speakers.
It felt that the sound was travelling from my right year to left. The sound felt louder and better in tent mode, exposing the speakers.
I turned the volume down to 4/5th of the highest level and it was enough for us sitting just in front of the laptop.
The device is perfect to show a video to a small gathering of students and they will be able to hear the sound clearly.
What Do Users Think?
According to the latest report, this Chromebook has received a grand reception from the target buyers. Find out dell chromebook 11 3189 manual.
The students, parents and teachers are happy to have such a kids-friendly item that will allow the school-goers to get busy with learning activities without facing any difficulty.
Our Testing & Analysis Report
The processor of the Dell Chromebook 3189 showed different results when we tested it on different benchmarks.
On the 'CPU-Z Benchmark 17' benchmark, it scored 170 points for its multi-core performance test and its single-core performance scored 93 points.
On the CPU Benchmark, the single thread performance scored 632 points with an average score of 669 points.
And, according to UserBencmark, the average bench score was 22.1%. All these scores are quite poor.
So is the GPU, which scored just above 125 in the Video Card Benchmark test.
Overall, when we tested, the laptop could support only two tabs while watching Netflix on one and CNN on another. When we opened a third, the system slowed down.
And when we did not watch any video, it could function very well with 4 tabs open, reasonably well with 8, and more than that slowed its loading and performing speed significantly.
The screen displayed bright images with true colors for only HD movies and YouTube videos played at 720p. The screen is however not good to use outdoors or near a window with lots of sunlight coming in.
The battery of the system is quite good and, in our battery rundown test, it lasted for nearly 10 hours on a single recharge, while surfing the web over Wi-Fi and performing other computing tasks, and occasionally watching an HD video.
The keyboard of the Chromebook 3189 is pretty good and allows faster and more comfortable typing.
With its decent key travel of 14 mm and relatively less actuation force requirement of 63 grams, it offers a smoother typing experience.
The touchpad provides adequate support with smooth navigation while typing and searching the pages.
It is quite responsive to touches and allows two-finger scrolling, three-finger swiping, and tapping. However, we noticed some noise when tapped.
Questions & Answers:
What year did the Dell Chromebook 11 3189 come out?
In the middle of March 2017, the Dell Chromebook 11 3189 was launched?
Can I upgrade the Ram of Dell Chromebook 11 3189?
No, unfortunately, you can't upgrade the RAM capacity of the Dell Chromebook 11 3189.
Does the Dell Chromebook 11 3189 have a touchscreen?
Yes, in this device you will find an 11.6-inch touch screen display panel.
Thanks for your feedback!