As an Amazon Associate and (affiliate of other merchants) we earn from qualifying purchases without any extra cost to you when bought through our links below.
Value for Money Score
8.6/10
Specifications and Features Score
8.4/10
Pros
It comes with a budget-friendly price tag.
The performance provided by the device is excellent.
There are expansion slots for adding storage.
One gets several spare ports in the PC including a Type-C port.
The glass panel at the side provides easy access to the parts inside.
Cons
Only a single GPU can be used in it.
Upgrading the product could be a problem because of its small size.
It supports only a single monitor and so multi-screen gaming is not possible.
A hand-built PC will cost less while also providing better performance.
Some of the pre-installed software slows down the computer.
Verdict
The Dell G5 5090 is a brilliant gaming machine for semi-hardcore gamers. It is efficient, compact and performs well. The specs provided are such that you would not have to worry about an upgrade any time soon, but when you do it would not be a trouble.
There are plenty of varieties available as well and you may choose the one most suitable for you. There are a few negative remarks about the product, but they never undermine its value.
Dell G5 5090 Desktop & Variants Price
$2,099.00
1 used from $2,099.00
as of October 2, 2023 4:10 am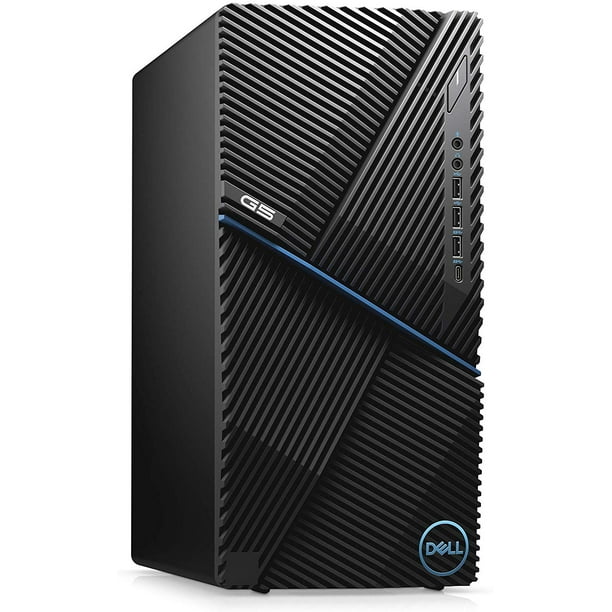 Introduction
The Dell 5090 is one of the best pre-built gaming desktops that one will come across.
It is robust in all aspects, from design to performance. The latest 9th gen Intel core i7 processor has been coupled with NVIDIA GeForce RTX 2060 DDR6 graphics owing to which, no matter what game you play in it will run smoothly.
There is 16 GB of RAM and 6 GB of memory dedicated to the graphics making sure the GPU does not bother the RAM. Check out best desktop brands.
It provides plenty of performance and after buying a decent gaming monitor and other accessories, given that you have the skills, you would soon be racing to the top in the leader boards.
Buy for: The consistent performance at an affordable price range.
Beware of:  A hand-built PC will provide better performance at a lower price range. It only supports a single monitor at a time.
Best uses for: gaming and steaming, video editing, graphics designing, animated content creation.
The alternatives:
Design and Build
The product has a geometrical design at the front and a strip of blue light runs diagonally.
There is an LED lighting scheme inside the rig, which you cannot change.
It may seem bulky at the first look but is quite compact.
The side panel can be opened without even using tools and thus the user gets easy access to the components inside.
There are ports at the front and also at the back.
Performance
The device flaunts a 9th gen Intel i7-9700K processor which is capable of handling not only gaming, but also other high-end tasks like graphic rendering and video editing.
It has a cache of 6 MB and a base speed of 3.0 GHz, but can be turbo boosted to 4.7 GHz.
The graphics coprocessor present is an NVIDIA GeForce RTX 2060 and it is a powerful one.
You will be able to play all popular games at 60 fps at a 1080p resolution and graphic designing and such other work can be done with relative ease.
The single cooling fan does good work at keeping the device cool even when used for lengthy sessions, but a liquid cooling system would have been better.
Windows 10 OS is available out of the box.
Storage and RAM
One gets only a 512 GB SSD for storage. However, there are expansion slots and another SSD can be added.
The RAM present is of 8 GB DDR4 type which can be expanded to a maximum of 32 GB.
There is of course dedicated 6 GB memory of GDDR6 graphics.
Ports and Connectivity
At the front, there are 2 USB 2.0 ports, a USB type-c port, a headphone/microphone jack and a USB 3.0 port.
At the back, there are further 4 USB 3.1 ports, 2 USB 2.0 ports and other ports for HDMI, 3 ports for audio input and output and Ethernet connections.
There are 802.11 ac Wifi and Bluetooth 4.2 capabilities as well.
Additional Features
There is software installed like Alienware Command Centre that enhances the gaming experience.
The product supports VR gameplay too. There are a keyboard and a mouse that come with the product but they are average in performance.
Specs:
Brand: Dell
Storage: 512 GB of SSD
RAM: 16 GB, can be upgraded to 32 GB
Storage Type: M.2 type
RAM Type: DDR4
Processor:  9th generation Intel i7-9700K Processor
Graphics: NVIDIA GeForce RTX 2060
Processor Speed: maximum of 4.7 GHz
Processor Brand: Intel
Product Dimensions: 2.09 * 24.27 * 15.52 inches
Operating System: Windows 10
What Do Users Think about Dell G5 5090?
The users are satisfied with the performance of the Dell G5 5090.
They have been able to play games like PUBG, Fortnite, CS Go, GTA V, etc at usual frame rates in high resolutions and the PC has never shown struggle.
Performance-wise it is decent. There aren't any such serious complaints regarding the PC. Check out Dell G5 5090 Manual.
Our Testing & Analysis Report
We rigorously used the Dell G5 gaming desktop for gaming and streaming.
With its well-balanced and efficient specifications, we were pleased to experience smooth and fast processing when running demanding games such as Call of Duty: Warzone, Apex Legends, Counter-Strike: Global Offensive (CS: GO), GTA 3, GTA 5, and more.
In addition to gaming, we utilized the PC to stream our gameplay on Twitch and YouTube. Thankfully, we didn't encounter any major technical glitches, although the 512 GB storage capacity presented a challenge.
To address this issue, we arranged an external storage drive. In summary, we are delighted with the overall performance of this device in this segment.
We also used this device to edit 720p videos, and the PC delivered smooth and fast performance. We ran Adobe Premiere Pro, Final Cut Pro, and Davinci Resolve for our editing projects.
This powerful device allowed us to fully focus on our work, as we didn't experience any lag or hanging while editing or rendering our videos.
Furthermore, we had a graphics design project in hand and utilized this device for the task.
The graphical performance of this device proved to be pleasing as we worked with Adobe Photoshop, Illustrator, and CorelDRAW. The device provided a satisfying performance for these applications.
Additionally, we used this device for content creation, particularly in the creation of animated videos. The desktop's powerful configurations greatly assisted us in producing high-quality 2D animated videos.
We employed popular applications such as Blender, Autodesk Maya, and Adobe Animate, all of which delivered pleasing performance.