eComputerTips is reader-supported. When you buy through links on our site, we may earn a small commission without any additional cost to you.
Value for Money Score
8.5/10
Specifications and Features Score
8.3/10
You would agree that the current situation we live in is dominated by technology. The internet has completely transformed the way we lead our lives today. Let us check out Dell Inspiron 5680 Gaming PC review today.
Thus our everyday lives have undergone a sea change like never before.
Whether it is communicating, working, shopping, banking, getting entertained or even socializing we do it completely different from what we use to do even only about a decade back.
Yet, there are certain sectors where the age-old desktop computers are still being used on a large scale. These include everything from certain specialized jobs.
Thus though one may think that the days of the desktop computers are over, you need to take a relook the other factors like – GAMING ZONE. Today we will do this Dell Inspiron 5680 Gaming PC Review and know more about it.
There are many fields in which they are still being used on a large scale. Amongst the many sectors where the desktop computers are very popular the gaming segment is one where it is still very popular.
What you might also realize that along with the popular outdoor like Football, Cricket, Lawn Tennis, the latest computer games have gained immense popularity as well.
Computer Games are something which the new generation is taking very seriously and what is no child's play. In fact, Gaming is one segment which has immense career potential.
Not only has it become a lucrative field for the game developers but even gamers who are experts in playing these games.
There are world tournaments which are being held. And now you have professional gamers who are making big money.
It is true that mobile devices are what is used for most of the internet accessing that is done in the current era. Check out Best Dell Desktop Computers.
So in case you are looking for some options in terms of the gaming desktop computers which are many. Let us begin with taking a review of the Dell i-5680 7813 BLU PUS Gaming PC.
Dell Inspiron 5680 & Variants Price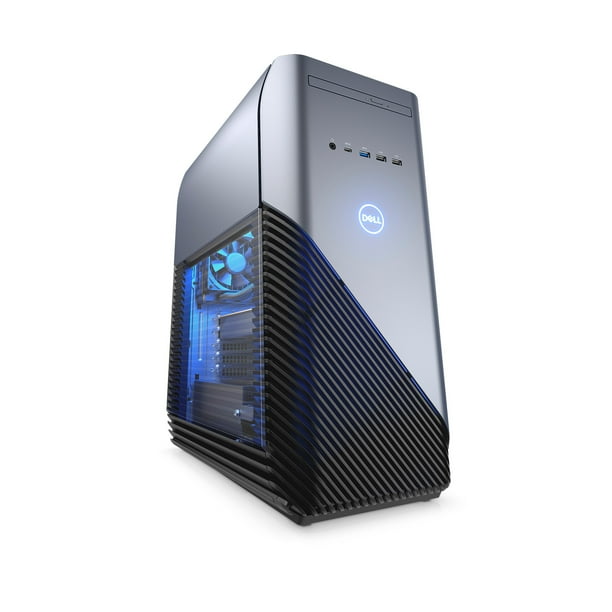 $1,799.00
1 used from $1,799.00
as of September 29, 2022 6:55 am
Create Your Free Price Drop Alert!
Set Alert for Dell Inspiron Gaming Desktop 5680, Intel
Core
i5-8400, NVIDIA GeForce GTX 1060, 1TB HDD Storage,... - $594.84
Dell Inspiron 5680 Gaming PC Review
It is true that the choices in regard to gaming PCs are many. Right from a fast Processor to Graphics and the special effects; it needs to be suitable on all accounts.
To begin with, the Dell Inspiron 5680 Gaming PC has the Intel Core i7 8700 powerful processor with 12 MB Cache which offers great speed.
Along with the same, this Dell Gaming Computer also has the NvidiaGTX 1060 Graphics card for the best graphics.
This is what enables the PC to provide truly realistic images and amazing user experience.
What is also great about this Dell Gaming PC is that it is pre-loaded with the Windows 10 Operating System which is compatible with most of the current software and thus is a great positive with this Gaming Computer.
For connectivity, users can make use of the Blue Tooth 4.1. In terms of storage, the Dell Inspiron 5680 Gaming PC has the 128 MB SSD Capacity.
It does not have an optical drive though. However, everything put together you would find that this computer is indeed one of the best in terms of gaming and therefore quite popular worldwide.
Specs Details:
Reliability
Whether you are to buy a desktop computer, a laptop or any other technological device you want to buy the first thing which comes to mind is the brand which is selling it.
One can hardly deny the importance of the brand. You know for sure that for any reliable brand the quality of the products it sells would also be very reliable.
When it comes to Dell, you know that this is one of the oldest and trusted brands in the desktop and laptop computers category.
Dell over the years has been renowned for the great innovations it delivers. Thus most of its products are very innovative. Check out best desktop brands list.
The great thing also with Dell is that no matter what type of computers you are looking for it offers a wide range of products in each category.
Even though it true that most of the products which it manufactures cost on the higher side, yet it is also worth investing in them as it also delivers great value.
Thus with Dell, you can be sure that it is the quality which you can trust. The Dell Inspiron 5680 Gaming PC is one of its top-selling products.
Performance
If you plan to buy a PC, the first and foremost thing which you always look for is its performance.
In terms of performance, the Dell Inspiron 5680 Gaming PC is powered by the Intel Core i7 8700 powerful processor with 12 MB Cache.
It is because of this that the PC generates great speed and is ideal for gaming.
The great thing about this PC is that it also has the preloaded Windows 10 pro.
This is compatible with most software and also combines well with the powerful Processor.
Along with this, the computer has also been provided with the NvidiaGTX 1060 Graphics card which is what enables it to provide a realistic gaming experience and is ideal for the same.
The storage is in the form of a 128 GB SSD and also 2 TB SATA Hard Disk Drive. This should be more than sufficient for any Gaming PC.
You would also have Blue Tooth Connectivity which is great as well. Thus this is a PC which is the ideal gaming PC and is very popular as well.
Design
When it comes to design you would be happy to note that the Dell Inspiron 5680 Gaming PC has a very smart design too.
It is the design which gives this PC a very attractive look. As a part of its looks, this PC has the Recon Blue lights which give this Gaming PC with a thoroughly captivating look indeed.
But the designing has been done in a way that the PC delivers great performance since it is pre-loaded with the best and most advanced features.
All these add up to give this Dell Computer a smart and sleek looking one of the best performing Gaming PCs, which can not only used for playing the most advanced Computer games but also can be used for developing some of them as well.
Storage
Given the highly advanced web applications, it is important the PCs and other devices have high storage capacity.
Since unless this is not sufficient then you as a user are likely to run into some major problems.
This is especially true for gaming PCs which require high storage capacity. Check out Dell Inspiron 5675 Gaming Desktop Review.
The good news with the Dell Inspiron 5680 Gaming PC is that it has great storage capacity.
This is provided with the 2TB + 128 GB SSDDisk Drive which is very high indeed. Along with this Dell Gaming computer also has the 16 GB Card RAM as well.
Thus given the high capacity storage you can load, play and even develop the latest and most complicated computer games.
Given the great graphics, it produces a very realistic experience of the games and thus very ideal for Gaming as well on all other fronts too.
Additional Features
Audio: No matter what the product but one always gets delighted when you get something extra. This is also, what the Dell Inspiron 5680 Gaming PC too offers.
Along with the host of advanced features that it is provided with it also offers some additional features which are quite impressive as well. This comes in the form of the Dynamic Audio which has been provided with the PC. This, along with the graphics can overall help develop a very realistic gaming assurance.
Ports: You are having enough ports as Additional Display Port Out (3), HDMI Port, Microphone, Audio Combo Jack and many more.
As a Gaming Crescendo
Given the advanced nature of most PC jobs, there is a great demand for workstations we well. Check out best configurations for gaming PC.
In the case of the Dell Inspiron 5680 Gaming PC, it mainly serves as a great gaming PC and but also can function as a Work Station as and when required.
Gaming aspects to be considered as one of the best features to be taken in consideration.
Thus this Desktop Gaming PC primarily can also be used as a work station too. Check out best Dell gaming PC.
What Users Are Talking About?
These reviews are obtained after compiling data of other users. Whether it is a PC a Laptop computer or any other device, while buying you must always go through the user reviews.
This is one of the most reliable information sources since the opinions come directly from the users of the products.
What is worth noting about the Dell Inspiron 5680 Gaming PC is that it has some great reviews.
If you are to go through some of the reviews on the leading eCommerce platforms,  you would find that the Dell Inspiron 5680 Gaming PC has a very high rating.
It is liked by most and thus in terms of reliability, this PC is definitely great as a Gaming Computer.
Thus a review going by the user reviews this Dell PC is worth buying and is recommended by most of the users. Check out Dell Inspiron 5680 Manual.
Other Experts View
Digital Trends is talking about this Dell Inspiron which is no doubt giving you a perfect output in every aspect. The Nvidia GTX 1060 graphics card is no doubt unleashing all the gaming Vedanta for you.
It is powered up by the 2TB + 128 GB Hard Disk and 16GB RAM. It is giving you a power pack performance to all. The body of Dell Inspiron 5680 is simply giving you a thrust to make sure that it is powered up with so many other additional features.
According to the Toms Guide, it is considered as one of the best possible option for a gaming PC. You can take a note of the various aspects that will help you to rule up with the best. 2TB + 128 GB Hard Disk and 16GB RAM and Nvidia GTX 1060 graphics is giving a VR ready performance within an affordable package.
PC MAG says that 60fps 1080p gaming is backing up with Intel Core i7 8700 is giving the thrust that is required to cool your brain. The price and affordability is something which is known to be perfect in every way.
There are so many features of gaming trivia to get the better gaming control with Nvidia GTX 1060 graphics card. There are desktop which can challenge it but at the same time the price is definitely powerful.
Our Verdict
If you are into gaming and looking for the perfect Gaming PC the options are many. You might already be aware that Asus is a renowned Gaming brand.
Yet Dell is one of the most reliable PC brands worldwide without a doubt. When it comes to the Dell Inspiron 5680 Gaming PC it is one of the very popular gaming PCs.
This is owing to the highly advanced PC features that it offers.
Thus everything put together like the powerful Processor to the highly advanced preloaded highly advanced windows 10 operating system along with the discrete graphics cards and superb audio output, this what can provide you with thrilling gaming experience.
Given its advanced configuration, it is a Gaming PC which is suitable for most types of computer games.
Though you might think that the price of this Dell gaming PC is high, it is the quality that you can trust and you can definitely buy and go for.