Value for Money Score
9.0/10
Specifications and Features Score
8.9/10
Pros
It provides decent performance.
It has good connectivity along with modern features.
There are good expansion provisions.
Good RAM arrangement.
It is compact and fairly lightweight.
Cons
There is no HDMI port.
It doesn't support 4K.
The graphics by default is average.
There is no SSD drive in this variant.
Not very cheap and so might be difficult for buyers of every financial capacity to afford.
Verdict
For professional-level computing, the Dell OptiPlex 5070 is a tough contender as it is highly compact and efficient. It has all the right features and if you are not going to need to render much graphics, this should be an ideal SFF desktop.
However, due to its small size, the expansions are less and it also comes with a steep price. These you will have to consider if you want to buy this PC. 
Dell OptiPlex 5070 & Variants Price
$329.95
3 used from $329.95
as of February 7, 2023 4:55 am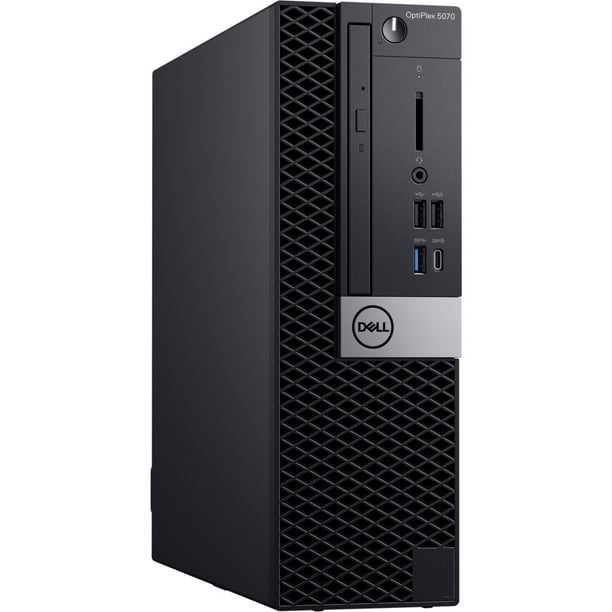 $977.70
$1,256.93
1 used from $1,299.00
as of February 7, 2023 4:55 am
$1,049.99
1 used from $1,499.00
as of February 7, 2023 4:55 am
$1,079.99
2 used from $719.00
as of February 7, 2023 4:55 am
Introduction
Dell is renowned for creating computers that are able to please buyers at all levels and various purposes.
Today we have one that is a companion at the professional users mostly, the Dell OptiPlex 5070. It flaunts a 9th gen Intel Core i7 processor.
Now for someone who requires a computer for his office, be it creating multiple Excel sheets, accounting, or schedule, you or your employees will never be disappointed with the performance of the PC.
Next, there is 8 GB of RAM that can handle most of the work swiftly. It is robust in all aspects, except the graphics out of the box.
There isn't much a default Intel graphics chip can achieve and this is a fundamental weakness that you will have to adjust with.
Buy For: Consistent 'no non-sense" performance│ Precise size
Beware Of: Price Tag 
Design and Build
Like most products of Dell, this too has been made with recycled plastic that is fairly strong, but we insist that you do not take any risks or experiment with its durability.
Due to its small size, it can fit in any desk and can be even kept on your table without having to hamper the workspace.
There are a number of ports distributed at the front and back sections, as you will come to know more about later on as you scroll below. 
Performance
The i7 processors from Intel are the most used and preferred for offices.
Thankfully the i7-9700 grows up to your expectations and will be able to run all the programs you need on a day-to-day basis in your office.
This means that other sorts of tasks like web browsing, media playing, and other lighter tasks will be fulfilled with relative ease.
There is an Intel HD 630 Graphics chip that will tackle base level graphics requirements, but anything above that will pose problems.
There are external PCIe slots for a GPU, but you might have to upgrade the PSU as well.
There is also 8 GB of RAM that we think will be enough, but if you need more you can always expand the RAM memory.


Storage and RAM
The PC uses only a mechanical hard drive of 500 GB capacity.
An SSD would have ensured faster operations, but sadly this variant doesn't have one.
There are other variants that you can take a look at regarding the matter.
The 8 GB RAM can be increased to a maximum of 64 GB, so you shouldn't face any inconvenience about this as well.
The PC supports dual channel memory, although a single module has been installed.
However, there is no separate memory allocated for the GPU and it is shared from the RAM. 
Ports and Connectivity
There are ports both at the front and back and so no matter how you place the PC, you will have an ease of connections.
At the front side, you get two USB 2.0 ports, along with a USB 3.1 Gen 1 Type-A port and a Type-C port which provides faster data transfers.
There is also a DVD writer, along with a card reader and an audio jack.
At the rear, there are four 3.1 Gen 1 ports, two display ports, and a spare port that can be used as an optional video port. An HDMI port is missing though.
Then there are PCIe slots and an Ethernet port for internet connections. You also get the standard WIFI and Bluetooth features with this. 
Additional Features
The warranty tenure on this is optional, and you get to choose if you need anything more than the usual 3 years warranty.
A keyboard and mouse also come with it, but no monitor. Check out best desktops list.
Specs:
What Do Users Think about Dell OptiPlex 5070?
The users were much satisfied after buying it. They found it reliable and highly useful for official purposes.
There aren't many who have bought it for home-usage. Check out Dell OptiPlex 5070 Manual.
There haven't been any complaints regarding the working of the device, but a majority of the buyers would have preferred if its price was a bit lower.