As an Amazon Associate and (affiliate of other merchants) we earn from qualifying purchases without any extra cost to you when bought through our links below.
Dell OptiPlex 7470 AIO
USD
Value for Money Score
9.0/10
Specifications and Features Score
9.0/10
Pros
This desktop of Dell comes with Solid State Drive.
Windows 10 Professional is the operating system which comes with it and its validity will last for lifetime.
In this product, up to 6 GB graphics card can be used which enhances the performance of the product.
The capacity of the RAM of this product is 64 GB.
Processing speed of this device is also great.
Cons
There is no other storage boost up slot.
This device has no upgrade option in terms of hardware.
The cooling fan which is used in this desktop of Dell sometime creates sound.
Price of this this product of Dell is a little bit high.
The user can face heating issue while running 4K videos.
Verdict
With a simple removable rear panel and a tool-less design, the 7470 All-in-One is easy to maintain and this device has very compact design and it gives a user satisfied performance with its high end feature but the major issue with this product is its price.
Beside its high purchasing price, the user has to spend a large amount of money while repairing this product. So, the user has to be very selective while purchasing this product of Dell.
Dell OptiPlex 7470 AIO & Variants Price
$479.99
2 used from $479.99
as of October 2, 2023 6:38 am
$1,395.97
1 used from $1,395.97
as of October 2, 2023 6:38 am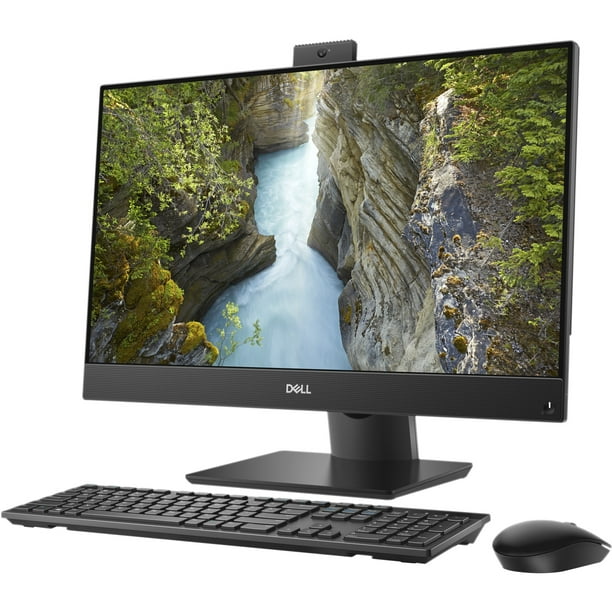 Introduction
The device comes with sleek design that takes very less space.
Dell OptiPlex 7470 all-in-one computer is an industry-leading product that is suitable for surfing, streaming, working, and playing with all the power needed.
One of the most attractive features of it is that it comes with Intel Turbo Boost Technology that delivers dynamic extra power when the user wants to use it.
This desktop of Dell comes with super fast RAM for multitasking and can smoothly run any high quality games, photo or video-editing applications.
Beside its promising performance it has Intel Optane memory, it preloads and accelerates frequently used applications and files, for providing better responsiveness without compromising storage capacity.
Buy for: In terms of specification this device is great and it has all updated feature that a user needs for performing high end task and it is a very difficult task for a casual user to find drawbacks within this product.
Beware of: If any problem will occur in the device then it is very tough to repair and the repairing cost of a single part of this desktop is very high.
Best uses for: small shop, students, multitasking, blogging, etc.
The alternatives:
Design and Build
Most of the Dell desktops are innovative and useful to every user.
With a smart design and brilliant edge-to-edge Full HD IPS 23.8-inch display technology, Dell OptiPlex 24 7470 All-in-One Desktop allows the users to optimize screen space and it provides faster processing.
Silver is the most common colour of it.
Performance
This Dell OptiPlex 7470 all-in-one Desktop is packed with 9th Gen Intel Core i7-9700processor with Intel UHD Graphics 630.
The product has a processor count of 8. The graphic performance of this product is too good because it has both integrated and external graphics processor.
This product is able to edit videos and run any high end games or software. The 4 GB external graphics card helps the product to enhance its processing speed while playing a high quality video.
Latest version of Windows, Windows 10 Professional OS of 64 bit is pre-installed in this desktop of Dell. The processor comes with smart cache memory.
The performance of the processor can be boosted by using turbo booster facility.
The huge RAM and ultra fast processing of it has made this product capable to run any premium software easily.
Speed and quality are the two major aspects of this updated Dell desktop.
Storage & RAM
RAM and storage are the two major components of any desktop or smart device which can define the speed and performance of the product.
This desktop of Dell comes with 16 GB DDR4 RAM which is good for running high end application and its processing speed is 2666 MHz.
This product offers a huge amount of storage capacity to the user.
This product offers 256 GB SSD. So the users can get great data transfer speed.
The GPU also supports to enhance the performance of the product.
Ports & Connectivity
Ports and connectivity are one of the most important things in any device because nowadays users need to attach variety of device in single machine.
This updated and classified product of Dell comes with 3 USB 3.1 gen1 ports.
1 USB type C gen2 ports and two USB 3.1 gen2 ports are available in this product.
Wireless Bluetooth connectivity of version 5.0 is attached with this product. Wireless connectivity of 802.11 a/c with gigabit Ethernet is present in this product of Dell.
It also has 3-in-1 SD memory card reader with HDMI display port. Check out Best Desktop Computers.
This classified product of Dell does not have any USB 2.0 port but it comes with plenty of updated connectivity features and ports that a user can use.
Additional Features
A warranty of 1 year is attached with this product. Dell USB laser mouse and keyboard of black colour are attached with this product.
Optical drive for DVD and RW drives is also available in this product. The shipping weight of this desktop is around 30 pounds.
Specs:
Brand: Dell
Storage: 256 GB SSD
RAM: 16 GB DDR4
Storage Type:  HDD and SSD
Processor: 9th Gen Intel -Core i7-9700K
Graphics: Intel UHD Graphics 630
Processor Speed: 4.9 GHz
Processor Brand: Intel
Product Dimensions: 13.5 x 2.1 x 21.3 inches
Operating System: Windows 10 Professional
What Do Users Think about Dell OptiPlex 7470 AIO?
The users are very happy with this classified Dell desktop because it gives the ultra high performance which satisfies every user and this device has no major drawback.
Video editors can also use this device for high graphical video editing. Beside its high performance report this device has space saving technology.
All types of local regional, languages are supported in it. Check out Dell OptiPlex 7470 AIO Manual.
In one word with a choice of basic, articulating, and height adjustable stands, tilt, swivel and pivot this OptiPlex is suitable for every smarter, sleeker workspace.
Our Testing & Analysis Report
To assess the performance capabilities of this device, we provided the Dell OptiPlex 7470 AIO to a student who used it for various educational tasks.
According to his assessment, this AIO is an ideal choice for students. He utilized the device for multitasking by employing applications such as Microsoft Office Suite, Google Drive, and Zoom.
The device's large display greatly facilitated working with two applications side by side on the screen.
The multitasking capability of this device is highly promising. We ran multiple Chrome tabs simultaneously, and the device handled them smoothly. Switching between these tabs was effortless, while also utilizing VLC player and MS Excel concurrently.
However, we encountered some issues due to the limited storage capacity. To resolve this problem, we had to arrange for an external storage drive.
We also utilized this device for blog-related work. We employed applications such as WordPress, Adobe Photoshop, and Canva for this purpose.
The AIO processed these applications seamlessly. We were able to edit photos and create logos with ease, thanks to the device's high responsiveness and speed.