eComputerTips is reader-supported. When you buy through links on our site, we may earn a small commission without any additional cost to you.
Value for Money Score
9.0/10
Specifications and Features Score
9.1/10
Pros
This device has an excellent battery life.
The display panel of this product provides vivid display.
The graphic performance of the mobile workstation is very good.
It supports 8k video output with HDR.
This product of Dell comes with inbuilt TB3 port.
Cons
The Webcam this product is not up to the mark.
This Dell Precision 7720 has heating issue.
The hard disk of this product doesn't have great processing speed.
Availability issue sometimes.
The docking station is not good.
The use of graphical contents are increasing day by day and becoming more sophisticated than any time before. Check out Dell Precision 7720 review and best Price.
To support this kind of activity the computers are also becoming more and more complex and efficient. Dell Precision 7720 mobile workstation laptop is a very suitable system to handle this kind of powerful processing.
The device is well equipped with updated features and specifications to deliver the required processing ability for enhanced processing and multi programmed processing.
With some minor issues the workstation in a very competitive one and a good performer for meeting the user's expectations.
Dell Precision 7720 & Variants Price
$650.00
3 used from $650.00
as of September 29, 2022 2:55 am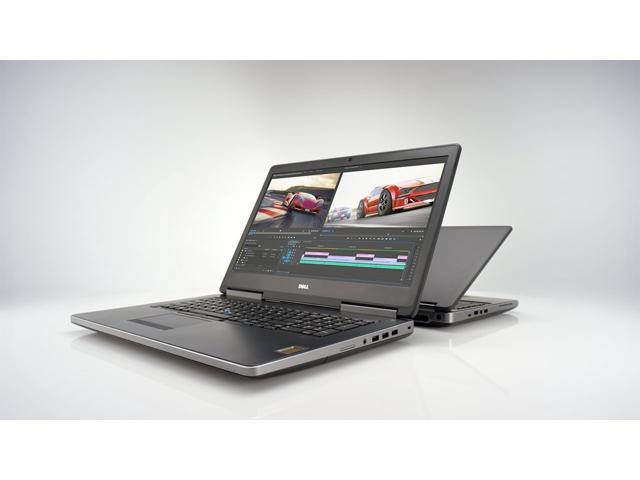 Create Your Free Price Drop Alert!
Set Alert for Dell Precision 7720 7720 Laptop (
Windows 10
Pro, Intel i7-6820HQ, 17.3" LCD Screen, Storage: 500... - $650.00
Dell Precision 7720 Review by Expert
Buy For: This product of Dell provides extraordinary performance.
Beware Of: Webcam and some docking issues.
Verdict
Though the device is highly priced, still the machine is a monster. The power and the processing capacity of this product are excellent. For multi-programming processing and doing high end graphical works with classified software, the device is one of the best options to go for.
Design & Build
The build quality of the device is very good and smooth. In spite of very well build design the device is quite heavy.
The display of this laptop is of 17.3 inch. The resolution of the screen is 1920 X 1080 pixels.
The aspect ratio of the display is 16:9. This Ultra HD display is of this product is of TFT LCD type.
The sleek and slim design of this product always attracts the users a lot. This product has passed MIL-STD 810G test.
The display of this product is IPS Anti-Glare display. Check out Best Budget Mobile Workstation Laptops.
Performance
The device is equipped with an Intel Core i7 6820 HQ Quad Core processor.
The unique device comes with AMD Radeon Pro WX 4130 graphic card. The device is quite well equipped to handle speedy performance and heavy multi programming and graphic content processing.
Windows 10 Pro is present in this product to run any Complex and classified application smoothly.
This is a great choice for graphic designers and CAD users. Game lovers should avoid this product.
But it is to be remembered that the product gets heated while running high end applications for a long time.


Storage & RAM
An 8GB RAM is included in this product of Dell and the capacity of RAM can be updated to 32GB.
This RAM helps the product to run applications very quickly and get the user quick access to the programs.
This RAM ensures the efficiency of the product in multitasking. The device has enough space to store variety of multimedia contents or graphical contents.
This laptop of Dell comes with 500 GB mechanical hard disk.
This storage helps the users to store and transfer Complex 3D and multimedia files safely and quickly.
Ports & Connectivity
The machine has a lot of ports in it. The left side of the device is equipped with one USB 3.0 port, a thunderbolt 3 port, HDMI-out, a mini display port and a smart card reader port.
On the right part of the body three ports are available and they're USB 3.0 port, a headphone jack, a security lock slot and a SD card reader.
The Ethernet jack and power port is in the rear side of the workstation. This Dell workstation Precision 7720 model is the first product of Dell with 1.4 display ports.
This feature helps the user to run videos of 8k resolution smoothly.
Battery Capacity
The battery of the device has mammoth capacity. Check out best brands of laptop computers.
It can run almost 10 hours as backup till it run out of juice, which is an extraordinary battery performance.
This product comes with one lithium ion battery of 19.5 volts.
Additional Features
Black is the most common color of this product of Dell. The weight of this item is 7.3 pound.
Any type of optical drive is not installed in this device. The type C ports of this product are problematic.
The sound quality of this product is also great and this laptop comes with comfy keyboard.
This is a perfect choice to the professional video editors, engineers and for 3D modelling.
Specs:
What Do Users Think about Dell Precision 7720?
The users are quite happy with this product of Dell; most of them like this workstation a lot.
The users are able to run their classified software very easily in this product. Check out Dell Precision 7720 Manual.
Some of them are also very happy with the fact that this product is available in multiple configurations which can be updated too.
Users can play games on it but it is not a gaming only recommended product.
There is no doubt that users are getting equality performance from this Dell Precision 7720.
Other Expert Views
According to experts of laptopmag, the battery of this product is one of the most attractive features to the buyers; the display and the great sound quality with its Soft keyboard always attacks the users. Overall, it is the great performing product.
Notebookcheck another reputed site it also said that this product is one of the bestselling product of Dell at its releasing year, only because of his performance and great display. Overall it is a great product but now the market of this product is getting down as new models are introducing on regular basis.
According to laptoptera, this Dell Precision 7720, is one of the most powerful mobile workstations of Dell; this is not because only of its high-performing configuration, but also for its ability to run classified applications smoothly and efficiently.
Dell's monster Precision 7720 laptop - Can it really be as good as a workstation? - RedShark News
August 30, 2018 -
RedShark News
Dell's monster Precision 7720 laptop - Can it really be as good as a workstation?  RedShark News...