eComputerTips is reader-supported. When you buy through links on our site, we may earn a small commission without any additional cost to you.
Value for Money Score
8.0/10
Specifications and Features Score
9.0/10
Whatever you do in life, you will need a global platform to launch your creations. On this ground, you must require a complete digital assistance which a laptop provides to the fullest. Let us take a look at HP Jaguar 15-BS080WM review.
Every corporate professional, multimedia expert or skillful gamer seeks for a versatile notebook to chase his or her dream.
Laptops are much more personal than desktops. At the same time, laptop can accompany you everywhere you go.
Whether you are on a long-distanced journey or waiting for someone to come on road, you can instantly get busy with your personal affairs while an efficient notebook is there to entertain you.
Even a student can make complete utilization of any multi functional laptop. The casual users as well as academic students and trainees go for a brand-new notebook to handle excessive project loads and other affairs.
Today we have chosen an HP laptop variant to emphasize its massive importance and great functionality.
This mid-range notebook is highly able to compete with its rivals in the industry as it has all to create an impression all around. Read more about 10 best HP laptop list.
HP Jaguar 15-BS080WM & Variant Laptops Price
$899.00
1 used from $598.98
as of October 4, 2022 9:56 am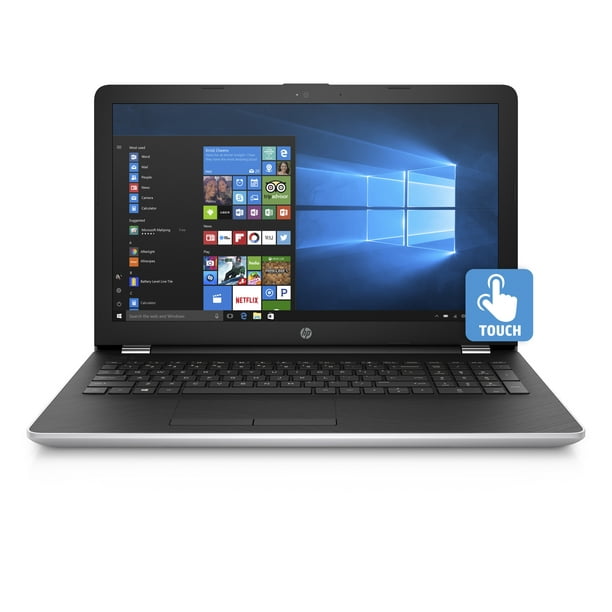 Create Your Free Price Drop Alert!
Set Alert for HP Jaguar 15-bs070wm, 15.6" Natural Silver Touch Screen Laptop,
Windows 10
, Intel
Core
i5-7200U... - $899.00
HP Jaguar 15-BS080WM Review
HP Jaguar 15-bs080wm is undeniably a versatile notebook, particularly designed for students and home users.
Though it lacks a fingerprint reader, the laptop is highly suitable for official workloads as well. It runs on Windows 10 operating system.
HP Jaguar 15-bs080wm includes Intel Core i7-7500U processor, 1TB SATA hard disk drive and 8GB RAM to ensure competition-level performance without any lag.
For all day-to-day works, the processor functions at its best. It is combined with Intel HD Graphics 620 processor to reduce your worries in case of photo or video editing.
With integrated graphics, the laptop comes with no backlight keyboard. You can completely rely on this touchscreen laptop for all heavy workloads.
In natural silver color, the notebook is powered by an HD display and all the necessary ports and connectivity to change your world in the hours you work on the device.
Specs Details:
Brand: HP
Hard Drive: 1 TB HDD
Hard Drive Type: SATA
RAM: 8 GB
Processor: Intel Core i7-7500U
Processor Speed: 3.5 GHz
Graphics: Intel UHD Graphics 620
Screen Size: 15.6 in
Processor Brand: Intel
Product Dimensions: 10 x 14.9 x 1.1 in
Weight: 4.4 lbs
Operating System: Windows 10
Reliability
Every year, HP holds a powerful position and good ranking in the global computing industry. There are a number of justifiable reasons to support this fact.
Positive reviews from several critics, spectacular design and a huge array of laptop variants for different price range have made the brand highly eminent and reliable all across the world.
HP offers a ton of laptop choices for every range of price in order to meet your budget. From entry-level workstation laptop to gaming notebook, there will be HP in your hunt for sure.
Apart from that, HP notebooks are more popular for their appealing design and easy-to-operate structure which can help every user work comfortably while the state-of-the-art design of HP laptop adds to his or her personality to a great extent.
HP Jaguar product line boasts of delivering powerful technical features and top notch performance for everything you do with the notebook.
You are bound to fall in love with an HP Jaguar notebook variant after having a look at the array of leading attributes and multi-functional benefits it offers.
In order to help you grow in your profession, HP Jaguar laptops can be one of the ideal choices as ever. Check out best laptop brands.
Performance
The laptop performance is backed by Intel core i7-7500U, a dual core processor but for more powerful performance, it could have 8th gen i7-8550U processor.
Intel core i7-7500U works at 2.7 GHz of minimal frequency and it can rise up to maximum 3.5 GHz whereas the latter operates at the maximum frequency of 4 GHz. The processor i7-7500U has the cache memory of 4 MB.
Another important feature of the notebook is its Intel HD Graphics 620, an integrated graphics to support any casual gaming.
Such graphical power allows you to get engaged in some light PC games like Destiny 2, COD WWII, Prey etc. in low to average settings and details.
At the same time, you can use the notebook for various image or video editing tasks to suit your urgent needs during busiest corporate hours.
Unfortunately, both the processor and graphics in this laptop never allow you to upgrade in the years to come.
HP Jaguar 15-bs080wm notebook derives ample power from a premium dual-core processor manage several official and educational works.
Its Intel core i7-7500U processor ensures to deliver faster performance every time you need. With Intel processors, every notebook becomes highly effective and all-in-one to provide you top notch performance, which takes you to the next level in no time.
On the other hand, the notebook is infused with all essential apps especially which are on-trend and help in editing image or video, conversing with colleagues and friends on social media.
Design
HP Jaguar 15-bs080wm is tremendously lightweight and compact, measuring about 10 x 14.9 x 1.1 inches.
You can understand by the fact about its dimensions that the notebook has a slimmer design and premium plastic structure to weigh just 4.4 pounds.
With the plastic chassis in alluring silver color along with brand logo at center position, the notebook can add to your own style and personality.
As a student or apprentice, you can carry this HP Jaguar variant to every institution or corporate office where everything appears decent and impressive.
Moreover, it can easily fit in your backpack or laptop bag for its world-class compact design. It is having a textured pattern, black keyboard and trackpad.
HP Jaguar range takes pride in presenting their products with iconic design and appealing colors while the currently discussed device is an instance as well.
In gorgeous silver hue, this HP laptop looks absolutely magnificent yet simple in terms of design.
Made out of high quality and sturdy plastic material, the laptop promises powerful build and survives every kind of minor hit or sudden drop.
It is truly reliable and perfect for all users – right from beginners to casual users to official employees.
Display
HP Jaguar 15-bs080wm notebook houses a 15.6 inch HD touchscreen display with a superb resolution of 1366 x 768 pixels.
For a mid-range HP notebook, we consider it to be a great feature, providing you an unforgettable computing experience.
The display not just ensures crystal-clear visuals and amazing brightness, but it also soothes your eyes at times when you are streaming movies or videos, browsing images, and playing all the favourite PC games.
The laptop can generate utmost sRGB color gamut while the color accuracy of its screen is above average, as several tests have proven.
At the same time, the laptop with such leading display features is ideal to use in any indoor as well as outdoor lighting condition.
Storage
As far as storage features are concerned, HP Jaguar 15-bs080wm laptop is a monster.
It packs 8GB DDR4 SDRAM memory and 1TB SATA hard disk drive to give you faster and lag-free performance whenever you use the device for multitasking and entertainment.
The RAM holds super fast speed to maintain several power-consuming applications and handle multiple activities at a single time without least interruption whatsoever.
It allows you to work with multiple browsers open, while promising the speediest loading of software simultaneously as well.
Its 1TB SATA drive offers huge space to hoard up plenty of files based on your needs and future convenience.
Having an amazing speed of 5400 rpm, the drive can store innumerable documents, high resolution images, videos, movies, songs and PC games.
In the modern period of cloud storage, the SATA hard drive in this HP notebook is the exact thing you need in every step.
Laptop with 1 TB hard disk drive is more than sufficient for most of the home users and school or college-goers.
Furthermore, 8 GB RAM is absolutely perfect for any enterprise-level notebook because such superb RAM size renders utmost multitasking convenience.
Now you can freely prepare a business presentation or documentation with multiple browsers open at a time, while listening to your favourite music to enhance the concentration.
Additional Features
The two sides of the notebook HP Jaguar 15-bs080wm accommodates dual USB 3.1 ports, a single USB 2.0 port, an HDMI port and multi-format media card reader to get connected with other devices for quick file transfer.
It has the Bluetooth 4.2 and an average webcam to help you chat with virtual friends and corporate personnel.
Its long-lasting battery backup keeps you connected with friends on social media and entertained to the fullest as well.
The laptop has all other essential attributes to meet your everyday requirements and handle your workloads at a speedier rate. Check out HP Jaguar 15-bs080wm 15.6 details.
Variants
Yes we talk about variants where you can review about the different Processors which are involved in the whole structure.
This will definitely initiate a difference in the opinion of all the users. You can check out the best and then decide on to which one is to go for.
There are certainly much more options with color and other specifications which can definitely try out with the one you aim for. Some of the variants come with Intel Core i3-7100U and Intel Core i5-7200U.
What Do Users Think?
Our experts have talked to few users and compiled their opinion about this product.
For several users, the HP Jaguar 15-bs080wm is absolutely delightful to work.
Its touchscreen display which functions incredibly well is one of the sheer reasons why you should choose this HP device for your personal needs.
According to some of them, the audio quality of the speakers is truly decent for most part and you can feel it while listening to music or enjoying a PC game.
There are many users those complained about Windows update. In fact as a buyer it is being seen that booting problem really persists.
Sometimes there are issues with the screen and panel. In fact there are buyers who complained about restarting, screen freezing, which is terrible for so many buyers.
This version is affordable but with all those issues which may recur in case of this design is not at all healthy for any and every types of customers.
Other Experts View
Techradder think although back light keyboard is missing in the notebook, you will find its keyboard highly functional and smooth to type with utmost ease. For the price, it is wonderfully designed for all students, general users and small business employees, catering to their everyday computing needs.
CNet Experts are pleased with the kind of out put it is showing with a 7th generation I-core processor. This is fastening the performance but the main problem persist is being a Windows 10 PC it is taking too long to gets booted up.
Sometimes there are issues seen in case of software installation, but on the other hand its design and color is truly professional by the HP geeks.
This part again making it big hit for all the "Pro" people out there. In fact one more thing should be taken in to limelight that it is giving almost 7 to 8 hours battery back up. This is a good point to opt for this lappy.
Verdict
Your investment should not be a waste at all. If you are in the quest of a smart and fully-featured notebook to suit your daily purpose, HP Jaguar 15-bs080wm must be given a try.
It is neither a low-priced device nor too expensive to buy immediately. Moreover, its high-end specifications and rich HD touchscreen display are the things you cannot resist at all.
It is able to help in the way you want to utilize the device. The amalgamation of Intel dual core processor and Intel graphics processor is the reason to choose the laptop as an essential.
It is an impressive offering from the brand HP, for all sorts of home and office users.