As an Amazon Associate and (affiliate of other merchants) we earn from qualifying purchases without any extra cost to you when bought through our links below.
HP ProDesk 400 G4 SFF Desktop
USD
Value for Money Score
8.0/10
Specifications and Features Score
7.8/10
Pros
It is a small form
This is saving you loads of space
Variation in PC
CTIA headsets
Popular headphones
Cons
Not often available
Not so frequently used
This model is hard to assemble
Without upgradation high end config not possible
Cant withstand major damages.
Verdict
It is not overpriced for the feature however. It comes with all the abilities to overpower some of its competitors available on the market. If you are the owner of a small or medium-scale business, you may think of this variant without any uncertainty in mind.
Take time to assess all its features and garb the deal to meet your day to day official requirements. Moreover, such PC proves to be easier to maintain and keep clean throughout the year due to its smaller size.
HP ProDesk 400 G4 SFF Desktop & Variants Price
$299.99
1 used from $310.19
as of June 1, 2023 3:40 am
$624.00
2 new from $620.99
2 used from $304.10
as of June 1, 2023 3:40 am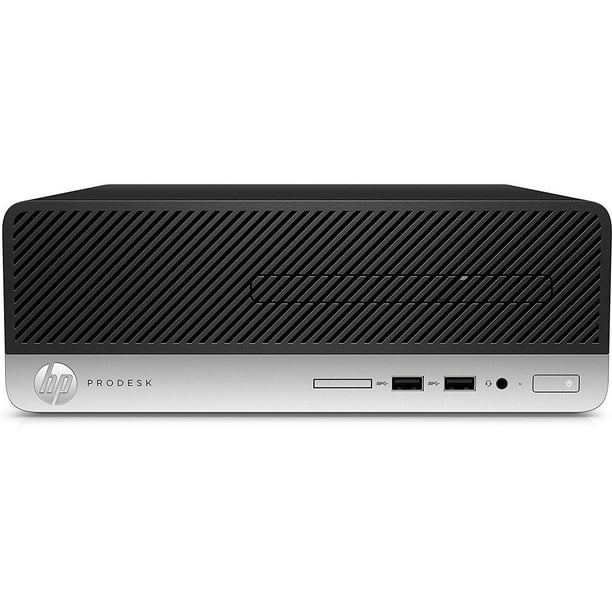 Introduction
HP ProDesk 400 G4 desktop actually appears in three different structural forms – Mini, Microtower and Small Form Factor.
The current review is all about SFF variant of the ProDesk 400. It is absolutely engineered to fit today's workspace, having a compact chassis of brilliant style and reliability.
It is a powerful PC in terms of performance as well as highly adaptable to suit your exact business needs.
The ProDesk 400 G4 SFF is packed with 7th Gen Intel Core i5- 7500 CPU and Intel HD Graphics 630 processor to provide you complete lag free computing experience.
This is more possible due to the presence of 8GB DDR4 SDRAM at its hardware. The desktop also features 256GB Solid State Disk (SSD) storage to make all your essential data and media files handy.
In addition to these basic desktop features, the device is well equipped with multitude of USB ports and I/O connectivity slots to ensure absolute user convenience.
It is pre-loaded with Windows 10 Pro 64-bit Edition. Other internal components, hard drive bays and audio feature are truly appreciable and easily manageable.
Specs Details:
Reliability
The SFF desktops offered by HP have emerged as the popular choice for millions of professionals worldwide because of their maximum power and minimalist structure.
They perfectly fit anywhere, any small office cabin to stay comfortably connected to multiple PC peripherals.
In addition to that, such business PC or workstation can do everything you throw at the system.
As a business requires a number of related activities to be performed well, so does an HP small form factor desktop with utmost perfection.
On this ground, these HP PCs are considered a perfect investment for any kind of business or corporate environment.
The brand offers a variety of such space-saving business desktops at reasonable price rate.
HP ProDesk and EliteDesk are the well known series of SFF business PC, having countless followers and users all across the globe.
The HP ProDesk PCs maintain a balance in day to day performance and ensure flexibility as well as durability for the years to come.
They are wisely designed for business-class productivity, stability and protection against threats, unauthorized access etc.
Furthermore, most of them are reasonably priced to allow you to avail the capacities you want on daily basis. Check out best desktop PC according to needs.
The SFF desktops belonging to HP ProDesk product line have enough room for a number of manageability features, making them absolutely ideal for all growing businesses.
Performance
The system is powered by a powerful quad-core processor to handle high volume workloads of any business on the rise.
The processor is a 7th Gen Intel Core i5-7500 chipset which gets a position in most of today's SFF desktops designed for business purposes.
The CPU has the base clockspeed of 3.4 GHz and the turbo speed of 3.8 GHz to perform more efficiently than its predecessors.
With the power of such brilliant processor, the system is able to accomplish heavy workloads and multiple activities without any discernible lag, even during peak official hours.
On the other hand, the processor is well accompanied by Intel HD Graphics 630 to enable you to run any graphics-intensive software or media players for entertainment.
For the reason, the ProDesk 400 desktop is ideal for light editing of photos/videos, light gaming too.
Design
The ProDesk 400 SFF desktop looks highly professional from every angle.
Its small, compact design does not make any compromise to its elegance and corporate-class style.
In spite of being a space-saver, the system houses all the essential ports and connectivity channels to make sure that you can easily connect the PC to important peripherals.
This small form factor desktop conveniently fits any limited surface area of a workplace.
It dimensionally measures about 10.6 x 11.7 x 3.7 inches and weighs only 11 pounds.
It appears in a wonderful combination of black and silver shades to blow your mind at first glance.
The chassis ensures sturdy build quality to withstand minor damages and last for multiple years.
Storage Specs
The desktop houses 8GB DDR4 SDRAM to accompany its processor for faster and unprecedented performance all day long.
The system is installed with such bigger size of RAM for utmost multitasking ease without any lag.
The 2400 MHz memory is a brilliant feature for any workstation as it is often overloaded with manifold high volume tasks like preparing documents, web surfing, running graphically rich software and more others.
However, its RAM can be easily upgraded to maximum 32GB in future.
As far as storage of the system is concerned, you will find 256GB Solid State Drive inside the box.
It is a far better storage option for a business desktop than HDD or hard disk drive.
Such massive space of SSD not just provides you the facility of storing ample files, images and videos, but also contributes to the overall system performance.
Additional Features
Connectivity: The ProDesk 400 G4 desktop offers a decent array of USB ports. You will find 8 USB ports in total on the body of the device along with optional Bluetooth 3 connectivity and dual video outputs as well. Apart from that, presence of other useful connectivity slots in it has made the system an essential hub for all other devices in the office.
The system houses 2 bays and 2 half-height slots inside. Its front panel is the home to 2 USB 3.1 Gen1 ports, a headphone/microphone jack and power button. The rear section of the desktop sports 4 USB 2.0 outputs, 2 more USB 3.1 Gen1 outputs, one DisplayPort, one VGA port and a slot for LAN. With plenty of USB ports, you can easily affix more storage even without opening the chassis as well.
Addons: The desktop is pre-installed with Windows 10 Pro operating system, which is absolutely business-friendly and accessible to several latest applications and advanced Google features.
Moreover, some of the workspace-friendly performances including Remote Desktop and Bitlocker whole-disk encryption are devoted to your requirements. At the same time, Windows 10 Pro (64-bit) OS is easy to operate and more secured than that of outdated versions.
As A Workstation
The giant manufacturer of desktops, HP claims the ProDesk 400 SFF PC to be a perfect workstation in the light of its advanced features & work efficiency.
Pre-loaded with Windows 10 Professional OS, the system offers built-in security, easy connectivity and collaboration.
The PC assures additional protection via its automatic updates and security checking features.
It sports a Universal Audio Jack that gives support to CTIA headsets and popular headphones to make sure easy audio connections all times.
The internal components can be conveniently expanded in future if required.
Security is another most sought after feature of a business PC. Check out HP ProDesk 400 Manual.
The ProDesk 400 desktop is super protected by a number of HP's own security features including HP Multi-Factor Authenticate, HP Password Manager, HP SpareKey and HP Device Access Manager.
Each of these tools performs effectively to keep data secured and defend your PC against unpredictable cyber attacks, theft and unauthorized users.
What Users Are Talking About?
By compiling all the data this review is being presented.  The ProDesk 400 SFF desktop have made most of its users overjoyed with its ultra-modern features.
According to them, this is an amazing and lucrative office PC. Such kind of desktop is highly needed to enhance business productivity and take every office performance immediately to the next level.
Windows 10 OS runs extremely well and supports varied official activities with accuracy.
Many users have appreciated the performance and excellent speed of SSD drives and great amount of system memory for lag-free activities.
The desktop efficiently performs to accomplish all the given workloads in time and adds to your relief.
The small, space-saving box of the device occupies little area to provide enough space for a number of essential peripherals.
Others have admitted that it consumes less power as compared to its competitor models.
It supports 4K display to enable you monitor all sorts of important work and get entertained well at times.
It is a suitable performer in any corporate environment and hence appraised by several critics.
Other Experts View
According to PC Mag this mini structure is definitely helping you to  save space and give you premium concepts for your solving all the  issues.  Lots of  horsepower being used by this desktop which  is  resolving all the  issues with the help of processor and RAM.
This is simply giving you the best aspects that are related to the concept of getting a small form of dynamite. In fact you can call this as a good one for yourself as it is offering good support.