As an Amazon Associate and (affiliate of other merchants) we earn from qualifying purchases without any extra cost to you when bought through our links below.
Value for Money Score
8.2/10
Specifications and Features Score
8.0/10
Pros
The device has a compact size.
The borderless display gives you a lot of space to work in.
The processor has hyperthreading capability.
Several ports are available on it along with a USB type-C.
Internet surfing
Cons
A low range of performance.
Better options are available at this price.
It is weak in graphics.
There is limited upgradability.
Storage space and RAM by default is not adequate in this variant.
Verdict
In an office or workplace environment, the HP ProOne 600 G5 has a bunch of utilities unless you are working with graphics. It has several variants that should be helpful for you no matter what sort of performance you require. We must inform you that there are better alternatives in the price tag.
In this current scenario, no one will like to spend hundreds of dollars on a Pentium processor. Therefore, it must be bought after one has weighed both the good and bad sides of the PC.
HP ProOne 600 G5 AIO & Variants Price
$649.99
1 used from $1,099.00
as of September 23, 2023 7:50 am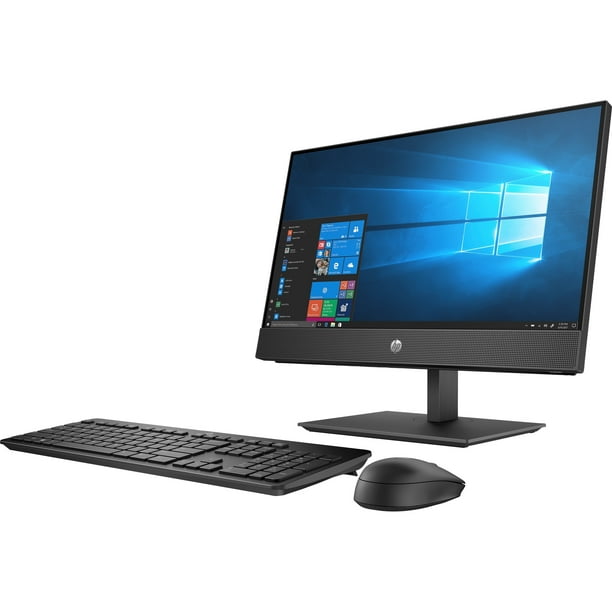 $1,299.00
1 used from $1,299.00
as of September 23, 2023 7:50 am
Introduction
The ProOne 600 G5 made by HP is a device targeted to fulfill the demands you have as an office worker.
Sure the specs list of this variant is nothing spectacular when looked at, but there are up to i9 processor variants that you may opt for.
Now there is nothing out-of-the-ordinary in this series, but all of these have been tested and trusted to be solid companions for business-related purposes.
You get an Intel Pentium Gold processor here, 4 GB of RAM, integrated graphics and a 500 GB of hard disk space. But what's common in all the variants is the border less display.
You also get a DVD drive, like the traditional desktops and hence it is a modern PC that hasn't forgotten its roots. It is made to run today, tomorrow and even more.
Buy for: Compact Size│ Good display
Beware of: The price tag of the lower variants is not very justified
Best uses for: Attending online conferences or delivering online lectures, billing counters of small shop, basic multitasking, elementary photo editing, blogging, etc.
The alternatives:
Design and Build
The most attractive part of the display of the AIO is its design. Check out best desktop computers.
The 21.5 inch IPS display is just fine for any sort of office, and there are practically very thin bezels on the sides and at the top.
This is an anti-glare IPS panel as well, so you or your employees will be able to work long hours without having to take a break.
The display sits on a stand, thus having the orthodox All-in-One looks. You also get excellent cable management and optional touch-screen display, and hence buying it becomes more convenient. 
Performance
The dual-core Intel Pentium Gold 5th generation processor present in the computer works as good as a 9th gen i3 in most aspects and has a lower power requirement.
Also, it supports hyper threading, but the latter does not. The i3, however, pulls way ahead in the benchmark scores and bigger cache memory.
Moreover, it also has the features that a modern processor must be having. But this doesn't mean that the G5 is not useful.
With a clock speed of 3.8 GHz, you can expect it to run basic document editing software or the web browser.
We won't be talking about video editing or gaming since there isn't enough power in it for that kind of activity.
You get 4 GB of RAM and an Intel 610 Graphics chip that allows it to take on the simplest tasks, but multitasking is not its area.
It supports basic virtualization as well. You cannot increase the frequency since the CPU does not support turbo-boosting.
Spending on upgrades for the PC thus won't be viable.
Windows 10 OS has been pre-installed in it.
Storage and RAM
This PC has a 500 GB hard drive and as stated already 4 GB of RAM.
The RAM can be increased to 64 GB at most, and there is a spare bay for adding both RAM and storage drives.
The video memory is shared from the RAM. 
Ports and Connectivity
There are a total of 5 USB ports, out of which one is a USB 2.0 Type-C port supporting up to 15W charging, 2 USB 3.1 Gen 1 ports are at the side and the other two are at the back.
There is a headphone/mic jack and an audio output port. A card reader could also be seen, along with M.2 bays.
A display port is present, and another port can also be configured for a video connection.
Then you have the 802.11 ac WIFI and Bluetooth features available. There is also an Ethernet slot. 
Additional Features
The PC comes with lots of security features and so makes official working secure.
There is a pop-up webcam and speakers present, and so is a DVD reader/writer.
A keyboard and mouse also come in the packaging, and you get the standard HP warranty on it.
Specs:
Brand: HP
Storage: 500 GB
RAM: 4 GB
Storage Type: SATA
Processor: Intel Pentium Gold G5420
Graphics: Intel HD Graphics 610
Processor Speed: 3.80 GHz
Processor Brand: Intel
Product Dimensions: 8.2 * 19.3 * 14.3 inches
What Do Users Think about HP ProOne 600 G5?
The users found the HP ProOne 600 G5 as a decent product, with some usefulness and many limitations.
This particular variant being expensive, could not attract many buyers, but those who bought it did not have any complaints of hardware or software failure.
However, the PC could not take up much workload and hence higher variants were mostly bought. Check out HP ProOne 600 G5 Manual.
Our Testing & Analysis Report
HP ProOne 600 G5 AIO performed well during some online conferences we attended.
While using Zoom, Microsoft Teams, and Skype, we didn't experience any lags or buffering issues during those online conference calls.
We also used it for delivering online lectures and it met our expectations.
We were able to run multiple applications simultaneously without facing any performance issues.
For delivering online lectures, we rigorously used Microsoft PowerPoint, Zoom, and OBS Studio.
To determine the PC's performing capabilities we have placed this AIO in a small shop.
They used this device for stock maintenance and billing purposes.
In addition to being quick and responsive, the PC allowed them to process online transactions efficiently.
They used QuickBooks, Zoho Books, and Tally ERP 9 on this PC.
We also used this AIO for some basic casual multitasking tasks. It performed well and we were able to switch between different applications and programs smoothly without any lag or delay.
We used Google Chrome, Microsoft Word, and Adobe Acrobat Reader DC for basic multitasking. We also used it to watch web series on Netflix and Disney Plus.
This PC is not made for heavy-duty tasks or editing. But it handled some elementary photo editing efficiently.
While editing some 720p photos with Adobe Photoshop Elements and Canva, the PC did not show any signs of slowing down.