Value for Money Score
9.3/10
Specifications and Features Score
9.1/10
Pros
Cons
While running 4K videos the battery drains too quickly.
The cooling system of this laptop is not too good.
The fans of this product sometimes create notice.
Price of this laptop is a little bit high.
Build quality of this product could have been better.
The HP ZBook 15v mobile workstation is designed is such a way that it easily passes rigorous build quality tests including shock, drop, so the user of this laptop can perform his essential work on a road with confidence for its impressive built and durability. Check out HP Zbook 15V G5 review and best price.
At a reasonable price this laptop provides high performance as it has high speed processor and good GPU. The user can get his job done on time with this great laptop.
HP Zbook 15V G5 & Variants Price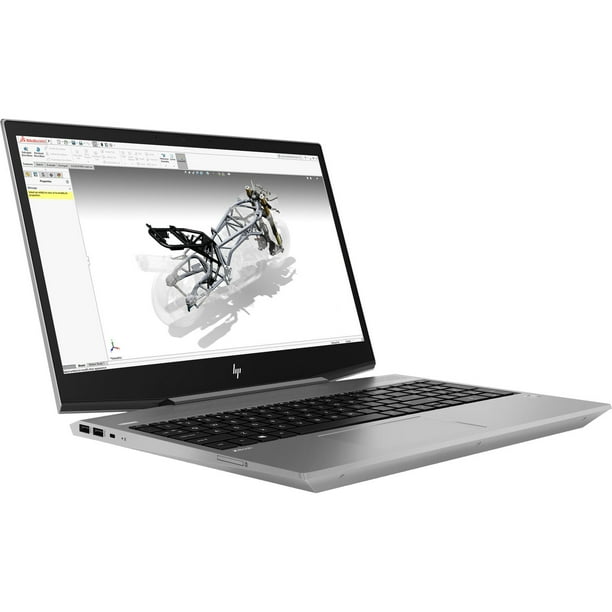 $1,999.99
in stock
as of January 23, 2021 10:02 pm
All prices mentioned above are in United States dollar.
This product is available at Walmart, Amazon.com.
At walmart.com you can purchase HP ZBook 15v G5 15.6" LCD Mobile Workstation - Intel Core i7 (8th Gen) i7-8850H Hexa-core (6 Core) 2.6GHz - 16GB DDR4 SDRAM - 512GB SSD - Windows 10 Pro for only $1,647.19, which is 18% less than the cost in Amazon.com ($1,999.99).
The lowest price of 2019 Newest HP Zbook 15V G5 15.6" FHD Touchscreen Mobile Workstation Laptop (Intel Six-Core i7-8750H, 32GB DDR4 RAM, 2TB PCIe NVMe SSD+2TB HDD) Fingerprint, Backlit, Thunderbolt, Windows 10 Pro was obtained on January 23, 2021 9:55 am.
HP Zbook 15V G5 Review by Expert
Buy For: This product of HP has many updated features which includes, fingerprint sensor.
Beware of: Battery draining is one of the major issues of this laptop.
Verdict
This laptop has great processing speed; this laptop of HP comes with various updated features. This classy product is available at a reasonable price. All updated features that a workstation laptop should have are present in it.
Design and Display
This HP Zbook 15V G5 has been designed specifically for Home, Professionals, small business, and education sectors.
Its superb build quality and its unique design make the laptop more portable and made it easy to carry.
This laptop has slim and handy design, which helps the users to carry it easily. Check out Best Mobile Workstation Laptops.
The display of this laptop is of 15.6 inches which has a resolution of 1920 X 1080 pixels.
This product has full HD glossy touch screen display. The weight of this laptop of HP is 4.77 pounds.
Performance
This laptop has great processing speed, so the performance of this laptop of HP is undoubtedly great.
At a reasonably price the user can get a great laptop without compromising performance. This product comes with Intel 8th Generation Intel i7-8750H 6-Core processor, which has 9 MB cache memory.
The processor count of this processor is 6. This processor has great processing speed, which is ideal for any casual users.
Nvidia P600 Graphics also delivers great performance. The laptop has a memory speed of 2400 GHz.
Windows 10 Professional 64-bit is preinstalled in this laptop. The superfast processor of this product is always ready to run any classified applications.


Storage & RAM
The storage and RAM of any laptop are the two most important aspects of any laptop as they define the performance and quality that the product will deliver.
This unique and classy laptop comes with 16 GB DDR4 SDRAM which is enough to run regular applications.
One of the unique features of this laptop is that it comes with both SSD and HDD, for which the user gets huge storage capacity.
This feature makes it most suitable workstation laptop. The user can also increase the capacity of RAM and hard disks of this product.
This product has 1 TB SSD and 2 TB HDD with 256 GB SSD, which has a speed of 3000 MHz.
Ports & Connectivity
This laptop of HP comes with fingerprint sensor. USB Type-C thunderbolt is used in this product.
Wireless 802.11 AC (2×2) and Bluetooth v5.0 are also available in it. 3 USB ports of USB 3.1 Gen 1 Type-A are present in this laptop.
One HDMI 2.0 port is also available in this laptop. This laptop of HP has updated connectivity features; so, the users can't face any connectivity issues.
Battery Capacity
Battery is one of the most important things that are to be considered before buying any laptop.
This product of HP comes with HP 3-Cell 56WHr Li-Ion polymer long life battery. The quality of the battery is too good.
But, the battery of it drains too quick, while running 4K games and videos. This laptop requires AC power supply to charge its battery.
Additional Features
There is one headphone or microphone combo jack in this laptop. It also has two integrated speakers of Bang & Olufsen, which also provide great sound output.
A HD web cam with a resolution of 720p is installed in this product. This laptop of HP comes with a backlit keyboard.
Dimension of this product is 10 x 14 x 1 inches. MIL-STD 810G is the security type of this product of HP.
This HP laptop has fingerprint reader for additional security purpose. This product doesn't have MicroSD card reader.
Specs:
Brand: HP
Storage: 1 TB SSD + 2TB HDD
RAM: 16 GB DDR4
Storage Type: SSD and HDD
RAM Type: DDR4 SDRAM
Processor: 2.2 GHz Core i7 8750H
Graphics: NVIDIA Quadro P600 with 4 GB GDDR5 VRAM
Processor Speed: 2.2 GHz
Processor Brand: Intel
Product Dimensions: 10 x 14 x 1 inches
Operating System: Windows 10 Professional 64-bit
Battery: HP 3-Cell 56WHr Li-Ion polymer battery
What Do Users Think about HP Zbook 15V G5?
Most of the workstation laptop users are very happy with this product.
The laptop is able to run all the latest and the most popular applications without any lagging for its high and classified configuration.
The high processing speed that this product delivers attracts the workstation laptop users a lot.
This product also comes with RAM and storage upgrade facilities. It is good to avoid running any 4K games in this product.
Workstation laptop users really like this product of HP a lot. Check out HP Zbook 15V G5 Manual.
Other Expert Views
According to Lastbestprice this product of HP is a laptop which provides high performance at a reasonable price and its performance increases with its high speed processors and graphics.
It is truly a value for money product. According to another reputed site Anandtech the Zbook series is one of the innovative and best selling laptops of the HP.
HP Zbook FAQ:
What is the HP ZBook?
The HP ZBook is a series of mobile workstation; this is the successor of HP Elite Book series.
Is HP ZBook touch screen?
HP ZBook is a series of mobile workstation. This series contains various laptops. Some laptop of this product has touch screen facility; such as HP Zbook 15V G5, HP ZBook 15U G6 etc.
What is a laptop workstation?
A laptop workstation is a mobile version of desktop workstations. So, a laptop workstation is more efficient than a regular laptop. This type of laptops has more processing speed. This type of high-end laptops has more storage capacity with faster GPU and more powerful CPU.