As an Amazon Associate and (affiliate of other merchants) we earn from qualifying purchases without any extra cost to you when bought through paid links below.
Huawei MateBook X Pro
USD
Value for Money Score
9.2/10
Specifications and Features Score
8.5/10
Verdict
Last but not the least; we can say that MateBook X Pro is no less than a monster. It features all the useful specs and benefits to meet your daily workloads and recreational purposes.
This is a perfect professional ultrabook to carry around with extreme comfort. This stylish device is deliberately powered to enhance your level of creativity.
But one thing we will advice that if you have to customize it with high end graphics then it will be better if you can buy the Intel Core i7 configuration.
Huawei MateBook X Pro & Variant Laptops Price
$850.00
3 used from $850.00
as of December 8, 2023 8:07 am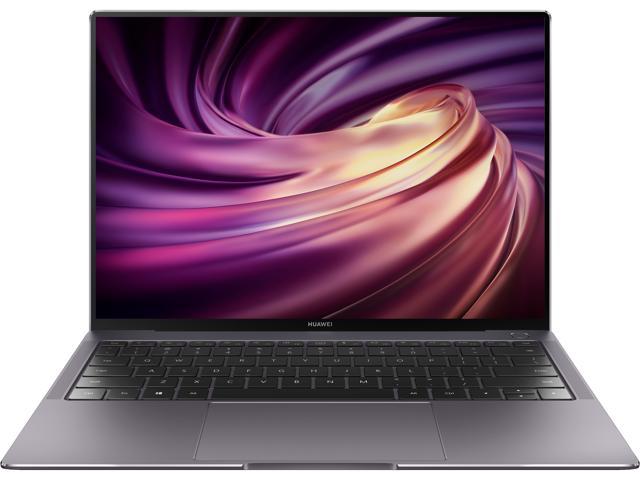 Introduction
You can fall in love with Huawei MateBook X Pro features just at first glance, even being unknown of its specifications, capacity and performance.
Such is the external fascination of this well-built laptop. In a nutshell, it feels sturdy and shiny. Its chamfered edges feel extremely smooth when you touch them.
MateBook X Pro is very much ideal for fastest and uninterrupted writing or typing since it is designed with ultra-high laptop keyboard.
Huawei's keyboard is well known as one of the finest laptop keyboards of all time.
A variety of significant tests have confirmed that MateBook X Pro is definitely a workhorse device to cater to every professional need of users. More so because it runs on 8th Gen processing power.
Its Intel i5 processor supplies the necessary power to make it suitable for day-to-day performances.
It just stands out from the crowd in terms of display, build quality and incredible performance to implement several productivity tasks meticulously.
Buy for: Ultra slim design and no bloatware.
Beware of: Limited configuration option
Best uses for: Lawyers and law school students, photo editing, data science and data analysis, PhD students for scientific research, film makers, playing Minecraft and other purposes.
The alternatives:
Specs:
Brand: Huawei
Hard Drive: 512 GB Flash Memory
Hard Drive Type: Flash Memory Solid State
RAM: 16 GB
RAM Type: LPDDR3
Processor: Intel Core i7 8550U
Processor Speed: 1.8 GHz
Graphics: NVIDIA GeForce MX150
Battery: 57.4 Wh
Screen Size: 13.9 inches
Processor Brand: Intel
Product Dimensions: 11.97 x 0.57 x 8.54 in
Weight: 2.93 lbs
Operating System: Windows 10
Reliability
If you want to analyze the brand identity of Huawei through its offered laptops, you will get to realize that the brand creates the way to stay updated & trendy everywhere and every time.
Most of the laptops belonging to Huawei MateBook series are not only well-built and typically functional; they are versatile too as well.
As a result, several tech experts and sincere professionals want to give the Huawei MateBooks a try, at least for once.
Similarly, Huawei MateBook X Pro offers a number of exclusive and ultra-smart features to create an impression and comfortable ambience around you.
It inspires you to work & invent more & more. It exposes the way to explore the unknown. MateBook X Pro is exactly what you ultimately dream of having in your life.
Performance
It is the 8th Gen Intel Core i5 8250U processor along with 8GB RAM which delivers topmost speed for heavy professional activities and seamless multitasking.
With multiple browsers and programs running, the current laptop offers no pause or slutter while scrolling or entering new tabs, due to its latest & ultra-high processing power.
The device contains no bloatware to make it slow down at times. The processor has the speed of 1.8 GHz.
It typically boosts the action level of the device up to 40%, which was not the case in the predecessors of MateBook X Pro.
The laptop is also graphically empowered. It packs NVIDIA GeForce MX150 graphics card for top notch performance and additional vividness.
The integrated graphics processor comes with 1 GB RAM. Therefore, MateBook X Pro is almost capable to run latest 3D games at higher frame-rates and image resolutions for your ultimate recreation and excitement.
Benchmarks
CPU
To understand the real power of the Huawei MateBook X Pro, we need to consider the benchmarks of its processor. Geekbench 5 is a very popular benchmarking scale.
On this website, we can get two test scores to understand the power of the CPU. One is a single-core score and the other one is a multi-core score.
The single-core score of the Intel Core i7-8550U, in browser.geekbench.com, is 878. And its multi-core score is 2622.
To understand these scores easily, let us compare them with others.
The single-core score of Intel Core i7-8650U, which is another popular Core i7 variant, is 902; whereas its multi-core score is 2735. So we can conclude, performance-wise, Intel Core i7-8650U, is better than our Intel Core i7-8550U.
Dell Latitude 7490 can perform better than the Huawei MateBook X Pro because this Dell device has Intel Core i7-8650U.
Now let us consider another popular laptop, Lenovo Ideapad 330S, 2018 edition. This device is equipped with Intel Core i5-8250U.
This processor's single-core benchmark score on Geekbench is 771 and 1971 is its multi-core score. As far as performing capability is concerned, the Huawei MateBook X Pro performs better than Lenovo Ideapad 330S, 2018 edition.
Cpubenchmark is another very popular benchmarking website. The 'Average CPU Mark', of Intel Core i7-8550U, on this website, is 6003, and the Single
Thread Rating of it is 2081. The overall rank of this CPU is 1085. And after scanning 5462 samples this website finds that the margin of error of this processor is low.
In the list of 'CPU Mark Relative to Top 10 Common Laptop CPUs', this processor has taken the last position.
GPU
GPU benchmarks are the other important thing that needs to consider, in order to understand the capability of the Huawei MateBook X Pro. NVIDIA GeForce MX150's 'Average G3D Mark' in Videocardbenchmark, is 2309.
And its 'Average G2D Mark is 217. To get these scores the website has scanned 2950 samples. The overall rank of this dedicated GPU is 473.
In the list of the 'G3D Mark Relative to Top 10 Common Laptop Video cards,' this graphics card has taken second last position. So this is not a very efficient GPU but is good for casual usage.
The average bench of the NVIDIA GeForce MX150, in UserBenchmark, is 14.7%. Its rank is 219, out of 681. So we can't consider it a high-end GPU, but for casual use, it is good.
Design
Huawei MateBook X Pro can be quite similar to Apple MacBook on the basis of build material. The chassis has got premium aluminum build to offer a vibrant appearance and utmost sturdiness as well.
Its sleek body comes in Mystic Silver hue to suit your taste and personality. MateBook X Pro also packs lustrous beveled edge all around the keyboard deck of the laptop.
Its lid is flat enough to be opened up easily with one hand. The unibody design combined with a sandblast finish feels just deluxe from all angles.
The laptop is comfy and lightweight enough to carry everywhere with ease. Although you can avail MateBook X Pro in dual colors – Mystic Silver and Space Grey, the former, that is, the current MateBook X variant looks undeniably gorgeous and vigorous as well.
Its compact and portable chassis has made the device extremely perfect for grabbing by single hand when flying to and fro.
It almost fits in backpacks of dissimilar sizes to be your absolute travel companion. Its full-sized and spill-proof keyboard with backlit option is another exclusive feature, not to be left unnoticed.
Display
Huawei has introduced the first FullView display in the world – with MateBook X Pro. It comes with immersive 13.9-inch in-plane switching display to enable you to take delight in remarkable video conferencing and watching movies.
The 3K touchscreen is absolutely ideal for personal as well as official computing. It holds immense resolution of 3,000 x 2,000 pixels to ensure brightest and prominent visual clarity.
The display with snappy response has 260 PPI pixel density and 1500:1 contrast ratio. As a result, it appears sharp enough to let you see crystal-clear, hook & nook details at the time of watching HD video.
The display of MateBook X Pro is able to produce plenty of sRGB ranges, while exceeding the average level of an efficient laptop.
Such powerful screen has turned the device into one of the brightest laptops, invented as ever.
It also holds 3:2 aspect ratio and hence the display of MateBook X Pro is somewhat square than that of its competitors.
Storage
Storage and memory contributes a lot to the overall performance of a workstation laptop. MateBook X Pro is equipped with sufficient RAM and ample storage capacity to handle all sorts of on-the-go tasks thrown at it.
The laptop sports 16 GB LPDDR3 RAM to assure multitasking convenience without any lag. As far as storage is concerned, the device features solid state drive of 512 GB as well.
However, its storage facility may sound quite disappointing. For a workstation-level laptop, such SSD flash memory space may be unsatisfactory to a number of corporate users, especially those who prefer to hoard larger documents, high resolution images, 4K videos & more.
Convenience Features
After discussing about the basic technical details and features, we should now emphasize on the additional specs and convenience features of MateBook X Pro. Check out Huawei Matebook X Pro manual.
Here speaker attribute comes first to grab your attention. It is just because the current laptop contains 2nd Gen Dolby ATMOS speaker system.
Probably this is the loudest speaker associated with any laptop till date. With impressive audio clarity and bass effect, the device sometimes vibrates in case volume is set to 100.
Despite this snag, MateBook X Pro ensures fantastic experience at time of conference voice calling or music video watching.
Battery life of MateBook X Pro is sufficiently good. The laptop offers almost all day battery power, great for longer official use.
Several usage tests have confirmed that the device is capable of running through the entire corporate hours.
However, the number of hours for lasting may certainly vary as per the nature of usage on a single charge as well.
If you peep into its features of ports and connectivity, you will be amazed no doubt.
MateBook X Pro consists of all essential ports & jacks, including USB-C charging port, USB-A port, VGA port, HDMI port, Thunderbolt 3 port, headphone jack etc.
The laptop owns a fingerprint reader, which is particularly used for Windows Hello sign-in. The fingerprint reader is located in the system's power button for increased security.
MateBook X Pro sports most comfortable keyboard which helps in speedier and easeful typing.
Such typing experience can be expected from this spectacular laptop, consisting of shallow keys.
The laptop also comes with a reliable touchpad to respond to user's two-finger scrolling for web page management.
Another lucrative feature is the presence of webcam of 0.9-megapixel in the laptop.
What Do Users Think?
Our experts have talked to few users and compiled their opinion about this product.
Maximum users have expressed their satisfaction with excellent battery life and attractive design of MateBook X Pro.
According to them, the laptop can perform steadily for 8 to 10 hours, even if watching videos, editing photos or documents, or doing other productivity tasks.
Since it features powerful and brightest display, the laptop is easy to carry for outdoor usage. The display works fantastic under various lighting conditions.
For some tech critics, this MateBook is far better than Apple MacBook based on several aspects.
At the same time, it has some limitations too, just like every device. Fan noise is bit louder and it can be heard in a silent room as well.
The webcam has got an awkward position, so it cannot be utilized properly to some extent.
Moreover, it has been proved that heat dissipation on this specific laptop appears terrible sometimes.
Our Testing & Analysis Report
The Core i7- 8550U processor of the Huawei MateBook X Pro laptop scored 878 points when we tested it on browser.geekbench.com, while its multi-core performance score was 2622 points.
The average CPU Mark on the Cpubenchmark was found to be 6003, with its single core performance rated as 2081 points.
The NVIDIA GeForce MX150 graphics card scored 2309 points as its average G3D Mark in Video Card Benchmark, and 217 as its average G2D Mark. The average benchmark score of the GPU on the UserBenchmark was 14.7%.
The figures of both indicate that they are good for casual use and not for performing high-end or CPU and GPU-intensive tasks.
When we tested the keyboard and trackpad of the laptop, it offered quite pleasant and precise typing experience with about 1.5 mm key travel and adequate tactility and bounce.
It allowed us to type long texts quite fast and with maximum accuracy. The touchpad is large and supported quite well with its relatively good response to finger touches and gestures.
We tested the display with our colorimeter as well as with the X-Rite i1 Pro 2 spectrophotometer and the professional CalMAN software. We found that the native profile produced rich colors with higher deviations.
The P3 profile is quite accurate as well with a deviation of 3 on the Delta E 2000 tool without grayscale, accurate and respectable coverage of sRGB color gamut, and color temperature being about 6,500K, which is ideal.
The battery however is not powerful. We conducted a battery rundown test and found that the runtime is not very long.
Even if the display is set to 150 nits and we run a few videos along with some basic computing tasks, it managed to last about 7 hours on test conditions.
Questions & Answers:
Is Huawei MateBook X Pro has a Touch Screen?
Yes, in this device you can find a high-quality FHD touch screen display.
Is Huawei MateBook X Pro good for gaming?
No, this is not a hard-core gaming system. But, if you love to play games, then you can run some casual ones on it, but you need to keep the game settings as comprehensive as possible.
Which OS is present on the Huawei MateBook X Pro runs on which OS?
This laptop comes with pre-installed Windows 10 Home. But the users can install the updated Windows 11 Home in it.
Can one charge the Huawei MateBook X Pro by using a USB-C port?
Yes, you can charge this device with a USB Type-C port, in an emergency. But, for regular purposes, it is good to use the original power adapter.
Thanks for your feedback!