Value for Money Score
7.8/10
Specifications and Features Score
7.7/10
Pros
This ideacentre from Lenovo has detachable projector head.
This projector's head can be moved at 360 degree angle and the user can watch his favourite video anywhere.
This device consumes very little space of user and it is best for internet browsing.
This product is very compact and also looks modern and stylish.
This model of Lenovo also comes with Lightning-fast Wi-Fi feature.
Cons
This product is little bit complicated for those person who are at beginner's level.
Accessing to the inner components of it is a little bit complicated.
When this device runs for long time then this device gets a little bit heated.
This product doesn't have many USB ports.
Maintenance cost of it is a little bit high.
Verdict
Lenovo is one of the trusted brands all over the world which makes quality devices and this device is one of the best selling products of it. It comes with the latest version of Windows that provides many great, updated features.
This PC has very fast booting facility and the expanded Start menu with all-new browsers provides a unique experience to the users. By using this device the user can get more things to be done quickly and smoothly.
Lenovo ideacentre 610s Mini Desktop & Variants Price
$489.99
1 used from $499.99
as of February 7, 2023 8:55 am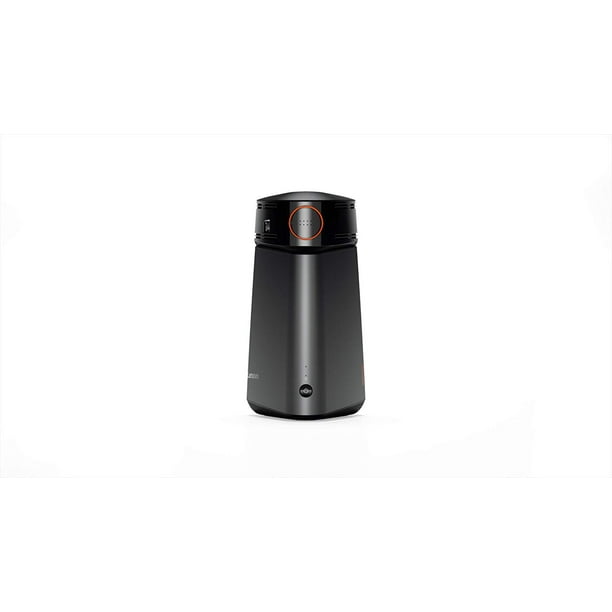 Introduction
Lenovo makes this device for the person who wants a compact device with a good projector.
This powerful and compact, Ideacentre 610S can transform any room into a cinema hall and the user can enjoy videos or play games on any surface at a distance of 8 feet.
All the features of this device are very reliable and the users can completely trust on it. This product is not only made for playing games or video; it cans also be used for browse the web or multitasking at same time.
Its light of the projector has a great quality and it is visible almost on every smooth surface. Check out best desktop computers list.
Buy For: This Lenovo 610s Desktop have great performance report with great graphical performance. But the major point of it is that it has very compact design. The most important point of it is its projecting facility.
Beware of: The performance of the product is undoubtedly great but the major drawback of this product is that this device has very tight inner space configuration which may cause sometime heating issue and its maintenance cost also a bit higher than other.
Design and Build
This compact device of Lenovo has a projector which is of version 0.7L that is too stylish.
Its unique triangular casing, delivers awesome and attractive looks.
It allows the user to perform internet browsing, software making, while also projecting a presentation, video, or a TV show on a nearby wall at the same time.
Black is the most common colour of it. The inner space is very compact and its design also saves the precious space of the user.
Performance
This ideacentre has Intel 6th Gen Corei3 processor which is ready to take productivity, creativity, and entertainment to the next level.
The processor comes with sufficient cache memory which enables the device to boost up its performance.
This product's processor has a frequency of 3.2 GHz. The product has a processor count of 2.
This Lenovo desktop can easily run FHD videos smoothly. The graphic performance of this product is also smooth and it can easily satisfy the moderate user.
Windows 10 Professional of 64 bit is pre-installed as OS in this desktop of Lenovo. The RAM of it has made this product capable to run any software easily.
Performance is the one major positive aspects of this Lenovo desktop. The users can perform daily works like surfing on internet, moderate office work and playing game or watching video on large screen by using this PC.
The GPU of this PC also helps to enhance the performance of the product. Two types of graphics are used in it.
One is the integrated graphics which is Intel HD Graphics 530.


Storage & RAM
RAM and storage are the two major components of any desktop which not only indicate the performance; they also define the quality of any PC.
This unique and classy, updated desktop of Lenovo comes with 8 GB DDR4 RAM which has 2133 MHz frequency and that is more than enough for running any regular applications.
This product offers a great storage capacity to the user. It comes with 1 TB Hard Disk of 5400 RPM but this product has no SSD; so, the user cannot experience fast data transferring speed in it.
Serial ATA storage interface is used here.
 Ports & Connectivity
This updated and classified product of Lenovo comes with four USB 2.0 ports and 1 SPIDF port.
Wireless Bluetooth connectivity of version 4.0 is attached in this product. Wireless connectivity of 802.11 versions with gigabit Ethernet is present in this classified product of Lenovo.
The user can easily upload, transfer, display and play media files by using it. So, as we can see this classified product of Lenovo comes with advanced connectivity features but with it has only a few ports.
This product has no USB 3.1 ports but it has 1HDMI port.
Additional Features
This Lenovo 610s comes with all the manufacturer accessories and it gives 1-year warranty.
Optical drive for DVD and RW drives is not available in this product. The shipping weight of this desktop is around 9.94 pounds.
Specs:
Brand: Lenovo
Storage: 1TB SATA 3
RAM: 8 GB DDR4
Storage Type:  HDD
Processor: 3.2 GHz Intel Core i3
Graphics: Integrated Intel HD Graphics 530 + NVIDIA GeForce GTX 750Ti
Processor Speed: 3.2 GHz
Processor Brand: Intel
Product Dimensions: 5.3 x 10.1 x 5.5 inches
What Do Users Think about Lenovo ideacentre 610s?
In this device the users can experience the Lenovo Home Cloud that is used for backing up files, sharing media, and connecting to other devices.
This device has complete protection of Live Safe from McAfee which protects the device, from online and offline bugs to ensure security to the user's data and identity.
Above from this special feature this device also has powerful specification that makes it more powerful.
But, the one major problem of it is that its maintenance cost is too high. Check out Lenovo ideacentre 610s Manual.
Other Expert Views
According to PCMag, this Lenovo Ideacentre 610s is a compactly designed desktop computer which is suitable for casual users and gamers.
According to Techrader, this Lenovo 610s Desktop provides the user a great processing speed.
Another well known website Cnet says that this product has great flexibility because it is too small in size, for which the user can easily fit in at any clumsy space.