Value for Money Score
9.1/10
Specifications and Features Score
8.5/10
Pros
Lovely G-Sync panel
Customizable Keyboard
Graphics Performance
Extremely Fast Nvme SSD
Customizable RGB Backlight
Cons
Below-average battery life
Mechanical Keyboard Features
Disappointing CPU performance
Anti-Glare Coating is bad
Hefty and bulky
Gaming laptop is something which offers glorious hours to spend with. Read full Lenovo Legion Y920 laptop review.
A large number of school & college goers are obsessed with gaming laptops rather than a gaming console, more so because gaming laptop meets both day-to-day requirements and gaming needs as well.
Several multimedia professionals too can utilize this specific kind of versatile laptop since the device comes with advanced graphical power.
Gaming laptops are well equipped with high-end graphics card and top notch processor to assist in providing smooth gaming performance.
With rapid innovation in computing industry all across the world, laptops now appear ultra-smart as well as compact devices to be your ideal companion on every trip.
However today we have chosen one of the latest laptop models from the brand Lenovo to set an assessment of its features & advantages – disadvantages.
Lenovo Legion Y920 is the target of today's review. Take a look at the best laptop brands.
Lenovo Legion Y920 & Related Laptops Price
$1,399.00
in stock
3 new from $1,399.00
1 used from $1,999.77
as of February 28, 2020 8:58 pm
Amazon.com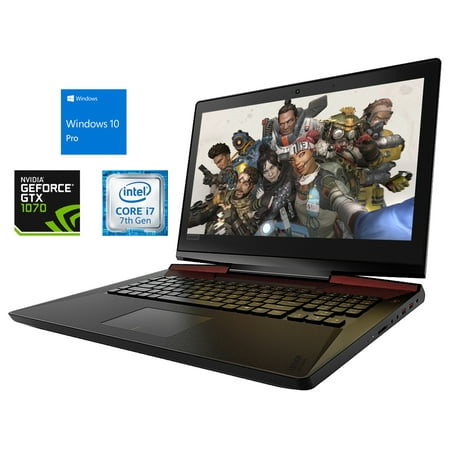 Walmart.com
$3,349.00
in stock
1 new from $3,349.00
as of February 28, 2020 8:58 pm
Amazon.com
Create Your Free Price Drop Alert!
Set Alert for Lenovo Legion Y920 17.3" FHD Gaming Laptop (Intel Core i7-7820HK, 16 GB RAM, 512GB PCIe SSD + 1TB... - $1,399.00
All prices mentioned above are in United States dollar.
This product is available at Amazon.com, Walmart.
At amazon.com you can purchase Lenovo Legion Y920 17.3" FHD Gaming Laptop (Intel Core i7-7820HK, 16 GB RAM, 512GB PCIe SSD + 1TB HDD, NVIDIA Geforce GTX 1070 w/8GB VRAM, VR Ready), 80YW000EUS for only $1,399.00
The lowest price of Lenovo Legion Y920 17.3" Full HD Gaming Laptop - 7th Gen. Intel Core i7-7820HK Processor up to 3.90 GHz, 32GB Memory, 1TB SSD + 2TB Hard Drive, 8GB NVIDIA GeForce GTX 1070, Windows 10 was obtained on February 28, 2020 8:58 pm.
Lenovo Legion Y920 Laptop Review
The Legion Y920 is a signature offering from the world-leading computer brand, Lenovo. It has gathered high acclaim from numerous tech geeks and critics, highlighting the company as a reliable gaming laptop manufacturer.
The Pro-Level performance ability of the laptop will surely blow your mind away.
While engineered with speedy, overclockable processor and distinct graphical power, the laptop allows a fanatic gamer to stay immersed in playing seamlessly and streaming videos frequently without worry. Read more about 10 superb Lenovo Laptops.
The razor-sharp display resolution is amalgamated with booming sound technology in the device.
Other cutting-edge features including high-responsive, backlit keyboard, intelligent Wi-Fi system, impressive processing power etc. enable every enthusiast to unleash his or her absolute gaming skills inside.
Specs:
Brand: Lenovo
Hard Drive: 1 TB
Hard Drive Type: Hybrid Drive
RAM: 16 GB
RAM Type: DDR SDRAM
Processor: Intel Core i7
Processor Speed: 2.9 GHz
Graphics: NVIDIA GeForce GTX 1070
Battery: 1 Lithium Polymer
Screen Size: 17.3 in
Processor Brand: Intel
Product Dimensions: 16.8 x 1.4 x 12.4 inches
Weight: 10.12 lbs
Operating System: Windows 10 Pro
Reliability: Incredibly Trusted
Lenovo Legion Y series laptops are designed not only to fulfill various demands of your hectic life, but more to take your gaming expertise to the next level with utter excitement, creating a thrilling ambience all around.
Each of them comes with refined and sleeker exterior enclosing to appear stylish and elegant from all directions.
The laptops with thinner bezel based display offer remarkable experience at time of immersive gaming.
During longer gaming sessions, they keep you highly engrossed with their responsive, precise and comfortable keyboard.
The backlit, full-sized keyboard of any Legion Y series laptop meets all global standards of performance and support.
This is the reason why the Legion Y gaming laptops are absolutely comfortable to use and convenient to see.
Lenovo is a highly acclaimed brand to launch latest computing devices like tower desktop or laptop every year with exclusive & innovative features.
Performance
Processing power determines the ultimate performance speed of any device like laptop. Lenovo Legion Y920 houses 7th Generation Intel Core i7-7820HK processor with cache memory up to 8 MB and quad-core frequency up to 3.9 GHz.
Such powerful processor motivates every user like you to handle multiple activities simultaneously, for instance, streaming videos or playing favourite games while editing a number of photos or videos.
Since the processor is unlocked, you can manage to access every time of performance while pushing a button via OneKey Turbo of Lenovo.
Needless to mention, the device can multitask with the best of its internal setting which includes processing power, immense RAM and storage devices.
Design
Though Lenovo Legion Y920 laptop belongs to a distinct series of the brand, it is somewhat similar to its antecedent series laptops – Ideapad, in terms of design & appearance.
The laptop comes with a premium aluminum build to offer a metallic unibody as well as a polished outlook to win your heart.
Its entire frame and lid are built of black brushed aluminum along with an iconic cross-hatch pattern.
Moreover, the lid includes a couple of lustrous black accents of plastic to add to its infinite style and marvelous appearance.
The interior section of the laptop appears black rubberized along with cross-hatch pattern as is found in its exterior finish.
The laptop engineered with red backlit touchpad adds essential visual contrast to some extent.
The top of the device comes with attractive metallic black grille which offers soft-touch finish and convenience to hold in hands.
The overall design and build quality of the Legion Y920 is truly amazing to provoke you to purchase. Read more about 10 best laptop available now.
Display
A large 17.3 inch Full high-definition display is the key attraction of this Lenovo gaming laptop.
Along with a native resolution of 1920 x 1080 pixels, the anti-glare display is incredibly bright & vivid as well.
Its display function is smooth and the credit goes to the latest NVIDIA G-SYNC display technology which has made it a groundbreaking laptop as ever.
As a result the screen renders the fluid gaming experience, no matter whenever or wherever you are playing smart games.
With this superb screen technology, Lenovo Legion Y920 not only provides smoother gameplay, but reduces display slutter, omits screen tearing, reduces loading time and input lag too.
Furthermore, the laptop offers a soothing and impressive visual experience to make you keep playing with intense thrill and excitement.
Graphics: Gaming Performance
Since Legion Y920 is engineered to meet the purpose of gaming, it is powered with next-level graphics technology.
The laptop comes with NVIDIA GTX-1070 graphics card along with DDR5 memory of 8 GB to deliver seamless power and even excellent 4K resolution at time of immersive gaming.
Being graphically rich and highly efficient, the gaming laptop makes every user dominate every second of finest gaming with its uninterrupted graphics power.
Storage
Lenovo Legion Y920 laptop justifies its specialization in gaming for its brilliant storage features.
In order to allow you to create a library of favourite gaming titles, the laptop provides 1TB hard disk drive and fast PCIe SSD (solid state drive) of 512 GB as well.
Such ample space is meant for loading games in the fastest way, so you can start playing without waiting for a second.
Featuring the quickest & latest PCIe SSD on the global market, the laptop is engineered for high speed overall performance.
As a result, it loads multiple games faster & hassle-freely, boots up the PC quickly and enhances speed of data transfer.
High speed performance is just absurd without the addition of RAM. The Legion Y920 is packed with immense 16 GB RAM for multiple loading and different tasks at a single time.
This abundance of DDR4 memory offers a reliable and immediate speed boost to the seamlessly built laptop.
This important attribute helps you stay in the gaming competition on the go till the end without any disruption.
Battery Life
It is truly tough to expect longer battery life from such a power-consuming gaming laptop like Lenovo Legion Y920.
On this ground, the laptop may appear quite disappointing to you. Check out Lenovo legion y920 manual.
To be specific, the laptop gives 3 hours of battery life in case of constant gaming or general activities as well.
If you want the system last for more than 3 hours for your professional tasks, make sure that you are sitting around a power outlet.
Several battery testing procedures have proven this ultimate truth, although this laptop is far better than some of its predecessor models which never last for at least 3 hours on general works.
Convenience Features
Webcam is an integral part of any laptop. Lenovo Legion Y920 is designed with a 720p integrated webcam in order to capture prominent shots and record videos.
Sometimes, the shots may appear a little bit fuzzy, but the webcam is functional enough to meet video conferencing needs.
The Legion Y920 laptop comes with Lenovo Entertainment HUB and VR Ready features to deliver next-level gaming experience all time.
You can also avail a number of VR-enabled gaming platforms at your hand to fulfill your desire and refresh your mind.
Being a visual wonder, the mechanical keyboard of Legion Y920 features brilliant lighting effects on every individual key for striking light control.
Moreover, the keyboard appears with customizable wavelike lighting modes for typical gaming convenience and comfortable typing.
This is also an ultra-responsive backlit RGB keyboard missing in the predecessors to the Legion Y920.
As far as audio quality is concerned, the laptop can be a perfect music player on this ground.
It is well furnished with dual 2W JBL Speakers and single 3W Bass Subwoofer along with Dolby Home Theater technology to render crystal-clear sound at time of watching movies or gaming.
Such unprecedented sound feature of this Lenovo gaming device creates an exciting atmosphere all around with extra-ordinary bass effects as well.
If you peep into its ports and connectivity attribute, it will give you utmost satisfaction. The laptop is a home to plenty of essential ports and jacks to stay connected with other devices.
The right side of the laptop accommodates dual USB 3.0 ports, headset & microphone jacks, 4-in-1 card reader and slot for security lock.
On its left, you will find two another USB 3.0 ports, DisplayPort, full-HDMI 2.0, Gigabit Ethernet, Thunderbolt 3, and an effective charging port.
What Do Other Experts and Users Think? 
Lenovo Legion Y920 has been appreciated by several professional users and hardcore gamers. Digit and PC MAG have liked its responsive and easy-to-handle keyboard with high-end backlit features.
Its one button overclocking feature based on OneKey Turbo technology has made the laptop extensively favourite among millions of users worldwide.
According to some, the laptop is perfect to load every graphically intense gaming title to refresh your mind during intervals.
Our Verdict
By making a complete analysis of the Legion Y920's specs and features, it can be concluded that the laptop is truly a monster in delivering spectacular gaming experience.
But, it has some drawbacks too, which call for higher attention. Short battery life can be a crucial problem if you want to work on this laptop for hours without a break.
This legion is a hefty gaming laptop which is no doubt offering the best solutions for any type of graphical aspect.
You can take hold of the quality and the graphical impositions by this legion which is absolute in every concept.
You can take a strong point which will definitely suffice you in the matter of gaming studio.
You can definitely trust on the mechanical body and the systematic design. You can think of various aspects that is complementing the design and dimension.
You can take the point of perfect display. The backlight is totally distracting with all the intense gameplay.
You can get the best of it with all the intense keyboards and recognizing the best features of this laptop.
You can take a look to the smooth and perfect switches which are no doubt giving you a better aspect to deal with the situation.
The sound stage is no doubt needs to be much more improved and perfect. In case of it is having a speaker you will be getting the best output of it.
You can think of all the necessary aspects in case of ports with a microphone input, SD card reader which is in the right side and it is highly efficient.
You can think of other ports  which are no doubt giving you all the related aspects.
It is a bit heavy weight, causing some carrying inconvenience for some. And finally, if you are on a limited budget to own such a trendy gaming laptop like Lenovo Legion Y920, you will be upset.
Apart from these negative aspects, this Lenovo laptop is really a versatile device.