Value for Money Score
8.7/10
Specifications and Features Score
8.5/10
Pros
Decent professional-grade performance
Ample RAM
Storage is fast with an SSD
Compact size and lightweight design makes it highly portable
Good battery life
Cons
Weak in graphics and not at all recommended for gaming
Only single-channel RAM configuration is available
Opening the laptop for repairs is somewhat troublesome
There isn't a Thunderbolt Port, like most modern laptops
The connectivity features could have been better
Read Lenovo ThinkBook 13s laptop review and see best price. When one is on the hunt for a decent business-grade laptop that can be used for daily travel, accessing emails, and watching movies on leisure, the Lenovo ThinkBook 13s fits the description.
An i7 CPU, 16 gigs of RAM, SSD storage, it's all there. We would have liked it if there was a scope to add dedicated graphics to this version, but there isn't unfortunately.
There is however another variant with AMD Radeon 540X graphics coprocessor that allows one to utilize the processor slightly more. There are also some upgrades that you can make in the RAM and storage section.
So overall, it should be quite a reliable laptop to opt for. Check out best laptop brands.
Lenovo ThinkBook 13s Laptop & Variants Price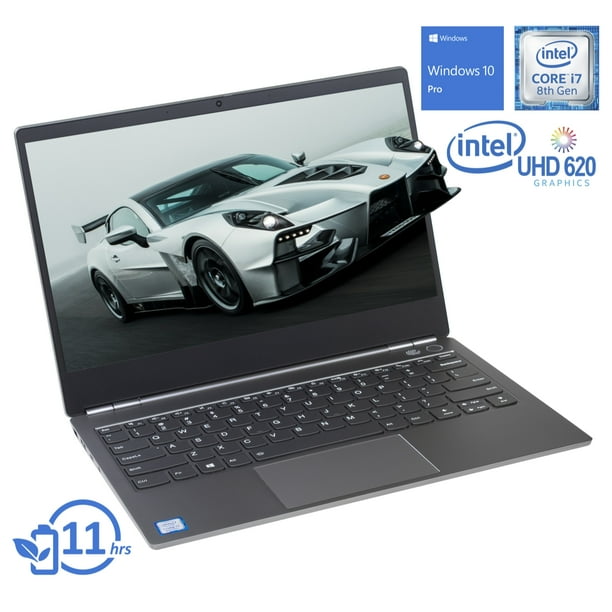 $1,299.99
1 used from $599.95
as of June 19, 2021 9:55 pm
Lenovo ThinkBook 13s Laptop Review
Buy For: Good value for the price tag│Satisfying battery life
Beware Of: Average Graphics and Audio Quality│Absence of Thunderbolt port
Verdict
The Lenovo ThinBook 13s succeeds to be a brilliant professional laptop because it is the right blend of all the attributes like all-day battery life, looks, durability, security, and so on. The screen performance is decent as well, and the only thing it lacks is some considerable graphics upgrade and Type-C charging.
If these along with the absence of a Kensington lock don't bother you, then it should be the best companion for your meetings and conferences. But it won't be a good option if you are a content creator or want to play games.
Design and Build
The outer design of the laptop is quite sleek, given the metallic finish and the aluminum build. It seems strong enough for rough usage, and there aren't many places where you would get the plastic feel.
The hinge can withstand years of opening and closing, although the lid is heavy you won't be able to open it up with one hand. Usual water spills won't do the laptop much harm.
The screen goes back a full 180 degrees, giving you some level of flexibility though there is no touch-screen functionality in any of the variants. The power button is circled by constant glowing light.
The keyboards from Lenovo are good enough, and the same can be said for this laptop. You won't get too much precision on the trackpad though.
Performance
This i7 variant packs enough power but is somewhat limited by the integrated graphics.
It can do everyday tasks easily with the quad-core CPU, and 8 MB of cache should provide enough response and speed.
You can buy a better RX 540 solution if graphics is a concern. There is 16 GB of RAM present that would ensure smooth multi-tasking.
The screen is a standard FHD (1920*1080p) one, with a brightness of 301 nits. It is bright enough, but you might face some difficulty with the details when using it outdoors.
The RGB results were average and nothing special. The speakers work fine, but cannot provide a good bass.


Storage and RAM
The storage available is 512 GB in an SSD, and as mentioned already 16 GB of memory at a maximum speed of 2400 MHz.
The RAM can be upgraded to 32 GB, while you can upgrade the SSD too.
Ports and Connectivity
The ports include two USB 3.1 Gen 1 Type-A ports at one side and a USB 3.1 Type-C port on the other.
There is a separate port for the power cable and you won't be able to use the Type-C port for charging the laptop.
There is also a headphone jack and an HDMI 1.4b port. A dedicated slot for Ethernet cannot be seen.
Then there is 802.11 WIFI and Bluetooth 5.0 for wire-free connections.
Battery Life
The 45Wh battery is quite good at giving about 6-8 hours of runtime to the user depending on how intensely you use it.
It charges up fully within two hours so it would be better to put it on charging before you go out so that it runs throughout the day.
Additional Features
There isn't a pop-up webcam present in the device, but there is the option to turn the camera off when you aren't using it.
This can be done by using a small slider just above the webcam to put a shutter on the lens.
The fingerprint sensor is present on the power button itself. Two 2W speakers face downward and are available on either side of the laptop.
The standard warranty of 1 year from Lenovo has been provided.
Specs:
Brand: Lenovo
Screen: 13.3 Inches
Storage: 512 GB
RAM: 16 GB
Storage Type: SSD
Processor: Intel Core i7-8565U, can be boosted to 4.6 GHz
Graphics: Integrated Intel UHD Graphics 620
Processor Speed: 1.8 GHz base, can be boosted to
Processor Brand: Intel
Product Dimensions: 12 * 8.5 * 0.62 inches
What Do Users Think about Lenovo ThinkBook 13s Laptop?
The users who used it for professional purposes mainly seem to be satisfied with the device.
The gaming experience wasn't good enough, but otherwise, it was able to provide the speed and reliability that they wanted.
The speakers could have been improved, and a spare RAM slot would have been better. Check out Lenovo ThinkBook 13s Manual.
There haven't been complaints of fan noise, or major issues about the heat.
Other Expert Views
The experts at Laptopmag think that the Lenovo ThinkBook 13s is a well-priced laptop that the users can buy. They consider it to be a good device that one can use for business-related activities and usual tasks. But some better color performance on the display and battery life would have been better.
The experts at Notebook Check have made a detailed review of the product. What can be summarized from their viewpoint is that the Thinkbook 13s is a decent laptop, but is not as good as some of the other business laptops because of the lack of some essential features. It is light and compact surely, but not very good on connectivity.
The device was also tested by those at PCWorld. They consider it to be a decent laptop for daily usage and is available at a budget-friendly price tag. They tested the variant with an i5 CPU and 8 GB of RAM, and the results were respectable. The screen brightness was just above average, and so was the performance when compared to some alternatives.