eComputerTips is reader-supported. When you buy through links on our site, we may earn a small commission without any additional cost to you.
Value for Money Score
8.7/10
Specifications and Features Score
8.6/10
Read Lenovo ThinkCentre M720e SFF review and see the price. SFF or Small Form Factor are quite simple devices, with almost every important feature that one may need.
These fill the gap between a full-sized tower that takes up too much space and a mini-PC that cannot be equipped with more than a handful of hardware.
But not everyone needs the kind of convenience one of these brings, and the form-factor itself has certain limitations. But even then, and a few other drawbacks aside, those like the Lenovo ThinkCentre M720e SFF can still be considered.
This is a mid-range device, and while we wouldn't call a 9th gen Core i5 processor primitive yet, it isn't exactly the latest kind either. But other hardware that it uses, like the DDR4 RAM and the SSD, are still very much the standard today.
It is one of Lenovo's business-oriented devices, among the lot of options that the brand offers. Certain things on this, like the connectivity most importantly, aren't as good as some of the other desktops in this segment.
However, that can be made better by adding a few adapters, but things like the absence of a USB Type-C port are insoluble unless the motherboard is replaced.
Not everyone needs to add 3 monitors to their setup, or need the latest WIFI or Bluetooth installed on their desktop.
The desktop targets these people, but others, in general, would find it useful still. And before you judge it, make sure to give this review a read.
Lenovo ThinkCentre M720e SFF & Variants Price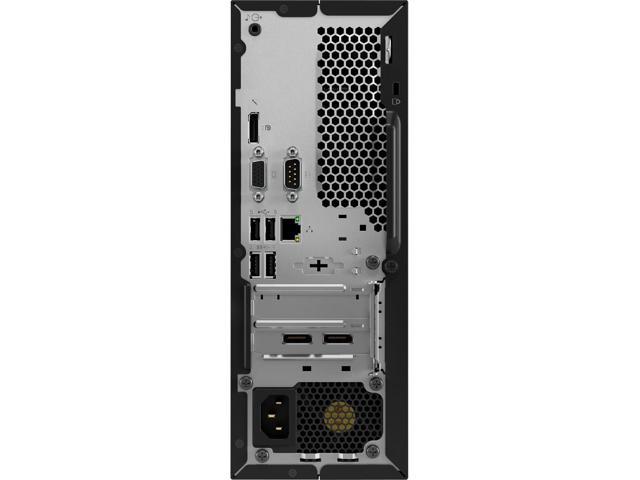 $799.00
as of August 17, 2022 1:56 am
$899.95
as of August 17, 2022 1:56 am
Create Your Free Price Drop Alert!
Set Alert for Lenovo ThinkCentre M720e SFF Desktop Computer i5-9400 8GB 1TB HDD W10P DVDW - $780.99
Lenovo ThinkCentre M720e SFF Review
Buy for: Compact size, 16 GB of RAM and decent performance
Beware of: Inadequate Connectivity features
Best uses for: Small business and other purposes
Verdict
With all its features, strengths, and drawbacks, the Lenovo ThinkCentre M720e SFF is a mixed bag. It misses a few key features that you may want to see on a desktop, though some of them can be made better as well. As long as business-related usage goes, however, it can still be a decent choice if bought at the right price.
Design and Build
The Lenovo ThinkCentre desktops being business or workstation-oriented, come with a minimalist design.
The ThinkCentre M720 SFF also follows this norm, and as a result, you get a very simple design in this PC.
A mesh-like design covers most of the front panel, and just the area holding the optical drive and the ports is what's plain.
Now not everyone today needs an optical drive, though Lenovo has still provided an option for that.
The ThinkCentre badge is placed vertically, and a small Lenovo branding is also visible.
The front side isn't too crowded, just a few ports and the power button.
A little dot of light is present on the optical drive and the restart button, which you should be familiar with if you have ever used a Lenovo PC.
Since this is the SFF version, the 7.4L chassis measures 3.9″ x 10.8″ x 11.9″.
And while this compact size makes it easier to keep on or below the desk, it does pose limitations on the amount of hardware that can be installed on this.
Among others, this is one of the reasons why you can use only a few dedicated GPUs with the desktop.
If you are asking about the overall build, it is decent, and the side panel comes off without needing any tools.
There isn't a lot of space inside, but the components aren't too cramped up either, so you'd have no trouble regarding upgrades or maintenance.
Performance
The ThinkCentre M720e SFF, as we said already, is not the latest device per se when it comes to hardware.
It was launched a while ago, so you get 9th gen processors on this. Options are available up to Core i7s, so getting good performance as per your budget shouldn't be an issue.
This is the Core i5 variant, so there are 6 cores and 6 threads that are available to you. The base frequency is 2.9 GHz, which goes up to 4.1 GHz, and this isn't bad at all.
With that is 16 GB of RAM, so you get a decent multi-tasking experience and most software relevant to office users should run on this effortlessly.
And if purely CPU-dependent software is what you need to run on your PC, the ThinkCentre M720e SFF can easily be one of the best desktops with 16 GB of RAM.
Then comes graphics, and the Lenovo desktop is a step back here. You get Intel's Integrated Graphics on every processor, but there is hardly any scope for adding a dedicated GPU.
The size of one of these is the primary restraint, and there's the low wattage on the GPU that also doesn't support a good enough GPU.
However, Lenovo officially offers an AMD Radeon 520 2 GB GPU option, which can handle some entry-level workload.
And other than that, there are only a handful of better GPUs that can be considered, given the conditions here.
So, it may be a good enough choice for CPU-based applications, but the Lenovo ThinkCentre M720e SFF is not what you'd prefer for handling graphics.
Lenovo offers the Windows 10 Pro OS usually, but you may go for the Home version as well if that's your preference.


Storage and RAM
There are different ways you can configure the ThinkCentre M720e SFF at the time of buying when the storage and RAM are concerned.
For example, this variant has got a 500 GB SSD as the primary storage drive, while at a lower price, you can also get one fitted with a 240 GB SSD. Or, pay a little more and you get a 1 TB SSD instead.
And the same goes for the RAM, and the 16 GB already present here can be expanded up to 32 GB.
To upgrade memory, however, the 3.5-inch bay has to be removed first. There are two RAM slots in total by the way.
Now depending on what configuration you buy, the expansion options would be available likewise. For example, this one here should come with a free storage bay, but no spare RAM slots.
Ports and Connectivity
The Lenovo ThinkCentre M720e SFF has just the right number of ports that any business owner or office user generally requires.
At the front are two very conveniently placed USB 3.0 ports, the optional optical drive, an SD card reader, and slots for headphone and mic wires.
For other connectivity, at the back, there are the 2 USB 2.0 ports, 2 more USB 3.0 ports, an audio output port, and a serial port. There are a couple of optional ones as well.
A DisplayPort and a VGA port are ready to support two monitors, and the desktop is capable enough to run them, should you choose so.
There's also the RJ45 Ethernet port for wired Internet, but wireless connectivity is not available readily on this desktop. You will have to install the relevant adapters additionally if you need WIFI and Bluetooth.
Additional Features
The ThinkCentre comes with a 180W PSU rated at 85%, so it is efficient at saving power, but it is a non-standard unit, so replacements with 3rd party ones aren't possible.
A wired mouse and keyboard also come with it, which are decent at best, and you may use these for casual usage.
There are several certifications on this, as well as certain security features, as are relevant for office or business users. A 1-year warranty is what comes usually, but it can be extended as well.
Specs:
What Do Users Think about the Lenovo ThinkCentre M720e SFF?
The buyers of the ThinkCentre M720e SFF haven't been disheartened about the overall desktop.
There have been both good and bad things that have been reported about it, which we have summed up here for your convenience.
The design and form- factor were one of the things that were free from any criticism. The compact size of the chassis, easy-to-remove side panel, and the ports at the front was very useful for the users.
The performance had varied reactions, as the desktop performed differently under different kinds of workloads.
Those running CPU-based applications, for example, had very little to no complaints as the Hexa-core processor in this desktop performed as per their expectations.
On the other hand, the integrated graphics, on paper, considerably pulls back the overall performance.
But in real-time usage, office users did not have any issues with it, as basic tasks do not depend on the graphics quality.
But those who were looking forward to using a dedicated GPU were sorely disappointed. Check out ThinkCentre M720e Manual.
Both the users and we think that the connectivity department could use some improvements.
For example, even though it supports two monitors, there isn't an HDMI port. And, a USB Type-C port, inbuilt WIFI, and Bluetooth are also absent, which some may consider as necessities these days.
Other things, like noise or heat-related issues, weren't present, and not many of the buyers have run too intensive things on the desktop either.
So these were the major reactions that we noticed from the buyers about the desktop unit specifically.
Other things, like the peripherals and customer service, were found to be decent, though these too have chances of betterment.