Lenovo Thinkpad P71 Laptop
US 1+
Value for Money Score
8.2/10
Specifications and Features Score
9.2/10
Pros
Fantastic performance
Perfect 4 K displays to rule over
Color correcting concepts are there
Graphics are perfect
Powerhouse as a perfect work station
Cons
SSD could be much faster
Not always an available model.
Little bit heavy as a work station
Little bit heavy as a work station
Speaker is little bit dull.
Have you heard of mobile workstation? If not, don't worry, you will find a typical explanation here as today we are going to highlight a laptop model, which exactly falls in that category. Read detailed Lenovo Thinkpad P71 laptop review.
Mobile workstation is basically a laptop or notebook computer equipped with a number of exclusive computing features, something more than a mere standard laptop.
These exclusive features incorporate powerful processor, high-end graphics card as well as immense additional memory.
As a result, mobile workstations appear quite heavyweight compared to any ordinary laptop device.
They are designed just for brilliant & experienced professionals like you. Check out best laptop brands chosen by our tech team.
Lenovo ThinkPad P71 & Related Laptops Price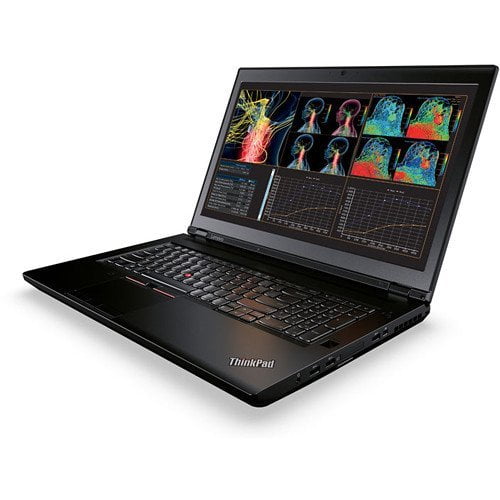 Walmart.com
$1,966.99
in stock
1 new from $1,966.99
as of July 8, 2020 11:56 pm
Amazon.com
Create Your Free Price Drop Alert!
Set Alert for Lenovo ThinkPad P71 17.3'' Premium Mobile Workstation Laptop (Intel i7 Quad Core Processor, 8GB... - $1,752.45
All prices mentioned above are in United States dollar.
This product is available at Walmart, Amazon.com.
At walmart.com you can purchase Lenovo ThinkPad P71 17.3'' Premium Mobile Workstation Laptop (Intel i7 Quad Core Processor, 8GB RAM, 500GB HDD + 128GB SSD, 17.3 inch FHD 1920x1080 Display, NVIDIA Quadro M620M, Win 10 Pro) for only $1,752.45, which is 11% less than the cost in Amazon.com ($1,966.99).
The lowest price of Lenovo ThinkPad P71 17.3'' Mobile Workstation Laptop (Intel i7 Quad Core Processor, 16GB RAM, 500GB HDD + 128GB SSD, 17.3 inch FHD 1920x1080 Display, NVIDIA Quadro M620M, Win 10 Pro) was obtained on July 8, 2020 6:58 am.
Lenovo Thinkpad P71 Laptop Review
Since the current blog is all about complete specs & features of a mobile workstation, we have picked up Lenovo ThinkPad P71 to analyze in detail. It is one of the powerful offerings from the world-class brand, Lenovo.
The laptop boasts of having a radiant 4K display and spectacular design with reliable metallic build. It is truly easy to handle and offers absolute portable convenience to business professionals.
The array of outstanding features such as powerful CPU & graphical processor has made it all-in-one too, so that ThinkPad P71 enables you to get engaged in scientific computing, documentation, 3D design and several other multimedia creations.
As a corporate thinker, you can promptly rely on its performance level, which takes you to the next level.
Specs:
Brand: Lenovo
Hard Drive: 1 TB
Hard Drive Type: Solid State Drive
RAM: 32 GB
RAM Type: DDR4
Processor: Intel 7th Gen Quad-Core i7-7700HQ
Processor Speed: 2.80GHz
Graphics: NVIDIA Quadro M620M
Battery: 8-Cell (96 WHr)
Screen Size: 17.3 inches
Processor Brand: Intel
Product Dimensions: 16.4 x 10.9 x 1.4 inches
Weight: 7.3 lb
Operating System: Windows 10
Reliability
Lenovo ThinkPad series has offered numerous versatile laptop models which are reinforced with advanced & striking components.
You can find a large number of users recommending the ThinkPad laptops for new purchase. They can last for a decade or more, incredible isn't it?
Most of them come with removable components, so that you can have the option to customize or to expand the laptop storage if needed in future.
Besides, you can take them out if any problem occurs during incessant work on laptop. The Lenovo ThinkPad laptops perform exactly which way you want it to do in few hours.
Moreover, they hardly develop any issue or damage, internal or external as time moves on. Read more about 10 best Lenovo laptops.
Performance
How does ThinkPad P71 ensure fastest and enterprise-level performance? The entire credit goes to 7th Gen Intel Quad-Core i7-7700HQ processor which is typically designed to take your sense of creativity to the next level.
The Kaby Lake Processor with 6M cache works at the speed between 2.80GHz and 3.80 GHz to handle intensive activities and deliver speedy performance.
Its Intel vPro Technology turns workstation-level manageability of the laptop more and more efficient.
As far as graphical power is concerned, ThinkPad P71 is equipped with NVIDIA Quadro M620M graphics card for 3D gaming convenience and several multimedia related activities.
The graphics processor holds 2GB GDDR5 memory. For such outstanding graphics quality, ThinkPad P71 offers incredible gaming experience, creating an immersive atmosphere all around.
With addition of brilliant 4K display, the laptop performs as an ideal gaming console to improve your skill.
If you think 17.3-inch Lenovo ThinkPad P71's jam with the perfect one to make your day. It is a having a perfect display with all the related processor.
You can check out some of the best concepts with all the related aspects that offers comfy and caliber in style. It simply gives you the power to monitor all the multi tasking that is necessary for the higher experience in dealing with the best.
Though you can say that this lappy is heavier and on the same note its thinner. You can check out some of the other versions that are definitely lighter yet not thin as it is.
You can check out the real need of the three USB 3.0 ports which will definitely come in handy. In fact the SD card port will more ease up your work.
In the keyboard area you will find something that is truly projected in the air which denotes the finger print sensor to rule your privacy.
Design
ThinkPad P71 is a 17.3-inch mobile workstation laptop, having an awe-inspiring appearance.
Being a large slab of device, it has a sleek and compact design to provide typical carrying comfort right to accompany you everywhere, especially at work.
Its deck comes with little grainy texture while its carbon-fiber lid gives a soft feel & better grip as well. But the material of its keyboard & touchpad is plastic of standard quality to offer great typing experience.
At the same time, the laptop underside of plastic build offers a smooth touch. To be specific and honest, ThinkPad P71 is a bit heavier but slimmer than its competitors bearing similar attributes.
You can check out the best design with the texture finish. In fact it is offering some of the best possible criteria to rule out with the latest formula in dealing with the smoother finish.
This exquisite look will make you feel that you are using something special and worthy of buying.
The Keypad and the touch pads are all giving you the best possible smooth work.
In fact it is truly giving you a better way to put forward all the work and nothing but the work. While using it you will feel that your work is going on with the lighting speed.
Display
What can be more amazing and lucrative than availing a 4K vivid display in a workstation-level laptop?
ThinkPad P71 features the same, not only to reduce your efforts during hectic schedule, but also to entertain you at times when you go through some relaxation.
Its bigger 17.3 inch Full HD Matte IPS screen has a native resolution of 1920×1080 pixels. It produces crystal-clear, vivid and brightest visuals in different lighting conditions, even in low-light.
For your business outing, ThinkPad P71 can be your perfect companion just for such extra-ordinary display features.
The display is suitable for watching all sorts of 4K videos or 4K science-fiction movies because it helps you see every tiny details, every movement with utmost clarity.
Viewing angles on the laptop's IPS display are truly extraordinary with multiple colors remaining powerful enough at 75 degrees to the right and left.
The 4 K display is definitely offering the best support which is genuinely giving the right to discover all that is there in front of you. This display is highly perfect from every single direction.
You can check out all the relative positions that are best for the concern. This is the reason it is know why it is known as the mobile work station. In fact, it is true that the cooler consoles are even making it a wonder.
Storage
As for storage features, ThinkPad P71 is typically a monster. It is loaded with premium quality RAM, hard disk drive and solid state drive to ensure hassle-free performance for longer hours.
The laptop features immense 32 GB RAM for fluid multitasking and faster website loading.
It provides 1 TB HDD in order to create a comprehensive library of requisite files, images, songs, 4K videos, movies and 3D games as per your choice.
At the same time, the device contains 512 GB Solid State Drive (SSD) to improve its performance level to a certain extent.
Convenience Features
If you take a look at its port and connectivity features, you will find this Lenovo mobile workstation as a home to sufficient ports and essential jacks.
The rear section of the laptop contains an HDMI port, double Thunderbolt 3 ports, an AC power port and an Ethernet jack.
The left side houses single USB 3.0 port whereas the right accommodates triple USB 3.0 ports, a headphone jack, a Mini DisplayPort and an SD memory card reader.
More excitingly, the laptop comes with an accurate fingerprint sensor situated along the bottom-right corner of keyboard, catering to various security needs as well.
ThinkPad P71 contains long-lasting battery life. On heavy usage, it can last for 9 to 10 hours without any interruption.
Therefore, this mobile workstation has the ability to suit all your business or professional requirements within official hours.
Whether you are involved in web browsing, image or video editing, listening to favourite music or streaming videos, the laptop provides several working hours to set you free from worries of sudden battery drop-out.
Webcam is an integral part of any laptop and ThinkPad P71 is no exception at all. It comes with a 0.9-megapixel webcam which can easily record a 720p video.
It is a smart component needed for face-to-face business conferencing without being present at meeting.
On the other hand, the laptop will impress you with its Dolby Home Theater technology, which maximizes audio output of the in-built stereo speakers without any sound distortion as well.
You can now enjoy clear, crisp and immersive sound experience while watching your favourite movies, playing online games or streaming professional videos.
In case of the audio, you can definitely speak about the different features that are reliving the moment. These moments are overall all making this laptop much more attractive for all the users.
The overall performance backed up with so many forms to support various software programs, this multi tasker is no doubt giving you a better way to move out. Check out lenovo thinkpad p71 user manual.
What Do Other Experts and Users Think?
According to several tech-geek Like Digit and corporate users, ThinkPad P71 is one of the best workstation-level laptops, they have ever worked on.
Its striking storage features are often appreciated by a number of critics. This all-in-all device comes at a market price to satisfy your big budget.
It also allows you to move into the future world of Professional AR/VR, just without making a compromise on mobility.
Final Verdict
With plenty of best in-class specs and audio-visual attributes, the laptop offers value for your investment.
Not only does it give a marvelous screen for your professional activity, but offers a comfy keyboard & touchpad to enable you to end up with tons of projects within your deadline.
Lenovo ThinkPad P71 will surely win your heart whenever you work on it with active mind.  You can certainly get the best output to relive with perfect work and load.
It is no doubt giving you a new direction to select the best of it. You will be getting the 1 TB SSD, Intel 7th Gen Quad-Core i7-7700HQ processor, which is no way offering some of the beneficial ways of getting all the job done by this laptop.
You can  take a look over the battery back up 8-Cell (96 WHr) covering all the discrepancies.
NVIDIA Quadro M620M graphics is to be honest is adding some striking features. It is giving a bit crazy and perfect aspect to rule over the best. You can check out all the areas with high shots graphical games and designing work.
Everything is being served properly as a dish so that the researcher can make a practice over it.
This foretell that the performance of this product which depends on the purpose you are going to use this baby. Otherwise, it will be perfect to collect this baby any time to set up your workstation