As an Amazon Associate and (affiliate of other merchants) we earn from qualifying purchases without any extra cost to you when bought through our links below.
LG Gram 15Z980 Laptop
USD
Value for Money Score
8.8/10
Specifications and Features Score
8.6/10
Pros
Decent specs for CPU dependent tasks
Thin bezels around the display
Has a Numpad that can be useful
Very light
Features a touch screen
Cons
Price is on the higher side
The lid does not remain stable all the time, especially when using the touchscreen
Lackluster design
Not always available
Glossy display
Verdict
If you're a buyer looking for a thin and light laptop, but don't have any problem with getting an older-gen processor, the LG Gram 15 might be for you.
This variant does have attributes like a Thunderbolt port and a touchscreen but also misses some of the features that a similarly priced modern laptop may provide you with.
LG Gram 15Z980 Laptop & Variants Price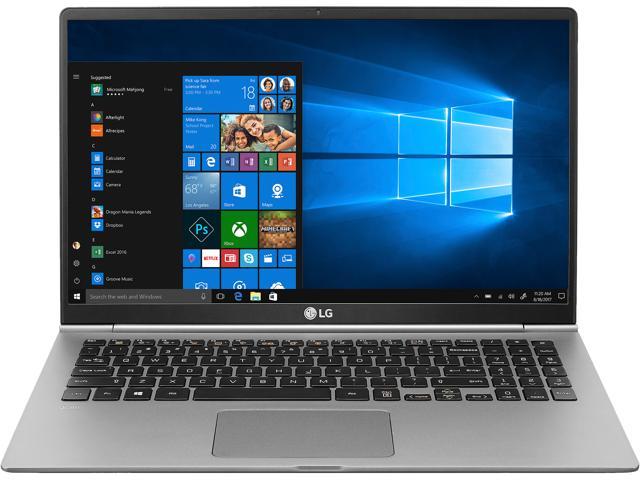 $1,399.99
2 new from $1,199.99
as of October 2, 2023 6:28 am
Introduction
LG is an internationally recognized brand for appliances like TVs, microwaves, and so on.
However, it is also in the smartphone and laptop business, and though some of its smartphones are good, not many of the latter are that well-known.
So today we decided to review one of the laptops of the brand, albeit slightly older, the LG Gram 15 Z980.
But before we talk about anything else, we must say that the laptop is very light, at just 2.4 lbs (1.1 Kgs). And this, among many others, was a solid selling point for the laptop.
However, the scene has changed now as there are more such laptops, with newer processors of course. This variant came with an 8th gen Core i7 processor, integrated graphics, 16 GB of RAM, and a SATA SSD.
Also, there's the touch-screen support, which makes this a versatile laptop, especially useful for someone working while traveling. It does not have a dedicated GPU or other things that gamers would like though.
Now there are certain things about the laptop that you'd like, and then there are those which you won't.
The processor, for example, is not new, and less powerful when compared to some of the newer iterations. LG has launched newer Gram 15 laptops too.
The LG Gram 15 might have lived its days of glory, and today you'll get to know all there is about it, and also if it's relevant. Feel free to share your thoughts below.
Buy for: Slim and light design │ Decent specs │ Touchscreen display
Beware of: Not the most durable frame │ Does not have a dedicated GPU
Best uses for: Doctors, Illustrator, digital marketing and sales promotion and other purposes.
The alternatives:
Design and Build
The LG Gram has a kind of look that is suitable for casual users, as well as professional environments. It doesn't have a remarkable design though, and it is fairly simple.
But the same cannot be said for the display, as it gives a lot of viewing area.
There are very thin bezels on either side and at the top, while the lower border even with the LG branding is a slim one.
This is the FHD touchscreen variant, though a non-touch option was launched as well.
Coming down, the keyboard is very practical and big enough, and so is the touchpad.
The keys with enough key travel and feedback are good for typing. The touchpad is smooth, responsive, supports 4-finger gestures and the buttons on it give proper satisfaction when clicking as well.
And, there's also a Numpad which benefits those that have a lot of numeric to work with.
This is a 15.6-inch laptop, and yet, as we said, weighs only 1.1 Kgs. That is because the entire shell, as mentioned by LG, is made from carbon-magnesium alloy.
However, though it is claimed to be quite robust, the reality is not the same. Certain parts like the lid especially are sort of flexible when applied pressure.
If you're choosing this variant with the touchscreen, you are sure to notice a fair amount of screen wobbling as well.
While this doesn't have a permanent fix, the build of the overall laptop is good. Just make sure you don't accidentally bend or drop it much.
Performance
This is one of the best variants that the LG Gram 15Z980 is available in.
There were other versions too, with a Core i5 processor, a lower amount of RAM, etc. that cost lower. Those are good deals even today, given that you can still find one of those.
Coming back to the unit at hand, this has got a quad-core, 8 threaded Core i7 processor that peaks at 4.0 GHz.
There is integrated graphics, and 16 GB of dual-channel RAM as well, which allows you to multitask, open multiple tabs on the browser, and so on.
However, it does not top the benchmark scores, and other devices of its kind, like the HP Spectre 13 and Dell XPS 13, outdo it in numbers.
But that kind of difference can only be felt when you use one device after the other for the same purpose, if at all.
The display quality is good, with sRGB and Adobe RGB ratings good enough for consuming media.
Its peak brightness levels could use some improvement though, as the already glossy screen makes it difficult to see things in outdoor conditions.
So, there are tons of things that you can use the laptop for, like media consumption, word processing, using software that relies more on the CPU, and even casually playing some games.
While the laptop does not have a dedicated professional usage, it does fulfill some of the criteria that working professionals, like doctors, have.
The touchscreen adds some more functionality, and as you'll see, it also packs enough battery backup too.
Now things that certain other laptops of the kind are better in are read and write speeds.
The laptop, although has an SSD, it's the SATA kind. As a result, any laptop configured with a standard M.2 SSD works faster.
You can however install one of those in this device, but that adds some extra cost.
Even with such a slim frame, we haven't noticed any heating or noise issues on this, which is yet another good thing.
There's Windows 10 Home OS installed so you have both the hardware and software support for most mainstream applications.
Storage and RAM
The LG Gram 15 Z980 comes with a 512 GB SATA SSD already inside it.
Now the speeds that you get on this are more than a hard drive but aren't as much as NvME SSDs. But there is a slot to install a NvME SSD, which works in your favor.
Then there is the 16 GB of RAM in dual-channel, and the frequencies and performance of the memory are decent.
Ports and Connectivity
As for ports, there are two USB 3.0 Type-A ports, a USB Type-C Thunderbolt port, the power jack, an SD card reader, an Ethernet port, and a headphone and mic combo jack.
The presence of the Thunderbolt port does boost the overall connectivity, though you get the previous-gen WIFI and Bluetooth on this.
With the video ports, you can add more monitors as well.
Battery Life
The LG Gram is not only a power-efficient laptop, there's a big battery in it as well.
The 72Wh battery is more than enough for the kind of device this is, and hence you get more than 12 hours of runtime in usual usage, with WIFI turned on.
The average battery backup can be around 10 hours, depending on the tasks and software you run.
While this isn't the benchmark when compared to its direct competition, it is almost as good.
Additional Features
The laptop has backlighting on the decent keyboard, and the same can be said about the webcam present on the upper bezel.
Other than that there's a fingerprint reader integrated with the power button.
The speakers on the LG Gram 15 Z980 are loud, mostly accurate and there's ample bass as well.
The difference is made by the DTS Audio software which can be used to control different aspects of the sound coming out of these.
There are several of LG's native software installed on this, most of which are bloatware.
Among this, however, there is the DTS Audio which you can use to fine-tune the sound output of the speakers.
Specs:
Brand: LG
Screen Size: 15.6 inch
Display: FHD (1920x1080p)
Storage: 512 GB
RAM: 16 GB
Storage Type: SATA
Processor: Intel Core i7-8550
Graphics: Integrated Intel UHD Graphics
Processor Speed: Base frequency 1.8 GHz, can be boosted
Processor Brand: Intel
Product Dimensions: 2.7 x 8.3 x 0.6 inches
Operating System: Windows 10 Home
What Do Users Think About LG Gram 15Z980?
With great features, excellent battery backup, and good performance, the LG Gram 15Z980 has proved to be a laptop that a multitude of users has preferred over the years.
And while it doesn't have all the bells and whistles, there's still a lot of things that the laptop can be chosen for.
The light frame and the touchscreen display proved to be very handy for users who not just have to work indoors, but outdoors as well.
Now they wished that the screen brightness was better so that the work outside could be done more comfortably.
Also, the battery backup of the laptop proved to be sufficient for most kinds of usage. Check out LG Gram 15Z980 Manual.
The laptop performed well and could be used for different kinds of purposes, including the ones mentioned in our review.
The users have found the variants with 16 GB of RAM and a Core i7 processor, like this one, were very adept at multi-tasking, and running mildly intensive software.
There weren't many heating or noise issues reported, which both we and the users have found to be a good thing about this laptop.
Even though it's so compact, it doesn't have these typical issues that other thin and light laptops share.
There were few complaints regarding connectivity, as the laptop has all the necessary ports, including the Thunderbolt and other USB ones.
The WIFI and Bluetooth versions, given the launch date of the LG Gram 15Z980, cannot be criticized.
Now while the overall build of the device was found to be decent, the screen especially when operated via touch or a stylus, was not rigid.
Other than that and the brightness issue, there was also the glossiness that caused inconvenience.
And many users would have liked it more if it looked a bit more premium.
Our Testing & Analysis Report
When we asked casual users to work on the LG Gram 15Z980 laptop and give their feedback. We learned that the battery life of this device is quite impressive.
It is also quite comfortable to use due to its reasonably good keyboard and trackpad. The screen color and resolution of this relatively lightweight laptop also impressed them.
While testing the device for color accuracy with DeltaE ColorChecker, we found that it is quite accurate with a 3+ sRGB deviation, which can be further reduced by setting the display a bit warmer.
However, the visible blue tone deviations give the display a rather cold appearance.
A few technicians working with us found that the processor of the testing device is not overwhelming, according to the Cinebench R15 benchmark. We feel it is all due to its 15-watt thermal envelope.