As an Amazon Associate and (affiliate of other merchants) we earn from qualifying purchases without any extra cost to you when bought through paid links below.
Microsoft Surface Book 2 Laptop
USD
Value for Money Score
9.2/10
Specifications and Features Score
8.6/10
Pros
SD card reader is present
2 full-size USB-A ports
17 hours battery back up
Wonderful fulcrum hinge
Screen and display is perfect
Cons
Its a piece of luxury
Sometimes graphics card is not easily recognised
Obtrusive and Coil Whine is excessive
No Thunderbolt 3 support
GPU load is heavy and highly slow
Verdict
The Microsoft Surface Book 2 is a four-in-one system. It allows you to enjoy the features and functions in four modes while investing on one machine.
A portable machine designed to perfection, it offers excellent speed, brilliant graphics and exceptional creative experience for the users.
The machine is lightweight. The system is easy to carry to office or take it wherever you go. The sleek model looks way different from its peers, compatriots and competitors.
Microsoft Surface Book 2 & Variant Laptops Price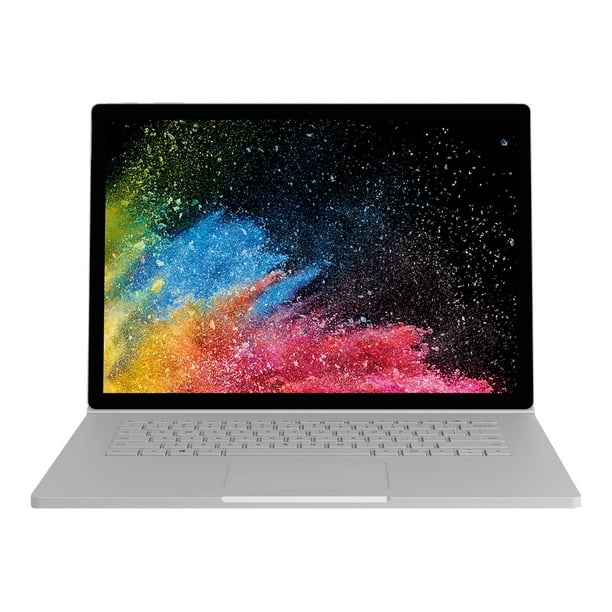 $629.99
$699.99
4 new from $600.00
5 used from $498.00
as of November 30, 2023 4:42 pm
$629.99
2 new from $629.99
5 used from $448.00
as of November 30, 2023 4:42 pm
Introduction
Microsoft claims the Surface Book 2 is a beast and we cannot agree more with them. It is a perfect fit for running high-grade professional apps without any 'fit and start' show or sluggish performance.
The wonderfully designed laptop model is developed to deliver unmatched performance. The lightweight model features a display area fit for touch and surface pen.
That means the users can use the laptop just like a traditional notebook and get their ideas and imagination down fast.  You will see and feel brilliant innovation in every bit of its design.
If you are smitten by its look, let us tell you that there is no way to recover from its uncompromising performance.
With it, you will experience nothing but best performance. This Microsoft designed product is engineered to ensure the best user experience with Office, Windows and high-grade software applications.
It is a versatile laptop easy to adapt to your specific needs. The system will not disappoint the gaming enthusiasts.
Offering amazing battery life and incredible visual experience, it is made to keep you entertained and thrilled anytime.
Microsoft combines the powerhouse with equally innovative and high-performing accessories to ensure a complete package for the users.
Buy for: Battery, screen and display
Beware of: No Thunderbolt 3 and bit slow GPU
Best uses for: Interior design, DJing, elderly parents, working on Photoshop, electrical engineering students, game development, aerospace engineering students, drone mapping and photogrammetry, Cricut Explore Air and Maker, graphics design, Adobe illustrator and other purposes.
The alternatives:
Specs:
Brand: Microsoft
Hard Drive: 256GB
Hard Drive Type: Flash Memory Solid State
RAM: 8 GB
RAM Type: LPDDR3
Processor: Intel Core i5
Processor Speed: 3.5 GHz
Graphics: Intel HD Graphics 620
Battery: 70WHr
Screen Size: 13.5 inches
Processor Brand: Intel
Product Dimensions: 12.3 x 9.1 x 0.9 inches
Weight: 3.38 lbs
Reliability
The Surface Book 2, equipped with a 7th generation dual core i5 processor, 8GB of RAM and 256 GB of storage area, is modelled to offer an excellent working experience for the professionals.
You can use this model in tablet, view and studio modes. The feature makes sure that you have the necessary tools at your hand whenever you need any of those.
Microsoft – the name creates a magic spell on us. It incites excitement, curiosity and expectation in the prospective buyers.
Microsoft is a popular brand throughout the world and its products receive huge welcome and appreciation in the consumers market.
Apart from creating operating system and software apps, it also introduces high-end systems and accessories to cover a wider range of needs of the buyers.
You can check out all the cool aspects which are duly giving you the best best output from everything.
The incredibly powerful Intel processor in conjunction with a dedicated GPU offers ultra speed and smooth performance as needed by the users.
The combination of primary memory and storage space allows the users to run high-end programs and apps whenever they like.
Performance – Processing Power
Design apart, performance matters! Every user needs high speed from the system. On that front, the Microsoft Surface Book 2 is something to take pride in.
Powered by 7th Generation Intel Dual Core i5 processor, it offers decent amount of speed to run professional apps without any hitch.
Bundled with the best components under each category, it delivers extraordinary output whether you are running office apps, movies or games.
This is a multitasking machine. What is more, it can deal with several tasks simultaneously and performance does not suffer.
Meant for the professionals, you will never experience poor or mediocre performance even during the peak hours of the day.
Enjoy games and/or movies whatever you like and it is a guaranteed that you will experience only the best shows.
Benchmarks
CPU:
1. The single-core score of the Intel Core i5-7300U, on Geekbench 5 is 587. And the multi-core score is 1389.
The single-core score of this processor is better than that of Intel Core i3-7100U (572), which is also a very popular processor.
In multi-core score, the Intel Core i5-7300U also has beaten Intel Core i3-7100U (1308). From Microsoft Surface Book 2, the users can get better performance than the Acer Aspire Touchpad A315-51-31GK that has Intel Core i3-7100U.
On the other hand, another i5 variant, Intel Core i5-7260U has a far better score than that of our Intel Core i5-7300U.
The single-core score of the Intel Core i5-7260U is 810 and its multi-core score is 1883. So such a device that has this processor can perform better than Microsoft Surface Book 2.
2. According to CPU Benchmarks, the Intel Core i5-7300U's overall rank is 1467. And its 'Average CPU Mark' is 3726. The single thread rating of the processor is 1952. The average single thread rating of Intel Core i5-7300U is 1952 and it has taken the last place on the list.
3. According to UserBenchmark, Intel Core i5-7300U's 'Average Bench' is 56.2% and it has obtained 625th place out of 1355.
GPU:
1. The average G3D mark, of the Intel HD Graphics 620, in videocardbenchmark.net, is 923. The overall rank of this integrated graphics card is 903. You can't expect a very powerful performance from an integrated GPU.
2. As far as the performance is concerned, you can't get a satisfying performance for it. In all of the performance lists on this website, this GPU is placed in the last position. On UserBenchmark, the Intel HD Graphics 620's 'Average Bench' is 4.6% and it has taken 391st place out of 681.
2. The 3DMark Rank of the Intel HD Graphics 620 is 194. The '3DMark Time Spy Graphics Score' is 337.
Design – Smart, Convenient & Durable
The compact model looks stylish and innovative on the surface and under the lid. The touch-screen model is a beauty in itself.
The design is trendy but unlike the run of the mills. Microsoft has managed to create a unique and fascinating design around the 7th generation processor.
The system is not only catchy but durable as well. Made of premium quality material, it feels strong and durable.
Despite that, it is strangely lightweight. You can easily carry it on your back while going to office or travelling. This way, you can have a setup of your own both at home and workplace.
Apart from being ultra smart and highly durable, it is convenient to use. You will hardly experience any problem while operating the system.
User-friendliness is an important feature and on that front, this Surface Book 2 registers a high score.
The sleek and portable powerhouse allows you to use the system in different modes – laptop, tablet, studio and view.
Detouch the display screen and convert it into a slim and powerful Intel quad core driven tablet. The studio model enables you to write and sketch in a comfortable posture.
Coming with a surface pen, dial and mouse, the system in studio mode ensures an immersive experience for the users.
Push a button, detach the screen, turn it around and reattach it to set the system in view mode.
Use voice commands to interact with Cortana. The mode is perfect for entertainment and gaming experience.
Display – Everything is Special
The Microsoft model offers a larger viewing space measuring 13.5". Check out Microsoft Surface Book User Manual.
The touch screen beauty incorporates a dedicated graphics card (Intel HD Graphics 620 Integrated GPU) for two reasons – to ease huge work pressure off the main CPU and ensure super fast speed for the viewers.
With such a high-end graphics card installed into the slot, the system will never fall short of delivering performance exceeding your wildest expectation.
Based on advanced PixelSense technology, the system offers high resolution of 3000×2000 to provide sharp and clear images.
The multi-touch screen allows the users to easily navigate through the menus and explore the apps and programs with just a few swipes and taps.
Graphics Power – Your Neighbors' Envy
The main processor in combination with the integrated Graphics GPU ensures excellent graphical prowess.
The dedicated GPU along with the speedy processor offers a clear and cool explanation why Surface Book 2 is an awesome system to make your dream come true on the viewing area.
The improved graphics GPU offers an energetic boost to overall system speed and ensures flawless show even when you are running graphic-intensive apps and activities.
Though you hardly need a powerful processor for Office and internet surfing, it feels highly important to play games, do creative works on high-end software apps and watch memory-intensive movies.
NIVIDIA GeForce and Intel Graphics offers excellent graphics support and adds to speed and overall performance.
It lets you build complex 3D models as well as edit images in dramatic clarity.  Enjoy richness in colours and details in images on the screen.
Storage Parts
The feature is definitely not in alignment with the modern industry standard. In fact, the company could have done better on this area.
Still, the feature is not bad if you honestly consider the price point. 8GB of RAM allows speedy boot and reboot whereas 256 GB of Hard Drive ensures quick opening of memory-hungry programs.
The packaging offers ultra convenience and unprecedented performance for multitasking and running high memory apps. You can save more music, movies, apps, games and other files.
Power Consumption – Energy-Efficient Design
The system is brilliantly developed to consume less amount of power and that never inflicts any negative impact on its performance.
Run demanding applications and do complex works while on the move without worrying about its running out of power.
With outstanding battery life lasting up to 17 hours, the machine allows you to browse, work and play longer.
Variants
You can check out that this species are having so many variants of its own. These will help you to decide which is the best for you. Check the variants below:
| | | | | |
| --- | --- | --- | --- | --- |
| SL.NO | Processor | RAM | Hard Disk | Screen |
| 1 | Intel Core i5 | 8GB RAM | 256GB | 13.5 |
| 2 | Intel Core i7 | 16GB RAM | 1TB | 13.5 |
| 3 | Intel Core i7 | 16GB RAM | 512GB | 13.5 |
| 4 | Intel Core i7 | 8GB RAM | 256GB | 13.5 |
| 5 | Intel Core i7 |  16GB RAM | 256GB | 15" |
Additional Specs
Throw a look at its spec chart. It is a challenge that you will gape in awe! Let us start with its mouse.
The surface precision mouse looks smart and offers immaculate accuracy, control and comfort. It allows you to enjoy flawless scrolling.
The mouse features three thumb buttons that are super easy to customize. The feature lets you control three systems simultaneously.
The system comes with a surface pen designed to ensure a far better natural drawing and writing experience.
Ditch your traditional notebooks and go with it to stay in easy flow with its smooth movement on the screen.
Surface Dial is an innovative way to allow the users to interact with technology. It enables you to store, access, navigate and customize the physical tools in this ever-evolving digital world.
What Do Users Think?
Our experts have talked to few users and compiled their opinion about this product.
The users bear no serious grudges against it. In fact, they speak highly about the system. And why not?
They can carry the lightweight system everywhere. However, their praise is based on not only its ravishing look but also its riveting performance.
Via the Microsoft Surface Book 2, they get four systems with a single investment.
From office goers to creative professionals, everyone is happy with its brilliant speed and outstanding display quality.
Such detailing is rare and rich colors only sweeten the viewing experience.
Excellent battery life gives freedom to the users to enjoy movies or complete complex works when they are travelling.
A combination of high power, enriching graphics and smart design makes the system a pride of possession for those who are using it.
Our Testing & Analysis Report
The processor of the Surface Book 2, on the Geekbench 5 test scores 587 points for its single-core performance and in the CPU Benchmarks it scored 3726 points as its average CPU mark.
When we tested it on UserBenchmark, it scored an average bench value of 56.2%.
All these are pretty good scores for a CPU and we were quite pleased with its output when we tested the CPU by performing a varied range of computing tasks using office apps and software programs.
It also showed no notable drops in performance or slowdown when we watched movies or played games on it. It allowed multitasking most efficiently, without compromising on its overall performance.
When we tested its graphics, we found that the average G3D mark according to videocardbenchmark.net is 923. On the UserBenchmark, its average bench value is 4.6%, and its 3DMark Time Spy Graphics Test score is 337. These, however, are nothing extraordinary to handle graphics intensive tasks.
The display of the Surface Book 2 is quite impressive with crisp, brilliant, and colorful images displayed, even while watching Tears of Steel in 4K.
According to our colorimeter and Delta E 2000 color accuracy and deviation test, the display covered about 130% of the sRGB color gamut, which is pretty impressive, with a brightness support of 374 nits, which is much higher than the average of 280+ nits for laptops within this category.
The keyboard is quite nice and achieved a typing speed of about 120 words per minute on the 10fastfingers.com typing test with 1% error rate. The mouse is equally good.
As for the battery, in our battery rundown test, it lasted for more than 13 hours on a single charge while used at fixed brightness, computing and browsing the internet continuously over Wi-Fi.
Questions & Answers:
Is the Surface Book 2 still worth It?
If your basic requirement from your PC is portability, then it is very hard to find a competitor for the Microsoft Surface Book 2. But here you will not get great graphical support.
If you need to perform high-graphical tasks, then this will not be the best fit for you. Yes, with time new models have come into the market with better features and configurations. You can consider them.
What is the launching year of Microsoft Surface Book 2?
Microsoft Surface Book 2 was launched in the middle of November 2017.
Is the Surface Book 2 good for gaming?
This particular edition of Surface Book is not made for gaming. Portability and smooth multitasking were the main focus of the developers. The gamers should search for a better option.
Thanks for your feedback!