Microsoft Surface Pro 6
US 1+
Value for Money Score
8.8/10
Specifications and Features Score
8.6/10
Pros
Impressive design
Touchscreen display
Good battery life
Decent performance
Compact Size
Cons
No Thunderbolt port
Limited Storage
No USB Type-C port
Restricted Upgradability
Outdated features
Read Microsoft Surface Pro 6 review and see the best price. The Surface series from Microsoft has been the answer when people were looking for dependable 2-in-1 laptops.
A device that can act like a tablet, while also works the same as a computer when you add a keyboard, isn't that interesting? With both touch-screen and most of the functionality that a laptop offers, the brand is back with the Surface Pro 6.
It has got a sleek design, and at the first look, one might easily mistake it for an iPad. There are 8 gigs of RAM, an Intel Core i5 processor, and enough scope for you to show all your creativity with the Integrated graphics.
All of this comes with a negative side, and that is upgradability. Thus the device is more like a multi-purpose tablet. It can be very useful to you if you intend to travel around much or require a touchscreen.
Also, with a price tag such as this, the extra features it offers are much worth it. Check out top 10 laptop brands.
Microsoft Surface Pro 6 & Variants Price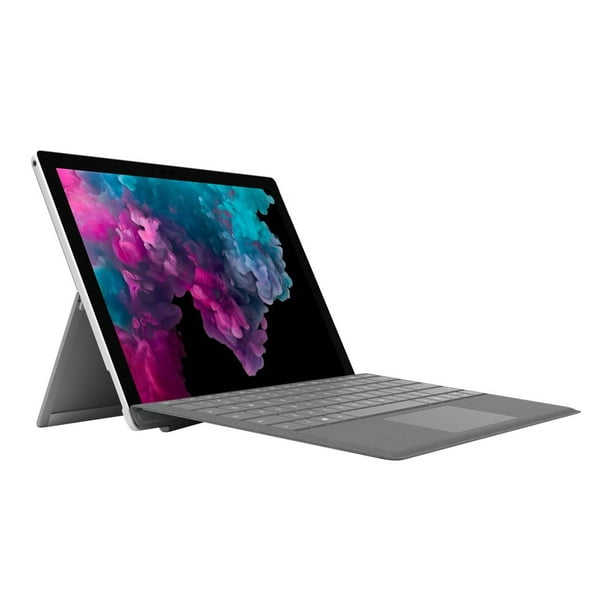 $684.80
$899.00
in stock
17 new from $684.00
8 used from $605.00
as of April 15, 2021 6:01 am ⓘ
$800.00
$1,199.00
in stock
8 new from $799.00
7 used from $754.00
as of April 15, 2021 6:01 am ⓘ
$1,295.00
in stock
5 new from $1,295.00
5 used from $1,050.00
as of April 15, 2021 6:01 am ⓘ
Create Your Free Price Drop Alert!
Set Alert for Microsoft Surface Pro 6 - Tablet - with detachable keyboard -
Core
m3 7Y30 / 1 GHz -
Windows 10
... - $632.98
All prices mentioned above are in United States dollar.
This product is available at Walmart, Amazon.com.
At walmart.com you can purchase Microsoft Surface Pro 6 - Tablet - with detachable keyboard - Core m3 7Y30 / 1 GHz - Windows 10 Home - 4 GB RAM - 128 GB SSD NVMe - 12.3" touchscreen 2736 x 1824 - HD Graphics 615 - Wi-Fi, Bluetooth - platinum - with Surface Pro Signature Type Cover (platinum) for only $632.98, which is 51% less than the cost in Amazon.com ($1,295.00).
The lowest price of Microsoft Surface Pro 6 (Intel Core i7, 16GB RAM, 512 GB) Black was obtained on April 14, 2021 11:04 pm.
Microsoft Surface Pro 6 Review
Buy For: Highly portable design│Attractive display
Beware Of: Low storage in this variant│Average Graphics
Verdict
The Surface Pro 6 provides you most of the stuff that you'd expect from a 2-in-1 laptop at this price range. When the light form-factor but an older processor is fine with you, it is a great choice. Whether you are interested in buying the keyboard or the stylus is something at your discretion.
Design and Build
Surface Pro 6 has been kept especially thin at just 0.33 inches and is also very lightweight at the same time.
With the clip-on keyboard attached, it doesn't weigh more than 2.5 pounds (1.13 Kgs).
There are only a few 2-in-1 tablets like this that are so easy to carry.
It would take less space than a laptop, and just some more than a big-screen smartphone.
Talking about big screens, the display you get in the device is 12.3 inches. The screen size isn't bad right at all.
Moreover, it would give you the feel of an ultrabook while working on it, but won't be as heavy.
The resolution is excellent at 2736 * 1824 pixels, and though it isn't 4K, the visuals are rich and saturated enough.
However, a thing we didn't like is the bezels. Those are thicker than most modern devices that reduce the viewing area.
We have to keep in mind that it is more like a tablet, and so the build quality is as good as it gets.
The build has been completed with magnesium and you could feel a metallic luster as soon as you hold it.
So while it is easy to travel with, a fall would be too much for it to handle.
But to reduce the risks of that happening, there is some sort of a texture present that allows more grip.
Performance
The variant we are reviewing has got a quad-core i5-8250U CPU which is not a robust performer, rather a power-saving one.
The speed without turbo is 1.6 GHz and can be boosted to 3.4 GHz. The benchmark results are decent on this, and the only 2-in-1 that could outperform it was the Apple iPad Pro.
The graphics capability is limited with the Integrated Graphics 620 present inside, and we could see no way of adding a dedicated GPU.
The display is a bright one, with the peak brightness recorded at 408 nits, which is more than most mid-range laptops offer. You can thus work outside and utilize the portability it provides you.
With the given specs, the tablet can do a lot of multitasking and a medium level of editing. Thus editing photos, videos would be just as smooth as simple web surfing and document editing.
Again, this is not something that you would use primarily for professional purposes so the performance is satisfying.
The stylus does seem to boost the overall productivity, but you would have to buy one separately. Things are the same with the keyboard.
Another reason people like devices like these is for the gaming experience. Well, you can play games on it, but the performance wouldn't be exceptional.
Decent frame rates were noticed in some of the games, but it won't be able to run the popular titles that you could have played if you had bought a desktop or a laptop in this price range.
There is another variant that offers a better i7 CPU and some more storage that you might consider, or you may go for the latest iteration of the tablet, the Surface Pro 7.
But the good thing is that no matter what your profession is, whether you are a student, or need a tablet to spend free time reading or binge-watching TV shows and movies, the tablet would be of use to each one of you.
The Windows 10 Home OS is present in this variant.


Storage and RAM
The storage is of 128 GB in the form of an SSD, but this isn't as fast as we had expected. The speeds are average, but the storage capacity is a much greater concern. The options go up to 1 TB though.
The 8 GB of DDR3 RAM operates at a speed of 1866 MHz. It is the most speed DDR3 memory can offer, so you must decide if you would be satisfied with it at a time when DDR5 memory is almost here.
Honestly, it won't make an extreme difference, but there would have been a performance difference if at least DDR4 was used instead of DDR3.
Ports and Connectivity
There is a single USB port and a display port present on this device. You would find a headphone jack that can be used to connect a microphone too.
The WIFI spec is 802.11ac, which isn't the latest since WIFI 6 is available now. You also get Bluetooth 4.1 connectivity.
Battery Life
The battery life that you would get is 5-6 hours on average, depending on how the tablet is used.
For watching movies and other simple tasks like that, you would easily get 7+ hours, while on increased CPU usage that reduces to 5 hours at most.
The brightness you set also has a role to play here, and a lower brightness would make sure you don't have to carry the charger when going to the office.
Additional Features
There are two cameras, one at the front and the other at the back. The front camera is of 5 MP that gives a decent video calling experience.
The one at the back is 8 MP, and you might try some basic photography with it.
There are other sensors present like the gyroscope, ambient light sensor, etc that could prove to be useful for you.
The laptop only comes with a power adapter, and you would have to buy other accessories separately. A standard warranty of one year is provided.
Specs:
Brand: Microsoft
Display Size: 12.8"
Display Type: 2736*1824 pixels
Storage: 128 GB SSD
RAM: 8 GB
Storage Type: M.2
RAM Type: DDR3
Processor: Intel Core i5-8250U
Graphics: Integrated Graphics 620
Processor Speed: 1.6 GHz base speed
Processor Brand: Intel
Product Dimensions: 11.5 * 7.9 * 0.33 inches
Operating System: Windows 10 Home
What Do Users Think about Surface Pro 6?
Most of the users of the Microsoft Surface Pro 6 are happy with the device and are impressed by the performance of such a thin and lightweight machine.
It could serve them both as a tablet and a laptop at the same time, which gave a lot of conveniences to work while traveling.
It was able to attract a lot of audience from different spheres of professions, and even students were benefited from them.
It had all the good qualities, and a smooth touchscreen too. Moreover, decent cameras made it possible for attending meetings or lectures as easily.
However, some users were disappointed with lesser upgradability options and the high price for more storage.
Some of them have also favored buying a laptop instead of at this price tag so that they could get a bit more performance and more ports.
Then, the accessories like the stylus had also to be bought separately, which added costs. Check out Surface Pro Manual.
The final price could have fetched better devices than this one. The absence of a Type-C port in today's high-speed world was a big concern for yet others.
So overall it can be said that although the device attracted a lot of buyers, only those with specific needs found it more useful than the others.
Other Expert Views
The experts of Laptop mag consider the Surface Pro 6 as one of the best 2-in-1s at the time it was launched. The buyers would be benefitted from the portability it offers, among other features. The iPad Pro might be a better performer, but the Windows OS is friendlier.
As per CNET, the newer version of the Surface has brought progressive changes in performance, but the design is still the same. However, these changes are very limited, so there are both noticeable strengths and flaws.
It can be concluded from Tech Radar's review that they consider the Surface Pro 6 as an average upgrade from the previous model. But when someone is buying a Windows tablet for the first time, features like long battery life and slim design make it worth the price. The new color option makes it very attractive as well.