eComputerTips is reader-supported. When you buy through links on our site, we may earn a small commission without any additional cost to you.
Value for Money Score
8.7/10
Specifications and Features Score
8.6/10
Pros
Versatile design
Good PixelSense display
Touch support
Good audio quality
Small and light in weight
Cons
Small screen
Thick bezel
No optical drive
No fingerprint scanner
Limited ports
Verdict
The Microsoft Surface Pro FJX is a powerful machine to support daily as well as few complex computing tasks. In spite of its small size and a small screen, the touch support ensures better and smoother operation.
The storage and RAM included in the system will provide adequate support to the performance level of the system, which you can even personalize using several Surface accessories.
Microsoft Surface Pro FJX Laptop & Variants Price
$314.00
$334.97
19 new from $314.00
4 used from $299.99
as of December 9, 2022 3:56 pm
$749.96
9 new from $749.96
19 used from $248.99
as of December 9, 2022 3:56 pm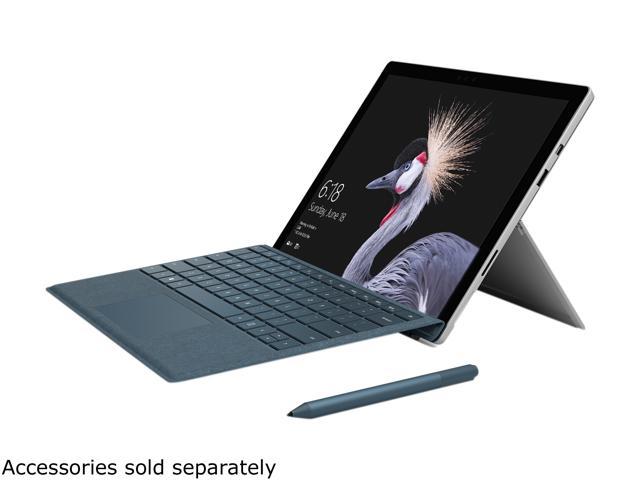 Introduction
Whether you consider the design or performance of it, the Microsoft Surface Pro FJX laptop is much better than the other models that come with similar specs.
This new item in the product line is the most versatile and reliable laptop they have ever made, claims Microsoft.
Literally, you will see that the entire system is fully redesigned from the inside out. There are lots of advanced hardware components and custom parts are used in its making, and all of these are brand new.
You can rely blindly on the performance of each of these parts in its chassis, whether it is the battery which provides more power, or the Intel Core processor that comes with high-performing capabilities.
Both the hardware and the software of this unique machine will provide you with 2.5 times better performance than other Surface Pro models.
The display, though very small, is superb and supports touch. This will enhance your operation and navigation through the apps and tabs on the screen directly.
This is very helpful for students as well as others who need to take a lot of notes or type a lot for their job.
As for the mobility aspect, it will be uncompromising. You can rely on this extremely lightweight machine and carry it virtually anywhere you feel like.
It will provide you with reliable service whether you work from home or office, whether you are a professional content developer or a creator, a student or just an average user to do your daily computing tasks on it.
The best part of this Surface Pro is that, just like the others, you can also use several accessories that will increase the efficacy of the machine as well as your productivity at the same time, with everything at your fingertips.
The system supports using a Surface Pen, Surface Dial and Office. You can use them all most conveniently and convincingly to run all the tools and apps that come with Windows, including those 3D creation tools.
You should also not worry about the security aspect while using this machine.
Apart from the operating system preinstalled in this unit which is safe and secure all by itself.
You can even rest assured and rely on the Windows Hello support of it that will allow you to sign in to the system much faster without needing to type in the password every time, but in a most secure way.
In short, this system will enhance your user experience and allow you to personalize it as well to express yourself in a much better way.
You can make it look more stunning and work better using the next-generation creative tools such as the new Surface Pro Signature Type Cover, Surface Arc Mouse, and more.
All these come in a rich color array for you to choose according to your preference.
Buy for: Fast performance, good battery power, improved cooling system, good acoustics.
Beware of: Integrated graphics card, no Thunderbolt 3, all accessories are sold separately.
Best uses for: Working from home, students, beginners, travel and digital nomads and other purposes.
Design and Build
It is the design and use of premium material in its build that makes this Surface Pro so unique and useful for people to use it for studying, working from home, office, or even on the go.
This ultra-light machine, which weighs less than 2 pounds, will offer you with optimal mobility and at the same time will ensure that you stay productive all through the day.
The appearance of the machine is softer yet attractive. The design makes it safer to use as well with its rounded edges.
The small chassis of this machine holds all those useful and high-performing components that will produce the best and most desired results always and every time you use it, indoors or outdoors.
The design and the strong hinge make this system more versatile than ever. You can use this system in three different modes according to your needs and preference.
You can use it as a regular laptop mode by opening the kickstand built in it. This kickstand now comes with a stronger and deeper hinge.
All you have to do is add a removable Surface Pro Signature Type cover. If you do not want to go through it, you can even use a Microsoft Surface Pen as well to work directly on the touch screen.
Both of these, the Type Cover and the Pen, are however sold separately.
You can even use it in the Studio mode by lowering the kickstand. This will provide you with a perfect angle suitable for drawing or writing on the touch screen directly and more conveniently.
Yes, you can also use it as a tablet by closing the next-generation kickstand. You will also need to fold back or remove the Type Cover so that you have a standalone tablet with powerful features.
Even the accessories to use are designed and built in such a way that it will add to your Surface Pro experience.
The redesigned Surface Pro Signature Type Cover will add to the appeal and give the system a touch of luxury.
Built from the premium quality and top-quality Alcantara material, this Type Cover is a mark of style, technology, and comfort.
Similarly, the Surface Arc Mouse, the Surface Pen, The Surface Dial for on-screen support, and more will allow you to do your everyday tasks on this computer more efficiently.
All these accessories come in a rich color array for you to choose according to your preference.
In order to offer you with a real-time and natural writing experience and more artistic shading, the Surface Pen is designed with a new tilt. On one end there is a rubber eraser and on the other is the precision ink.
This will allow you to sketch, shade, paint, and edit them to bring in the artistic precision. This Surface pen is highly responsive, even to the lightest of touches, thanks to the 4,096 pressure points.
As for the Surface Dial, it will simplify and enhance your workflow with an immersive and most natural way of getting things done more quickly and easily. Just press and hold it to see the radial menu of tools that you can use.
And the Surface Arc Mouse, which is built light, slim and easy to carry, will adapt to your hand. While carrying, you can snap it flat so that it fits in your bag easily. This Arc Mouse is connected to the system through Bluetooth.
The small display of the system is built to be strong, which is why the thick bezel. This PixelSense display delivers stunning images and supports touch and pen.
This LED display saves a lot of energy as well while exhibiting images at 267 PPI resolution at 3:2 aspect ratio on the screen that supports 10-point multi-touch.
Performance
Apart from the exceptional power, the system also promises a power-packed performance.
The Intel Core i5 processor will deliver more than you can expect with its enhanced speed and its dual cores.
It will be able to handle any type of data strings as well as run most of the desktop software programs most efficiently and smoothly, being one of the most powerful laptop grade processors.
The integrated Intel HD Graphics 620 will also provide adequate support to the performance of the system with its improved design and capabilities.
With its 1 GB RAM size, it can produce some of the best graphics with most accurate color reproduction to make the images on the screen look stunning and seamless.
The Windows 10 Professional operating system, on the other hand, with its 64-bit architecture will ensure that your productivity and workflow is never compromised.
It comes with useful tools and features that will help you immensely in your computing tasks as well as ensure that your system is well protected and secured.


Benchmarks
CPU
1. The Microsoft Surface Pro FJX comes with an Intel Core i5-7400 processor. The average CPU mark of this Intel processor is 5505. The single-thread rating of this chip is 2099.
The technical experts of this benchmarking site analyzed 3473 samples and they have assigned an overall rank of 1230to it. Another good point of this processor is the low margin of error. 44.76 is the CPU mark value of this processor. 
2. According to the UserBenchmark, the average bench score of Intel Core i5-7400 is 69.1%. The 1368 processors were examined by the technical experts and among them; this processor has ranked at 382nd position.
As a gaming processor, it has scored a benchmark of 69%. The benchmark scores are 74% and 52% for regular desktops and workstations respectively.
GPU
1. The Microsoft Surface Pro FJX comes with an Intel HD Graphics 620 integrated graphics chip. The average G3D mark of this graphics card is 923. The average G2D mark of this GPU is 219. The technical experts of this benchmarking site analyzed 10767 samples and they have decided to give it an overall rank of 912.
2. According to UserBenchmark, the average bench score of this graphics card is 4.59%. The technical experts have examined 688 graphics chips and among them, it has ranked at 400th position.
RAM & Storage
There is a slot on the motherboard that holds the 8 GB RAM. Check out best laptop brands.
This DDR3 memory is quite good enough to support multitasking with its pretty large layout and 1600 MHz bandwidth.
The storage space offered by the system is 256 GB, which is quite adequate to store a lot of files.
The SSD will ensure that the boot up time is reduced and you can access the stored files much easily and quickly.
Ports & Connectivity
Apart from a full-size USB 3.0 port, you will also get a Micro SDXC card reader slot, a Mini Display port, a cover port, as well as a 3.5 mm headphone jack in the system.
It may not be adequate in number, but is good enough for a system of this stature.
The laptop offers wireless connectivity of 802.11a, 802.11b, 802.11g, 802.11n, and 802.11ac wi-fi standard.
It also supports Bluetooth 4.1 wireless technology.
Battery Life
The lithium polymer battery included in the system lasts for about 13.5 hours, even for video playback, on an average.
It is exceptionally good and as expected from a system as small as this. In fact, this system offers a battery life that is more than 60% of that offered by the previous generation, allowing you to work on it all day, even outdoors.
Though the refined design of the battery will not let you down, but, it is good to know that the battery life may vary significantly depending on your usage, the power settings, as well as several other factors and circumstances.
Additional Features
The system comes with a rear webcam which has a resolution of 8 MP and autofocus feature to take clear images when you make a video call.
This 1080p camera is also good enough to shoot full HD videos.
You will also get a front facing camera which supports Windows Hello authentication. This 5 MP 1080p camera can be used for shooting Skype HD videos.
There are also dual stereo microphones built in it which ensures that what you say is clearly captured.
As for the sound system, the device comes with dual stereo speakers of 1.6 watts that feature the Dolby Audio Premium technology to ensure that the sound produced is clear and loud.
A limited warranty for one year is also provided with the package for any hardware defects in the system.
Specs:
Brand: Microsoft
Screen: 12.3 inches
Display: PixelSense (2736 x 1824)
Storage: 256 GB
RAM: 8 GB
Storage Type: SSD
RAM Type: DDR3
Processor: 7th generation Intel Core i5
Graphics: Integrated Intel HD Graphics 620
Processor Speed: 2.6 GHz
Processor Brand: Intel
Product Dimensions: 11.5 x 0.33 x 7.93 inches
Operating System: Windows 10 Professional
What Do Users Think about Microsoft Surface Pro FJX?
The design of the laptop is what impressed most of the users. It is this design that has made this device so versatile, they felt.
They said that they can use it in different modes as they want.
The strong and advanced hinge allows them to fold the kickstand all the way down to 15 degrees to use it in the Studio mode which ensures that the Surface Pen can be used most naturally.
In addition to that, they said that the overall design gives this device the premium look and feel.
The device operates silently and stays cool, said a few other users, even if they use it for several hours at a stretch.
The vent slots are strategically placed around the top edge, which are almost invisible.
It seems that Microsoft has made quite a lot of improvements in this machine as compared to their other Surface models to make it more flexible and high-performing.
They even said that this device is definitely on par, if not better than, an iPad. Check out Microsoft Surface Pro Manual.
The battery life as well as the performance of the system are the two basic factors that a few users liked about this device.
They said that, though a battery life of 13.5 hours of video playback is a bit of an exaggeration, it does provide them with all-day power, and the real-world battery life never lets them down when they use it for their work, even while they are traveling.
This is a perfect device for basic computing jobs and gameplay which can be used by an average user, a business owner, or even a student.
The device has no issues in running all the apps and installing all their personal files in it, said a few users.
The storage, both in capacity and type, is good enough to boot up the apps fast.
This, according to them, is one of the best and most productive portable digital sketchbooks for people who do not want to use it for any serious or graphics intensive tasks.
The touchscreen feature makes this small and thin laptop even more useful and easy to operate, said a few users, students especially.
The screen is quite responsive and so is the Surface Pen, which also has an eraser on one end to give it a natural feel of a pen.
The higher initial activation force of it and the precision ink makes writing and drawing look most natural and easy.
In spite of its small size, it is able to meet with all their personal, educational, and other needs most comprehensively, they said. However, the ports seem to be far too less in this device, they lamented.
This portable device is not designed just for fun, commented a lot of users. This is a good enough and powerful device to meet varied computing needs of different people.
It helps the students to take notes and draw images during lectures. Office workers and business executives can use it as a digital whiteboard during meetings and presentations and even hook it to a projector.
Professionals can also use it for teaching, manipulating Photoshop images and CAD files on the go, and even compile and share PDF files with others.
With a lot of features and functionality, this sleek machine has all the ability and competence to replace a traditional laptop, felt by a lot of users.
It is ultra-portable, it is designed for content creation and consumption even on the go, and is as good as it can get, although limited to general purpose work.
It is snappier in performance, the storage is very fast, the screen is excellent, and does not heat up under pressure. However, they craved for more USB C ports in this solid and stylish performer.
Other Expert Views
This is a versatile laptop, thinks Laptop Mag, which can be used in different modes according to the choice and needs.  It is much more improved than the previous versions both in design and performance, they said, but comes with a very limited variety of ports.
Trusted Reviews were very specific about the thinner and lighter built of this system along with its latest laptop-grade than mobile grade processor and an exceptional battery life. It is fast, but it is meant for basic computing tasks only.
It is quieter and faster in performance, said IT Pro. The improved cooling system, the immersive audio experience due to the front-facing speakers, and the strong hinge, makes it a system worth every penny. However, the accessories are sold separately.