eComputerTips is reader-supported. When you buy through links on our site, we may earn a small commission without any additional cost to you.
Value for Money Score
9.0/10
Specifications and Features Score
9.0/10
Pros
Big performance improvements
PCIe SSDs
Higher contrast ratio
Brighter display
Video & Photo editor
Cons
Debatably dated parts inside
Still pricey
Inconvenient port placement
Not upgradable
No HDR support & no Thunderbolt 3
Microsoft Surface Studio 2 is an excellent touch-screen system for all kinds of digital creations. Let us check out Microsoft Surface Studio 2 Review.
Surface laptops and tablets from Microsoft are widely popular throughout the world. Check out best desktops.
However, the elite brand has only single offer in form of Surface Studio 2 for the creative minds. It is the most advanced version of the touch-sensitive all-in-one desktops.
Microsoft Surface Studio 2 & Variants Price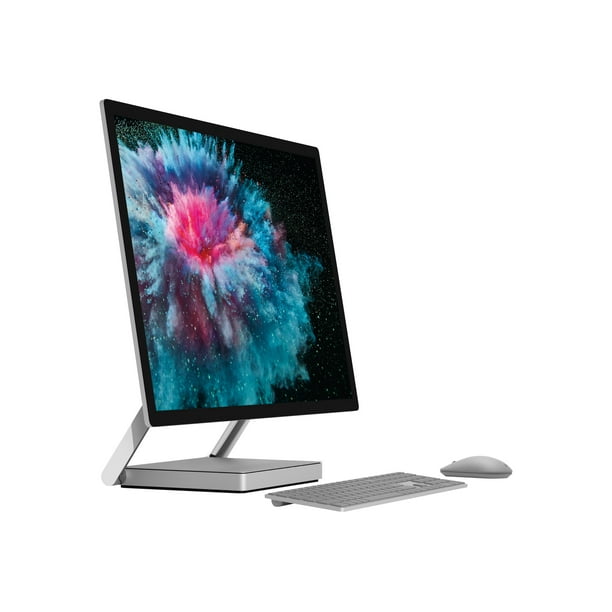 $4,699.00
1 used from $4,699.00
as of September 29, 2022 5:57 am
Create Your Free Price Drop Alert!
Set Alert for Microsoft Surface Studio 2 28" All-In-One Intel
Core
i7 32GB Memory 2TB SSD (Latest Model)... - $4,179.99
Microsoft Surface Studio 2 Review
Buy for: PCIe SSDs and brighter display
Beware of: Still pricey
Best uses for: Adobe Illustrator, video editing and other purposes.
Honestly speaking, it is one of the best al-in-one desktop systems for digital media artists and creators.
Yes, the price tag is scary but considering what it comes with, the system deserves that much.
Supported by Intel Core i7 processor, SSD storage and discrete NVIDIA GeForce GPU, Surface Studio 2 will tease the creative people to explore their potentials.
Adding to their enthusiasm of exploring new ideas is amazingly large 28" PixelSense Display coupled with a striking touchscreen and 13.5 million pixels of true-to-life colours.
The system enables you to keep your creative juice flowing with an improved Surface Pen.
Lighting speed, outstanding picture clarity and a box of accessories will definitely fire up your creative zeal, thanks to Surface Studio 2.
Let us now move forward to discover what it has in store for us. Check out Best Desktops for Fusion 360.
Specs Details:
Reliability
Microsoft Surface Studio 2 is claimed to be the ultimate creative studio for the digital artists.
The first version of Surface Studio became a hot favourite with the creative pros, mainly due to its amazing PixelSense display, excellent pen support, easy-to-change hinge design and last but not the least, exciting performance.
The company favoured all-solid-state drives as storage, heavier graphics hardware and improved version of the PixelSense display offering enhanced contrast and brightness.
It can be put without any inhibition that the best is back with a bang! Check out Best Desktops for Music Production.
Performance – Processing Power
Microsoft Surface Studio 2 borrows power from Intel Core i7 processor. With a combo of high-end processor and 32GB RAM and 1 TB hard drive, the all-in-one desktop performs at lightning speed.
The system allows you to edit magnificent photographs and enjoy top-notch performance with processor-intensive software apps.
The processor offers a great deal of processing power, with no immediate impediment to its astounding performance.
The downside is, the all-in-one system is likely to age sooner than the models packed with more recent hardware tools.
Believe it or not, our experts run 30+ browsers simultaneously in Microsoft Edge (the default browser of the Surface Studio) while enjoying music streaming and movie trailers in 4K.
At no point, the machine went slow or struggled to perform as they kept switching between tabs. Check out top 10 desktop brands.
Build & Design
If it comes to exterior design, Surface Studio 2 resembles its 2017 predecessor but that's not an issue at all.
It lags much behind iconic iMac in terms of world-wide popularity. However, the latest version is a refined all-in-one desktop. It weighs only 21 pounds and features a superlative looks.
Sleek, elegant, polished and other adjectives used for defining a great-looking item apply to this model.
Most importantly, the desktop has a very useful design that is conspicuously absent in a large number of all-in-one systems.
According to Microsoft, the touch-screen panel is rested on a "zero gravity hinge". The spring-supported dual hinge allows the users to position the screen upright or down low to use touch screen and stylus with a more comfortable ease.
The low angle allows you to position the screen in such a way that using extended stylus feels more efficient and comfortable. The hinges also make it easy to make height and angle adjustment with supreme ease.
Surface Studio 2 flaunts off a modern look. The design is pretty simple and clear. You can easily tilt the display to from upright to any drafting table angle that seems perfect.
Display
Microsoft has gone extra lengths to make sure that the users never get tired of talking about display of Surface Studio 2.
By leveraging the strikingly extensive 10-point multitouch support from Windows, this all-in-one system offers a display-fast experience to the users.
In addition, the system comes packed with a Surface Pen that offers excellent tilt support and stylus input boasting pressure sensitivity on 4, 096 levels.
As a result, you will always have an immersive experience of natural feeling while writing and drawing on the screen.
The 28-inch is unlike other all-in-ones. It looks a bit square and ensrues a better reading experience for e-magazines, digital books and websites. It also feels comfortable while using the likes of Microsoft OneNote.
The quality of 4K video will impress you a lot. Clarity and colours will simply bowl you out. I bet that it will be one of the most vivid displays you have ever seen till date.
The display quality is definitely very accurate guaranteed by only a few all-in-one in the same category.
The model marks a serious improvement on the last year's version and places Surface Studio 2 in the same line with other amazing arrivals including Apple iMac Pro and Dell XPS 27 7760.
Brightness is exceptionally strong and that is why, it is in the pack of some of the all-in-ones offering the brightest displays.
From a technical viewpoint, PixelSense embedded in Surface Studio 2 is Microsoft's replay to Apple's Retinal branding and has some serious features. Surface Studio 2 is the single all-in-one display that can effectively throw a challenge to 5K display of Apple Mac.
The display screen is pretty reflective. It easily catches ever glare and creates mirror-like reflections in desktop and drawing postures as well. The screen looks pretty fine for nearly all applications but many photographers and artists prefer a matte display.
Photo & Video Editing
With a wide display and a beautiful screen, you can definitely think of multi tasking.
It is truly an inspiration for all the users who are doing creative style. In fact, those who are taking the video editing and photo editing as their passion and easily pull up the cost of it.
It is easy to do the graphics and spreadsheets in the wider screens. Check out top 10 desktops for photo and video editing works.
It is having a vivid color settings, easy switch of DCI-P3 or sRGB, it helps in selecting exact color which is definitely a boon for all the graphic designers.
Graphics Power
In Surface Studio 2, Microsoft has tossed NVIDIA GeForce GTX 1070.
As a result, the system delivers even beyond your expectation when it comes to content creation.
This all-in-one touch-centric machine has got enough oomph factor to offer an engaging gaming experience during off hours.
Storage Power
With 1 TB of Hard Drive you can now have the eligibility to store more than enough.
In fact for the photo editors and gamers space is definitely a factor. It helps in running the whole machine fast and effective for all the creative digital artisans.
Additional Features
Microsoft Surface Studio 2 comes with a pack of wonderful accessories to complete your experience as a creative person who loves working on digital media. Let me introduce you to the bunch of these accessories.
Surface Ergonomic Keyboard: It features a low-profile design. The keyboard offers speedy and smooth typing experience. Microsoft has made some subtle changes in the keyboard design (for example, keytop geometry, naturally arched space and split space bar) and these protect your wrist and fingers from strain and enhance your typing speed.
Surface Precision Mouse: It enables you to stay productive and creative with a strong assurance of flawless switching between devices, three programmable buttons and a patented customizable design.
Surface Dial: It helps you discover ways to customize, access and store tools in this digital world. From conceptualization to creation, it makes everything possible for you!
Surface Headphones: At your home or workspace, in the air or on the train, enjoy songs and movies in style and comfort throughout the day! Phone calls and music will sound melodic with clear and rich audio output as well as adjustable noise cancellation. It allows you to use your voice to experience more!
We will not proceed to other additional features of Surface Studio 2.
Ports: The square-shaped base of Surface Studio 2 features a rounded back end in perfect keeping with the curve of bottom hinge. Set the all-in-one into the curved rear face and you will find a number of ports.
Audio: Audio quality is exceptionally good. It is equipped with multiple built-in speakers and they offer premium quality sound. The crisp clarity and high-quality sound will spice up your free time.
What Users Are Talking About?
Surface Studio 2 gets an excellent design and everyone is talking about that. Check out Surface Studio 2 Manual.
However, one point that catches attention of the creative flocks is its large 28-inch screen, picture clarity and vivid colours. Adding to the rich mix is super audio quality.
Meant to be a good friend with the digital artists, Surface Studio 2 comes with a box of some amazing accessories ranging from Surface Dial to Surface Headphones, with keyboard and mouse also exhibiting some useful patented characters.
Other Experts View
According to Techradder, this one of best and it is better not to compare with other machine. It is designed for the special people. It is the most robust design made so far by the makers.
It is a best drafting digital table that you can think of. This is specially crafted for the people who are into the creative creations. For all the visually focused contents this is the ultimate machine for its creation. It is designed to beat all the outdated parts.
According to Tomsguide you can say that it is one of the best creation from the makers for all the digital artist out there. But honestly with latest and updated hardware parts it did not turn to be the best investment for everyone. And yes this is quite an investment thus only creative people can go for it.
The Guardian says that it is a class, amazing and beautiful computer of all. This is a perfect hero product of all the machines you can think of. It is having an heart of an entertainer. The asking price will make you go back.
This is like a sports car which is a luxury to a have. The advantages are clear in case of the artisans and creative people but one the other hand for other people it is still be a question that why it will be their choice. It is having an issue with the old graphic processor and no upgraded possible.
The Surface Studio 2 is an all-in-one PC, designed and produced by Microsoft as part of its Surface series of Windows-based personal computing devices.
Wikipedia
Our Verdict
Microsoft obviously took a bold step by introducing Surface Studio. Two years after its launch, the Studio continues being a one-of-a-kind system.
Surface Studio 2 sports a decent design. The lightweight model feels amazingly strong, thereby ensuring durability for many years.
Its adjustable hinges allow the users to position differently according to their specific needs for creative purposes.
The 28-inch large screen is the greatest attraction of Surface Studio 2. The display is both flexible and beautiful.
It is one of the well-designed models that I have ever seen. In terms for performance and features, Surface Studio 2 is pretty smart.
Thanks to powerful processor and 32GB of RAM, the all-in-one desktop offers speedy performance.
It is designed to suffice your creative minds with a large screen, brilliant display and a pack of accessories.
Apart from the best-in-class pen support, the system offers strong audio quality. However, it has several downsides.
It is pricey and so can be afforded by only a few. Most importantly, this Studio is not as impressive as the first one.
The hardware housed into the system is little bit dated and under powered as well.
Still Surface Studio 2 offers strong performance but lacks the class-leading power as well as the latest hardware tools usually expected from Microsoft.
The model faces tough challenge from Apple and Windows worlds and does not come out victorious always. However, it will not let you down!