eComputerTips is reader-supported. When you buy through links on our site, we may earn a small commission without any additional cost to you.
Value for Money Score
8.6/10
Specifications and Features Score
8.5/10
Pros
Pretty small form factor
Fast and solid performance
Premium feel
Attractive touch display with HDR support
Delicate far field microphone
Cons
Odd speaker placement
Weird finger print reader location
Lots of Samsung and Windows bloatware
No stylus included
Absence of SD card reader
Verdict
The Samsung Notebook 7 is inspiring to be used in a few specific places while arcane in other settings. This system, with the drastic changes made, has all the features and elements that will allow using it for a long time, though the design, performance and price of it are nothing out of the world.
Samsung Notebook 7 Spin & Variants Price
$299.95
2 used from $299.95
as of November 29, 2022 12:55 am
$799.99
$969.00
1 used from $799.99
as of November 29, 2022 12:55 am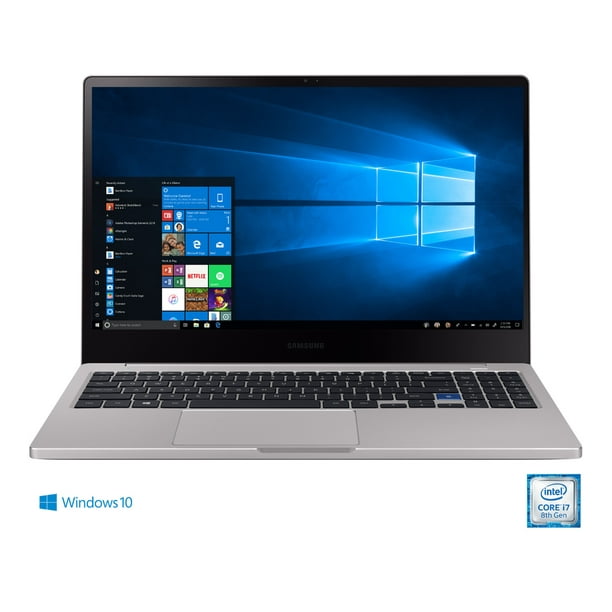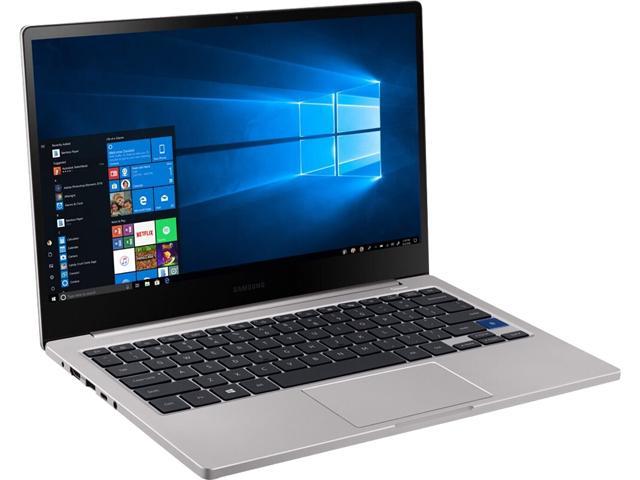 $1,006.56
2 new from $1,006.56
1 used from $899.00
as of November 29, 2022 12:55 am
Introduction
Right from the performance to heat management, this laptop is very reliable considering its small form factor and price point.
This lightweight machine will allow you to see more due to the smaller bezel around the screen. It also promises a much faster, more reliable and better performance as well as multitasking, using a number of apps.
This system is very responsive and quick overall to boot up in seconds.
The hinges are strong and reliable that will ensure easy opening of the lid of the laptop. It will also ensure an easy transition from a laptop into a tablet mode. It will give a more versatile experience to the users.
The 13.3-inch display of this 2-in-1 laptop provides a Full HD touchscreen experience allowing you to interact seamlessly with the Windows 10 Home operating system.
This system is designed and built for Windows Ink.
This will allow you to use the system in either mode to take notes directly on the screen, create your desired content by using the Ink enabled apps, take screenshots and mark up pictures most easily, effectively, quickly and consistently.
Each and every feature of this affordable system adds to the reliability quotient of it. Check out best laptop brands.
Whether it is the Bluetooth connectivity or the webcam built in it, the stereo speakers or the ports, every element of this EPEAT or the Electronic Product Environmental Assessment Tool GOLD Qualified and ENERGY STAR Certified system is unique and useful.
You can use this system most confidently in business meetings or make conference calls or in the classroom. Just pair the system with the active pen, which must be bought separately, and jot down the points or create a sketch, simply using it just like any ordinary pen.
You do not need to worry about heat buildup of the system as well. The features of the system will enable it to stay cool during its operation making it a more reliable device to work on for a long time.
The underside of the laptop, which is the hottest part of it, will reach up to 91 degrees Fahrenheit while playing a YouTube full-screen HD video for 15 minutes, tests found.
This is fairly down the comfort threshold of 95 degrees. The touchpad, on the other hand, reached 79 degrees and the center portion of the keyboard, where, ideally, the processor and the battery are located, reached up to 89 degrees.
Buy for: Fairly long battery life, excellent keyboard, good enough storage.
Beware of: Murky VGA webcam, no support for high-end gaming, keyboard flexes due to glass coated touchpad.
Design and Build
The reliable design of the system gives a premium and strong feel with sparing use of plastic in its build.
If you feel that the shell of the system is dull, the vibrant and Full HD touchscreen display will balance it.
The PLS or Plane to Line Switching proprietary technology of Samsung is at par with the IPS technology and provides brighter and sharper images at wider viewing angles.
The screen displays images at 300 candelas or nits making the images look more gorgeous.
In the screen design, Samsung has also incorporated HDR mode. Sharing its space with the F10 key, this feature will make sure that the images have vivid colors and darker blacks to make them more eye-popping.
The touchscreen feature is quite sensitive and will respond easily, quickly and perfectly to all taps and swipes. It will also support an Active Pen which you will have to supply on your own, however.
The fact that the system does not come with its own stylus is, however, a bit of an oversight on part of the manufacturer.
The keyboard design, the marquee feature of this laptop, is something that you will love especially. All the keys are spaced well apart from each other, have a decently deep key travel of 1.5 mm and are uniformly backlit.
To ensure that you have a better typing experience and ease of use, the caps are curved to provide plenty of punchy feedback. You will need very little or no learning curve to use this exceptional keyboard.
The backlit Chiclet keyboard will allow you to type on it easily and comfortably almost anywhere and in any lighting conditions.
The touchpad and its intuitive design will help in this matter a lot, making it more flexible and helping you to achieve what you want much faster.
Though the touchpad is also uniquely designed and delightful to use, this Microsoft Precision Touchpad is placed under a glass coating.
This will create a bit of keyboard flex when you press it to click. This however is not expected from a laptop of this caliber.
The location of the fingerprint reader and lock button is on the side of the system which is another weird thing in its design and build.
When you use it in the laptop mode on a flat table, it may take some time for you to get used to using the fingerprint sensor.
There are also lots of Samsung and Windows bloatware included in the system. This will make it difficult to delete the unnecessary apps and background included in it taking a couple hours to update the system after that.
The system is built to perfection to weigh just 3.31 pounds. Still, there are a few things that you may not like in this system.
For example, there is no CD/DVD drive included in it. The placement of the speakers is also quite odd under the laptop which may be good for viewing the screen in tablet mode but not while using it as a laptop.
Performance
In spite of the shortcomings in the system, the performance of it is quite high making it a reasonably good device to use on a daily basis.
Easy to type keyboard, a fantastic though nothing revolutionary screen, and a fairly long battery life, all will enable you to work on it for your entire work day most comfortably on a single charge.
Though it is not the fastest 2-in-1 laptop in the circuit, the enticing and interesting combination of a solid quad-core processor, RAM, graphics card and operating system promises a solid performance while handling any project.
Irrespective of its affordable and small package, the system will stay on its task with a full 360 degrees rotating touchscreen display to change it from a laptop to tablet mode.
The Intel Core i5 8th generation 8250U processor comes with a 6 MB cache and operates at a base speed of 1.6 GHz.
This base clock speed can however be increased to 3.4 GHz using the Turbo Boost technology to provide the system with more power to perform well, and handle all your computing tasks, whether it is big or small.
This is because the four cores of this Kaby-Lake-Refresh based low power processor supports Hyper Threading.
The integrated Intel UHD Graphics 620 is identical technically to the older Kaby Lake HD graphics 620 but it is the GT2 and 24 EU specs that make it powerful enough to support lightweight gaming at lower settings.
With the clock ranging between 300 and 1100 MHz, the SoC is made in 14 nm+ FinFET process. However, the graphics card is certainly not worth playing games at 1080p setting with a frame rate hovering around 30 fps.
These cards are good enough to make only the casual gamers happy.
The performance of the system is further boosted up by the strong and powerful Windows 10 Home operating system.
Coupling with the 256 GB Solid-State Drive, everything will be accomplished easily because the system will react quickly to help you achieve more.


Benchmarks
CPU
1. The Samsung Notebook 7 Spin comes with an Intel Core i5-8250U processor. The average CPU mark of this Intel Core i5-8250U processor is 5911. The single thread rating of this processor is 1921.
The technical experts of this benchmarking site analyzed 6671 samples and they assigned an overall rank of 1163 to this processor. Another good point of this processor is its margin of error is low.
2. On the User benchmark site, the average bench score of this processor is 60.1% . 1368 processors of the almost similar category were examined by the experts and among them; this chip has ranked at 536th position depending upon its performance on various performance tests.
As a gaming processor, it has scored a benchmark of 60%, and it has scored 64% and 47% on desktops and workstations respectively.
3. In recent times, Geekbench is one of the very trusted and popular benchmarking sites. As of 19th October 2022, the single core score of this processor is 771 and one of its toughest rival's name is Intel Core i7-8550U.
So, the Dell XPS 9370 Laptop which is equipped with the Intel Core i7-8550U processor is a better option than the Samsung Notebook 7 Spin.
GPU
1. The Samsung Notebook 7 Spin comes with an Intel UHD Graphics 620 chip. The average G3D mark of this graphics chip is 1033. The average G2D mark of this chip is 245.
The technical experts of this benchmarking site analyzed 14425 samples and they decided to give an overall rank of 838 to this graphics chip.
2. On the UserBenchmark, Intel UHD Graphics 620 has got an average bench score of 4.83%. 688 graphics cards were examined by the experts and among them; this GPU has ranked at 392nd position.
RAM & Storage
The 8 GB RAM built on the LPDDR3 technology will complement the latest 8th generation processor. With fast enough read and write abilty, it will make the performance of the system higher and more consistent.
The 256 GB SSD is not only adequate to store and transfer files at a quick rate, but it is also very reliable in booting up the system.
It has all the features and ability to perform at a quick rate while running multiple programs on the system.
Ports & Connectivity
You will have plenty of ports in total included on the two sides of the system. This includes one USB 2.0 Type A port on the right side of the system.
On the left side there are one USB 3.0 Type A port, one USB 3.1 Type C port, and one HDMI connector. You will also get one socket for connecting a 3.5 mm headphone and microphone combo jack.
However, there are no Thunderbolt 3 ports or card reader slot in the system, which ideally should have been included in it, considering the size and price of the device.
The system offers connectivity through dual technology options such as the Bluetooth 4.1 technology and the wireless network technology. Its wi-fi connectivity supports both wi-fi 4 and wi-fi 5 standards.
Battery Life
The 43-watt-hour lithium ion battery comes with 3 cells. This 3950 mAh battery has an average run time of 9.5 hours, as claimed by the manufacturer.
Based on that claim, it can be said that the system has a long enough battery life to enable you to work on it all through the day.
Your productivity seems to be endless when you use this system including binge watching, streaming and surfing on the internet for hours, with a full charge and no recharging.
However, tests revealed that it lasted for 468 minutes or 7.8 hours approximately when a 4K video was run in loop with half the volume and a display brightness of approximately 250 nits. This is far too less than the claim.
Another test for its battery life, the Laptopmag Battery test, showed that it only lasted for 6 hours and 36 minutes when used after a full charge only for surfing the internet continually using its wi-fi connectivity feature and with the brightness of the screen kept as low as 150 nits or candelas.
Additional Features
The system has got everything from internal mics and speakers to inputs to help you work on it all day.
Talking about safety and security, the system comes with several security features to keep it safe and reliable. The system allows a one-touch fingerprint access to the users.
This feature is powered by Windows Hello which will make it more convenient and safer to start working on this laptop. Press the side button simply and you will be logged in securely to Windows and ready to go.
There is also a Privacy Folder that will allow you to secure your files in it. The same one-touch fingerprint access will enable you to do so.
The product also comes with a 12 months warranty from the manufacturer.
As for the inclusion of software in the system, Samsung has incorporated two most important ones that will help you in using the system in a much better way.
A reliable feature of the system that will help you in this regard is the Voice Note feature. It will not only allow you to record any conversation but will also enable you to make bookmarks. This will help you to know exactly where you need to go during a review.
The voice recorder and the far field microphone of the webcam ensures better voice recording. This will help in your business meeting and in classrooms.
Studio Plus, on the other hand, simplifies the ways to create videos highlighting the media assets.
The device comes with a VGA webcam. The range and performance of this 480p camera is however dismal and depends largely on the lighting and brightness in the room.
Under soft lighting the pictures can be terrible with no details, unclear and blemished. However, under sunlight it performs reasonably well.
Specs:
Brand: Samsung
Screen: 13.3 inches
Display: Full HD LED touch screen (1920 x 1080 pixels)
Storage: 256 GB
RAM: 8 GB
Storage Type: Solid State Drive
Processor: 8th generation Intel Core i5-8250U
Graphics: Intel UHD Graphics 620
Processor Speed: 1.6 GHz with burst clock speed up to 3.4 GHz
Processor Brand: Intel
Product Dimensions: 12.4 x 8.5 x 0.7 inches
Operating System: Windows 10 Home
What Do Users Think about Notebook 7 Spin?
This is an excellent laptop to work on, especially in business meetings, school or movies, few users felt. This laptop saved them from the pain of taking notes on paper.
They can use this much better computer to write a lot of papers directly on the screen using it in the tablet mode in spite of its small and ergonomic design.
The backlit keyboard is good to type on, said others. The small bezel and the crisper and brighter screen do not really make it feel like it is only 13.3 inches.
The sound quality and microphones are also of good quality that helped them in performing their tasks easily.
The fact that Samsung has set the max volume of the headphone to 37% only, annoyed a few users because they had to manually increase it beyond this mark every time the screen pops up after connecting their headphones.
There is actually no way in which they could deactivate this annoying and recurring event. Check out Notebook 7 Spin Manual.
Though a bit slower in performance as compared to other computers, few users said that this system has got more functions and practicality.
This is an ideal system to use for making PowerPoint presentations, in schools, at home for simple internet surfing and playing games, and for basic business computing needs.
Few users had a mixed feeling. They said that it is a nice computer as far as its touch screen and SSD is considered due to their responsiveness and speed in completing any task.
The price is also reasonable but the fact that the system heats up a lot and does not come with a pen is not well appreciated by them.
Users in the quest for good features that they wanted in a device said that this laptop fulfilled their wishes.
Though this is not a gaming machine, it allowed them to play some basic and old XP games, apart from doing their basic computing jobs.
They said that they even played a few games in this system which even a new Windows 10 desktop did not even load properly.
Other Expert Views
TechRadar is of the view that this system is stylish and designed fashionably. It is built using high-end parts and mid-range materials. This is a good enough laptop for the bargain hunters who want a reasonably good laptop for their day to day computing jobs.
Digital Trends said that though the system does not have a lot of 'wow' factors in it, it successfully competes with the other laptops due to its decent enough performance, premium features, and strong built. Though a bit heavy and large, this is a good enough device at this price point.
PC Mag, on the other hand, said that the system is worth buying if one is not looking for exceptional design and a very high storage. For basic computing needs this system will provide them with much more than they expect. This can work anywhere and can compute just about any basic thing.
Questions & Answers:
Is Samsung Notebook 7 Spin a good laptop for gaming?
No, this is not recommended for playing games of this era. Its configurations are not so updated and powerful to handle the huge loads of games.
Does the Samsung Notebook 7 Spin have a touch screen?
Yes, this laptop from Samsung has a touch screen panel.
Is the keyboard section of the Samsung Notebook 7 Spin detachable?
No, the keyboard of this laptop is not detachable. But, there is a 360 degree hinge. So, the users can easily use it as a table by flipping the keyboard back to the display.