As an Amazon Associate and (affiliate of other merchants) we earn from qualifying purchases without any extra cost to you when bought through our links below.
Dell OptiPlex 7070 Micro PC
USD
Value for Money Score
8.7/10
Specifications and Features Score
8.7/10
Pros
Great modular design
Flexible mounting options
Has decent screen uniformity
Comes with dual display ports
Available at a budget friendly price
Cons
Lacks HDMI ports
HD picture quality not good
Performance not up to the mark with games
Optional optical device drive
The keyboard and mouse looks cheap
Verdict
The Dell Optiplex 7070 is a PC with a modular design, which serves the purpose of not taking up much space on the workstation and also the efficient performance of a normal PC.
However with UHD Graphics 630 the PC can run games but not the very high end ones. If you want a slim PC and great performance then you surely go for it.
Dell OptiPlex 7070 Micro PC & Variants Price
$448.88
4 new from $448.88
as of October 2, 2023 6:48 am
$849.00
4 new from $849.00
2 used from $479.99
as of October 2, 2023 6:48 am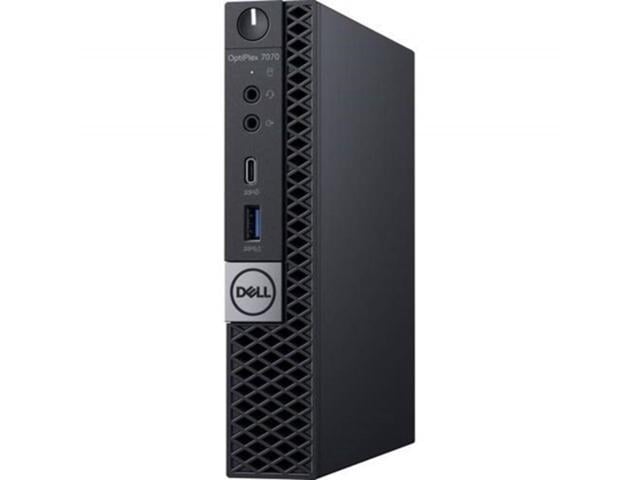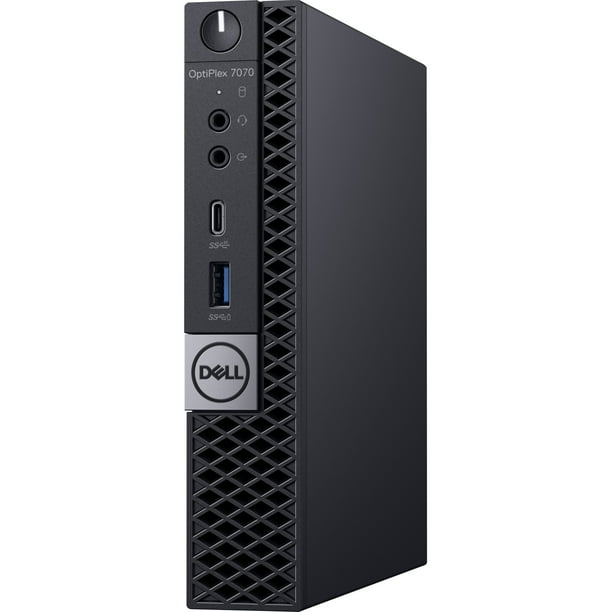 Introduction
Dell is undoubtedly one of the reliable names in the market these days.
There is a huge competition in the market to excel in both technology and reliability of the product that is being launched.
So keeping the budget in mind and also not compromising on the design, performance is what the Dell OptiPlex 7070 is all about.
The PC is designed in a modular way and even has rubber padding to it so it can easily be placed horizontally or vertically without taking up much desk space.
The PC comes with an Intel core i7 processor which gives a clock speed of 2GHz. It has a 16 GB Ram along with a 256 GB SSD storage.
Besides this, it has an Intel UHD Graphics 630 processor for further enhanced performance.
It has a dual display ports that can support two monitors or screens at the same time. The PC overall provides great durability and performance.
Buy for: The modular and compact design of the product.
Beware of: The lack of HDMI ports and optical device drive.
Best uses for: Zoom meetings, small business and other purposes.
The alternatives:
Design and Build
The Dell OptiPlex 7070 mirco is a very thoughtfully designed PC.
It has modular and compact look to itself so it can be easily fit in at the back of the monitor or even could be placed beside it both vertically or horizontally.
Since it has a rubber padding hence placing it horizontally would be quite easy. It is extremely slim and can even be carried inside a bag.
With dimensions of 7 inches tall, 1.4 inches wide and 7.2 inches in diameter the Dell OptiPlex is best suited for small workspaces.
The power button is located at the top of the device and below it are the auto jack and the USB-C type port and USB 3.1 port.
At the back it again has USB-C type and USB 3.1 ports, has dual display ports and also has an Ethernet jack.
The device is not designed to support optical drive but the USB ports help support an external device for playing CD's and DVD's.
The build in also supports good connectivity thus the device supports WIFI.
Performance
The Dell OptiPlex 7070 micro desktop is powered with the Intel Core i7-9400 processor to offer efficient and not compromising on the daily performance of the PC.
The PC has a clock speed of 2GHz to the excellent performance of the processor.
To carry out undisturbed functionality and efficient performance the device has Intel UHD Graphics 630 which supports the chipset.
With this graphics the PC will not break a sweat while dealing with heavy data tasks, copying and so on.
The device performs extremely well for business professionals, for people working on the creative front with editing.
It performs well in copy pasting documents as well given its good storage capacity. With games this PC doesn't function that great.
The RAM deserves a mention, with 16GB of system RAM available, the device makes sure it can churn out data in seconds.
With the Windows 10 professional installed there is no worry about the Operating System, it is sure to provide great operations and performance.
This device is one of the reliable products of the company.
Storage and Ram
The Dell OptiPlex 7070 provides SSD storage of 256 GB.
The SSD storage is more powerful hand HDD. Check out best desktop computers.
Since the device has an Integrated Graphics card and doesn't have a memory of its own it might disturb the functioning of the 16GB Ram.
Ports and Connectivity
Around five USB ports are available in the device located at the front and back of it.
The power button is located at the top of the device and below it are the auto jack and the USB-C type port and USB 3.1 port in front.
At the back it again has USB-C type and USB 3.1 ports, has dual display ports and also has an Ethernet jack.
Display ports can also be used as HDMI ports if and when needed.
The device can support two displays or screens at a time for screening videos or playing games.
It doesn't support an optical device drive and also has optional SD reading option, but for its price it should have provided these two facilities.
Also has a WIFI 802.11AC Wave 2 for better connectivity.
Additional features
The PC can be placed both horizontally and also vertical depending on how much desk space one has.
It comes with rubber paneling for smooth horizontal mounting. Check out top 10 desktop brands.
Specs:
Brand: Dell
Storage: 256 GB
RAM: 16GB
Storage Type: NVMe SSD storage
Processor:  Core i7-9700T
Graphics:  UHD Graphics 630
Processor Brand: Intel
Processor Speed: 2GHz
Product Dimension: 7×1.4×7.2 inches
OS: Windows 10 Professional
What Do Users Think about Dell OptiPlex 7070?
The Dell OptiPlex 7070 is a product which is greatly liked by the users. Check out Dell OptiPlex 7070 Micro Manual.
The PC has compact design to it which enables the users to place it any small corner they wish. Powered with Intel Core i7-9700T and UHD Graphics 630 makes this PC a powerhouse combo.
With the 256 GB SSD NVME storage it becomes even more powerful as users are of the view that this type of SSD is faster than the 2.5 SSD.
However if one wants to add another hard drive to the device, that isn't possible as the device doesn't have a second m.2 to it, but it does have a 2.5 sata connection and also the caddy bracket, even though it remains unused.
The rubber panel is available only for horizontal mounting and not for the vertical one. Interestingly it has a front type USB C port and also can accommodate two monitors at the same time.
The PC is designed for day to day office work, for copying large amount of data, for editing purposes and also for storing large amount of information, images and the like.
The device doesn't function that well with high end games, though it doesn't hand but does become a bit slow.
If you are someone looking for a compact PC in an affordable price and for great performance in day to day work, then you can give it a try.
The device also has  a WIFI antenna to it, which is greatly liked and found useful by users.
Our Testing & Analysis Report 
We used the Dell OptiPlex 7070 Micro PC, for attending online conferences. We used Zoom and Google Meet, and Microsoft Teams for this purpose.
And we got decent video and audio quality. We didn't notice any major issues while communicating with others.
While attending these meetings online, we were able to share files, share our entire screen with others and there was no significant lag.
To understand the real processing capability of this device we also placed it in a small business place, where this device was used to maintain stocks, and customer data, and make online transactions.
It was also used for placing orders. To perform these tasks, they used some applications such as Microsoft Office, QuickBooks, and Adobe Acrobat Pro, Chrome.
While processing these applications, the desktop delivered excellent processing speed.
We worked on these applications smoothly, even when multiple software were running simultaneously in the background.
We also use this device for live streaming. We used OBS Studio, open-source software popular for streaming and recording live video content.
The PC efficiently handled the software and allowed us to stream high-quality videos easily.