As an Amazon Associate and (affiliate of other merchants) we earn from qualifying purchases without any extra cost to you when bought through paid links below.
Dell OptiPlex 7460 AIO
USD
Value for Money Score
8.3/10
Specifications and Features Score
8.4/10
Pros
It is a very compact PC.
It provides stable performance.
There is the advantage of brilliant cable management.
Ample RAM is available that ensures smooth functioning.
You get multiple monitor support that should be handy.
Cons
There is no hard drive present and the SSD capacity is low.
It is weak in terms of graphics.
Repairs are costly.
There is not much scope of upgrading the PC other than the RAM.
A tower-based PC or a laptop can provide more features in this price tag.
Verdict
The Optiplex 7460 being an AIO brings a compact package to your desk on which you can accomplish your everyday work without having to worry about speed or performance. However, the storage by default is on the lower side and it would have been better if a dedicated GPU could be added.
Nonetheless, it is a brilliant device that you may choose if you aren't interested in gaming, editing, or anything of that sort that requires a lot of graphics or raw processing power. 
Dell OptiPlex 7460 AIO & Variants Price
$429.00
4 used from $429.00
as of December 7, 2023 12:17 am
$569.99
1 used from $569.99
as of December 7, 2023 12:17 am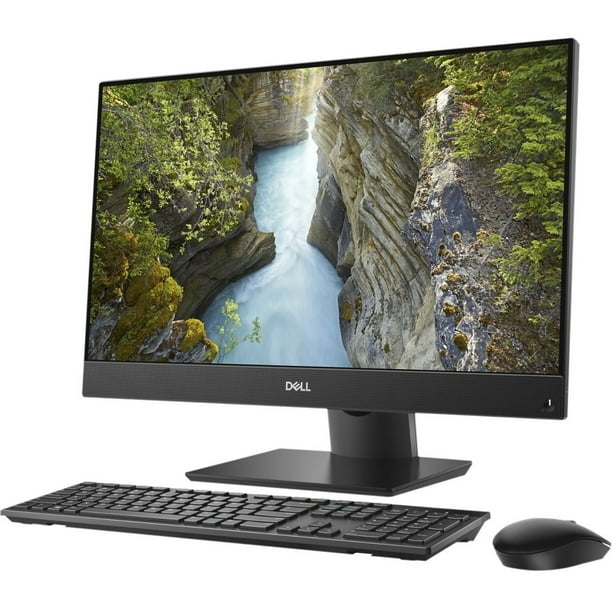 Introduction
The Dell OptiPlex 7460 is a proud member of the professional line-up of desktops produced by Dell that have been created while keeping in mind the daily uses a user generally has in his/her office.
The dependability it provides comes from the 8th gen Intel i5 processor and 8 GB of RAM. That said, even home users would find it useful but it is not as suitable for gamers.
You get 256 GB of SSD storage, and while it should be enough to store documents and presentations of your official work, you cannot use it to store a lot of bigger files.
It is thus well equipped to serve your intermediate needs. The SSD drive and the Intel Optane memory give you better operating speeds.
There is a touch screen variant as well and both the touch and non touch variants come with a 23.8" display.
Buy For: Compact Size│ Border-free Display
Beware Of: Restricted graphics│ Slightly high price tag 
Best uses for: Billing counter of a shopping mall, online lecture delivery, casual multitasking, blogging, basic photo editing, etc.
The alternatives:
Design and Build
To keep a low profile, the design of the PC has been kept simple. Check out best desktop brands.
There isn't anything fancy regarding it, but the looks are just right for an office desk.
The 21.3 inch display unit stores all the necessary computing components and hence you don't need an external CPU.
This is the very reason why AIOs like these are useful.
The speakers are at the front and so is the power button.
The stand allows you alterations in the viewing angles and you may even change it in such manner so that the display lies almost flat horizontally, a feature unique to most PCs.
You may also raise or lower the display giving you more ease when communicating with a client. 
Performance
This computer houses an Intel i5-8500 processor that has 6 cores and is good enough for all the tasks you might have to do at your office, including work at home in the likes of media playing, web browsing, etc.
Then you have 8 GB of RAM and an integrated Intel graphics chip.
The PC is capable to do a lot more than the aforesaid tasks but its utility is limited by the default graphics.
You cannot add another GPU and this is something that you will have to adjust with.
Windows 10 Pro OS comes in it by default so you need not worry about installing an OS.
Storage and RAM
This variant of the 7460 AIO uses a 256 GB SSD drive and after you store the necessary system files you will have little space left for everything else.
Now, of course, you may add an external Hard drive if you require some more storage space.
The RAM is of single-channel DDR4 type and the capacity is of 8 GB out of the box.
It functions at a speed of 2666 MHz and can be expanded to 32 GB as well.
Ports and Connectivity
All the ports in this AIO are either at the side or the back and so your desk has a relatively clean look.
At the side, you have a USB 3.1 Type C Gen 2 and a USB 3.1 Type-A Gen 1 port (with better speed) along with a multi-card reader and a headphone jack.
At the back, there are 2 USB 3.1 ports and 2 more of USB 3.1 Gen 1 ports. For attaching more monitors you get a Display Port along with separate HDMI in and out ports.
There is also an Audio output jack and an Ethernet slot for internet connectivity.
For wireless connections, you get the standard Bluetooth and WIFI 802.11 ac features. 
Additional Features
On purchasing the device the user gets a standard warranty of 3 years.
A stand and a keyboard and mouse combo also come along in the packaging.
The PC has a pop-up webcam and therefore ensures the users' privacy.
Specs:
Brand: Dell
Storage: 256 GB
RAM: 8 GB, can be expanded to 32 GB
Storage Type: M.2
RAM Type: DDR4
Processor: Intel Core i5-8500
Graphics: Intel Graphics
Processor Speed: 3 GHz, can be increased to 4.1 GHz
Processor Brand: Intel
Product Dimensions: 2.1 * 21.3 * 13.5 inches
Operating System: Windows 10 Pro 
What Do Users Think about Dell OptiPlex 7460 AIO?
The users were content upon purchasing the PC as it was able to fulfill their needs.
It provided decent performance and there weren't many issues reported. Check out Dell OptiPlex 7460 AIO Manual.
However, it would have been better if the graphics output of the PC was better and it had a lower price tag.
Since the storage space in this AIO is quite low, the users felt that the price tag was not very justified. 
Our Testing & Analysis Report
We placed this device in a small shopping mall for carrying out online payments, stock maintenance, etc.
For this purpose, the PC had to run QuickBooks and Square POS, and it efficiently and smoothly ran these applications.
We also used this device to attend some online conferences. For this purpose, we ran Zoom and Microsoft Teams on it and it tackled these applications without creating any major technical glitches.
We got a smooth and seamless HD video calling experience, with no frame drops or audio distortion.
We also used this device for performing casual multitasking tasks; like working on MS Office, browsing the web, watching movies, creating some PPT, etc.
While doing these tasks, we didn't face any major technical issues on the PC. And it smoothly handled 3 to 4 applications that were running simultaneously in the background.
For creating and publishing blog content, we also used this desktop. WordPress, and Adobe Dreamweaver- are the main two applications that we ran on this PC, for this purpose.
Using this device for website creation and development is a good decision as we didn't face any major issues when we performed these tasks.
We also used this PC for creating logos and did some basic photo editing tasks. The PC was quite responsive, quick, and responsive. We carried out our task smoothly.
Thanks for your feedback!