As an Amazon Associate and (affiliate of other merchants) we earn from qualifying purchases without any extra cost to you when bought through our links below.
Value for Money Score
8.4/10
Specifications and Features Score
8.0/10
Pros
Stylish and comparatively thin and light
Sharp display
Comfortable keyboard
Easy to use trackpad
Long battery life
Cons
Pricier
Weaker performance
No full-sized SD card reader
Not so good viewing angles
Not an IPS screen
Verdict
The Samsung Chromebook 3 laptop is good enough a device that will sync with Google and Gmail, anytime and anywhere. The small, light, compact, solid and durable system comes with a pretty long battery life that will support simple computing jobs all day.
Samsung Chromebook 3 & Variants Price
$193.99
$219.99
8 new from $179.95
10 used from $67.36
as of September 29, 2023 5:17 am
$219.00
7 new from $179.00
3 used from $105.00
as of September 29, 2023 5:17 am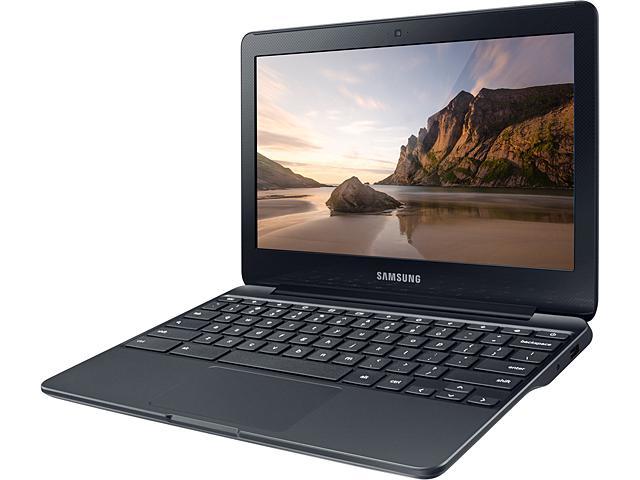 $243.15
4 new from $235.00
2 used from $159.89
as of September 29, 2023 5:17 am
Introduction
The system will work flawlessly with little or no issues, provided you do not open and work with too many windows at a time.
The four cores of the processor help in multitasking, the memory and storage help in faster performance and the antireflective screen ensures a better display of images with low or no strain to the eyes.
The energy efficient screen with LED backlight consumes less energy though the battery is strong enough to supply power for 11 long hours.
This system will also prove to be reliable in its storage as well due to the cloud support built in it.
If you consider portability and light weight of the system, this thin and light system will also prove to be consistent in that aspect.
If you want more viewing options and connect different external devices, the system will also allow that through its ports, though limited in number.
You will be happy and impressed with the level of performance and reliability of this system with its highlights that include its small size, thin and slim design and ultra-portability. The small footprint of the system is what will attract you the most.
The system is good enough for simple computing jobs such as checking emails, browsing the net and processing a few word docs.
The touchpad of the system is also very reliable, sensitive and good enough to respond to your gestures.
It will work much faster than you can expect while playing web-based games, browsing different websites, or streaming music and videos.
Buy for: Less lagging and pretty quick performance, good screen brightness, good value for money.
Beware of: Limited viewing angles, limited screen positions, tinny speakers.
The alternatives:
Design and Build
The design of the system will enable you to maximize its performance as well as your productivity, within the respective limits.
This laptop comes in solid case that holds all the components inside it. Check out Samsung Chromebook 4 Review.
The 11.6-inch display produces HD images which is well complemented by its resolution and the power of the graphics card.
It enhances the viewing pleasure on this power enhanced laptop that is designed and built to last for nearly 11 hours.
The system is designed to help you in dealing with and getting the best of Google, thanks to the operating system, whether it is Gmail, Docs, Pics or Maps, and store everything in the cloud.
The strong design of the system also includes a water-resistant keyboard to allow you to type on it during your snack time without worrying about spilling your coffee on it.
The light weight and slim design attributes make this system extremely portable at 2.9 pounds only.
It is its built that makes it easy to carry the system from one place to another and use it on the go. Check out best laptop brands.
The outer housing material of the system gives it a solid and strong feel along with a nice texture. The color of the system looks good enough.
Performance
The performance of this system depends on the different components included in it.
First, the Intel atom x5-E8000 processor allows multitasking with its four cores, making it easy to process the data.
The Chrome OS will help in web browsing and operating on the Chrome through your Gmail account.
The Intel graphics card integrated in the system ensures a better display with no dropouts and interruptions.
Add to that, ports allow enough devices to be connected to the system that will enhance both user experience as well as the performance of the system.
The RAM is also good enough to support multitasking with a very little lag in opening and closing programs. The different apps and extensions also add to its performance level.
Therefore, this is a good Chromebook to possess and work on if you have access to a stable and strong internet connection.
Benchmarks
CPU
The Samsung Chrome book 3 comes with an Intel Atom x5-E8000 processor. The average CPU mark of this Intel Atom x5-E8000 processor is 1008 (as displayed on the CPUbenhcmark. The single-thread rating of this processor is 515.
The technical experts of this benchmarking site analyzed 29 samples and they decided to give this processor an overall rank of 2944. Another promising factor about this processor is the low margin of error.
RAM & Storage
The 4 GB RAM operates at a speed of 1.6 GHz which is good enough to support the simple computing tasks that you do on this system.
The 32 GB eMMC storage will enable you to store enough of your works in this system. If you want more then there is obviously the cloud.
The FATA hard drive interface and its rotational speed of 100 rpm will also allow easier and faster accessibility to your stored files in the system.
Ports & Connectivity
There are a limited number of ports in this system but it is enough to support the necessary devices that you may need to connect to it. The system typically comes with two USB 2.0 ports and two USB 3.0 ports.
This laptop supports Bluetooth connectivity as well which will also enable you to connect devices that support this technology, such as headphones.
Battery Life
The life of the lithium ion battery is claimed to be about 11 hours. This means that you can do a lot of things on this system on a single charge and not need to connect the AC adapter quite often.
Additional Features
The system also comes with a media reader built in it that will help you to transfer simple photo files more easily.
The built-in microphone and HD webcam of the system facilitates in producing better images and media experience.
The security features built in the system will provide you with the ultimate peace in mind. You will have your system fully and well protected from malware and viruses.
The design element that makes this system a bit different from others within this bracket is the inclusion of the Type BD-R optical drive.
There are lots of free apps, games and themes as well as extensions in the Chrome Store that work great and helps in web browsing, playing games and streaming videos and music.
Specs:
Brand: Samsung
Screen: 11.6 inches
Display: HD WLED (1366 x 768 pixels)
Storage: 32 GB
RAM: 4 GB
Storage Type: eMMC
Processor: Intel atom x5-E8000
Graphics: Intel HD 400
Processor Speed: 1.6 GHz
Processor Brand: Intel
Product Dimensions: 3.3 x 19 x 12 inches
Operating System: Chrome OS
What Do Users Think about Samsung Chromebook 3?
It is a great laptop, said some users who are on a budget. It provides them with everything they need though it does not support high end computing and online gaming.
However, it is a good enough device that helps them to make the best use of Google, they said.
Unless this laptop is used for watching 4K videos and graphics intensive gaming, this laptop is good enough for simple research and writing, said a few students.
They said that it is pretty fast and durable. It is one of the best laptops to use for those people who are not very savvy with modern technology and do not need a computer for professional jobs.
Amongst all lower end Chromebooks, this casual and portable couch computer is good and powerful enough to be used as a secondary device, said a few specific users.
It works fine, the resolution and image quality are good enough, and, most importantly, it is highly affordable.
The low power processor and lower RAM is no issue because it is not meant for serious and professional computing tasks.
There are no performance issues with this computer, a number of users said. However, the speakers are pretty weak and therefore they recommend using headphones for a better listening experience.
Also, the screen, they felt, should have a better and much broader viewing angle for better visibility. Check out Chromebook 3 Manual.
Few users said that the scroll is not exceptional, but still works. They also said that there seems to be an issue with the internet and network security in this system.
Apart from that, this system is good for its quite comfortable keyboard, HD screen, portable nature and light weight.
The quality is not great, but the fact that it is fairly cheap and supports banking and email is what balances its drawbacks, said a few users.
Overall, they were happy because the system is easy to use and is quite reliable in terms of price to performance ratio.
Our Testing & Analysis Report
Our review unit of Samsung Chromebook 3 passed several CPU Benchmark tests quite satisfactorily when we use it for basic and day-to-day computing tasks such as checking mail, playing music and videos in low resolution, and working on Google Docs.
When we tried to make it work on anything intensive, its performance tends to fall and the system tends to become sluggish overall.
When we tested the screen of the system, we found that it is quite bright in comparison to its competitors, such as Lenovo IdeaPad 100S 14 and HP Stream 11.
While testing the viewing angle and color accuracy using DeltaE 2000, we found that it is reasonably good, and the colors do not fade as easily as it does in some other Chromebooks.
Our technical team found that in spite of the integrated graphics card, the images displayed are quite realistic and warm without any blue tint.
When we typed a few letters and documents, we were pleased with the key travel and tactility of the water-resistant keyboard of this Chromebook.
It needed little force which allowed us to type fast with near-perfect accuracy. The touchpad is also pretty accurate in responding to different gestures of the fingers.
According to our battery rundown test, this system is equipped with a fairly good battery in comparison to most of its close competitors.
We found that after it was charged to its full capacity, the battery lasted for about 10 hours while running a few videos on loop and doing some basic computing tasks at the same time leaving quite a few tabs open.
Questions & Answers:
Does the Samsung Chrome book 3 have any port for Ethernet?
No, this laptop has no port for Ethernet.
Does the Samsung Chrome book 3 run on Windows 10?
No, it runs on Chrome OS.
Is Samsung Chrome book 3 a good option for high-end users?
This is a very basic level device. Its specifications are not so updated. High-end users can't be satisfied with its performance.