As an Amazon Associate and (affiliate of other merchants) we earn from qualifying purchases without any extra cost to you when bought through our links below.
HP EliteOne 800 G1 AIO
USD
Value for Money Score
8.6/10
Specifications and Features Score
8.5/10
Cons
Recessed I/O ports in back
Pricey
Runs hot at times
Upgrading issues
Not available everwhere
Verdict
If you are facing a shortage of space in your cabin or in that of your business employees, then this all-in-one business desktop will be a lucrative choice even to replace a laptop. Its speed is bound to motivate your workers to make their best endeavor for the development of your business.
The IT friendly features found in the system help your enterprise stay ahead with time & accept the challenge of toughest competition. Besides, it is widely recommended for the space constrained enterprise or business.
HP EliteOne 800 G1 AIO & Variants Price
$289.90
3 used from $289.90
as of October 2, 2023 3:07 am
$289.90
3 used from $289.90
as of October 2, 2023 3:07 am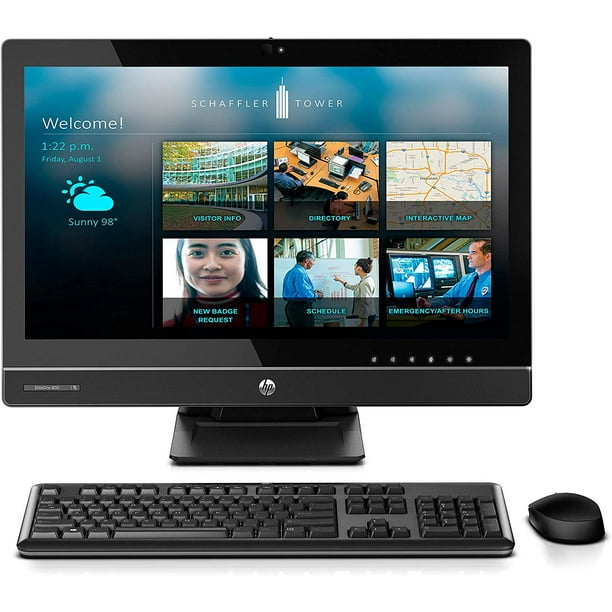 Introduction
The EliteOne 800 G1 is one of the finest all-in-one desktops currently available on the market.
Being the excellent parts of system, touch-enabled screen & Windows 10 Professional have made it highly superior & almost similar to business desktop.
It offers an all-round performance in spite of having no extra device or cabinet attached to the system.
It is able to solve several problems that IT employees expect an all-in-one desktop to do with utmost accuracy.
Buy for: Discrete graphics | Speedy quad-core processor
Beware of: Upgrading issues
Best uses for: billing counter, small office, multitasking, students, etc.
The alternatives:
Design & Build
This all-in-one desktop sports a 23 inch Full HD touch-screen display which has the native resolution of (1920×1080) pixels.
It appears in corporate black shade and gets matched to the professional ambiance of your business.
Performance
The system is powered by Intel Core i5-4570s chipset which delivers faster and highly efficient performance without any occasional lag.
It has the base speed of 2.9 GHz & offers the maximum speed up to 3.6 GHz to meet your everyday computing needs.
Hardware configuration of the desktop also includes an Intel HD Graphics processor to support a variety of creative tasks & offer you multimedia entertainment.
For utmost multitasking convenience, the device houses 8GB DDR3 RAM and 500GB SATA HDD storage of 7200 rpm that helps you create your own library of business documents.
Ports & Connectivity
You can conveniently connect the system with numerous peripherals such as hard drives via six USB 3.0 ports.
You will find other essential I/O ports that include a serial port for some older peripherals such as cash register drawers, a Display Port for getting external monitor support, audio jack, and a couple of PS/2 ports to connect to PS/2 keyboards and mice.
Moreover, the EliteOne 800 is thoughtfully connected with 802.11 a/b/g/n Wi-Fi networking and Gigabit Ethernet.
Additional Features
The EliteOne 800 AIO desktop runs on Windows 10 Professional operating system that brings you plenty of latest apps & striking features of Google.
The system comes with a wireless keyboard and wireless mouse to ease your performance on it.
Specs Details:
Brand: HP
Hard Drive: 500GB
RAM: 8 GB
Hard Drive Type: SATA
RAM Type: DDR3
Processor: Intel Core i5-4570s
Graphics: Intel HD
Processor Speed: 3.6GHz
Processor Brand: Intel
Operating System: Windows 10
What Do Users Think about HP EliteOne 800 G1?
The HP EliteOne 800 G1 has been bought by people who are interested in buying premium business PCs for their enterprises or their homes.
They are mainly attracted to the large screen size and the space-saving advantages that they get with this PC. It worked decently and was also easy to carry around.
The screen quality was found to be excellent and the stand on which the display rests allows variation which only brings about further convenience.
The problem that had arisen was that the unit is not Wifi ready out of the box. Check out HP EliteOne 800 G1 AIO Manual.
This and the restrictions on upgrades and difficulties in doing repairs were other matters that disheartened the users.
Our Testing & Analysis Report
We placed the HP EliteOne 800 G1 AIO on the billing counter of a shopping mall. The performance of this device was good, but without an SSD, it didn't deliver smooth performance.
However, we were able to work with applications like QuickBooks, Xero, Zoho Books, as well as casual applications such as MS Office, VLC Player, and Google Chrome.
The AIO's display is good, and the speakers provide decent sound quality. Additionally, its compact size makes it a perfect choice for this purpose.
We also used this device in a small office to test its real-time performance. It was used for regular multitasking, running programs like Microsoft Office Suite, G Suite, and Slack.
The PC performed well and helped save valuable desk space, making it an excellent fit for smaller work environments.
Furthermore, we utilized this desktop for multitasking, and its performance was decent.
We ran various popular applications such as Microsoft Office 365, Google Drive, Adobe Acrobat Reader, Trello, and video conferencing applications like Zoom or Microsoft Teams.
This product is also a good option for students and teachers.