As an Amazon Associate and (affiliate of other merchants) we earn from qualifying purchases without any extra cost to you when bought through paid links below.
HP Envy TE01-1022 Desktop
USD
Value for Money Score
8.6/10
Specifications and Features Score
8.5/10
Cons
Only one USB Type-C port
Limited interior room for expansion
Lackluster gaming performance
No discrete graphics card
Verdict
With this computer, users can expect high speeds; it also offers high storage that is and has been designed in a way that provides users with realistic user experience.
Though it is not the cheapest PC available it is worth investing in but there is no Thunderbolt and even the gaming performance is diming.
HP Envy TE01-1022 Desktop & Variants Price
$959.70
2 new from $959.70
2 used from $699.00
as of November 30, 2023 8:07 am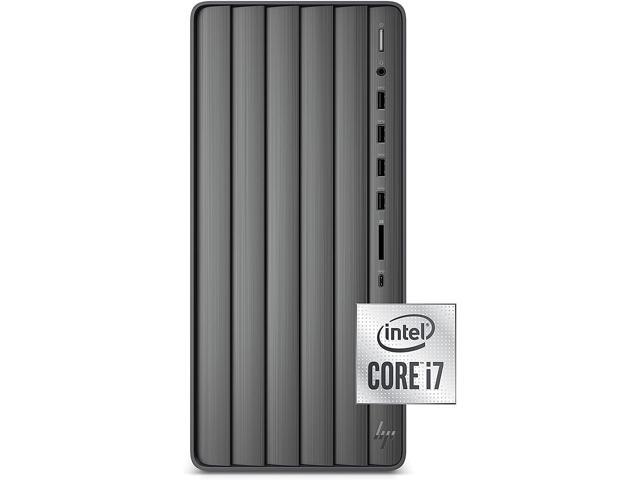 Introduction
HP has over the years has always been one of the most trustworthy brands in the field of desktops and other computers.
It has always brought in some of the most innovative computers that are usually loaded with some groundbreaking technologies.
Out of the many PCs, the HP Envy TE01-1022 Desktop with the latest i-7 Intel Core Processor is the All in One Computer that is suitable to meet the needs of every household member and just perfect to meet the rapidly rising demands of the business world.
Therefore, whether it is gaming or any other purpose it is ideal for all.
It has all the features starting from speed, storage to user experience, and fast connectivity that enable it to deliver the top-grade performance that users of the modern age seek and thus is reliable on all fronts.
However, amongst the many choices now available, you would find that this particular HP desktop is one that offers robust performance for its users and it is what would easily beat its close competitors in terms of user experience.
Buy For:  Eight USB Type-A ports & Wi-Fi | Gigabit Ethernet port
Beware Of: No Thunderbolt 3 port
Best uses for: Engineering students, FL Studio, VFX, realtors, remote work, number crunching, normal use, non gamers,  IT professionals and other purposes.
The alternatives:
Design
This HP Envy Desktop is one that has been smartly designed that provides it with a very stylish and sleek look.
At the same time, it also offers a high speed that is imperative for all gaming pcs and thus ideally suited for the same.
It is very compact with the product dimensions of 11.97 X 6.12 X 13.28 inches and is fairly light weighing at just 13.14 pounds.
Since it is compact it can easily be kept in a small space and given its attractive looks would add to the aesthetics of the user's room.
So design-wise if you want to fuel your creativity and experience the power of the Intel processor this has been designed specifically for this purpose.
The design is such that it would bring out the best of your creative needs. Check out top 10 desktop brands.
In spite of the fact that the Envy Desktop has a similar square shaped shape that PC towers have utilized for quite a long time, HP has energized the outside to assist it with rivaling smooth ultraportable workstations and across the board work areas.
The black body has adjusted corners and a ribbed front, which emits an unclear Sydney Opera House style (if the Opera House were rectangular).
You should in any case presumably shroud this PC underneath your work area if conceivable, yet in the event that the front shows, at any rate it won't look exhausting.
Performance
In terms of performance, this HP Desktop comes equipped with the highly advanced features that make it truly stand out from the competition.
It is powered by the 10th Generation Intel Core i-7 10700 Processor.
The processor has the Intel Turbo Boost Technology that enables it to generate very high speeds that are best suited to meet even the latest computer gaming needs.
So whether you are looking to render, edit, gaming, or stream better it is ideal for all the multiple purposes that most users seek.
Besides this, the HP desktop also has the highly advanced UHD Graphics 630 user graphics that enable this computer to deliver crystal clear images and a very realistic user experience necessitated by the latest computer gaming.
To go along with the same computer also a very efficient power supply in the form of 180 Watt Gold efficiency supply.
Thus even if it operates over long periods you need not worry about higher electricity bills.
The Envy Desktop's front ports are situated in a segment along the correct edge underneath the force button, and incorporate an earphone jack, four USB Type-A ports, a full-sized SD card, and a USB Type-C port.
This cornucopia of ports won't leave you looking for a space to connect outside capacity or charge a few handheld gadgets at the same time.
An excessive number of organizations pack a symbolic choice of ports into a small region on a work area's front edge, and it's ideal to see that HP is evading the pattern.
This includes card prospects are undeniably more restricted. It will come previously involved in the event that you request the Envy Desktop with a discrete GPU.
The vast majority won't give it a second thought, yet the restricted PCIe circumstance could be an issue for some specialty use cases, for example on the off chance that you need both duplexed Ethernet and devoted illustrations.
The Envy Desktop incorporates a 400-watt power flexibly, which ought to give a lot of capacity to any parts that you need to include, however a very good quality design card could be a push.
HP incorporates a one-year restricted equipment guarantee and 90 days of telephone uphold, beginning from the date you buy the PC.
The organization likewise tosses in some fundamental peripherals—a console and mouse that are durable, however not happy enough for long distance race composing or gaming meetings. The peripherals are accessible in either wired or remote forms.
It has a capacity subtest that we use to evaluate the speed of the framework's boot drive. Since the entirety of the PCs here has SSDs, their capacity execution is generally equivalent.
The outcome is a restrictive score demonstrating a PC's reasonableness for processor-escalated outstanding burdens; unmistakably while the HP Envy is no workstation, it can deal with periodic delivering errands far superior to the Mac small can.
We additionally run a custom Adobe Photoshop picture altering benchmark (likewise with Handbrake, lower times are better here).
The Photoshop test focuses on the CPU, stockpiling subsystem, and RAM, however it can likewise exploit most GPUs to accelerate the way toward applying channels.
None of these frameworks is incredible at photograph altering, however the Envy Desktop and Acer Aspire are plainly significantly better than their rivals because of their all the more remarkable CPUs.
RAM & Storage
When it comes to RAM this HP PC has the 16 GB DDR4 -2933 SDRAM (2 X 8 GB) which can easily be upgraded to the 32 GB.
With this, highly configured RAM users can indeed expect high speeds regarding multiple processes.
Thus everything happens very smoothly with this highly sophisticated RAM. Coming to storage this computer has more than adequate internal storage.
It has 1 TB 7200 RPM SATA Hard Disk Drive and along with the same, it also has the 512 GB PCle NVMe M.2 Solid State Drive.
So no matter what type of computer function you are looking for in terms of storage it is sufficient in terms of the current web scenario.
Ports & Connectivity
With the advancement of computer gaming and other web application needs the need for plugging in devices has become very essential.
This is why the number of ports that the PCs have has become an important requirement now.
You would be happy to note that this PC has 4 USB 2.0 Ports and also 4 USB 3.0 Ports too.
Coming to Connectivity it has the Realtek Wi-Fi 5 (1 X 1) and the BlueTooth 4.2 Combo, which supports various types of the latest networks.
Thus, you can be sure that this HP computer has fast connectivity and thus users can stay connected at all times.
Additional Features
Speaking of Additional features this PC has the latest and most advanced Windows 10 Pro Operating System.
This makes the PC very user friendly. Apart from the same computer also a 1 year limited warranty period and users can get 24 Hours and 7 Days web support.
If you look at what the users think of the computer you would find that most users are quite happy with it. Check out HP Envy Desktop PC TE01 Manual.
The reason why users are happy with this product is that it offers high speed. Many are also of the opinion that it is the perfect pc in the current web scenario.
On the off chance that you intend to utilize the Envy Desktop for messing around anymore convoluted than Candy Crush or Minecraft, you'll need to arrange it with a discrete GPU.
Else, you'll get results like the baffling numbers that our incorporated designs prepared Envy accomplished in the 3DMark and Superposition tests. The tolls improved due to its AMD Radeon Vega incorporated illustrations.
We estimate relative illustrations muscle by delivering successions of exceptionally itemized, gaming-style 3D designs that stress particles and lighting. We run two diverse 3DMark subtests, Sky Diver and Fire Strike.
The Superposition test delivers and skillet through a point by point 3D scene and measures how the framework adapts, offering an outcome in outlines for each second (fps).
The Envy Desktop is a capable ordinary PC, offering amazing profitability execution in an alluring suspension with a touch of space for development.
While its gaming execution is dreary, that can without much of a stretch be cured by including a discrete GPU.
Nonetheless, in the event that you intend to include a few PCIe cards or have loads of USB-C peripherals, you'll need to look somewhere else.
Specs:
Brand: HP
Storage: 1 TB Hard Drive & 512 GB SSD
RAM: 16 GB
Storage Type: SATA
RAM Type: DDR4
Processor: Intel Core i7-10700 Processor
Graphics: Intel UHD Graphics 630
Processor Speed: 4.8 GHz
Processor Brand: Intel
Product Dimensions: 11.97 x 6.12 x 13.28 inches
Operating System: Windows 10 Pro
Our Testing & Analysis Report
To create a PowerPoint presentation, we used the HP Envy TE01-1022 and found it to be highly efficient.
The PC effortlessly handled multiple slide transitions and animations, and the presentation ran smoothly without any lag or glitches.
We also used this device for attending an online conference. It performed well there and there was no technical glitch caused by the PC. Zoom and Microsoft Teams -were the two applications that we used for this purpose.
We also placed this HP Envy TE01-1022 at the billing counter of a shop.
It delivered fast processing there. Creating bills, processing online payments and all types of tasks are processed smoothly by this device.
It delivered exceptional performance while processing QuickBooks and Microsoft Excel.
Creating a blog was a very important task that we performed on this PC.
The HP Envy TE01-1022 handled multiple tabs and windows effortlessly, and we were able to edit and format our blog post with minimal effort.
We used both WordPress and Blogger for that specific task and it processed all of them very easily and smoothly.
Performing regular multitasking tasks on this PC was a breeze. We could open multiple applications and programs without any noticeable lag or delay, and the PC handled all our tasks with ease.
We used Microsoft Office Suite and Adobe Creative Cloud for various tasks. But the graphical performance of this device is very poor.
Thanks for your feedback!