eComputerTips is reader-supported. When you buy through links on our site, we may earn a small commission without any additional cost to you.
Value for Money Score
8.5/10
Specifications and Features Score
8.4/10
Pros
Cheap and inexpensive
Solid screen results
Build quality
Good design
Futuristic machine
Cons
Poor speakers
Connectivity could be better
Not easily available
Warm at times
Little bit humungous
Read Acer Aspire C24-963-UA91 AIO desktop review and see the price. Acer is a company which offers satisfaction to millions of users with its new and easy technological impacts.
Acer is taking a pleasing ad satisfactory approach in dealing with the best possible aspect for its customers.
You can definitely take a note on the fact that it satisfies all the customers who are home based. You can take a hold of different other aspects like the perfect screen and perfect body.
You can check out the futuristic design and the entire body. Within this budget, this is the best thing you would ask for.
You can do some light work with media based & home browsing. These are no doubt giving you a better benefit.
But at the end of the day when you are delivering the best product then make sure beside being inexpensive it can offer you the best visual communication quality.
Acer Aspire C24-963-UA91 AIO Desktop & Variants Price
$450.00
$579.99
7 used from $450.00
as of June 28, 2022 10:55 pm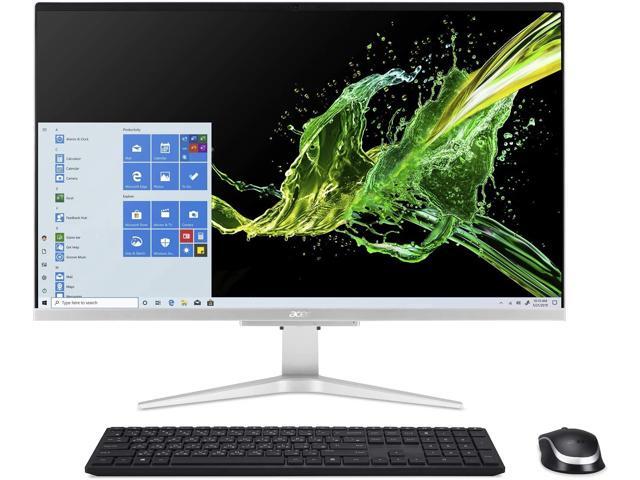 Acer Aspire C24-963-UA91 AIO Desktop Review
Buy for: Cheap and inexpensive |  Solid screen results
Beware of: Poor speakers
Verdict
This is one of the most eye catchy and subtle designs compared to others. In fact, the screen and looks complement each other.
You can simply understand that this budget and the inexpensive value of the product are actually making it best for the home based users. The speakers are not that good & connectivity.
Design & Build
This is a powerful design with Aspire C24's base you will get a great display. The silver bezel actually matches the accent with the top and sides which are wider.
This bezel is the thin border which is actually making the design much more effective and effective ad unique at the same time.
It is 21.2 x 1.46 x 15.7 inches in dimension and is useful for various types of works. 0.14″ narrow bezel with viewing angles of 178° making it an ultimate display platform for many.
Widescreen Edge-to-Edge LED Back-lit display 23. 8″ Full HD (1920 x 1080). Check out top 10 desktop brands.
This resolution with 4 options is simply making you get a better return from the display. You can certainly think of the best to get the best value of it.
Performance
The performance is definitely enhanced with the help of the Intel Core i3-1005G1 Processor (Up to 3. 4GHz) 10Th generation is empowering the whole concept.
The turbo speed is better than the 8th generation one. It is giving a fullest backup from all round ratio.
The integrated graphics has actually been selected and offered by the completely performing sector.
The RAM influences taking a new edge in overpowering the best fields.
Overall it is giving you the perfect reason to make it look lovely and effective for its usage.
The display and the performance factor both are making this device best for any sort for home based work.
Though the display part is great but still we cannot use it for high end graphical works as it will not be suited for it.


Storage & RAM
The 10th generation processor is no doubt accompanied by 8GB DDR4 Memory and 512GB NVMe M. 2 SSD.
This is no doubt giving a bigger boost to the whole performance. This is equally satisfying in every end.
There are so many cases, which are actually making it perfect from all the directions.
You can call the best ideas to see it for browsing and dealing with other home based works.
The file storage ability is no doubt giving you a better quality.
If you need to check out some high end graphical work then make sure that your storage is good which is not so good here.
So this can be a point of hindrance to an extent. Check out Acer Aspire AZ3-715 AIO Review.
Ports & Connectivity 
You will be getting a host of ports that are available here.
In fact the makers of this device are also claiming it is the same but to be honest you will be getting four USB ports, extra peripherals, display using the HDMI port all these are offering a good overview.
In fact for wireless connectivity you are getting Wi-Fi 5 (802.11ac). Bluetooth 4. 2 and Gigabit Ethernet LAN is also present here.
So you do not have to worry while checking out the photos and videos. All these are really driving you with a good level of work of any sort of visual work.
Additional Features
Here apart from all these that you are getting, Windows 10 Home software is already installed.
You will be checking out the wireless keyboard and mouse, built-in 1. 0MP HD webcam and two built-in stereo speakers.
All these you are getting additionally. In fact, these extras will enhance your experience to a level best.
These are so many factors, which are no doubt offering you a complete solution provided the performance is good.
Specs:
Brand: Acer
Storage: 512GB
RAM: 8 GB
Storage Type: SATA
RAM Type: DDR4
Processor: Intel Core i3-1005G1
Graphics: Integrated
Processor Speed: 3.4GHz
Processor Brand: Intel
Product Dimensions: 21.20 x 1.46 x 15.70 inches
What Do Users Think about Acer Aspire C24-963-UA91 AIO?
According to the users, this product is good for any and every home based work. This is nice having a great design of its own.
You can check out that there are so many factors as if a great display is actually giving you a great picture quality. Check out Aspire C24-963 Manual.
That means any type's visual treat is very great through this Acer model but if you are really talking about the high-end graphical part then this machine is not at all having the capacity to deal with it.
Other Expert Views
According to Digit Week this model of Acer is most inexpensive, having a stylish design and at the same time a great display. A perfect wide angle display with a host of ports but at the same time it is not available so much and  has issues in the speakers. So if you are checking out your videos then make sure you have some external privileges.