Value for Money Score
8.6/10
Specifications and Features Score
8.4/10
Pros
Small and attractive design.
It is a great value-for-money product.
This PC offers very satisfactory and stable performance.
Updated USB Type C ports are present in this product.
An SSD drive helps it to process various files faster.
Cons
The cooling system of this PC is not so advanced.
The PC can't be fully upgraded.
The capacity of the SSD is not satisfying.
Doesn't have a very powerful graphics card.
Heating up issue upon very long use.
Verdict
The device is offering a quite standard configuration at a reasonable price tag. For beginners of any field, this PC is a great deal; but as it is not fully upgradable the users need to replace it in the future with an advanced system.
Insufficient cooling ability is a great drawback of this PC and as it doesn't have any powerful GPU, it is not able to smoothly perform any graphics-oriented tasks.
Acer Aspire TC-895-UR11 Desktop & Variants Price
$799.87
as of February 7, 2023 2:55 am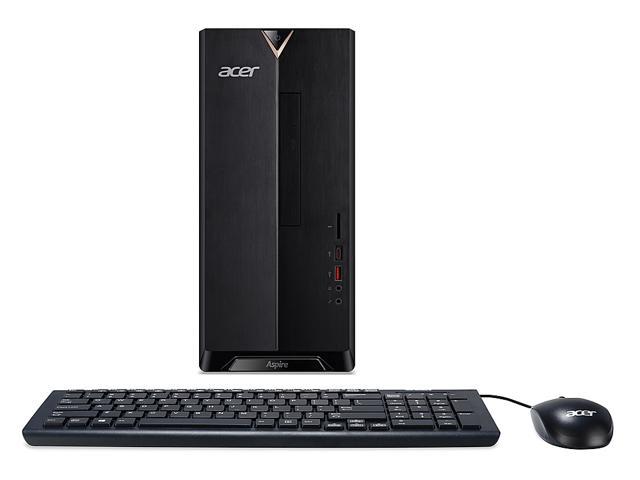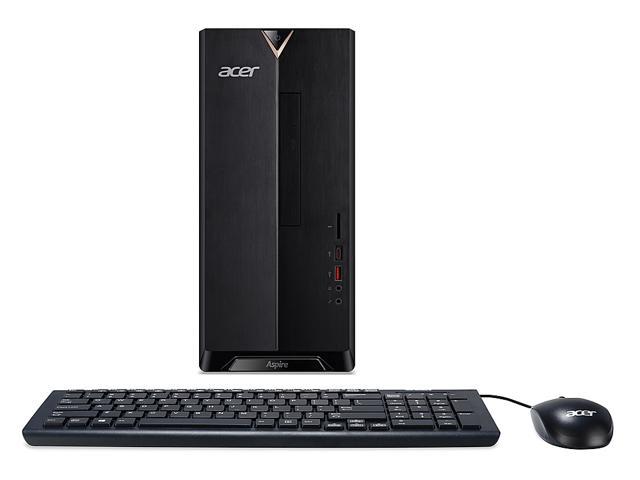 Introduction
Nowadays Acer is a very famous desktop manufacturer. In this tough competitive market, it has created its place by offering plenty of quality PCs at a reasonable price tag.
Most of its systems are very efficient at their work and offer very constantly satisfactory performance. To the budget users, the products of Acer are one of the most favourite options; such Acer has created its huge fan base.
This Acer Aspire TC-895-UR11 Desktop is a great value-for-money product to budget users. To perform simple multi-tasking or any general tasks this PC is the most affordable option to go for.
In a decent price tag, this PC offers quite a standard configuration and it helps the device to offer quite stable and great all-round performance. But in graphical performances, this system somehow lags.
So the gamers, video editors or any high-end user need to avoid this deal. To casual users, this PC offers a very satisfactory performance.
For performing regular computer-oriented tasks this device is one of the best affordable deals. Overall it is just the system that every beginner or any budget user searches for.
Buy For: This is the most affordable desktop of Acer that can offer quite stable performance constantly. Its processing speed is also quite good. The users also get an SSD drive in this budget PC.
Beware Of: The cooling system of this PC is not very strong and its graphical performance is also not satisfactory. The capacity of the storage that is present in this product is not up to the mark for the users of this generation. It is not made to serve any high-end user or gamer.
Best uses for: Lawyers, Quickbooks, small business and other purposes.
Best alternatives: Lenovo IdeaCentre 3 and Acer Aspire TC-895-UA92
Design & Build
The size of the desktops is gradually descending day by day and they are getting more powerful.
One can easily place this Acer Aspire TC-895-UR11 in any small space and this compactly designed PC has got a very sophisticated, sleek, pretty design.
The design of this cabinet is slightly advanced from the basic models. The angular touch at the front side of the chassis added some extra charm to its design.
The company has given this device such a design to fit at any corner of a desk at home or any commercial space. It doesn't occupy much space on a desk.
This sleek cabinet measures only 13.78 by 6.42 by 13.39 inches. The chassis is made of hard plastic and black is the most common colour variant of this product.
To get access into the internal part of the cabinet, one needs only to remove the two rear screws.  One-third part of the internal part of the cabinet is occupied by a metal back plate.
In this section, one can install additional hard drives. The space behind this section is occupied by a DVD drive. Beneath that section, the SSD drive of this PC is placed on the motherboard.
The remaining area of this cabinet is mostly occupied by the motherboard and the CPU cooler.
As we see there is not a great space for sufficient cooling. One can locate the PSU at the top left corner of the cabinet.
Performance
In terms of performance, this PC offers quite decent. One can't expect very high-level performance from a budget-friendly system.
But, the PC always tries its best to offer a very constant and stable performance. But as its configurations and cooling system are not so advanced, it has some limitations.
But, it offers better performance than its similar products of other companies. It is equipped with an Intel Core i5-10400 processor.
This 10th generation processor is very efficient in handling easy to moderate tasks. The average clock speed of this powerful processor is 2.9 GHz, which is quite a good speed to perform regular tasks.
The maximum clock speed that can be reached by this processor is 4.3 GHz. This 6 core processor is a good choice for fluently using QuickBooks.
This processor is quite powerful and has the capability to run 2 to 3 software simultaneously. It can easily handle 3-4 chrome tabs, smoothly. The PC doesn't have a very powerful dedicated graphics card.
It has Intel UHD Graphics 630, to handle various graphical contents. This GPU is not capable of handling any 4K content, but videos with 1080 pixels can easily be run by this GPU.
But it is good not to run any graphics-oriented software or game in this system; else the users can face lagging.
To perform regular computing tasks, especially the tasks of beginners, it is very hard to find a perfect alternative to this product.
In performing various multitasking tasks, this PC is very efficient and this compactly designed affordable PC runs on Windows 10 Professional operating system.


Storage & RAM
Nowadays storage and RAM can transform any moderate system into a good performing device.
SSDs are the innovation of this era and these drives are almost 10 times faster than the old HDDs. But everyone can't afford SSD drives as they are quite expensive.
This product of Acer comes with an SSD drive of 512 GB. This is an NVMe M.2 SSD and it offers very fast processing.
Having no mechanical parts, this SSD has more longevity than the traditional HDDs.
But the major issue in this PC is the capacity of the SSD. Indeed, the amount of capacity of the SSD that is used in this desktop can't satisfy any modern user.
But the company has attached an empty storage space for the users of this device. The users can install an additional storage drive in that space.
But, they have to additionally invest money on it. The file opening capabilities and the speed of this process are indirectly dependent upon the primary memory of the desktop.
This system comes with 12 GB DDR4 RAM that operates at a speed of 2666 MHz.
This RAM is a good choice to smoothly and quickly perform easy to moderate tasks like; view or edit large spreadsheets or creating presentations with great accuracy.
Ports & Connectivity
This Acer Aspire TC-895-UR11 Desktop is equipped with many useful USB ports and advanced connectivity features are present in it.
At the front side of the cabinet, there is a USB 3.2 Type C Gen 1 port that can transfer data at the speed of 5 Gbps.
Besides it, there is also a USB 3.2 Gen 1 port. At the rare side of the cabinet, there are 4 USB 3.2 Gen 1 ports and 2 USB 2.0 ports.
This product of Acer comes with wireless Wi-Fi and Bluetooth connectivity.
Intel Wireless Wi-Fi 6 802.11ax Dual-Band connectivity is present in it and the frequencies of its antennas are 2.4 GHz and 5 GHz.
This desktop comes with MU-MIMO technology and a Gigabit Ethernet LAN facility is also present in this product.
Bluetooth 5.1 connectivity is also present there. So, as we can see this budget-friendly PC comes with plenty of updated connectivity features.
Additional Features
As we discussed earlier, this compactly designed PC doesn't have sufficient room for cooling.
Some basic cooling fans are used in it and the air passing vents in the cabinet are also limited.
So, the heating issue is very common in this device; that indirectly hampers the overall performance of the PC.
The cooling fans also create some noise while running for a long time. These noises hamper a proper working environment.
This desktop of Acer comes with a warranty of one year.
With this particular package, the users are also getting a regular USB keyboard and mouse of Acer.

Specs:
Brand: Acer
Storage: 512 GB
RAM: 12GB 2666MHz
Storage Type: NVMe M.2 SSD
RAM Type: DDR4
Processor: 10th Gen Intel Core i5-10400
Graphics:  Intel UHD Graphics 630
Processor Speed: 4.3 GHz (max)
Processor Brand: Intel
Product Dimensions: 13.78 x 6.42 x 13.39 inches
Operating System: Windows 10 Professional
What Do Users Think About Acer Aspire TC-895-UR11?
Casual users, especially beginners, are really happy by using this device. The most appreciated part of this product is that it comes with an SSD drive.
Although this is an affordable device, it comes with a powerful 10th generation processor of Intel that operates at a great speed.
The constant and stable processing speed of this device is also appreciated by most casual users but the gamers are not satisfied with this product.
Having the insufficient graphical ability and insufficient cooling facility, the device cannot satisfy any high-end user. Check out Aspire TC-895 Product Support.
Other Expert Views
According to Techburns.com, this product is a great value-for-money product and one of the best deals for beginners and casual users.
Another reputed site PCmag has said that Acer has tried its best to offer affordable and quality products at a reasonable price tag through the devices of its Aspire series.