Value for Money Score
8.7/10
Specifications and Features Score
8.5/10
Pros
High resolution display.
It has got a very compact design.
The display comes with a touch screen facility.
The audio system is quite advanced.
It comes with an HD webcam.
Cons
The device lacks dedicated graphics card.
SSD drive is missing.
The cooling system is not very advanced.
The users can face heating issues while running any CPU-oriented tasks in it.
The AIO doesn't offer plenty of USB ports.
Verdict
This device is a great product for those users who search for and Compact AIO at a decent price tag. For regular computing this device is a great choice but, for extreme CPU oriented or graphics-oriented tasks, this product is not recommended at all.
Asus Vivo V272UA AIO & Variants Price
$1,257.96
1 used from $1,257.96
as of January 31, 2023 4:55 pm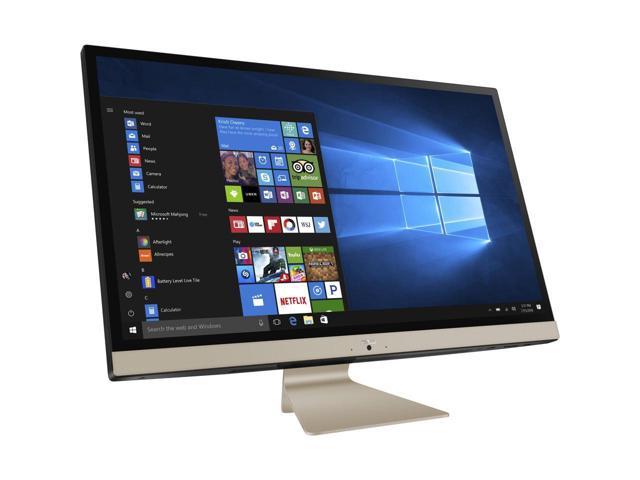 Introduction
As a desktop manufacturer, ASUS in recent days, is a very trusted brand. It has a wide range of prebuilt tower desktops, AIOs, and laptops.
This AIO of the company is one of the best-selling devices. The huge, stunning 27 inches display is one of the most attractive points that attract the users towards it.
The overall configurations of this device are quite appropriate for regular multitasking or to perform any easy to moderate CPU-oriented tasks.
Having a very compact PC this AIO is widely used in various businesses and workplaces.
Buy for: This AIO of ASUS comes with a great display. The audio system of it is quite advanced and the inbuilt HD webcam is also very helpful to the regular users of it.
Beware of: The cooling ability of the AIO is not very satisfying. The gamers have to avoid it as this device doesn't possess any dedicated graphics card.
Best uses for: Home use, lightroom, bloggers, writers and other purposes.
Best alternatives: HP Pavilion 27 D0072 AIO and Acer Aspire C27-962-UA91 AIO
Design & Build
The overall design of this AIO is very simple and compact. To make this device a space-saving product, the company has made it remarkably slim.
The product is also light weighted. The Asus Vivo V272UA comes with a very simple, elegant stand.
This single-piece stand is made of Aluminium. It gives the AIO a very graceful appearance.
The design of the stand is almost similar to the shape of the Chinese character for 'human'.
The stand offers a perfectly balanced hinge; that helps to keep the monitor firmly in its place.
The users can tilt the monitor to their comfortable angle without facing any hurdles.
This Asus Vivo V272UA AIO comes with a 27 inches monitor which is a touch screen display.
The Nano Edge display feature of this display helps it to offer an edge-to-edge viewing experience.
It comes with wide-angle view technology; even the users can clearly see the contents of the monitor from a viewing angle of 178°.
The resolution of this full HD display is 1920 x 1080 pixels. The screen-to-body ratio of this product is 81%.
The users can enjoy movies, videos, or any simple presentation with vivid details and great colour contrast.
The display has the capability to offer a 100% colour gamut. It ensures true-to-life colours.
This feature enhances the beauty of any mesmerizing scene; such as sunset, waterfalls, clear blue sky, etc.
The display has a 10-point multi-touch capability. So, the users can easily interact with this device by using multi-finger gestures.
However, by using this device the users can enjoy a very realistic video quality.
Performance
This AIO of ASUS offers very decent performance. It is equipped with an Intel Core i5-8250U which is an 8th generation processor.
For multitasking tasks, this processor is a good choice. The maximum clocking speed that the users can get from this processor is 3.40 GHz.
For regular day-to-day usages, the processor seems to perform very efficiently and smoothly.
But it is unable to smoothly tackle heavy CPU-oriented tasks.
This product does not come with a dedicated graphics card, so video editors and high-end gamers should avoid this product.
But easy to moderate games can easily be played in this system, with low to medium settings.
The Lightroom users are satisfied by using this product as it can process this software smoothly.
To tackle the graphical contents, this device uses its Intel UHD Graphics 620.
This integrated graphics card is not capable of running the updated HD games, but it can smoothly run HD videos.
This multi-touch AIO of ASUS operates on Windows 10 Home.
Storage & RAM
This All-in-one desktop of ASUS comes with a traditional 2.5 inches HDD. The capacity of this hard disk drive is 1 TB.
The average rotational speed of this hard disk is 5400 rpm. The AIO doesn't come with an SSD.
If the users need more storage capacity, then they can use external storage units. 8 GB DDR4 RAM is used in this product.
It can easily tackle 3 to 4 tabs in a browser. But, while loading huge files the PC's performance deteriorates.
Ports & Connectivity
Being a compactly designed PC, this device is unable to offer plenty of USB ports like the desktops.
There are four USB 3.1 Gen 1 Type-A ports in this AIO. An HDMI output port is also present there.
This device also has one USB 2.0 Type-A port. The inbuilt Wi-Fi connectivity of this product is quite advanced.
It is compatible with 802.11ac connectivity; which is almost three times faster than its previous version.
As the AIO doesn't have many USB ports, the users should try to attach the various peripherals wirelessly either by using the Wi-Fi connectivity or by using inbuilt Bluetooth connectivity of version 4.1.
Additional Features
By using this All-in-One device office the user can enjoy a seamless impressive multimedia experience.
This device is equipped with a very powerful audio system.  Two integrated stereo speakers are present in this device.
Both of them can deliver 6W sound. So the PC generates very high quality, rich, smooth, powerful bass and clear, full-range sound with advanced Bass reflex.
This AIO uses exclusive ASUS Sonic Master technology to produce better audio quality.
In this PC the hardware of the audio section is of Sonic Master; which is very hard to find in any AIO.
While running audio files at high volumes, the users can clearly identify each and every note of a song.
The product comes with advanced array microphones. These are capable of filtering the background noises.
Such advanced parts help the product to increase its accuracy of voice recognition.
An HD Webcam is also present in this device. It is very helpful while attending any business meetings online.
The position of the Webcam can disappoint many users. A conditional warranty of one year is attached with this product of Asus.
By using ASUS Zen Anywhere, the users can securely and smoothly perform remote access in this AIO.
Even the users can securely shut down their system remotely.
To run this PC the users need to use a 90W AC adapter, which is included in the package.
Specs:
Display Size:  27 inches
Display Resolution: 1920 x 1080 pixels
Storage: 1 TB HDD
RAM: 8 GB DDR4 RAM
Storage Type: HDD
RAM Type: DDR4
Processor:  Intel Core i5-8250U
Graphics: Intel UHD Graphics 620
Processor Speed:  3.40 GHz (Max)
Processor Brand: Intel
Product Dimensions: 24.8 x 18.2 x 7.4 inches
Operating System: Windows 10 Home
What Do Users Think About Asus Vivo V272UA AIO ?
The beginners and the casual users whose main expectations are smooth multitasking operation or simple internet browsing are very satisfied by using this device.
Some buyers also said that if the company will attach an SSD with it, then the product can be more productive and speedy.
None of the high-end users are satisfied by using it.