Dell Alienware Aurora R11 Gaming Desktop
US 1+
Value for Money Score
9.1/10
Specifications and Features Score
9.2/10
Read Dell Alienware Aurora R11 gaming desktop review and see the price. Gaming or running game-play applications is not a joke if it's taken passionately.
For this reason, professional gamers keep looking for an industry-leading gaming PC that will satisfy their appetite. If you are one of those gaming PC seekers, your search will definitely stop here.
Being a customizable, smart gaming PC, the Aurora R11 creates a breathtaking world of gaming adventure around you.
Its bold design including continuous lighting, functional air intake at front & hexagonal-shaped side venting makes air movement easier than ever.
From latest Gen CPU to ultra-high storage drives, this gaming desktop excels in everything it does possess internally.
Dell Alienware Aurora R11 Gaming Desktop & Variants Price
$2,897.14
in stock
4 new from $2,897.14
2 used from $2,599.00
as of March 3, 2021 6:02 am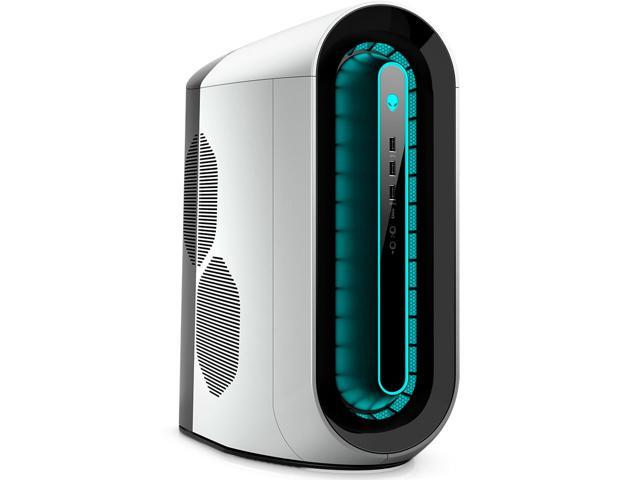 Create Your Free Price Drop Alert!
Set Alert for New Alienware Aurora R11 Gaming Desktop, Intel i7-10700KF, NVIDIA GeForce RTX 2080 Super 8GB... - $2,897.14
Dell Alienware Aurora R11 Gaming Desktop Review
Buy For: Excellent 4K gaming | Strong CPU performance
Beware Of: Runs hot
Verdict
Although the Aurora R11 is available on the market at an expensive rate, it offers an array of configurations that common people can afford. The PC is well packed with multiple advanced features that assure smooth gaming at its zenith.
Design & Build
The chassis of the Aurora 11 resembles one of its predecessors in terms of design and appearance.
In spite of that case, it looks striking and innovative from every angle.
It comes with a bold appearance that offers a turbine-like front, exclusive shape and radiant portions.
The chassis has got "Dark Side of the Moon" color to be unparalleled among its competitors.
In the middle of its front panel, you'll find a strip which is encircled by an RGB light bar.
For this RGB lighting, it appears highly elegant and sober to grab the eyes of gamers instantaneously.
At a first glance, it may look bigger than its actual dimension but it's truly compact in size.
This tower PC has got the dimension of 18.9 x 17 x 8.7 inches while it weighs 41.1 pounds.
Moreover, it comprises premium plastic material to ensure powerful build for multiple years.
Performance
This gaming system is ultra powerful in its hardware configuration.
It derives all the power from 10th Generation Intel Core i7 10700KF processor which plays a substantial role in gaming.
It renders the highest performance gaming experience along with Air cooling benefit.
For this latest generation CPU, it has become the most advanced Intel-based gaming PC from Dell Alienware.
The CPU is combined with NVIDIA GeForce RTX 2080 SUPER graphics processor to provide the fastest gaming experience.
This GPU comes with huge GDDR6 memory of 8GB that helps in quickly running all the graphically rich gaming applications.
Being the most powerful GPU on the market, it makes you feel that you will get everything that's worth your investment.


Storage & RAM
The system features 16GB DDR4 XMP Dual Channel HyperX FURY memory to reinforce its gaming performance.
This huge size of RAM is highly essential to run assorted gaming applications and other software at a time.
It provides greater & fluid multitasking experience to every passionate gamer.
On the other hand, this mid-tower PC houses dual types of storage drive. Check out Dell gaming desktop PC.
It is packed with 1TB SATA Hard disk drive and 512GB M.2 PCIe NVMe SSD as well.
These storage options allow you to keep all of your documents, applications & software secured in the device.
They also contribute to the overall system performance while running multiple applications at a time.
Ports & Connectivity
The system's case is decently replete with all the essential I/O port & connectivity slots.
Apart from catering to your all gaming needs, this PC can perform various general tasks with the help of these multiple outputs.
The rear panel is decorated with four USB 3.1 ports, six USB 2.0 ports, an Ethernet jack, audio jacks and another USB-C port.
The graphics card offers video-out ports, one HDMI port and three DisplayPort connections.
While looking at the center of the LED ring at the front, you will find three USB 3.1 Type-A ports, headphone & microphone jacks and a USB-C port.
Additional Features
The Alienware Aurora 11 is pre-loaded with Windows 10 Home operating system which brings you all the latest applications worldwide.
The system is highly convenient to upgrade and we should give thanks to its PSU swing-arm.
For this, we can also appreciate the way all the components are placed internally.
The chassis offers the facility of tool-less, simply accessible and secure upgrades for the years to come.
At the same time, it allows airflow to a great extent. Check out Centaurus Andromeda A4 Gaming Desktop Review.
The system ensures maximum airflow efficiency and an 8% drop in temperatures at the voltage regulator heat-sink.
As an added safety feature, the PC has a special function on its PSU swing-arm, which prevents swinging or falling while in operation.
Specs:
Brand: Dell
Storage: 512GB SSD + 1TB SATA HDD
RAM: 16GB
Storage Type: SATA
RAM Type: DDR4
Processor: Intel Core i7 10700KF
Graphics: NVIDIA GeForce RTX 2080
Processor Speed: 5.1 GHz
Processor Brand: Intel
Product Dimensions: 18.9 x 17 x 8.7 inches
Operating System: Windows 10
What Do Users Think about Dell Alienware Aurora R11?
Most of the fans & followers of the brand Dell has appreciated its state-of-the-art specifications and hardware configurations.
Moreover, its chassis design has been loved by almost all gaming fanatics. Check out Alienware Aurora R11 Manual.
According to some of them, this gaming device can function so far as required.
Most of the popular & advanced gaming applications can be operated on highest settings, as per their online reviews.
While running, the PC takes in cold air from the left panel and shoots up warm air to keep inside cool.
According to almost all these online reviewers, the Alienware Aurora 11 is a gift to fanatic gamers from Dell. Check out Aorus Gigabyte R281-200 Desktop Review.
Its state-of-the-art hardware combination has been regarded as ideal & convenient to run most graphics-intensive, challenging gaming apps.
Other Expert Views
According to PC Gamer this machine is having a tight performance with all the necessary builds and it is affordable at the same time. But it runs hot at times and it is true that it is hard to avail in the market. Otherwise this machine is great for the gamers.
PCMAg is saying that it is having a bold design and Nvidia GeForce RTX graphics which is good for the gamers looking for great performance. It is affordable in case of this review site but its configurations and plastic body is not at all giving reliability.
Techrader is saying that it is having an aesthetic value of its own so it is easy to upgrade with great performance but according to its view it is expensive and at the same time having only one HDD.