HP 24 All in One PC
US 1+
Value for Money Score
8.0/10
Specifications and Features Score
8.2/10
Pros
Stunning Design
Beautiful Display
Dedicated Graphics
Perfect processor
Webcam
Cons
Run hot
Hard to dissemble
Hard disk issues
Installation issues
Mother board issues
If you are in long quest of perfect desktop PC in order to take your business productivity to a great level, you can easily trust the performance offered by desktop variants from HP AIO. Check out Full HP 24 All in One PC Review.
HP 24 All in One PC & Related Products Price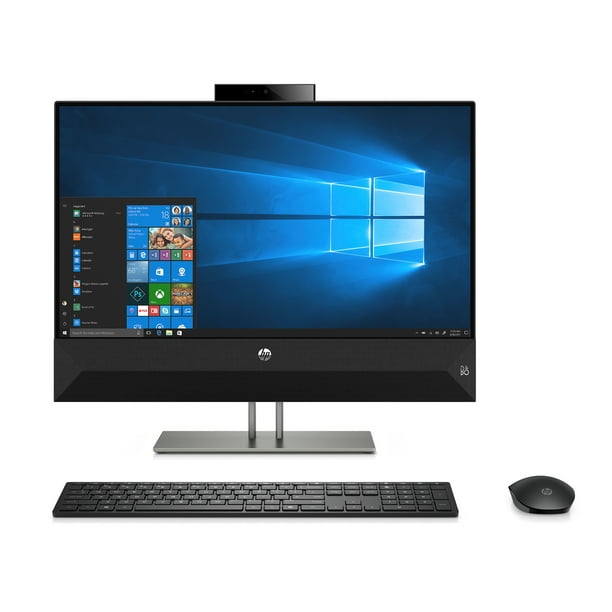 Walmart.com
HP 24 All in One PC Review
The HP 24 All In One PC desktop offered by HP is well built for small business or offices looking for a multimedia hub and hence it comes perfectly equipped with streamlined hardware configuration to empower your business production or organization.
The system is powered by quad core Intel (R) Pentium (R) Silver J5005 processor which can be overclocked to 1.5 GHz with the help of Intel Turbo Boost 2.0 technology.
On the other hand, the hardware composition of the HP 24 All In One PC includes Intel 620 graphics processor to enable you to explore the skills and level of creativity in you.
Its DDR4 RAM of 8GB assures smooth and hassle-free multitasking, while allowing the device to quickly access to different repeatedly-used programs, files and applications.
The system also provides you the chance of RAM upgradability where you can easily upgrade the memory up to 16GB if required in future years for heavy workloads.
Moreover, this specific desktop variant from HP sports a wide variety of ports and I/O connectivity slots to connect to various compatible peripherals and other additional devices.
It allows you to add additional storage, memory card readers, optical drives, printers and many other peripherals to cater to your ultimate requirements. Check out best desktops.
Specs Details
Brand: HP
Hard Drive: 1 TB
RAM: 8GB
Hard Drive Type: SATA
RAM Type: DDR4
Processor: Intel(R) Pentium(R) Silver J5005
Processor Speed: 1.50GHz
Graphics: Intel UHD Graphics
Processor Brand: Intel
Product Dimensions: 21.3 x 0.6 x 16.5 inches
Weight: 13 pounds
Operating System: Windows 10 Pro
Reliability
The HP 24 All In One PC product line has received huge acclaim from the brand followers, millions of users and tech experts for a number of reasons.
The series has launched a variety of workstations and all-in-one desktops which are highly superior in terms of several attributes including processor, graphics performance, I/O connectivity, memory, operating system etc.
The all-in-one HP are all equipped with rich multimedia attributes. Check out best desktop brands list.
These particular workstation towers feature advanced Intel Core chipsets, massive storage space and all other trendy components to ensure utmost productivity and remarkable entertainment experience.
The AIO desktops are powered by innovative technology to add to your skill and keep you up to date with worldly affairs.
With their latest graphics card, processor, audio and arrangement of more than sufficient ports, the AIO tower desktops and all-in-one workstations are definitely able to lead you to a world where you can simultaneously work and play.
The AIO desktops have got a compact design to offer maximum power while covering minimal area of your desk.
They also promise reliable battery quality and minimum heating on heavy usage for several hours.
Performance
At the core of the HP 24 All In One PC is Intel(R) Pentium(R) Silver J5005 which can be overclocked up to 2.80 GHz with the assistance of Intel Turbo Boost 2.0 technology.
This powerful processor adds to the faster and absolutely lag-free PC performance to get all your works done in unexpectedly short span of time.
The Intel Core chipsets are well known to deliver unprecedented performance without any occasional lag even under heavy pressure.
The processor with 4MB Cache coupled with the striking Windows 10 Pro features highly motivates you to unleash your own proficiency and imagination and take you to the next level of performance.
The system also packs Intel HD Graphics to become an industry leader by handling intensive workloads as well as gaming activities.
However the drawback is the system being lack of dedicated graphics card.
But the graphics processor holds the capacity to manage several graphically rich light gaming activities and multimedia related creative works incredibly well to bring a wide smile on your face.
Thus, the hardware composition in the HP 24 All In One PC is feature-packed, fast and superior with built-in security to enhance your creativity, productivity and entertainment to a great extent.
The current unit from HP 24 All In One PC series has one of the most powerful hardware configurations to overpower other variants in its class.
It is undeniably a monster for everyday performance. The composition of both Intel CPU and GPU makes the system highly efficient to handle day to day professional tasks related to web browsers, Windows, programs & heavy graphics intense software as well.
Design
The HP 24 All In One PC has got the similar cutting-edge design which is commonly seen in other HP variants under All in One series.
The upgradable system is wisely designed to match with your choice and the sophistication of your office.
Its tower like case with revolutionary appearance occupies little space while reducing nearly 45% of space without any compromise to overall system performance.
At the same time, the case offers multiple slots for future expansion & upgrades and all essential ports to connect the desktop PC to several additional peripherals for absolute user convenience.
The metallic case not just represents a trendy & elegant design but also assures sturdy build quality to withstand minor damages for several years.
The system measures about 21.3 x 0.6 x 16.5 inches which makes it smaller than its rival gaming & workstation-level desktop PCs.
The side panels are simply designed to give the system a professional look. It offers you easy upgradability in future years.
Display
1080 P monitor is giving you a stunning display. When HP is providing an AIO then it is to be understood that you will be getting the best in the pack.
It is truly offering the best 28.3 diagonal full HD monitor. This monitor is even backed up with the touch screen and HP HD Privacy Camera.
You will definitely think of the best part when you are dealing with this HP AIO.
Storage
The system houses 8 GB DDR4 RAM to accompany its Intel Core processor in faster and hassle-free performance.
The 16GB of RAM is a standard size to empower an enterprise-level workstation & multimedia hub whereas it provides you superb multitasking convenience.
You can free indulge yourself in preparing urgent documents, light editing of photos, Internet surfing, streaming live shows and other multiple activities with utmost ease.
As far as the storage space of the HP 24 All In One PC is concerned, you will find the desktop PC a secured and perfect place to keep your essential files.
The system features 1TB Hard Disk Drive, an ample space to create your own library of documents, media files, videos, movies, audio files and software on the desktop.
When it comes to storing large sized files, high resolution images & movies on a long-term basis, 1TB HDD storage seems more than sufficient for home users and small business owners.
Both RAM and HDD improve the overall system performance and ensure faster loading of software to save your time a lot.
Additional Features
Connectivity: In terms of ports and I/O connectivity, the desktop can be considered a beast. The front and back panels are the home to an assortment of essential ports including 5-in-1 Multi-Card Reader, dual USB 3.0 ports, four USB 2.0 ports, audio combo jack, optical drive, Security-cable slot, expansion card slots, Ethernet port, Padlock rings etc.
Multimedia Activities: The HP 24 All In One PC is truly a one-stop solution for multimedia activities and enterprise-level workloads. It becomes highly suitable for home office or living room since the system fulfills all the basic computing needs, acting as a digital library as well as fantastic entertainment hub. In all cases, the desktop PC delivers reliable and top notch performance to make you enjoy the computing to the fullest.
Latest Technology: Its built-in features help you stay connected all time with the latest Bluetooth technology and integrated wireless network, thus keeping you up-to-the-minute with the worldly innovations. The multiple numbers of USB ports easily connect the PC to smartphones, tablets, TVs or other USB devices for light gaming or occasional video streaming, while the 5.1 channel audio of the system developed by Waves MaxxAudio Pro technology offers an immersive sound experience, creating a long-lasting impression all around.
Graphics
It is having a dedicated graphics. It is compiled with Intel UHD Graphics 620 to offer a great entry level desktop.
It becomes highly suitable for home office or living room since the system fulfills all the basic computing needs, acting as a digital library as well as fantastic entertainment hub.
As A Workstation
HP 24 All In One PC is a premium business desktop PC, as the manufacturer claims. What are the best business desktops?
If we cast a careful glance at the technical features and hardware configuration of the system, we can understand the nature of its performance.
For all sorts of small business, organization and home office, HP 24 All In One PC claims to be one of the best options for sure.
The amalgamation of 8th Gen Intel Core processor and Intel HD graphics card inside the system helps your everyday activities get accomplished in time even under extreme pressure.
What Do Users Think?
According to our survey of users we complied this data. Millions of users and HP followers have recommended this AIO desktop variant for small business or home office usage.
Since the desktop comes with an HP wired keyboard and wired mouse, the buyers can be assured of getting the essential peripherals of high end quality, all in one package.
This is another reason of its increased popularity among the users. A number of users have found the system highly compact and easy to operate and customize its RAM as well as storage drive if required.
Our Verdict
The HP 24 All In One PC desktop looks amazingly stylish for its elegant black case with streamlined borders and so appears more wonderful in design from every angle.
On this ground, it can be concluded that this HP variant is a piece of beauty.
The desktop packs a number of solid hardware components which hold the competition-level ability to deliver reliable workstation as well as gaming performance and something more than you expect from the PC.
For the entry-level gamers and multimedia professionals especially who are on a tight budget, the HP 24 All In One PC desktop model can be a thing of obsession.
At the same time, several business professionals and owners too are bound to fall in love with this tower desktop for various reasons.
If you are in the pursuit of enterprise-level and customizable budget desktop to move your productivity to the next level in short span of time, you should pay a careful attention to its features in detail.
You will find Windows 10 Pro (64-bit) pre-installed on the HP 24 All In One PC in order to enjoy several perks of the latest operating system of Microsoft, including Cortana personal assistant, streaming Xbox One local game, and access to many popular online games and applications prevailing in the Windows Store.
Thus, the hardware composition in the HP 24 All In One PC is feature-packed, fast and superior with built-in security to enhance your creativity, productivity and entertainment to a great extent.